Wish is a mobile shopping app for customers whose first priority is low prices. The app sells a few billion dollars worth of products a year (the company does not disclose GMV) by enabling merchants to sell directly to consumers. According to our research 94% of the growing list of merchants are based in China.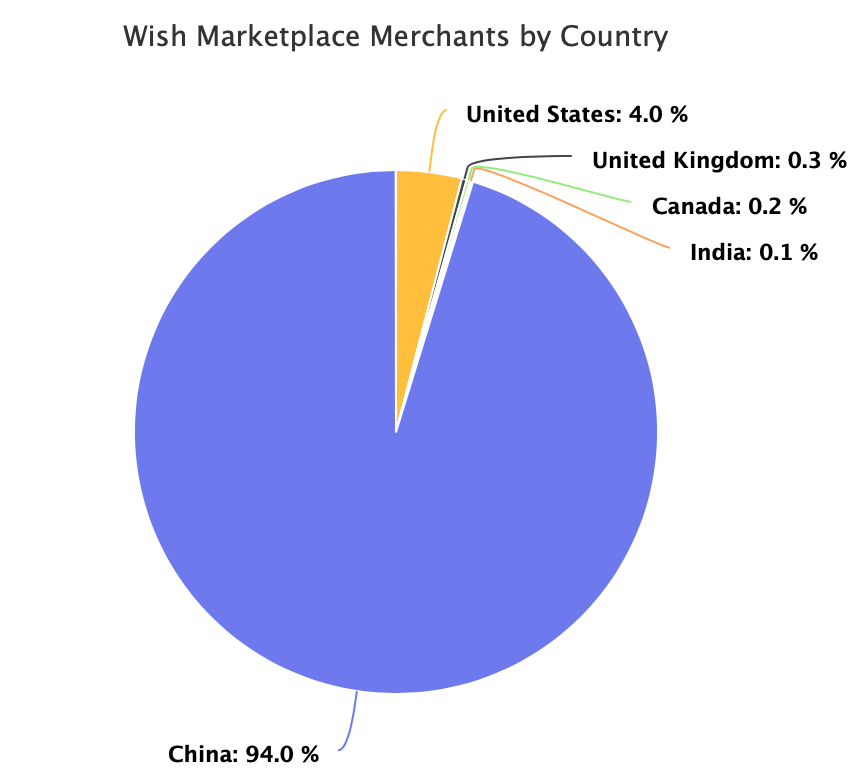 Wish has amassed a marketplace of hundreds of thousands of sellers, but since so much of its focus is on low prices, instead of convenience and quality, almost all of them come from China at 94%. US based sellers make up 4%, followed by the UK at 0.3%, Canada at 0.2%, India at 0.1%, and Australia at 0.1%. The rest is spread all over the world. Although even among the international sellers many are selling goods made in China.
Launched in 2011 Wish shopping app is popular both in the US and in Europe. While relatively unknown to non-users, the app is one of the most downloaded shopping applications for both iPhone and Android phones, consistently in the top 5 for both platforms. The app has invested heavily into marketing and user acquisition, and into automating various calls to buy more. Wish users receive multiple notifications a day offering free items (users have to pay for shipping), for example.
"We have the world's best 3D printer right now - and it's called China," said Scott Galloway of Gartner L2. The way most shoppers in the US and Europe control that printer is through Wish.

Many of the sellers from the US and the UK are also merchants on other marketplaces like Amazon and eBay. Wish has tried to invite US brands to sell on the platform, and also act as an outlet for refurbished goods. It appears this had limited success: buying genuine Adidas sneakers in the same app as a $1 iPhone case is a hard sell.
Products take up to four weeks to be delivered from China. Last year the company launched Wish Express bringing down the delivery times to six days, but only for select products. "It has scaled and worked so far because the prices are so inexpensive. The consumers don't actually need the product the next day or within three days," said Wish. The shopping app is serving a different use case than free two-day shipping everyone else is trying to offer.
Wish is the direct-to-consumer app for manufactures based in China. The large number of sellers based in China allows mapping the locations in China where most products are manufactured and sold from. Three largest provinces - Guangdong, Zhejiang, and Fujian - account for more than half of all China based sellers. Guangdong with 27% of the sellers is - unsurprisingly - one of the leading commercial and manufacturing regions in China, with the capital Guangzhou and economic hub Shenzhen.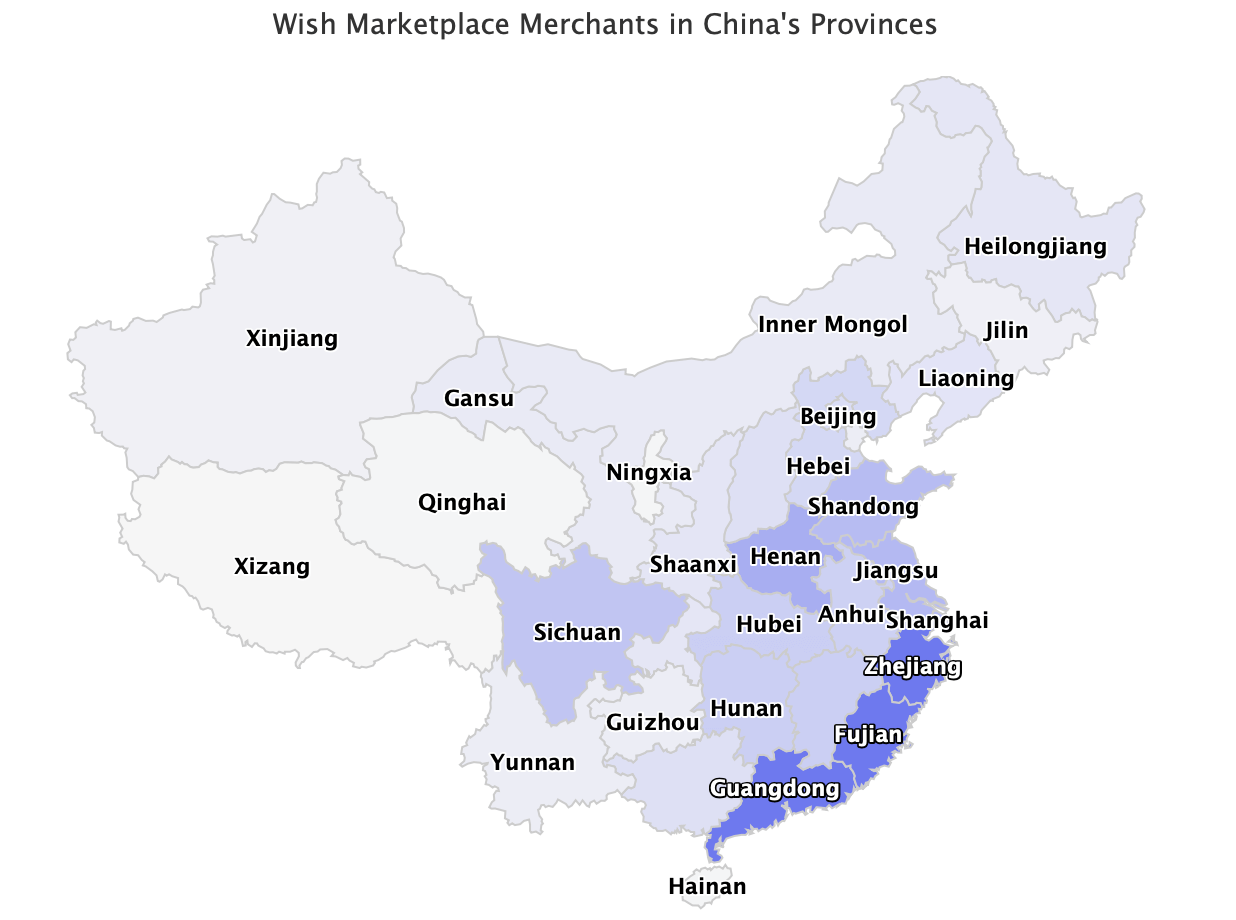 In the US Wish is facing increasing headwinds since the US is intending to impose tariffs on China and withdraw from the Universal Postal Union over the next year, threatening cheap postal rates Chinese merchants use through China EMS (ePacket). The days of $1 iPhone cases with additional $1 for shipping might be numbered soon. Although the company said it has invested in the buildout of three warehouses in the US where the company stores some of its best-selling goods. It operates a warehousing and logistics service called Fulfillment by Wish (FBW) in the US and Europe.
Wish is probably the only retail marketplace in the US not trying to be Amazon. This is what makes it interesting. Walmart, eBay, and most recently Google are trying to copy Amazon's best parts: free two-day shipping, vast catalog, and convenience. Wish, on the other hand, is focusing on a completely different set of customers and expectations. "I think people misunderstand the demographics of this country and places like Europe," said Peter Szulczewski, CEO of Wish. Peter was implying that not all consumers want the same, and, even more important, can afford the same service when shopping.
Both Amazon and eBay are full of merchants selling directly from China too. Wish is the only one not pretending that's not the case.