On August 31, 2009, Walmart announced the Walmart marketplace, expanding existing assortment by offering additional products from a select group of retailers. At the time it added nearly one million new items to the catalog from just a few sellers. Ten years later, the marketplace has grown to over 28,000 sellers, which all together bring 45 million items to the Walmart online catalog.
For seven years after the launch, the Walmart marketplace was dormant. However, Walmart, as a whole, was out of ideas on how to become relevant for online shoppers. Things started to change in 2016 - the company acquired Jet.com in August, and the marketplace grew to nearly 8,000 sellers having started the year with less than 500. Walmart now had fresh ideas and talent, as well as a growing assortment.
At the start of 2016, Walmart had only 5 million products for sale online. A small number compared to hundreds of millions available on Amazon. Thanks to the marketplace that number grew to 17 million by the end of 2016, more than tripling in a year. Then one more year later, the catalog was over 31 million items. The online catalog is now on target to grow to 50 million by the end of this year. It grew ten times in four years.
The number of products sold by Walmart never exceeded four million, however. As the total number of products grew from 5 to 50 million, Walmart's assortment only increased from 1.2 million to 3.8 million. Today the marketplace represents 92.5% of all available products on Walmart.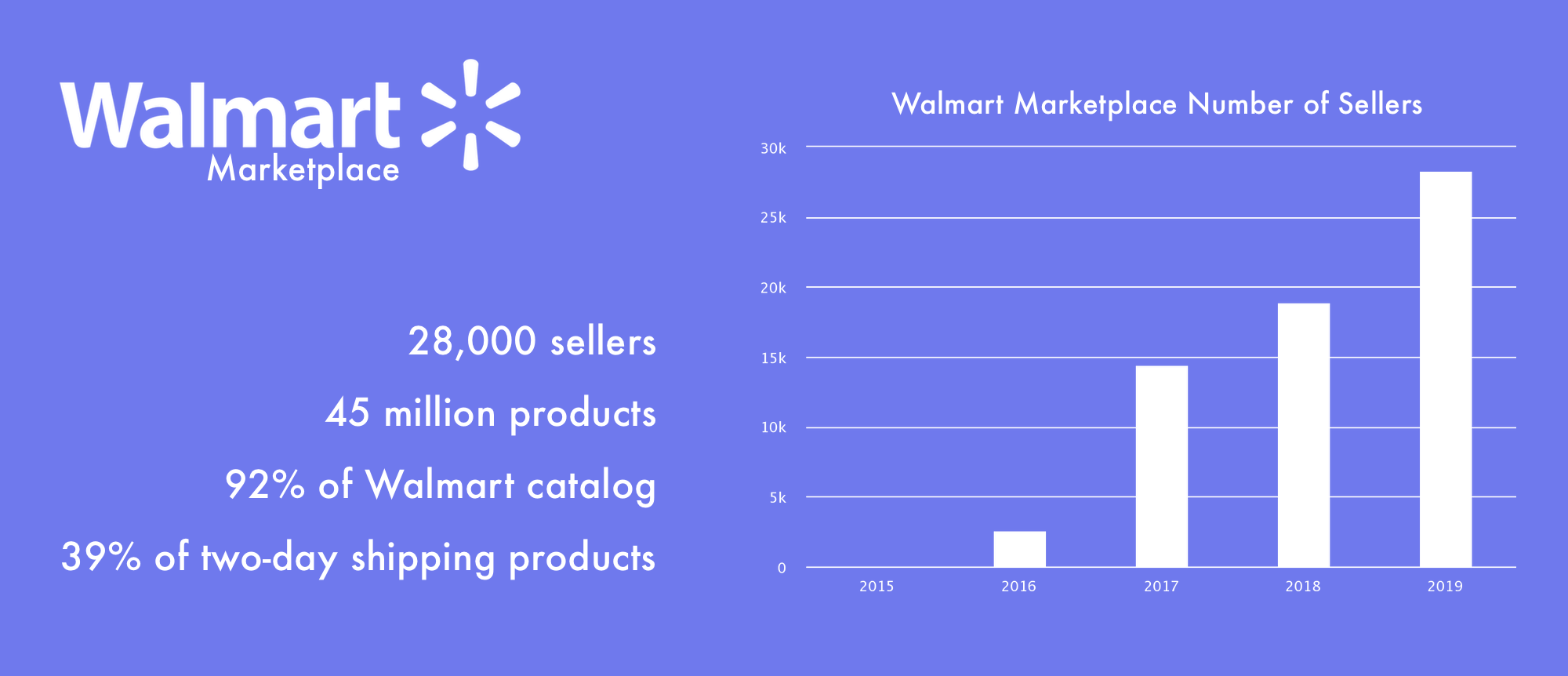 Growing assortment, though, also led to more shoppers being unhappy. Because when they tried to call support about their order or return it in a store, they were turned away to deal with the seller directly. It took Walmart until August 2018 to admit that "our customers expect a consistent and easy experience regardless of whether an item is sold by Walmart or a marketplace seller." Then they started to address those issues, reducing the number of interactions shoppers have to have with sellers. By the end of 2018 most orders could be returned in-store.
It was also at the end of 2018 when Walmart enabled sellers to offer free two-day shipping. The standard it first launched back in January 2017 for its products. However, unlike Amazon, it didn't offer a fulfillment service like Fulfillment by Amazon (FBA). Instead, it partnered with a multi-channel fulfillment provider, Deliverr. The share of products available with two-day shipping by the marketplace has grown to 39% in twelve months.
The two shopping experiences - one when buying from Walmart and the other buying from a third-party seller - has been the critical issue it took the company too long to realize. In May this year Walmart introduced next-day shipping, but it - again - currently excludes the marketplace. In short, what made the marketplace built by Amazon successful is the fact that most consumers don't know it exists. Thanks to FBA and Amazon customer support the marketplace rarely surfaces. Retailers launching marketplaces often fail to achieve the same. During the last twelve months, Walmart has started to get closer to the invisible marketplace model seen on Amazon.
It took ten years, most of which Walmart spent not doing much, to turn the Walmart marketplace into arguably the second choice for third-party sellers; after Amazon. The rest of the competition is either smaller, or not growing like eBay. After adding less than 5,000 new sellers in 2018, Walmart marketplace has already added close to 6,500 new sellers this year. Doug McMillon, CEO of Walmart, said he is "excited about the opportunity we have to expand our marketplace," during the last earnings commentary as well.