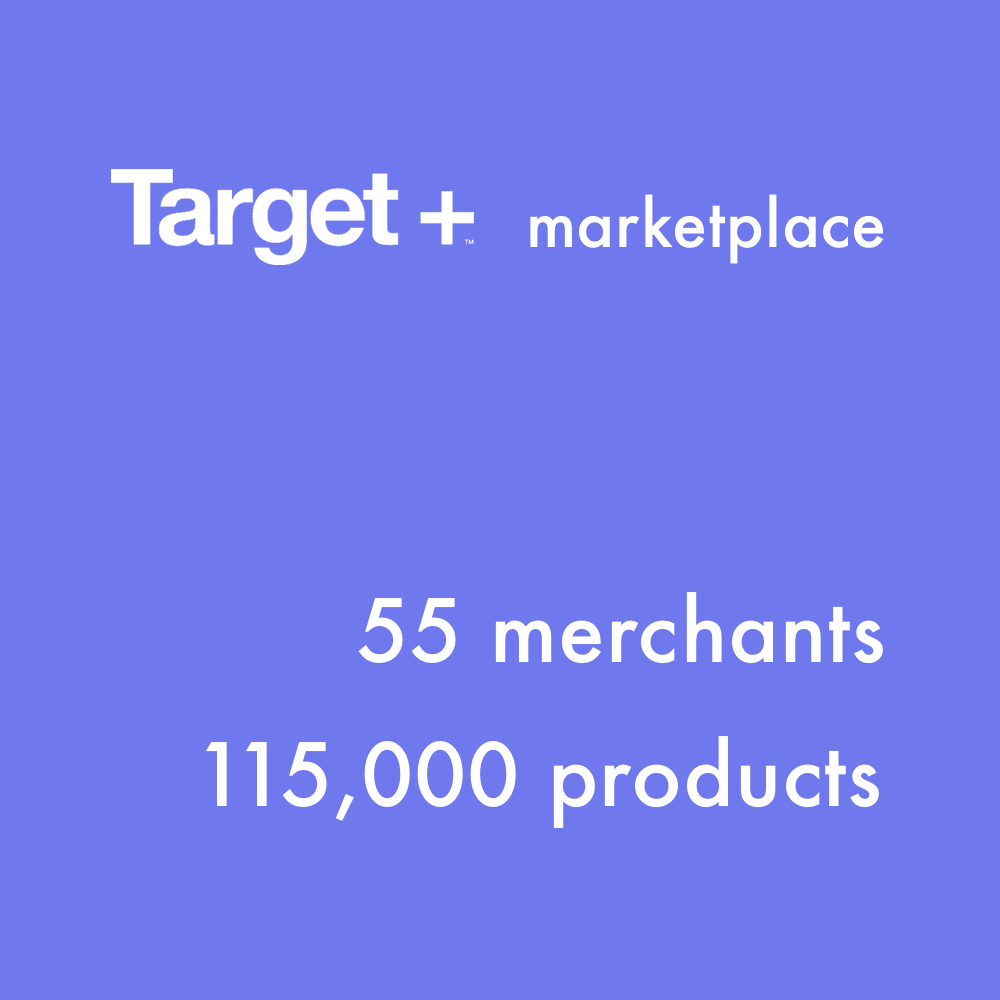 In February, Target launched a marketplace called Target+, or Target Plus. The invite-only marketplace started with 30 merchants, and six months later has grown to just 55 merchants and 115,000 products, according to Marketplace Pulse data. It is the smallest marketplace among those run by online retailers in the US. However, the last few quarters for Target have shown how well it has been able to integrate stores into the online experience, rendering the marketplace no longer critical.
Target+ functions similar to the marketplaces Amazon, Walmart, and other online retailers have built. The most significant difference is that Target's marketplace is invite-only, meaning merchants and brands on it are selected by the company, as opposed to an open to join marketplace like Amazon. Rick Gomez, Chief Digital Officer at Target, said, "This is intended to be a very curated and select group of products and brands. … We are reaching out to the brands we want." The reason for curating the marketplace is to select only quality merchants, theoretically avoiding counterfeit products and other issues.
However, Target is not like Amazon or Walmart in one crucial way - its stores play a pivotal role. "Combined sales for in-store pickup, drive-up, and Shipt have more than doubled over the last year, accounting for nearly three-quarters of Target's 34% digital comp in the second quarter," said John Mulligan, Chief Operating Officer at Target. In 2018, Target saw $5 billion in e-commerce sales, two-thirds of which was fulfilled by their stores; this year it expects to surpass $6 billion in sales, and for stores to fulfill an even higher percentage of that sales volume.
Target's CEO described stores as "quickly becoming the preferred fulfillment choices for our guests." The problem is that the marketplace doesn't integrate into this. Target currently has two different experiences sharing one website. First, for products sold by Target, it offers in-store pickup, free two-day shipping as well as same-day delivery, second is the marketplace where sellers handle fulfillment. These differences create friction for shoppers and ultimately limit the success of merchants on the marketplace. This problem is not unique to Target - most retailers building marketplaces end up with an add-on instead of an integrated part.
Luckily for Target, this isn't a problem they need to focus on. Their online sales continue to grow, largely thanks to the fulfillment strategy built around stores. The marketplace experiment does proceed to add a few new merchants every month, but if it went away, few shoppers would notice. Walmart has grown its marketplace to close to 30,000 sellers to expand the assortment by an additional 40 million products. Even if Target adopted the same merchants, it would end up with a large catalog most of which shoppers would try to avoid because it wouldn't allow in-store pickup and other services.