Walmart has nearly tripled their U.S. e-commerce business in three years, growing from estimated $7.9 billion in 2016 to $21.9 billion in 2019, according to Marketplace Pulse estimates based on the company's financial fillings. Walmart's e-commerce business in the U.S. is expected to surpass $28 billion in 2020, driven more by strong growth in grocery pickup and delivery, rather than general merchandise.
Walmart grew U.S. online sales 37% in 2019, down from 40% growth in 2018. In 2020 the company expects further growth slow down to 30%.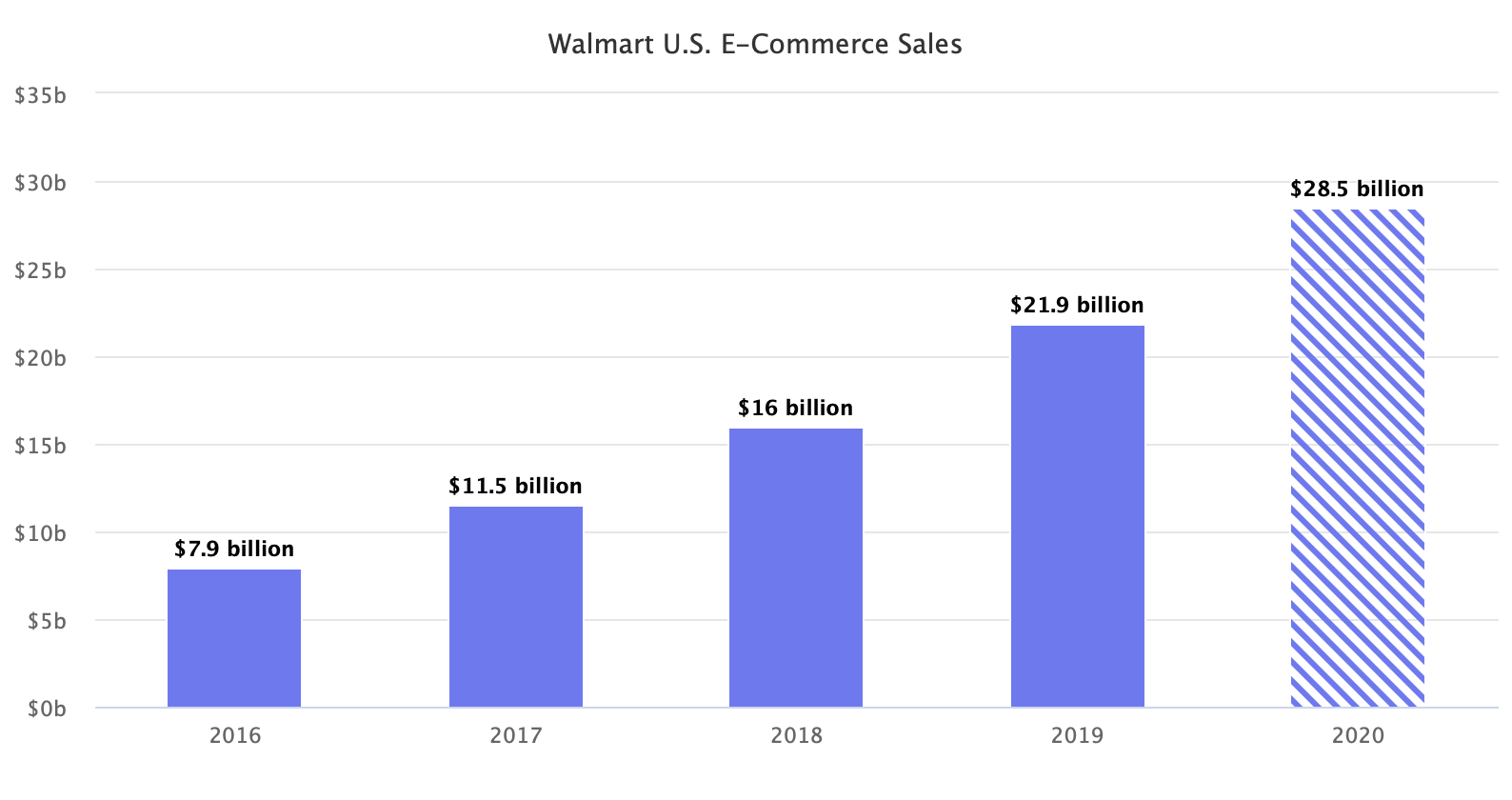 Walmart underperformed during the Christmas holidays - it grew 35% year-over-year in Q4, slowest quarter of 2019 - because it couldn't meet the promise of next-day delivery. On December 1st, Walmart disabled next-day delivery nationwide. The company restored it only two weeks later on the 15th. Last year's calendar meant the shortest possible holiday shopping season of 26 days - the number of days between Black Friday and Christmas eve. For more than half of it, the highly promised next-day delivery was absent.
During the Investment Community Meeting held on February 18th, Marc Lore, President at Walmart U.S. e-commerce, admitted the struggles of meeting next-day delivery expectations. "Our top-line growth was better than expected, and that put pressure on fulfillment and ship speed, which led us to back off our shipping promises, which left the sales on the table," said Lore. "This year, we'll be laser-focused on delivering faster and longer into the holiday season."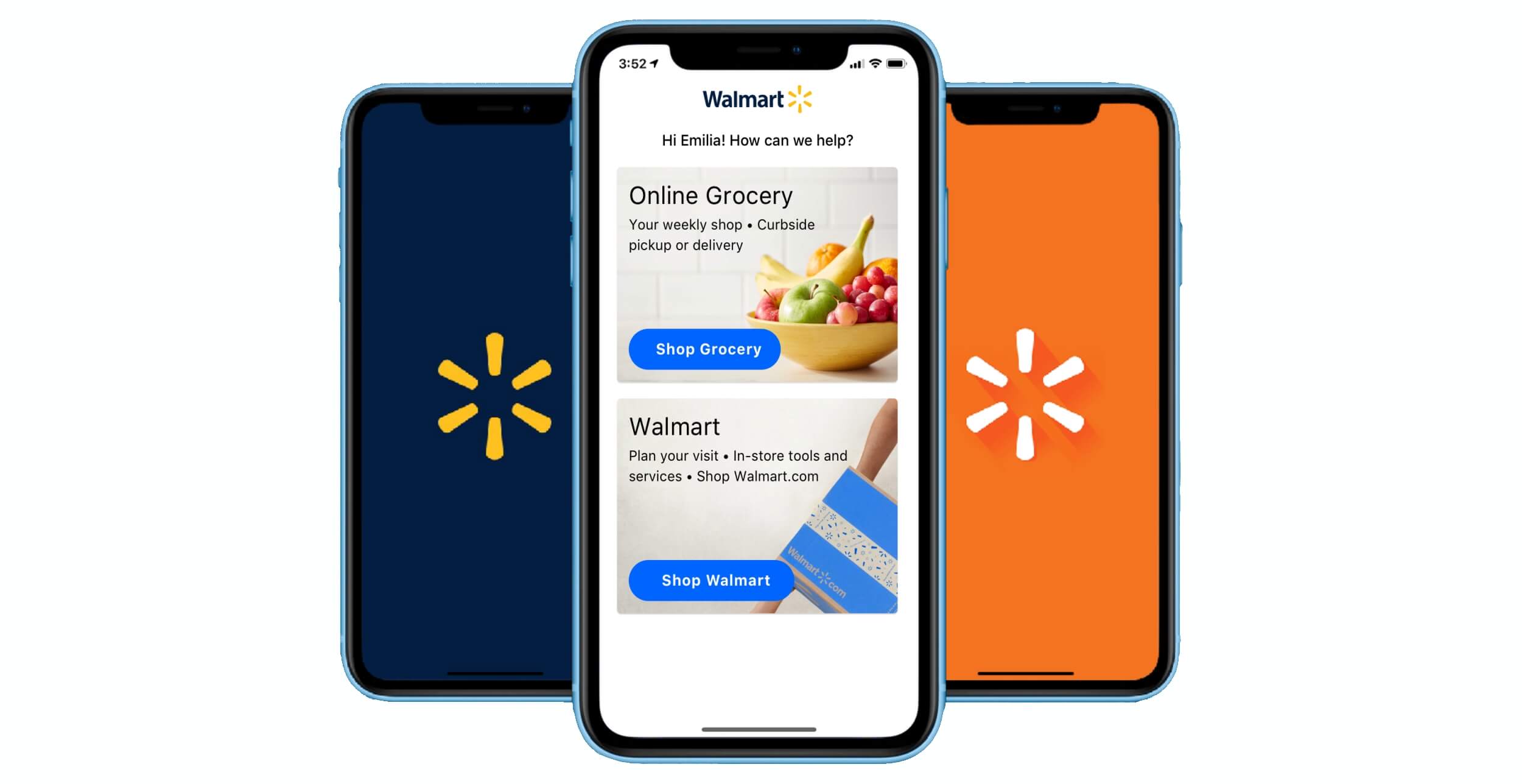 For the past few years, online grocery has become the most significant growth driver for Walmart's e-commerce business. However, it didn't translate to growth in general merchandise sales. In part because Walmart was operating two different mobile applications and websites: one for general walmart.com, the other for groceries. The company was spending marketing dollars on sending customers to two different places and creating two different experiences for the same customer. Walmart has realized this and, pushed by Amazon adding online groceries to their main app, is planning to merge the two into one.
The two different apps highlighted Walmart's strategy to keep different business units separate, both internally and externally. Online grocery, general merchandise online, stores, and the marketplace are all operating without a clear alignment. Douglas McMillon, CEO of Walmart, at the investor event, talked that "I concluded, we got to keep this separate for a little while. But the issue is, the customer keeps pulling it together. They want one experience for the brand." The acceptance that Walmart needs to have one experience is a good sign, even if it comes late.
More products available with fast shipping, better shopping experience across different offerings, and expanding inventory remain Walmart's online strategy pillars. Expanding assortment, which since 2016 has mostly been driven by the marketplace, is vital to offer more coverage - the company now estimates that it has three-quarters of the top 500,000 items in the overall retail market.
Walmart's losses from operating the U.S. e-commerce business were more than $1 billion last year. The company expects losses this year to be flat to slightly lower versus 2019. As Walmart weighs unprofitable bets versus executing the fundamentals, the growth is still there. Walmart is in a distant 2nd place, far behind Amazon, but the company has found its strength in the form of online groceries. It is not bringing anything new to the market but has years of growth ahead by being better at what it does already.