Amazon has started to add local Whole Foods assortment with free two-hour delivery for Prime members to its main website and app. Previously, Prime members had to use a separate Prime Now app. Searches for groceries like bananas or yogurt now return Whole Foods items intermixed with the regular Amazon results.
This new experience is being tested since August in almost 30 cities, including Detroit, New Orleans, Denver, Portland, and parts of Los Angeles. Groceries include food items in Produce, Meat & Seafood, Pantry, Bakery, Frozen Foods, Dairy, Deli & Prepared Food, Snack Foods, and Beverages categories. Products from Household, Health & Wellness, and Body Care & Beauty categories are also available.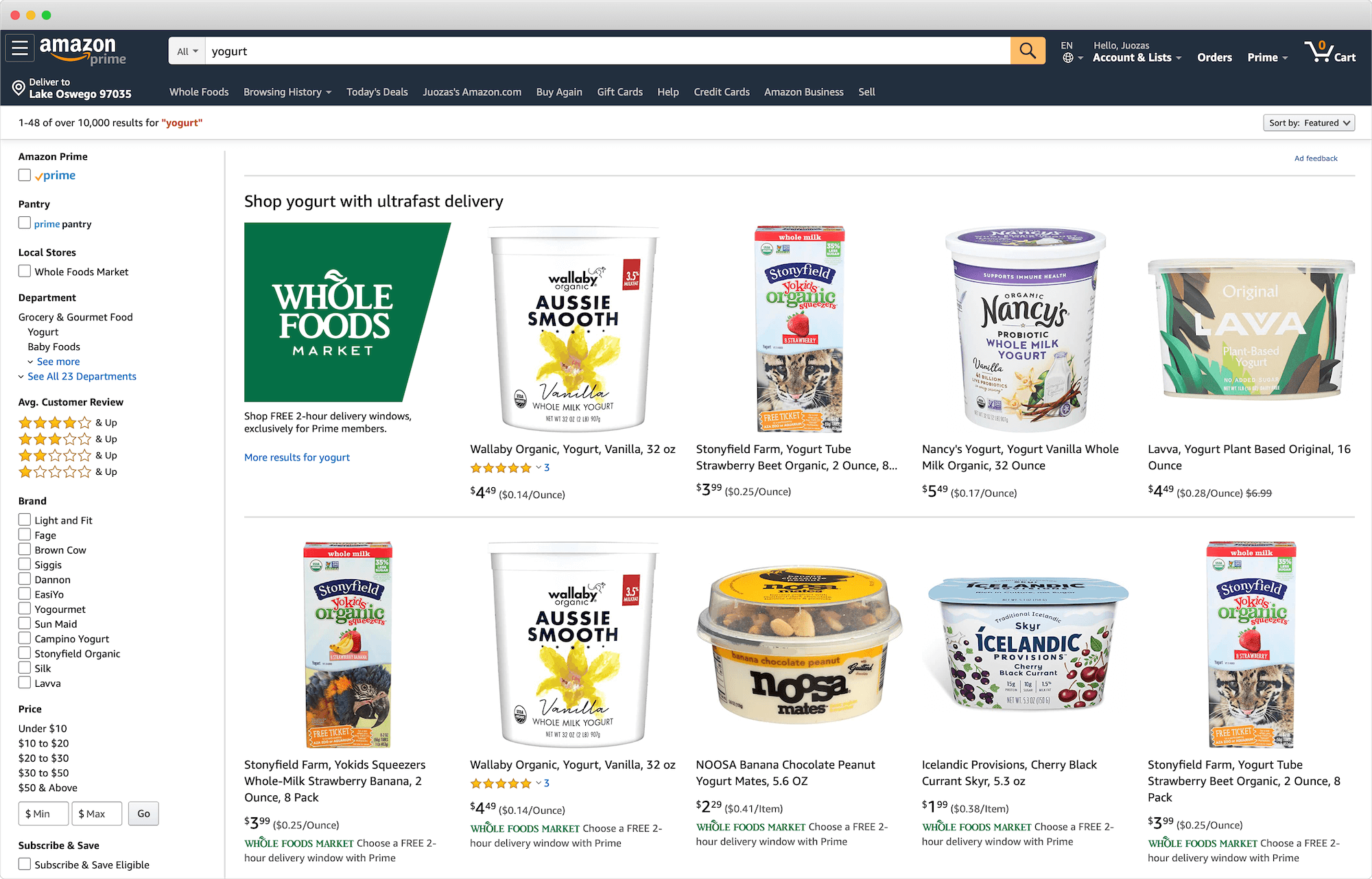 Search results appear with a "Whole Foods Market. Choose a FREE 2-hour delivery window with Prime" tagline instead of the regular Prime logo. When clicked, the product page says, "Ships from and sold by Whole Foods Market." Adding it to cart behaves like regular Amazon.
Whole Foods results rank higher in search than regular Prime products, suggesting that Amazon has tweaked the search algorithm to prioritize them. Most of Whole Foods products don't have any reviews on Amazon yet; however, they appear higher than products with hundreds of positive reviews. For third-party sellers and brands, this could reduce sales if Amazon continues to prioritize the Whole Foods experience.
Some tested products are available for less where Whole Foods is not available yet. For example, the same B12 Energy Ginger Gummies by MegaFood sell for $18.99 to all Amazon shoppers, but in cities where Whole Foods is integrated, the same product sells for $20.24. In the case of the latter, the existence of the cheaper offer with Prime is hidden, and only Whole Foods delivery is available. Furthermore, the more affordable offer is by a third-party seller. Thus, by promoting Whole Foods, Amazon is asking consumers to pay more and is unfairly taking away sales from marketplace sellers.
The company has also introduced a Whole Foods Market storefront. The new storefront hosts previous purchases from when shoppers scan the Whole Foods app in one of the stores, as well as featured products, and savings. This functionality is mostly inherited from the separate Whole Foods and Prime Now apps. "Most grocery customers buy the same things over and over again," an Amazon spokeswoman said. "The past purchases feature enables customers to quickly add favorite products to their cart."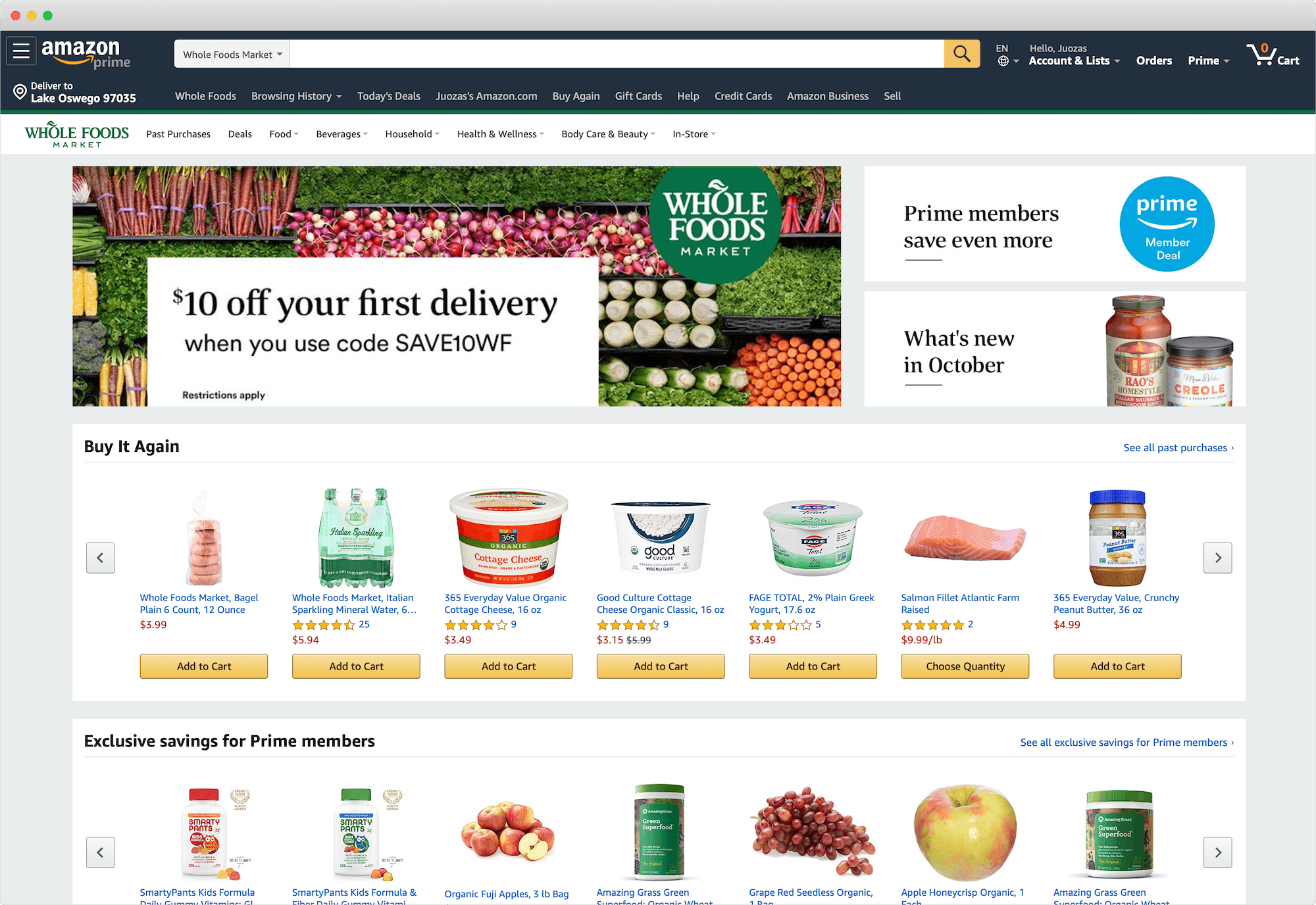 The new Amazon online grocery experience includes a filter called "Local Stores," with currently the only option "Whole Foods Market." However, the company is expected to add more local stores as it continues to expand in the physical world. The Wall Street Journal reported on Tuesday that Amazon aims to open a chain of US grocery stores beginning in Los Angeles, Chicago, and Philadelphia. The new stores aren't intended to compete directly with the more upscale Whole Foods stores and will offer a different variety of products at a lower price point.
Walmart and Target are leaders in the online grocery market, with Amazon failing to make meaningful progress for many years. Ever since Amazon acquired Whole Foods in 2017 for $13.7 billion, there has been in hopes the company will be able to offer groceries to Prime members. It does now.