For the past two quarters, Walmart's marketplace GMV has more than doubled compared to last year. The marketplace growth has been outpacing first-party sales growth for at least as long too.
"Growth was strong in pickup and delivery as well as direct-to-home with the highest growth coming from marketplace," said Doug McMillon, CEO at Walmart, when discussing the third-quarter results on Tuesday. During the quarter, marketplace sales grew "triple-digits" (over 100%) while overall e-commerce sales were up 79%. John R. Furner, CEO at Walmart U.S., described the marketplace as "the overall winner in the eCommerce business" when asked by UBS Securities analyst Michael Lasser what contributed the most to the improving e-commerce margin.
The marketplace sales also grew at least 100% in the second quarter, according to the company. In the first quarter, the company said that while overall e-commerce business grew 74%, growth in the marketplace outpaced it.
Walmart marketplace has over 64,000 sellers, double since a year ago. The marketplace also provides more than 90% of the 45 million products on Walmart - the company has made little progress in expanding its assortment outside of the marketplace. Still, more than half of the two-day shipping enabled products are by Walmart itself; the marketplace provides the long tail and a growing number of fast shipping items.
There are no estimates for the marketplace GMV dollar value (it is in the ballpark of single-digit billions). However, the marketplace has orders of magnitude less competition than the other top choices - Amazon and eBay - and thus, it has been growing faster for some sellers. Walmart is attracting many more shoppers to its website, but spending most of its efforts on online grocery delivery and related initiatives like Walmart Plus, leaving general merchandise to the marketplace.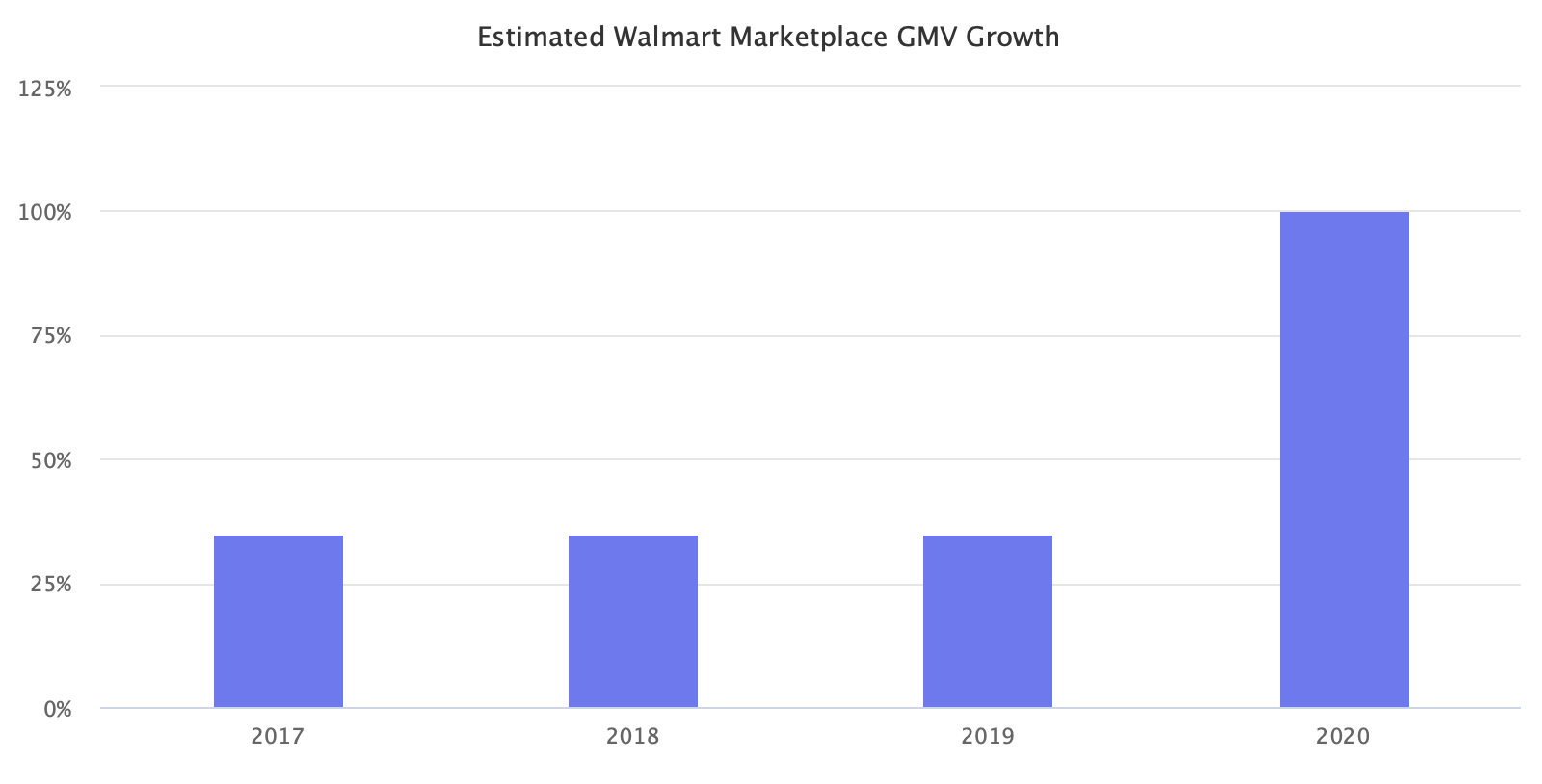 During the fourth quarter, the marketplace is expected to perform as strong as it did in the previous quarters. Thus it will more than double for the full year, a notable acceleration: the average annual growth rate was roughly 35% in 2017-2019 (based on Marc Lore's comment, "the marketplace business has grown by 2.5 times since FY 2017" during the 2020 Investment Community Meeting).