A dozen startups became unicorns betting on the Shopify ecosystem. Amazon has zero. A lot of capital is racing to change that.
All of the hundreds of billions of Amazon GMV involves external software. It's an invisible layer surrounding Amazon with a combined enterprise value of tens of billions of dollars. Many of those software tools are essential or even required. For example, the private label industry only exists because of product research tools like Jungle Scout, Helium 10, and others.
Hundreds of software companies help businesses sell on Amazon with inventory management, product research, pricing, fulfillment, advertising, accounting, taxes, and more. While Amazon's own Seller Central acts as a starting place, sellers typically use other tools to augment or replace Seller Central's functionality. Brands that sell wholesale to Amazon also use some of those tools and a separate set of enterprise tools.
However, the startups in the Amazon ecosystem (or the marketplaces niche more broadly, including eBay and others) received little attention from investors. There have been only a handful of companies that raised equity capital. The rest - often spun out by experienced sellers - bootstrapped using their cashflows. In part, that's because Amazon's API creates a rigid boundary box that restricts how creative those companies can be. But also because of perceived platform-dependence risk.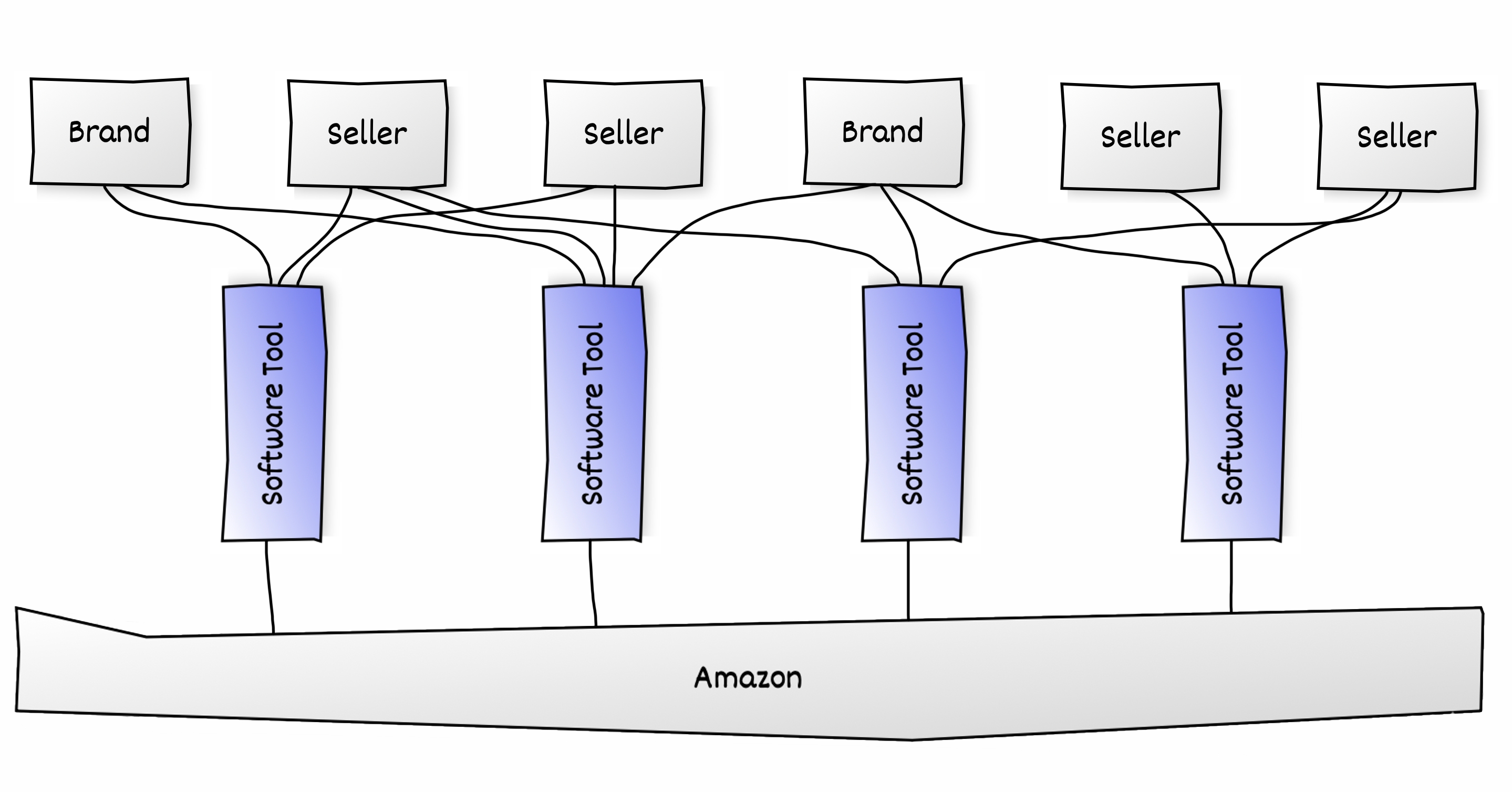 That has changed over the past two years. Funding for Amazon tools has accelerated, and M&A activity has become more common. The previously capital-deprived industry is catching up to the rest of the software-as-a-service (SaaS) market.
Amazon aggregators raising over $15 billion and some achieving valuations exceeding $1 billion are one of the drivers for the increased interest. Aggregators brought attention to the ecosystem, which meant investors started looking for other types of companies to fund. The software companies operating in this space were previously in a blind spot.
Amazon advertising has recently been the most active category. It's the fastest-growing part of the Amazon ecosystem and has seen more product releases and API changes than the rest combined. Most of the leading Amazon advertising software companies have either been acquired or have raised capital.
There are now also Amazon tool aggregators. Companies like Carbon6, Threecolts, and Assembly are acquiring and operating a portfolio of tools, combining them into revenue bundles. Their bet is becoming big by combining many smaller parts. Assembly was first to the market by buying Helium 10, a product research tool, in 2019, and by September 2021, it had a valuation north of $1 billion.
Pattern surpassed a $2 billion valuation in October 2021, and Anker went public in August 2020 and now has a market cap well north of $1 billion. But neither is a software company. The closest match is CommerceIQ which raised its latest round in March 2022, which boosted the company's valuation to over $1 billion.
Shopify's ecosystem has half a dozen unicorns, including Deliverr, Attentive, ShipBob, Klaviyo, Yotpo, and Recharge. Not including aggregators and other non-software companies, Amazon has zero. But that's bound to change.