Amazon seller acquisitions declined only slightly in 2022 despite slow e-commerce growth and rising interest rates. Seller valuations have decreased, but more buyers that don't call themselves aggregators allowed strong businesses to stay in demand.
According to conversations with investment bankers, brokers, and aggregators, the number of acquisitions in 2022 was smaller than in 2021 by 10-20%.
Many of those acquisitions were at valuations lower than in 2021. Businesses valued at upfront multiples 6x and above (excluding inventory) in 2021 were trading at 4-5x by the end of 2022. Yet those previously valued at 4-5x were relatively unchanged, selling at 3.5-4.5x. However, businesses in the 2-3x range in 2021 this year mainly attracted buyers focused on distressed assets. After the range of multiples widening for most of 2021, it has since narrowed.
Amazon sellers typically get acquired for multiples of the Seller's Discretionary Earnings (SDE), which is a sort of an Adjusted EBDITA or annual net profit in rough terms, including add-backs of certain expenses. A business with $1 million in revenue and $250,000 in SDE profit would typically receive offers of more than $1 million guaranteed payment (4x the SDE) plus inventory and earn-out payments.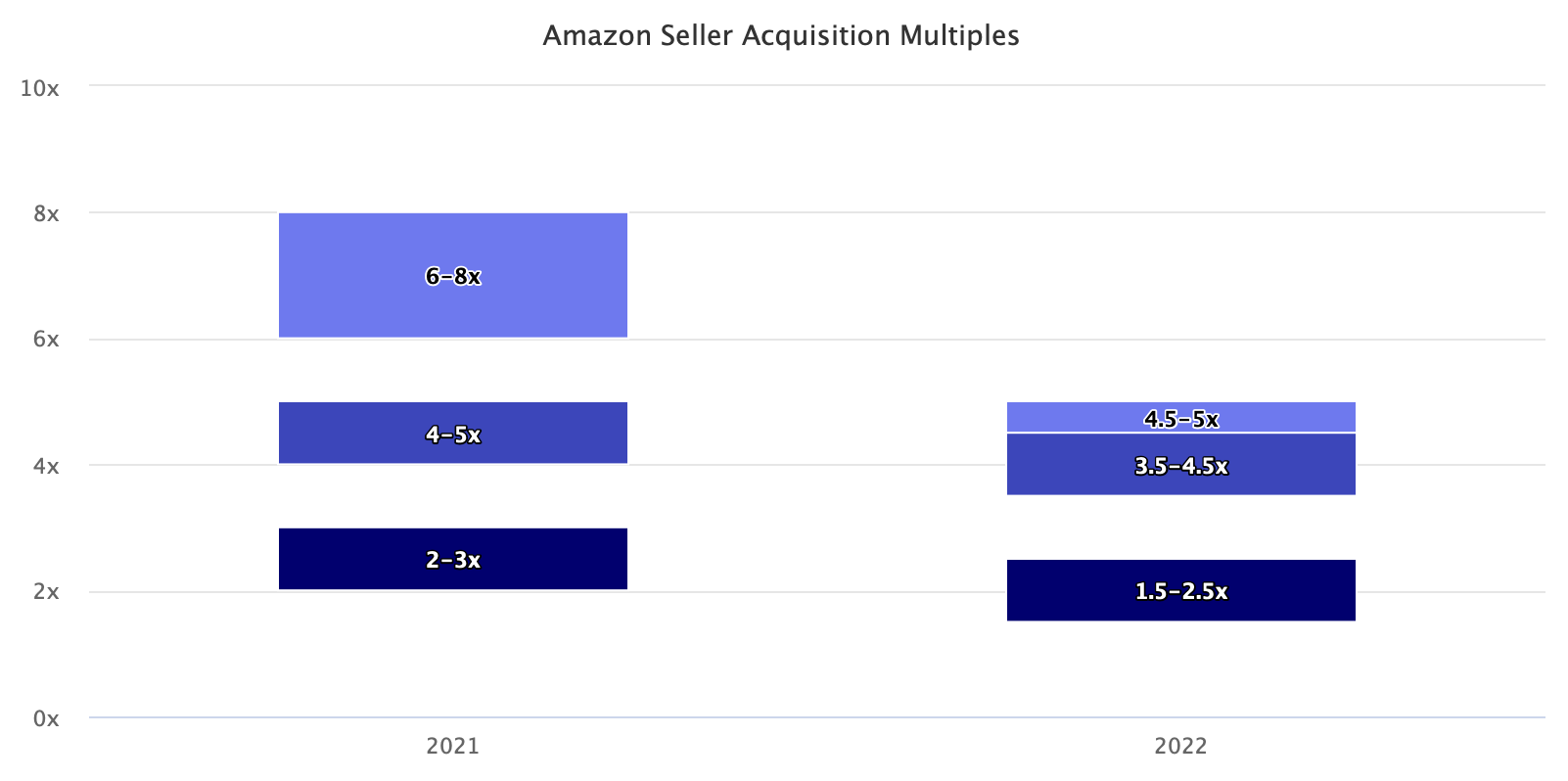 Despite some Amazon aggregators pausing buying, such as Thrasio and Perch, who likely made few or no acquisitions in 2022, other aggregates have increased their pipeline, and more buyers joined the market. Now, many more buyers are aggregating but don't call themselves "aggregators". These include strategic players, like holding companies of online brands and category-focused companies, and private equity funds that invest in online native brands, including brands originated on Amazon.
The buying process took longer because buyers were more selective and careful. Also, their due diligence methods have gotten more sophisticated. However, sometimes performance earn-outs were not paid because the aggregator failed to grow the business they bought. Some sellers try to help the buyer post-acquisition to meet the anticipated performance, monitoring their inventory management and advertising activity.
The funding craze to fund Amazon aggregators is no more. In 2022, aggregators only raised $2.7 billion compared to $12.3 billion in 2021. Most of the capital - roughly 75% - came in the form of debt to be used directly for acquisitions. Most of that money is yet to be deployed. However, some of it is inaccessible due to debt covenants (which are also responsible for the multiples' ceiling). Other buyers are not necessarily affected by the same limits.
Aggregator consolidation is yet to happen, even if some aggregators are financially unhealthy. Nevertheless, certain aggregators are actively seeking to be acquired, while others are looking to buy smaller aggregators. Consolidation among aggregators makes sense, as it leads to economies of scale and can support better financing terms.
It's still unclear whether the aggregator model can work and in what form (the term "Amazon aggregator" is a misnomer since most have a unique approach). However, in the meantime, acquisitions have continued. "We expect to see in 2023 at least the same level of deals closed in 2022," said Michal Baumwald Oron, CEO of Fortunet. She added that multiples have normalized and will remain unchanged until macroeconomic indicators improve.