Amazon has tied selling on Amazon to its fulfillment service, FBA. But it now chaotically restricts how much space it allocates to sellers while at the same time raising fees.
Over the past month, many sellers reported that Amazon significantly reduced their Fulfillment by Amazon (FBA) storage limit. With the space restricted, they are unable to send in inventory. Without inventory in FBA, they lose sales they could have had. They cannot use 3PL warehouses since Amazon ranks FBA sellers higher.
On the surface, FBA looks like a virtually infinite fulfillment network, promising to scale with the seller. Not unlike Amazon's cloud hosting service AWS. But sellers cannot always pay for more FBA capacity when they want it. Amazon alone decides how much they can get.
FBA changed "from a service sellers can rely on to a service they hope Amazon will allow them to use." A big source of frustration for sellers is the sporadic and seemingly random changes to storage limits followed by poor communication. There have been multiple restrictions like that over the past two years. But the biggest problem is the artificial ceiling on the seller's revenue.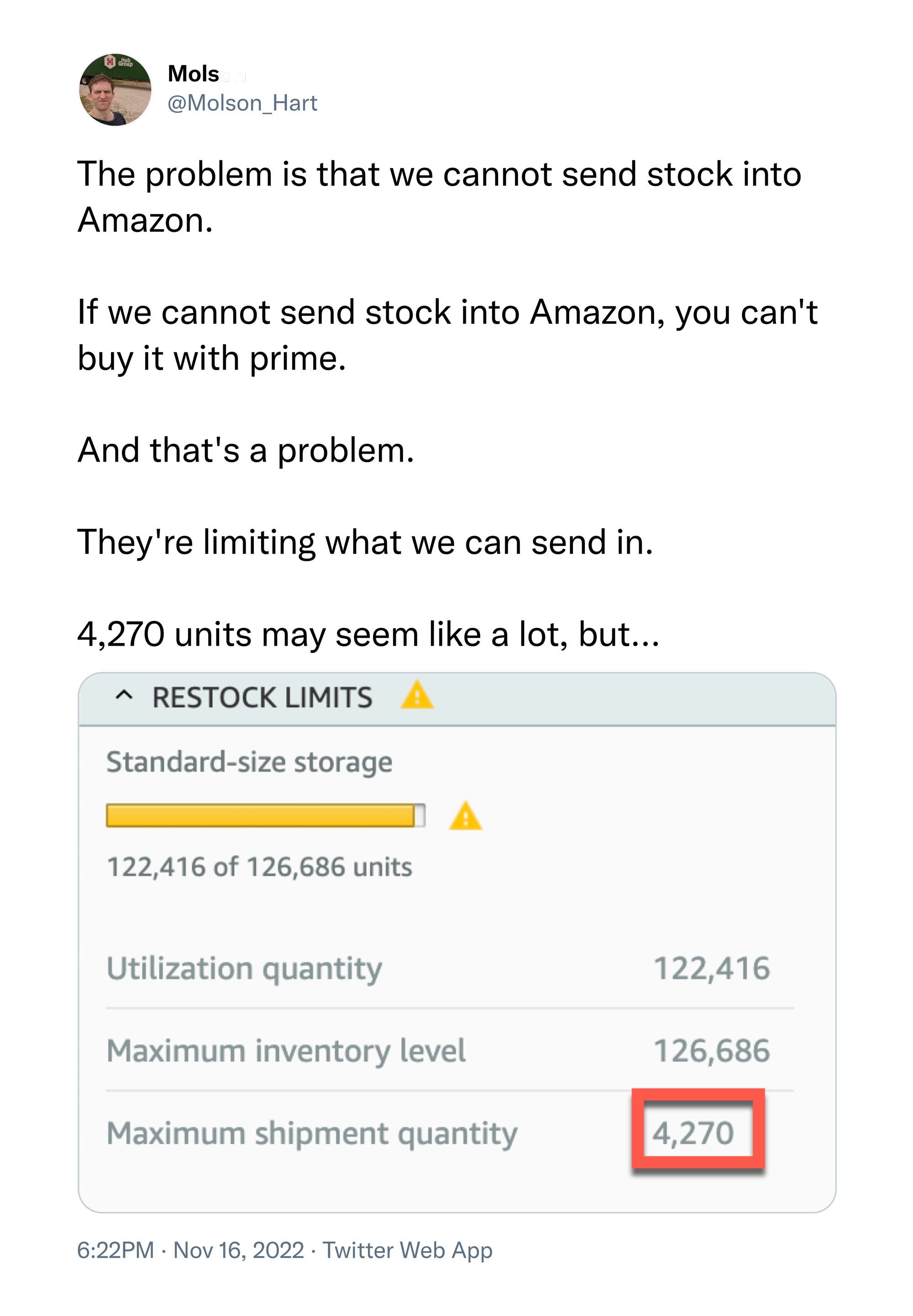 "My company paid Amazon ~$4 million dollars in the last 12 months and we've been selling on Amazon for over a decade. I have no idea what they're doing right now. And neither do they," wrote Molson Hart, CEO of Viahart, an educational toy seller. "The problem is that we cannot send stock into Amazon. If we cannot send stock into Amazon, you can't buy it with Prime. And that's a problem. They're limiting what we can send in. 4,270 units may seem like a lot, but… Our forecasts, which are based on 10 years of experience in the educational toy industry, say that we'll sell over 243,000 between now and Christmas."
Amazon blamed overstocked sellers for the increase. "This year, we saw some sellers use more of our storage than we expected or believe was needed to serve customers well, and that constrained how much product from other sellers could be sent into FBA," wrote Dharmesh Mehta, Vice President of Worldwide Selling Partner Services at Amazon. Overstock issues are rampant this year, but they shouldn't affect sellers that don't have them.
Amazon also recently announced a new FBA fee structure that will go into effect in 2023. The service continues to get more expensive for sellers to use. FBA fees have increased by over 30% since 2020. When Amazon increases fees, sellers increase prices to maintain a profit margin, and when it reduces available FBA storage, they watch products sell out and miss out on sales they could have made. Furthermore, since Amazon penalizes sellers for offering their products cheaper on other channels, sellers inevitably raise prices across all marketplaces.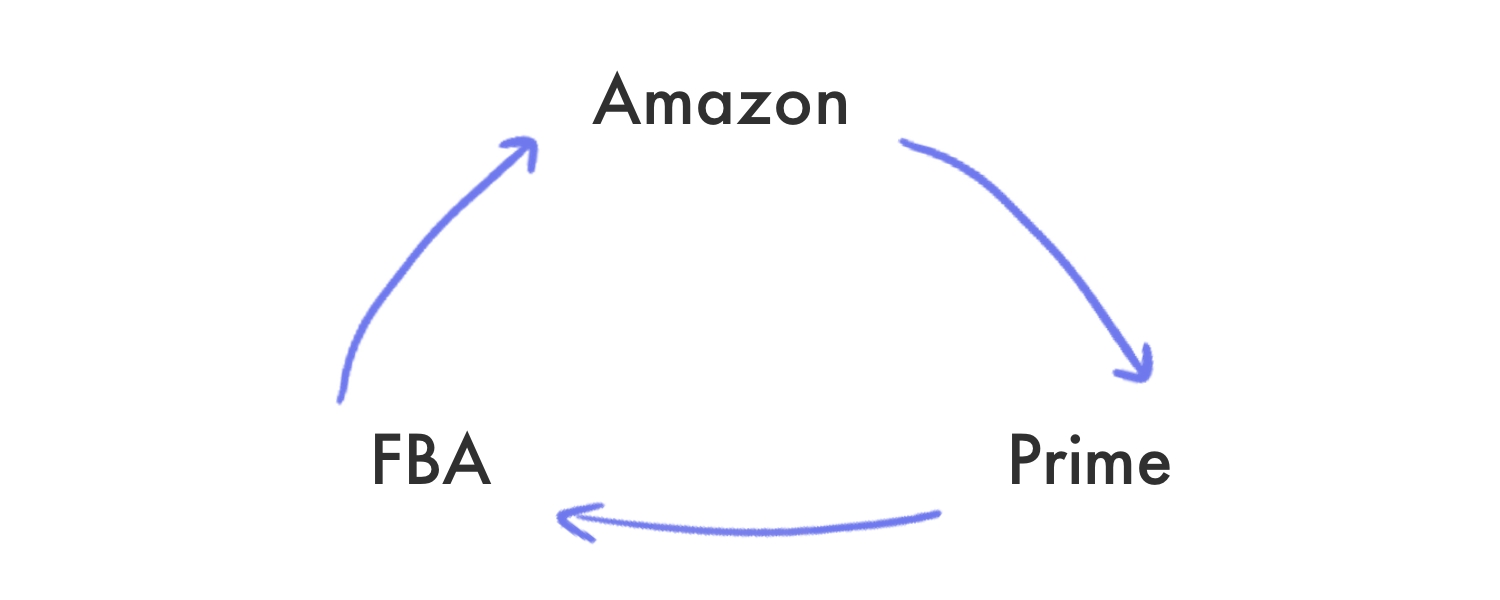 The fundamental issue with FBA storage limits and fee increases is that Prime is tied to FBA, and Amazon is tied to Prime. That is, most shoppers on Amazon are Prime members, and thus Amazon is tuned to favor Prime selection. But offering Prime selection requires the use of FBA. Last year, Amazon was fined nearly $1.3 billion by Italian regulators for this exact tying.
FBA is not an optional service but a required one, and thus according to Marketplace Pulse research, over 90% of top sellers on Amazon use it. Amazon sellers have no choice but to use FBA because it is nearly impossible to be competitive on Amazon without it. The few sellers that don't use it are often in categories unfit for FBA, like books.
Amazon would argue that FBA is the cheapest and best option for sellers. And it often is. But sellers still have to use it when it isn't - and it hasn't been the cheapest and best option often over the past few years.