Marketplace Pulse founder Juozas "Joe" Kaziukėnas presented a keynote at Retail Global Las Vegas 2017 conference on September 12th. Joe's keynote, titled "The Future of Marketplaces", looked at what makes a successful marketplace, and how the marketplace model built by Amazon 17 years ago - despite them leading the market - might not be the only way to do it.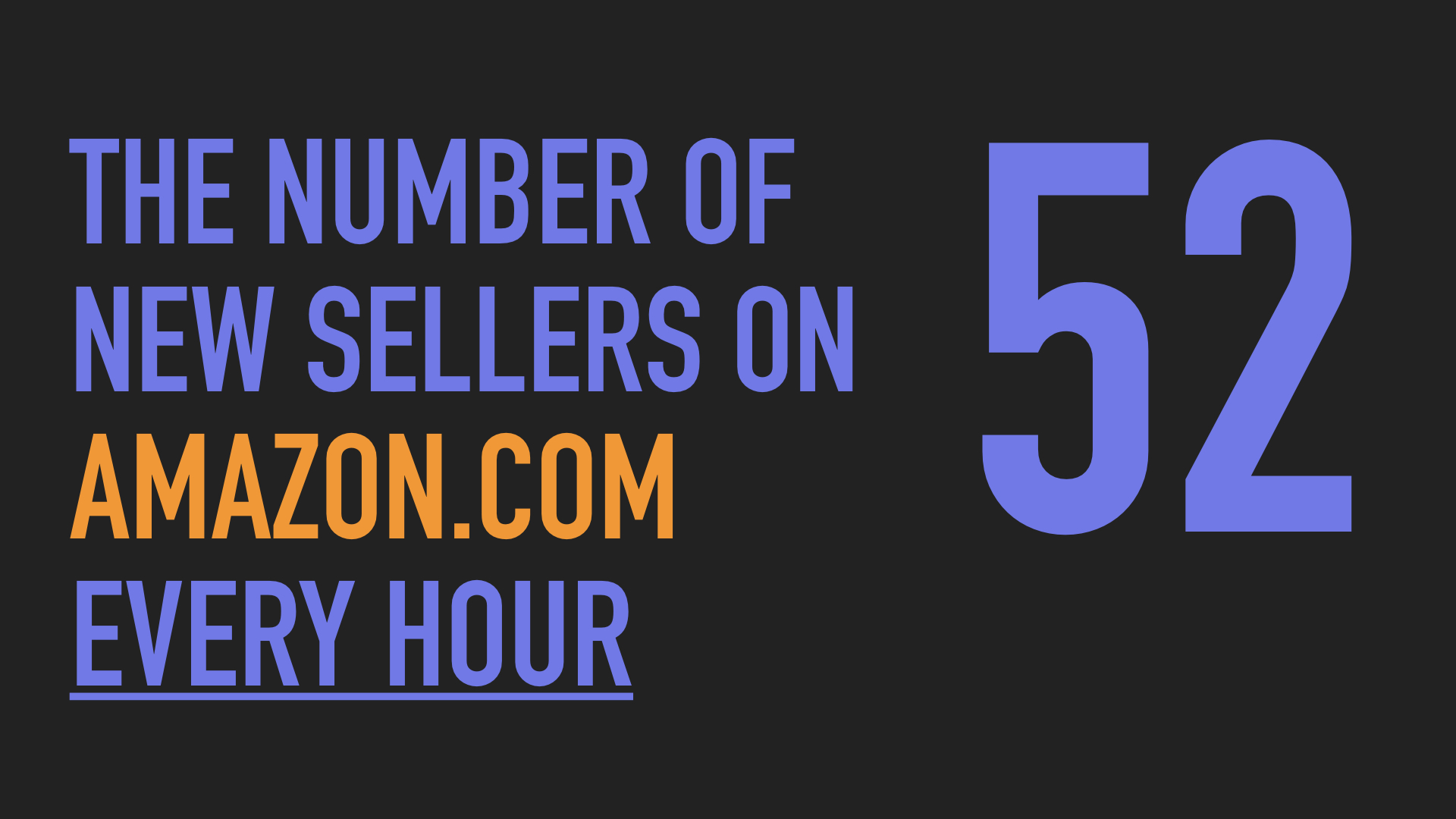 Every hour 52 new sellers join the Amazon.com marketplace. That's more than one thousand new sellers every day, and over 300,000 this year already. Together all Amazon marketplaces in 12 countries have attracted more than 750,000 new sellers in 2017, and thus by the end of the year more than a million new sellers will have joined.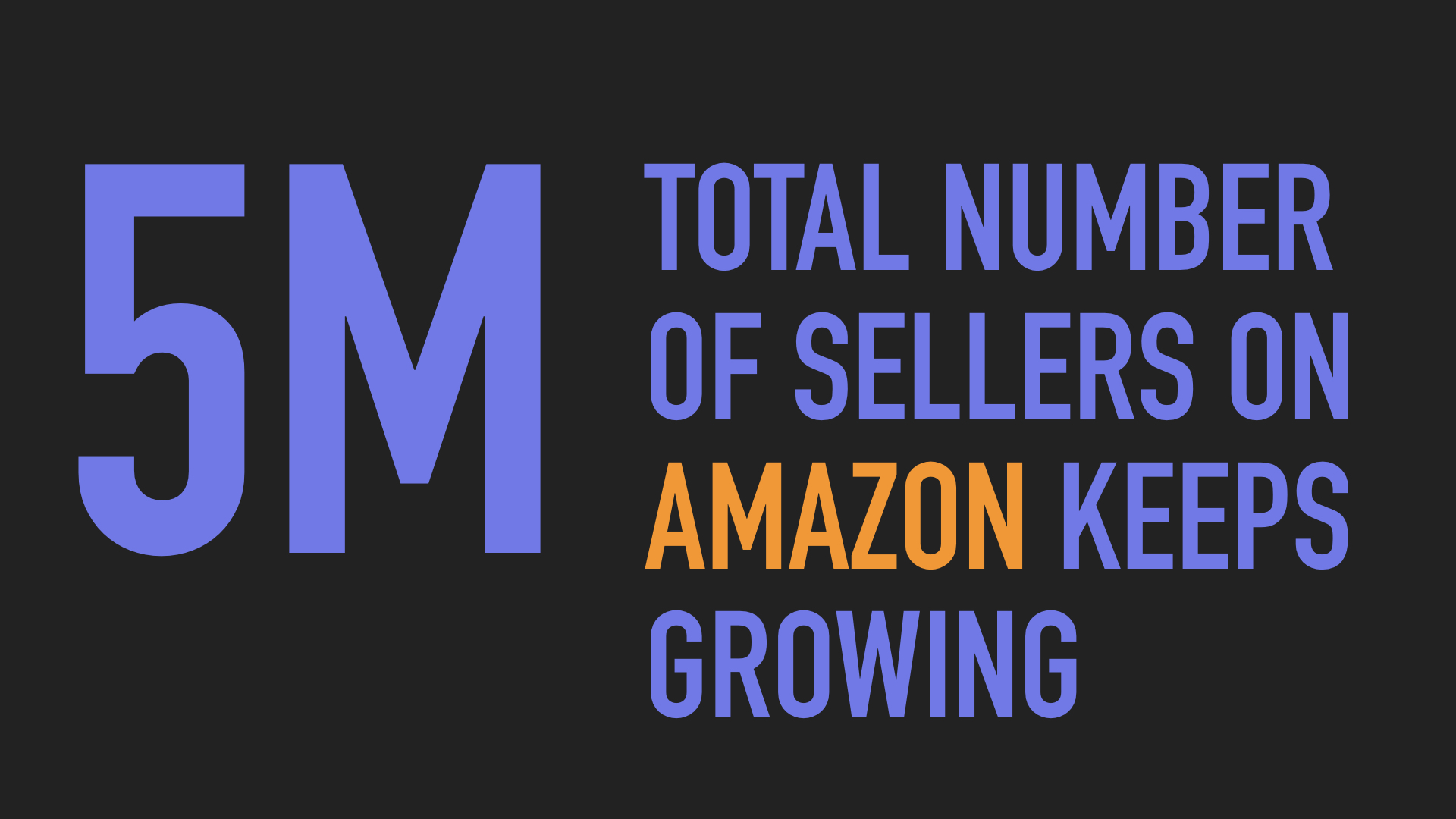 There are roughly 5 million sellers on all Amazon marketplaces today, but the growth has accelerated over the last years. 2017 with the million new sellers must be the most active year.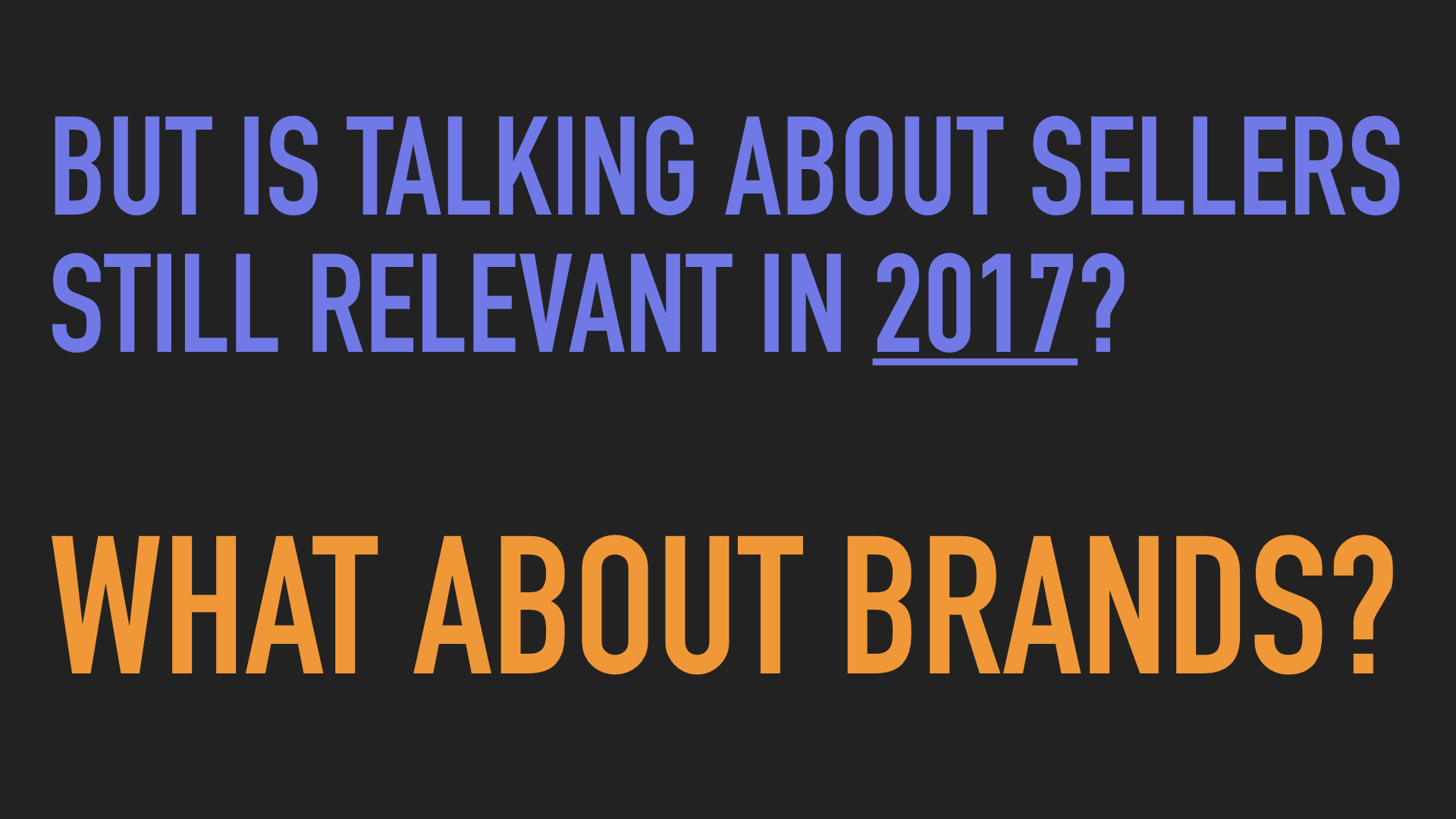 But is talking about sellers still relevant in 2017? Wouldn't the conversation make more sense to talk about brands? I'm here to argue that while sellers were the building blocks of marketplaces for over the decade, innovation is now where brands are.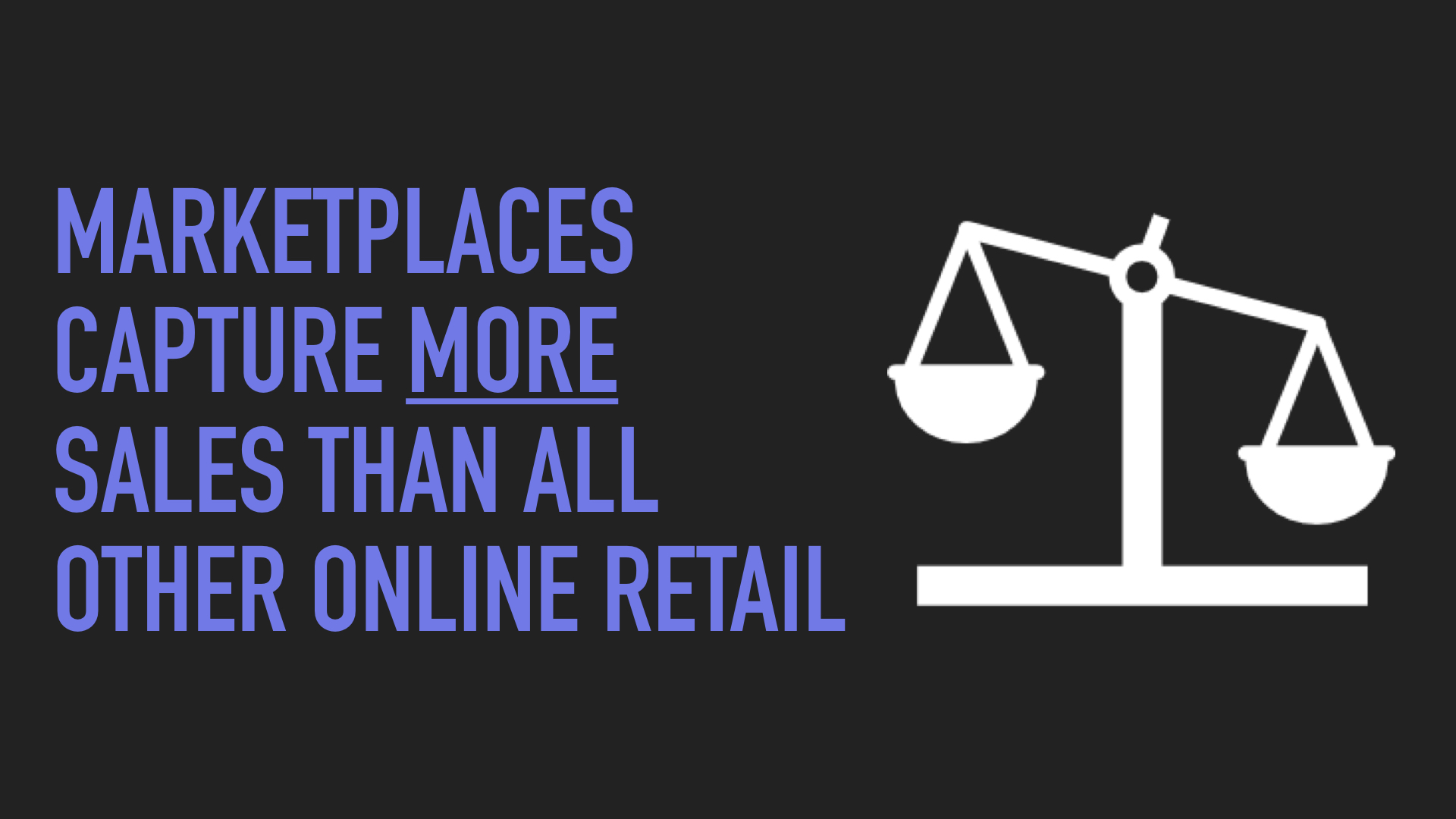 However before we begin, we need to establish that marketplaces capture more sales than all other online retail. This is true for the US market, as it is true for other leading countries too. For example in China it is Alibaba's Tmall.com, and JD.com, in India it is Flipkart, Snapdeal, and Amazon India, and in Latin America it is Mercado Libre, and recently Linio.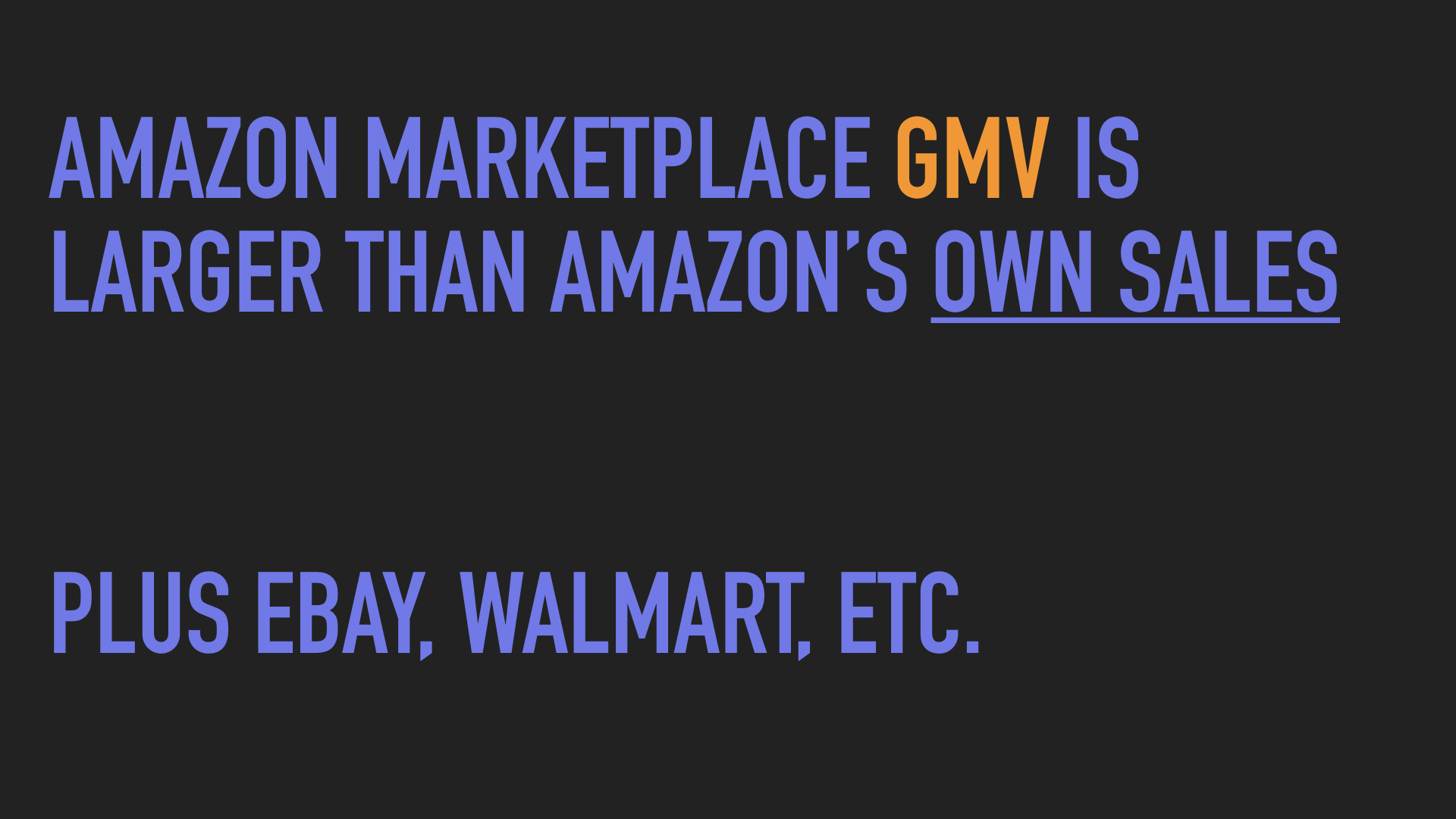 Amazon does not report marketplace Gross Merchandise Volume (GMV), which means the marketplace is largely invisible. But they do report some useful metrics which has allowed to estimate the size of the marketplace. And through those it is clear that Amazon's own sales (1P, first-party) are now smaller than the marketplace (3P, third-party). When combined with the sales on eBay, Walmart Marketplace, Etsy, and some new marketplaces like Wish.com, it is clear that marketplaces are the major part of online retail.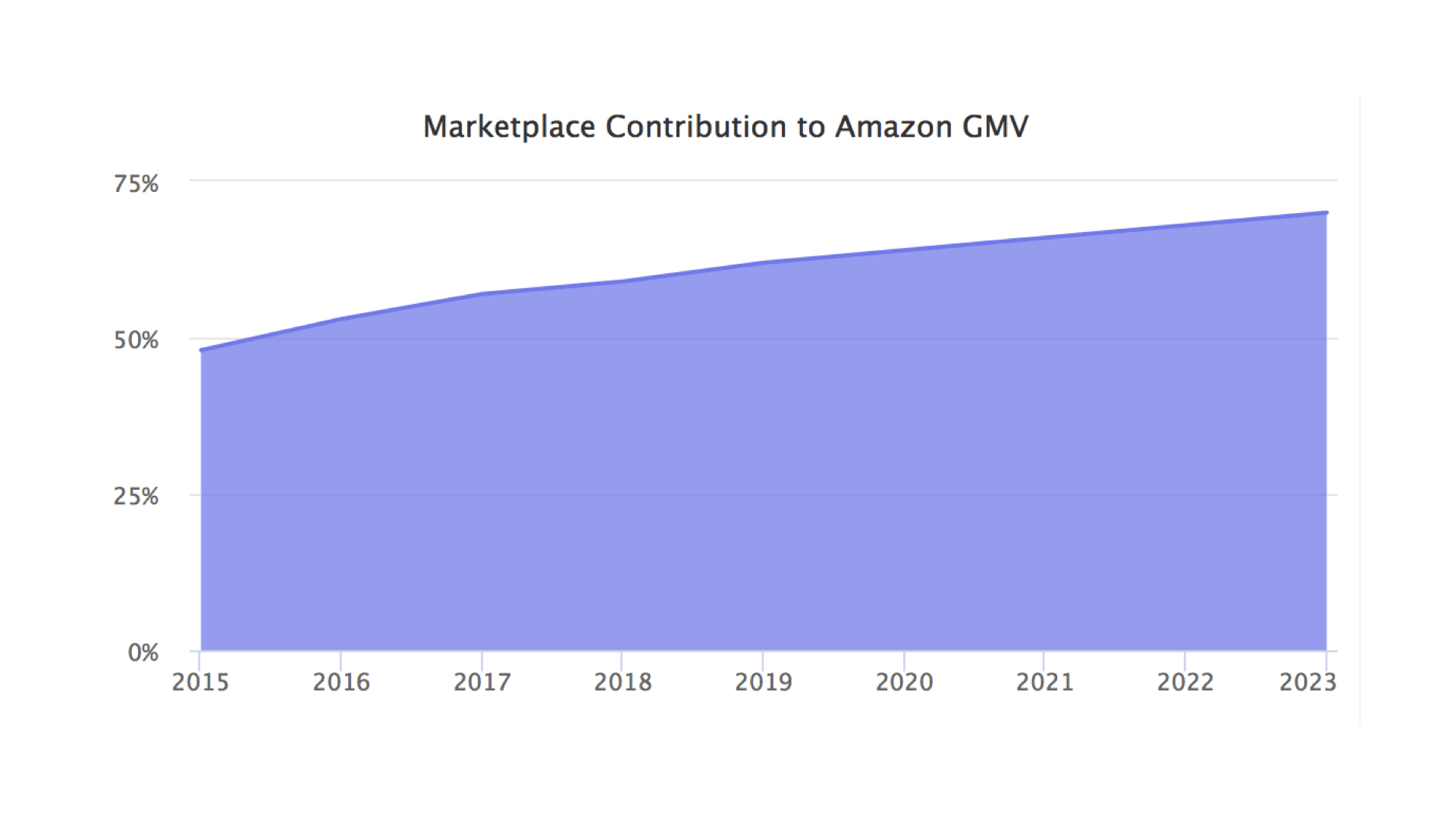 But it will get even bigger. For example at Amazon the marketplace contributed roughly 50 percent of sales in 2016, but in the next 5-7 years it will grow to more than 70 percent. So while we will continue to see innovation from Amazon, and other companies, the future of US retail is increasingly marketplaces.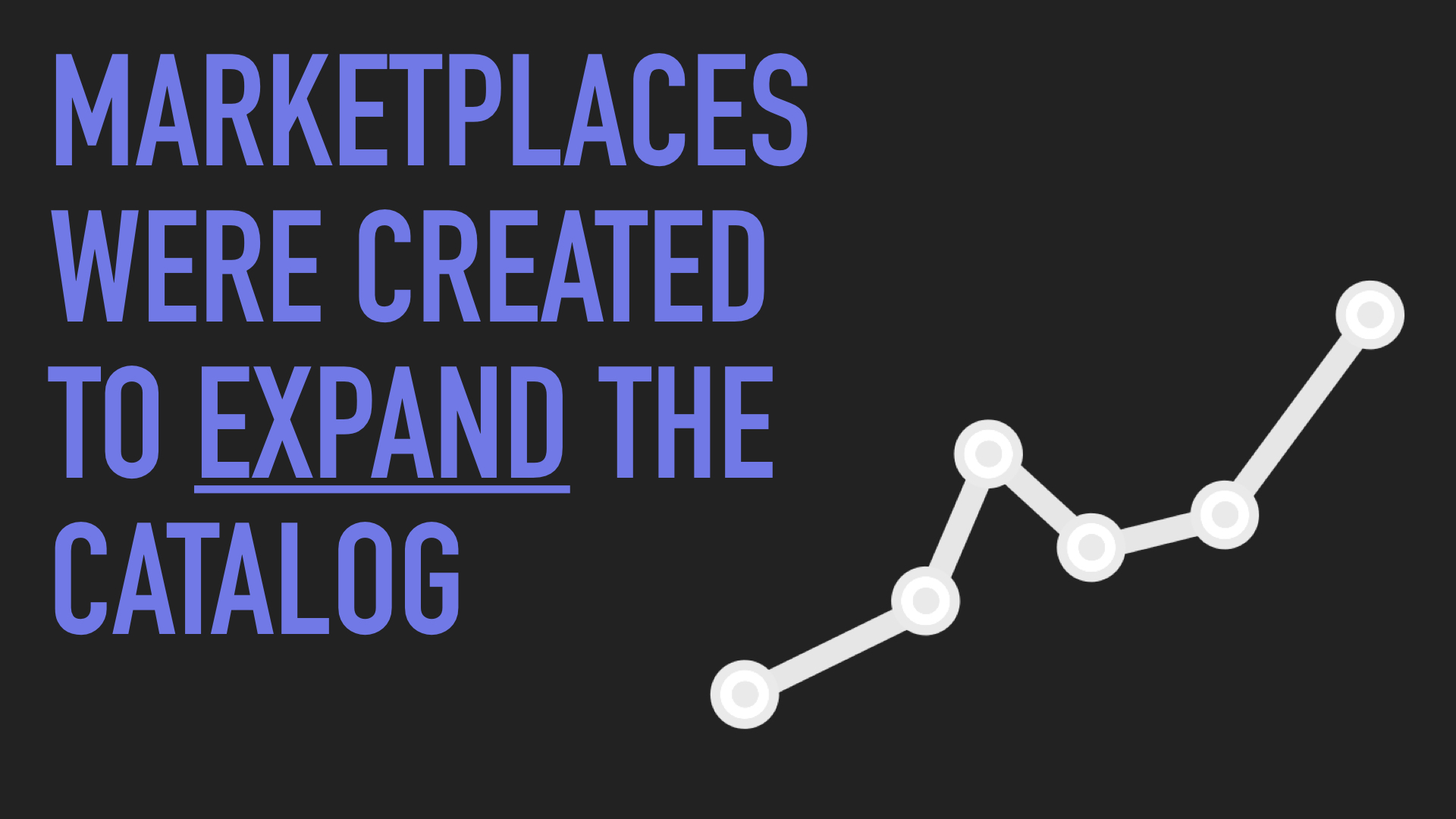 As marketplaces grew in market share, the role they play, and the market dynamics inside of them have changed too. Initially marketplaces were created to expand the catalog only. Amazon could only build so many relationships with books publishers, thus they decentralized the problem by allowing others to do the work for them, and in turn allow both to benefit.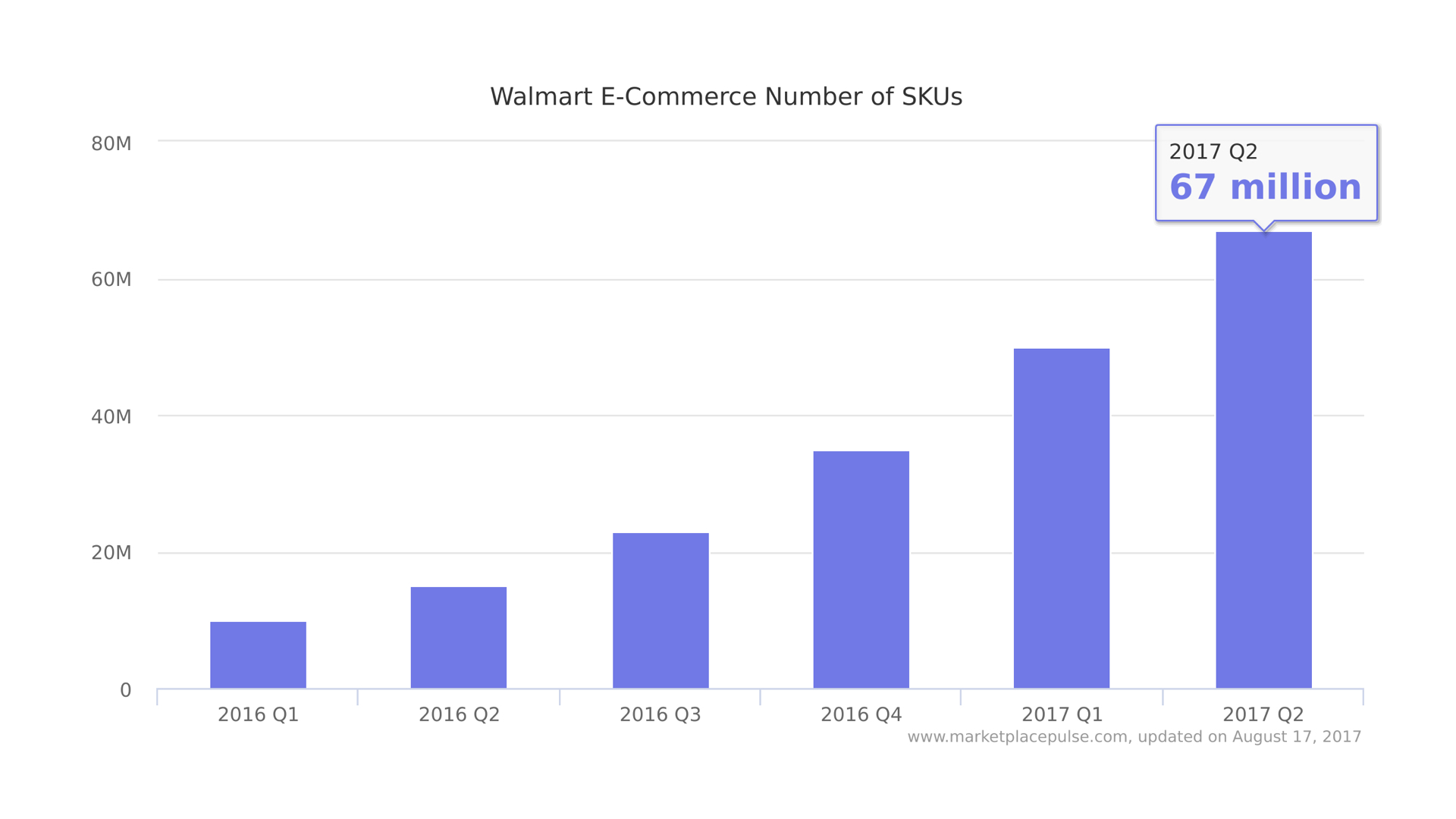 Walmart is currently going through a similar development, if only many years later. At the start of 2016 they had less than 10 million products on walmart.com, but thanks to the Walmart marketplace that number now has increased to 67 million. However growing a number of products is not the winning strategy anymore. It looks good on paper, but it won't make the marketplace successful.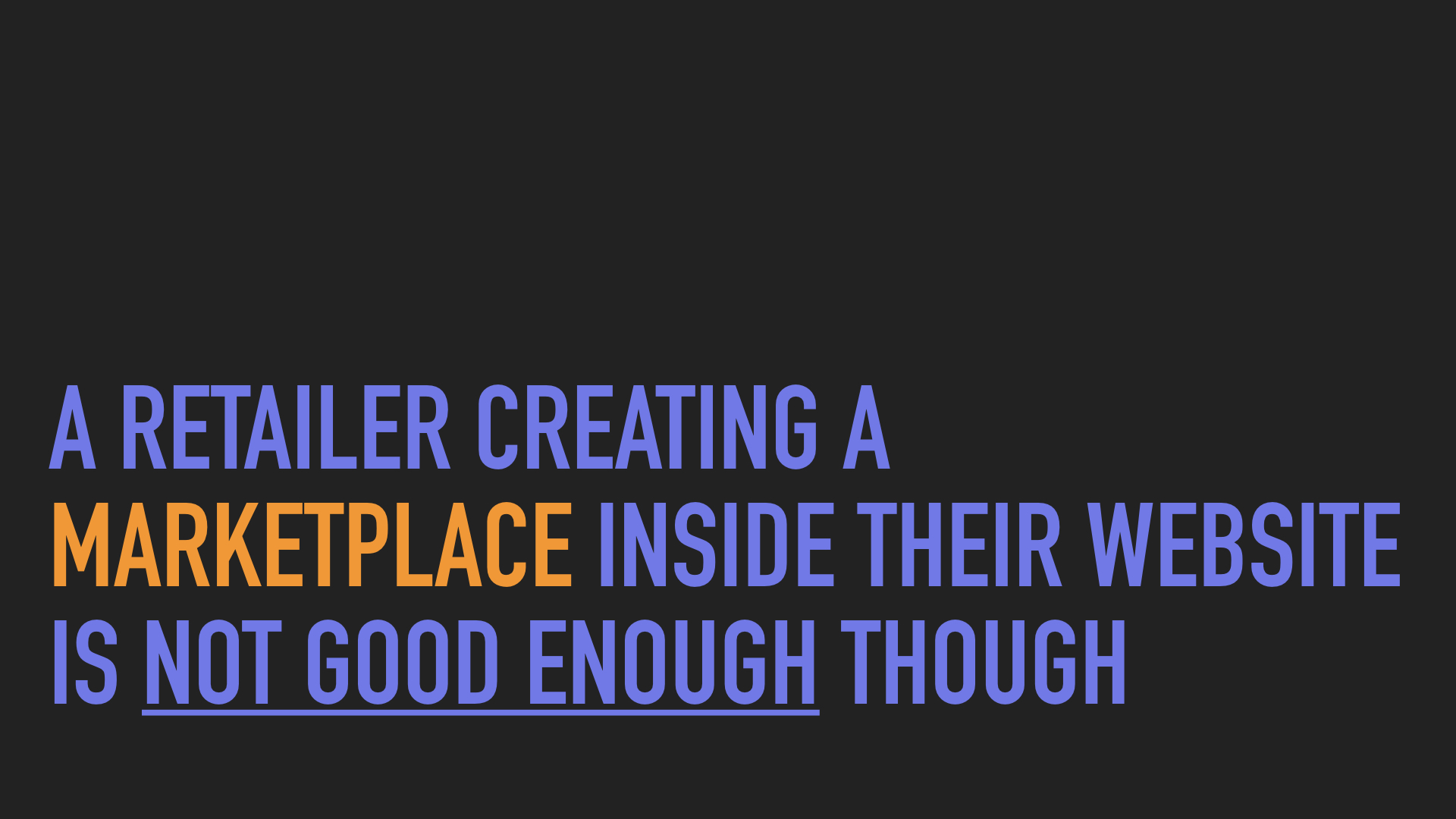 This is obvious when looking at Walmart too. They launched the marketplace all the way back in 2009, expecting an over-night transformation of their online business. But nothing happened, and even though they started embracing the marketplace as a core strategy in 2016 when all that SKUs growth happened, a retailer launching a marketplace is not how marketplaces get built. It looks exactly like what Amazon did, but they did it at a different time, in a different e-commerce market. Sears, BestBuy, Newegg, Buy.com all launched marketplaces with no clear strategy behind them.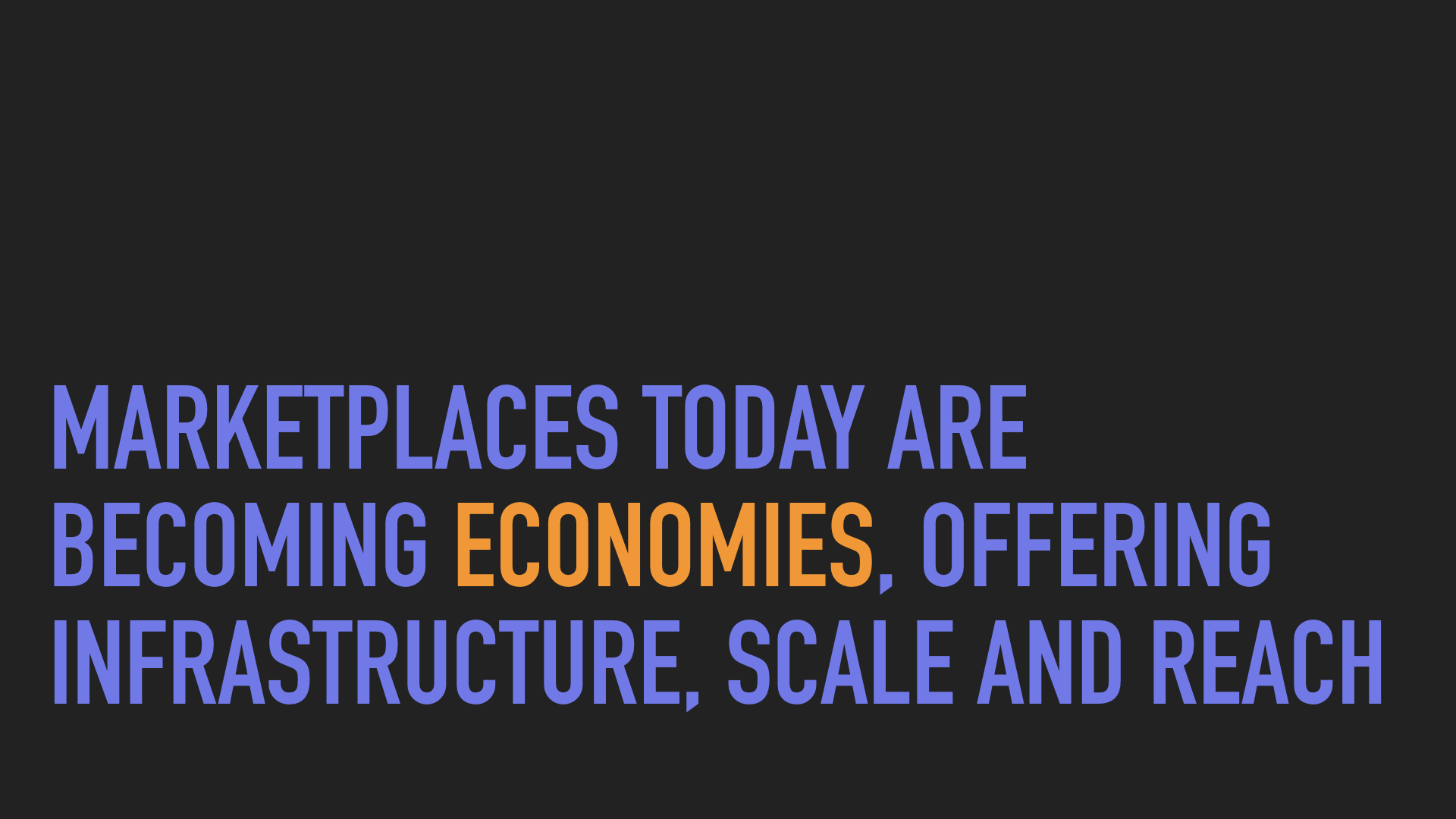 Marketplaces today are economies, offering infrastructure, scale, and reach. This is very different from launching a feature for sellers to list products on your existing retail website. Alibaba has probably been the most vocal about this thinking, and were the first ones to call themselves an economy, which showcases their understanding of the role they play in building online retail future.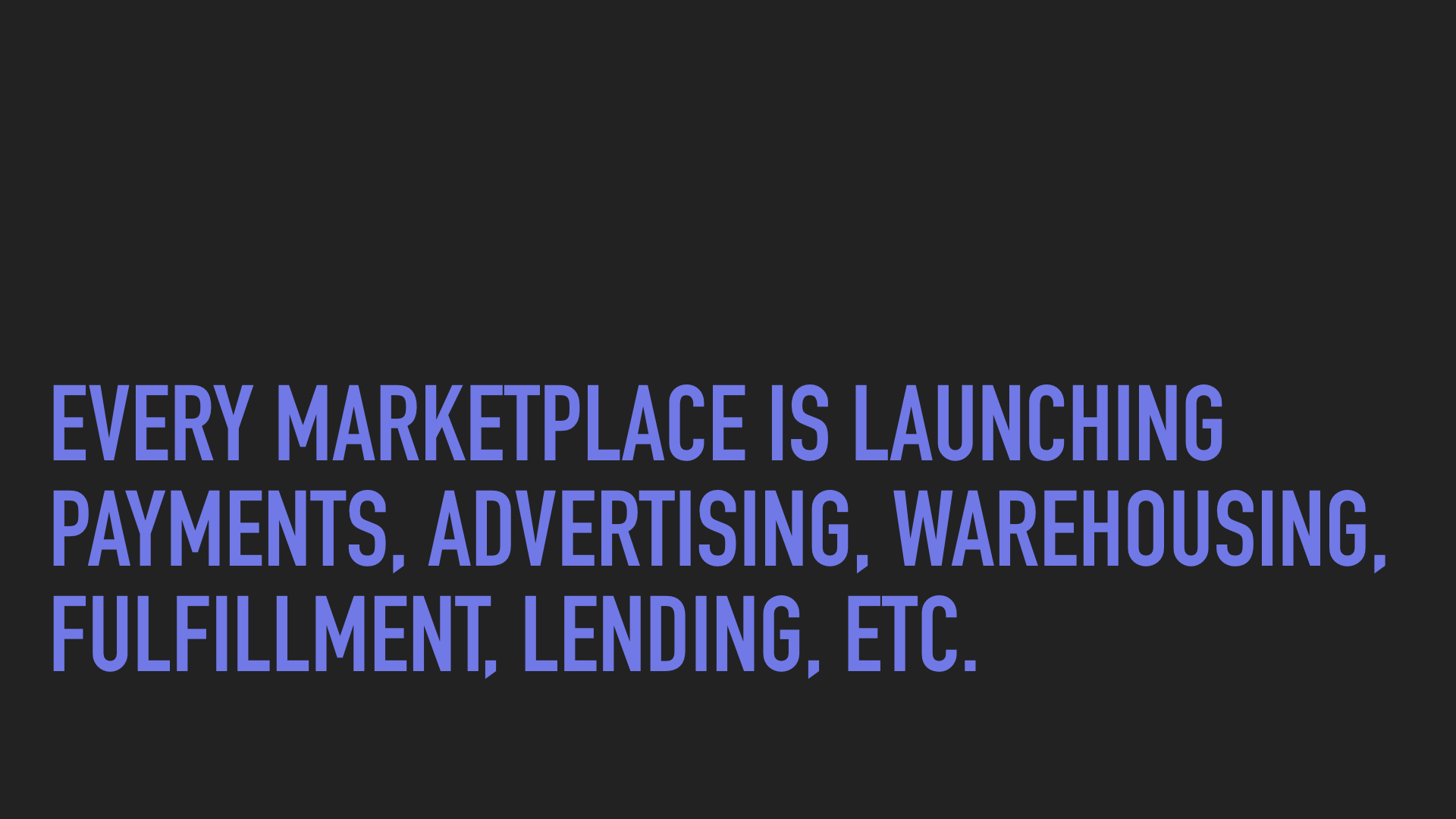 Because of this economy thinking every leading marketplace is focused on building infrastructure to enable growth. This includes things like payments, and advertising services, warehousing, and fulfillment solutions, lending products for sellers, branding and product launch features, etc. Just like an healthy economy has infrastructure to enable small businesses to flourish, marketplaces have that too - both internally, and externally (built by outside providers).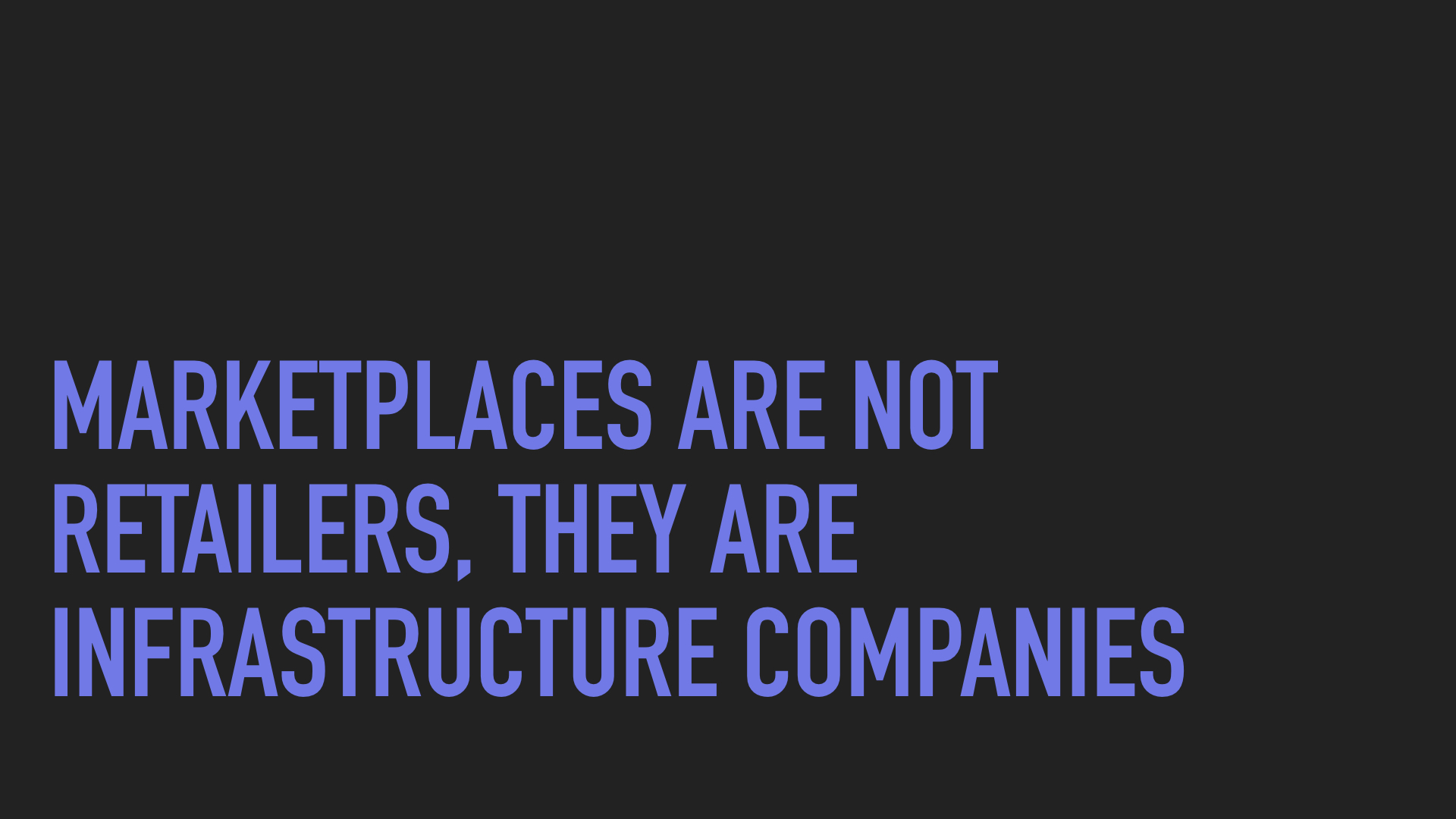 The most common mistake is to think of marketplaces as retailers. For example when talking about Amazon the marketplace is often omitted. But all marketplace companies are often technology, and infrastructure companies. Understanding retail helps, but there is so much more to it.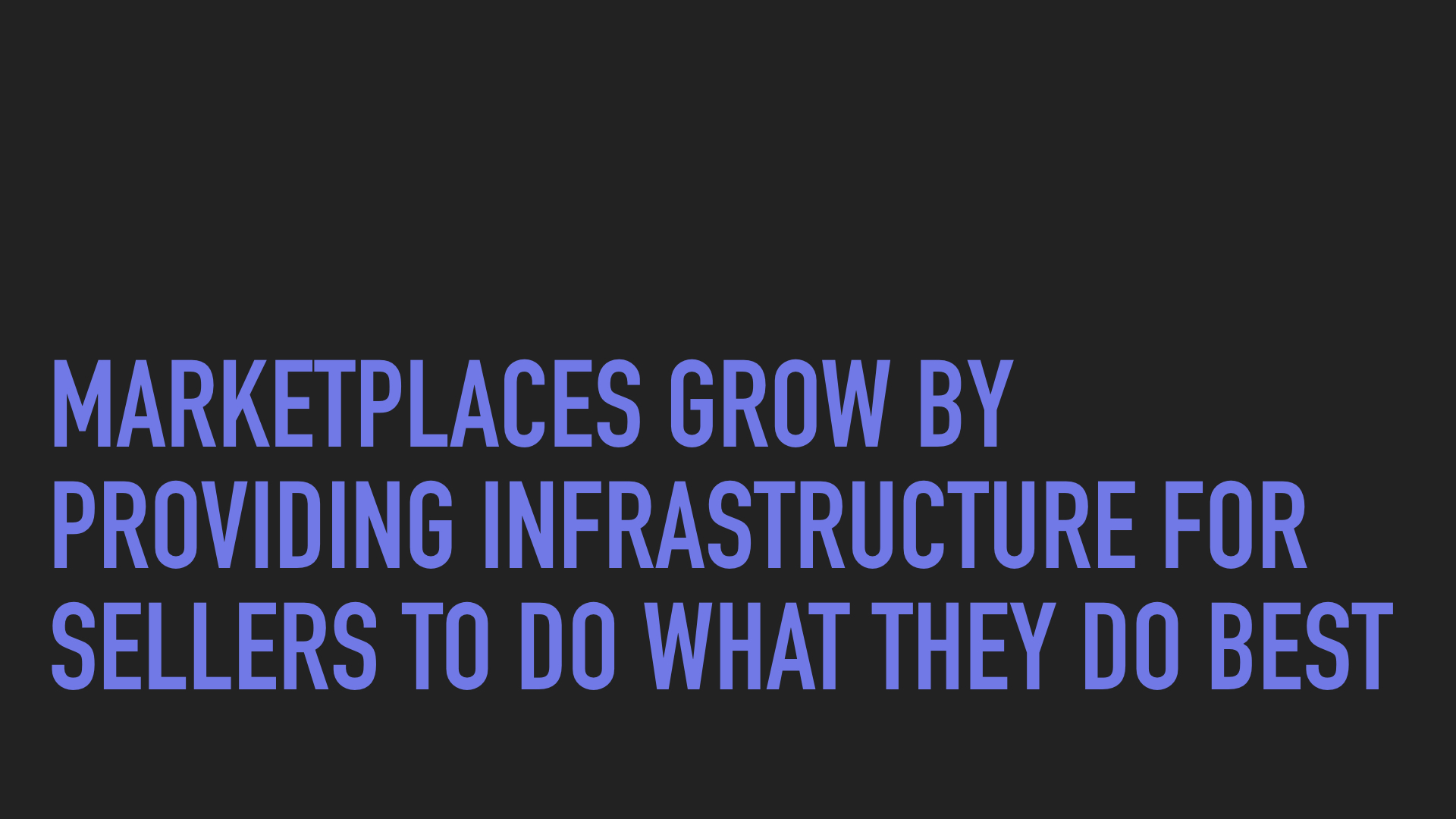 Successful marketplaces grow by enabling others to grow. By building infrastructure marketplaces are able to scale, and create opportunities for others. This is why marketplaces today are not about simply having a website allowing others to sell through. That alone doesn't enable growth for others. What does though is being able to take care of things like fulfillment, and payments, and market reach, while allowing the small business to focus on what they want to sell.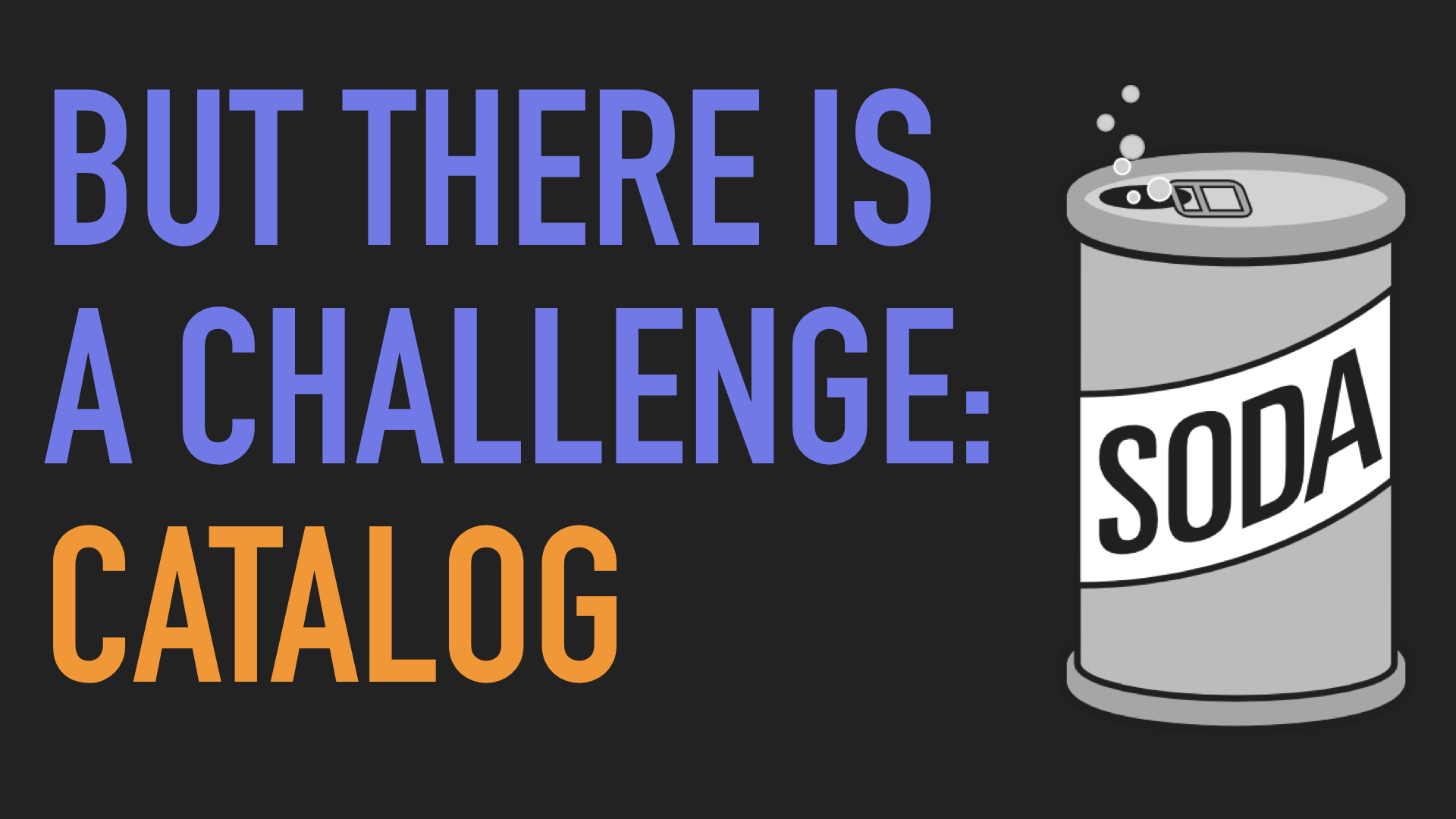 But despite the importance of building infrastructure, the catalog is still very important. And as all marketplaces grew it has become a challenge too.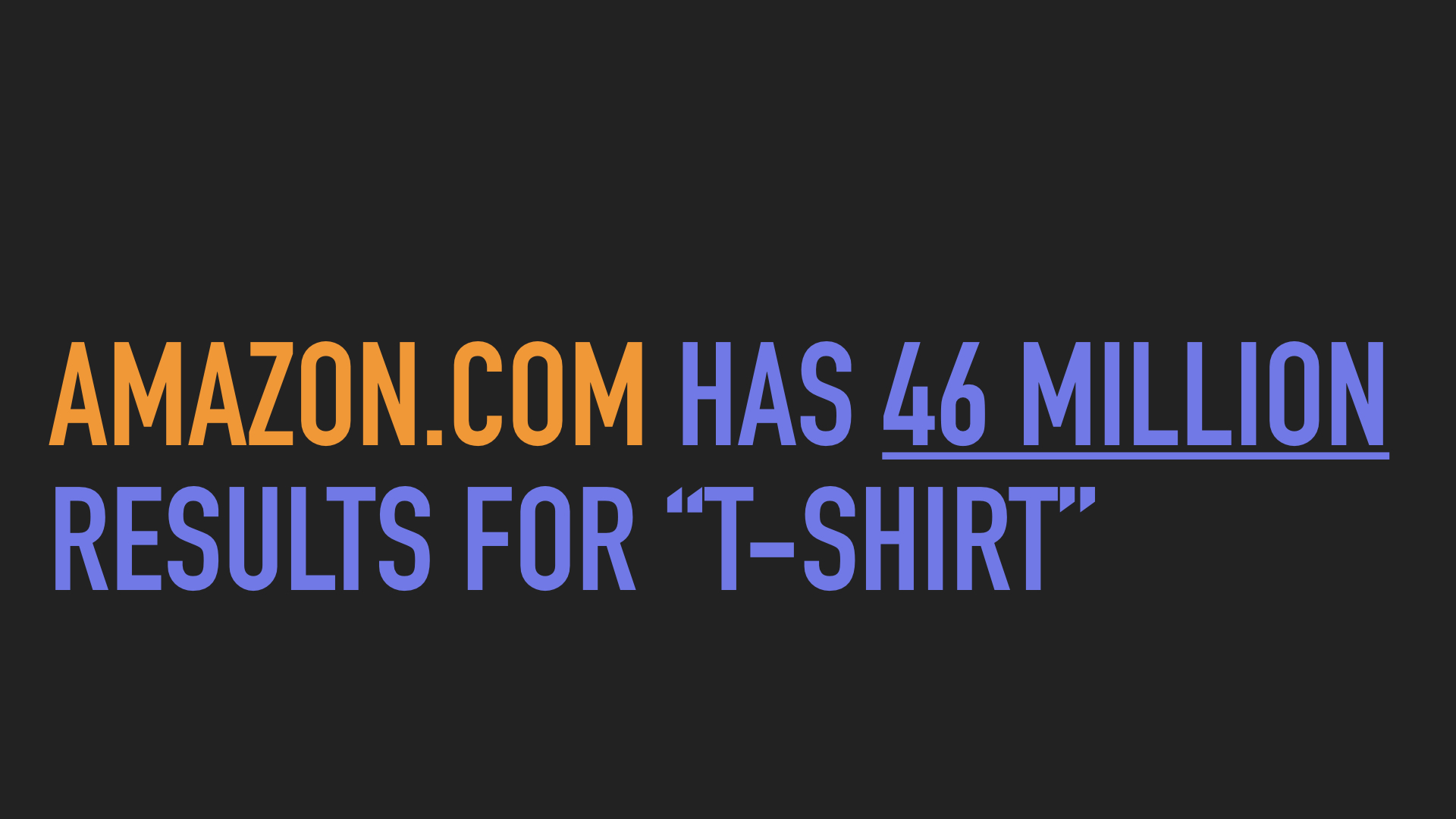 Searching for "t-shirt" yields 46 million results on Amazon.com, which means the catalog is an endless collection of noise. Thus when a new product is launched it gets lost in all the noise, putting the pressure on the brand to figure out how to make it surface. Personalization, and discovery on Amazon is virtually non existent.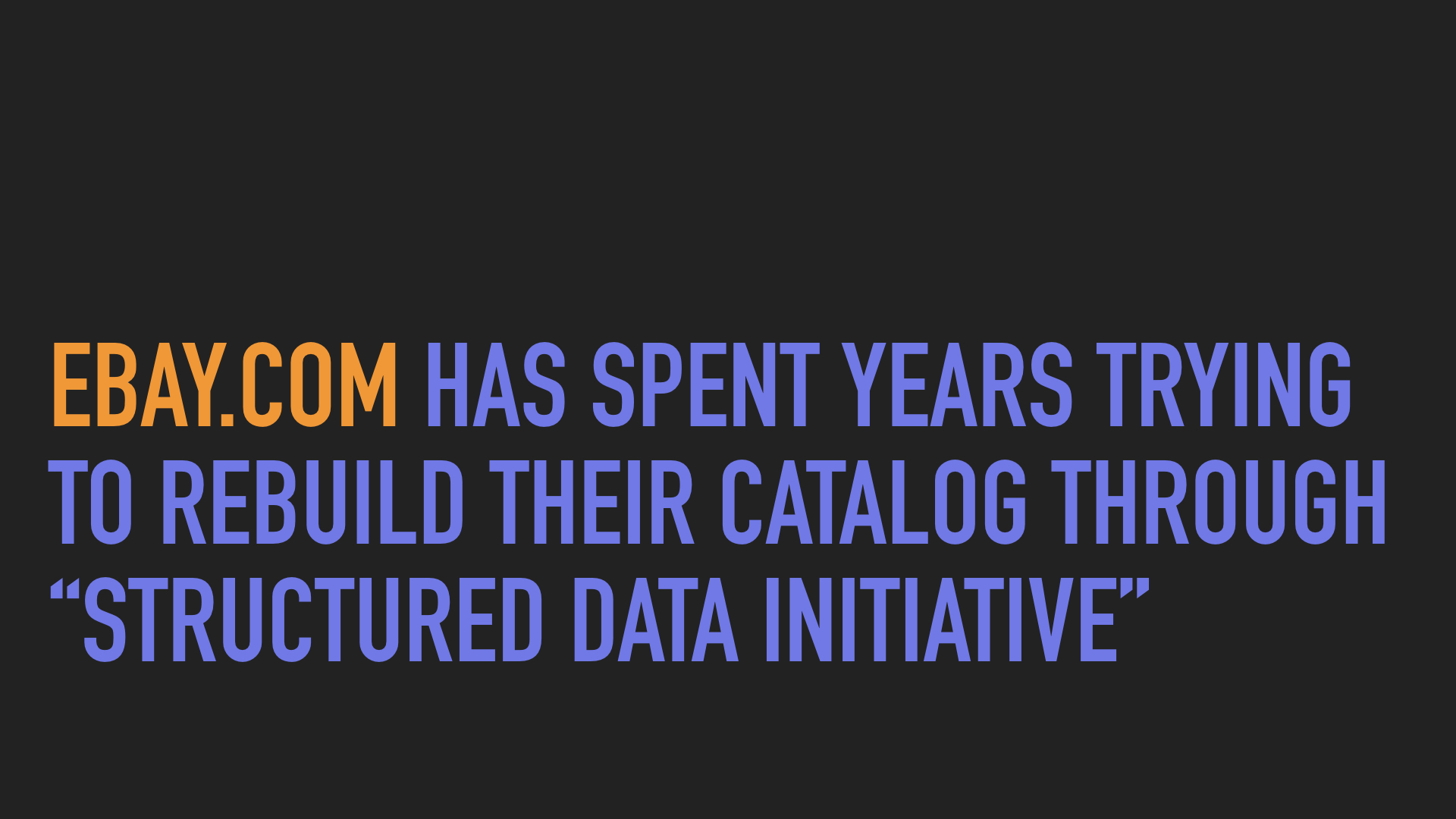 eBay has realized this problem years ago, and thus spent every quarter talking about their Structured Data Initiative. For years they were ecstatic about the billion listings on the website, but just like Amazon they found themselves with a catalog full of noise, and no way to build user experience for the future.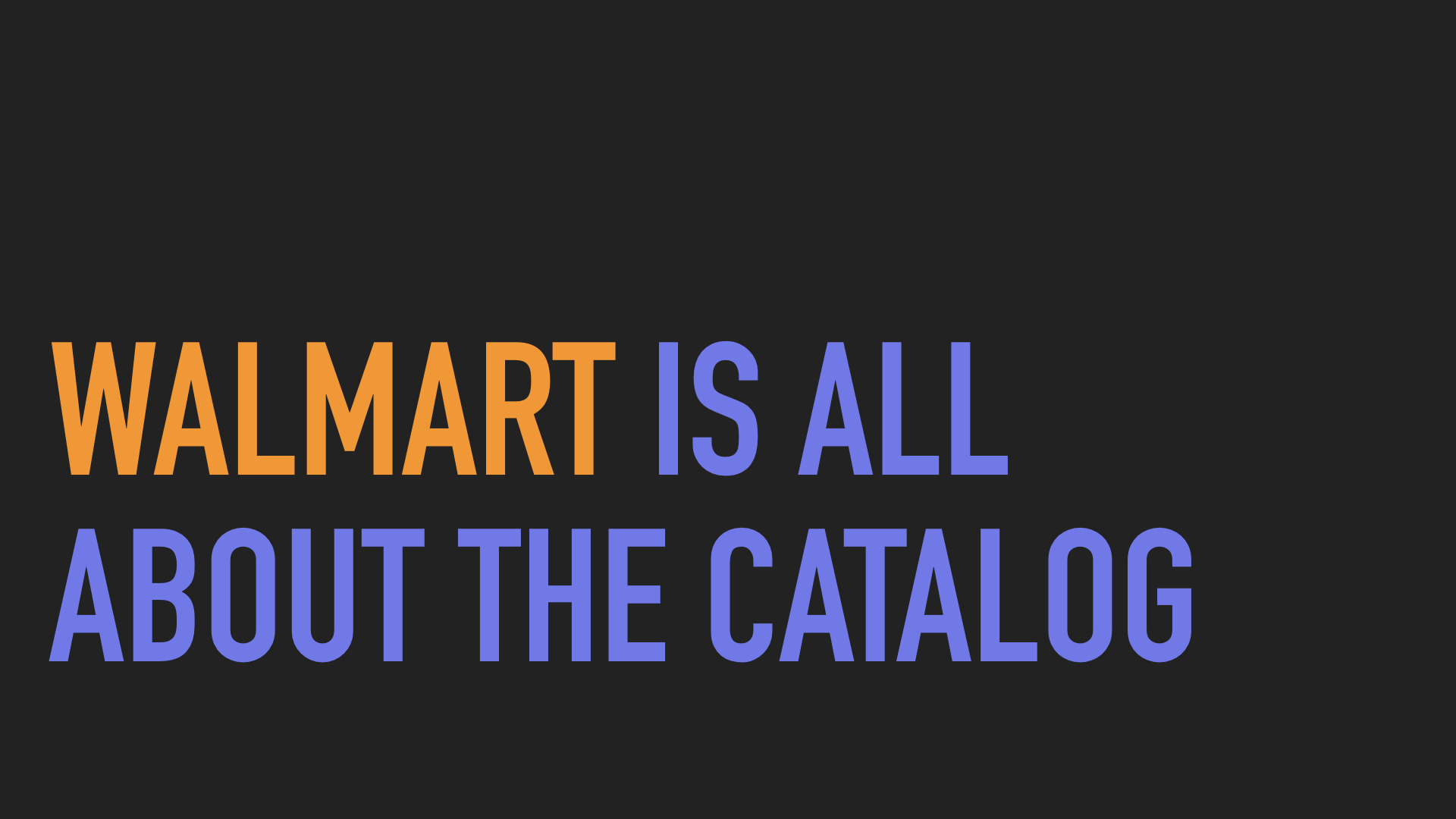 Thus while Walmart has been boasting about the catalog growth, the challenge is what that catalog will bring. Walmart has never explicitly mentioned this, but the reason why they have an invite-only marketplace is because that allows to control how a catalog grows.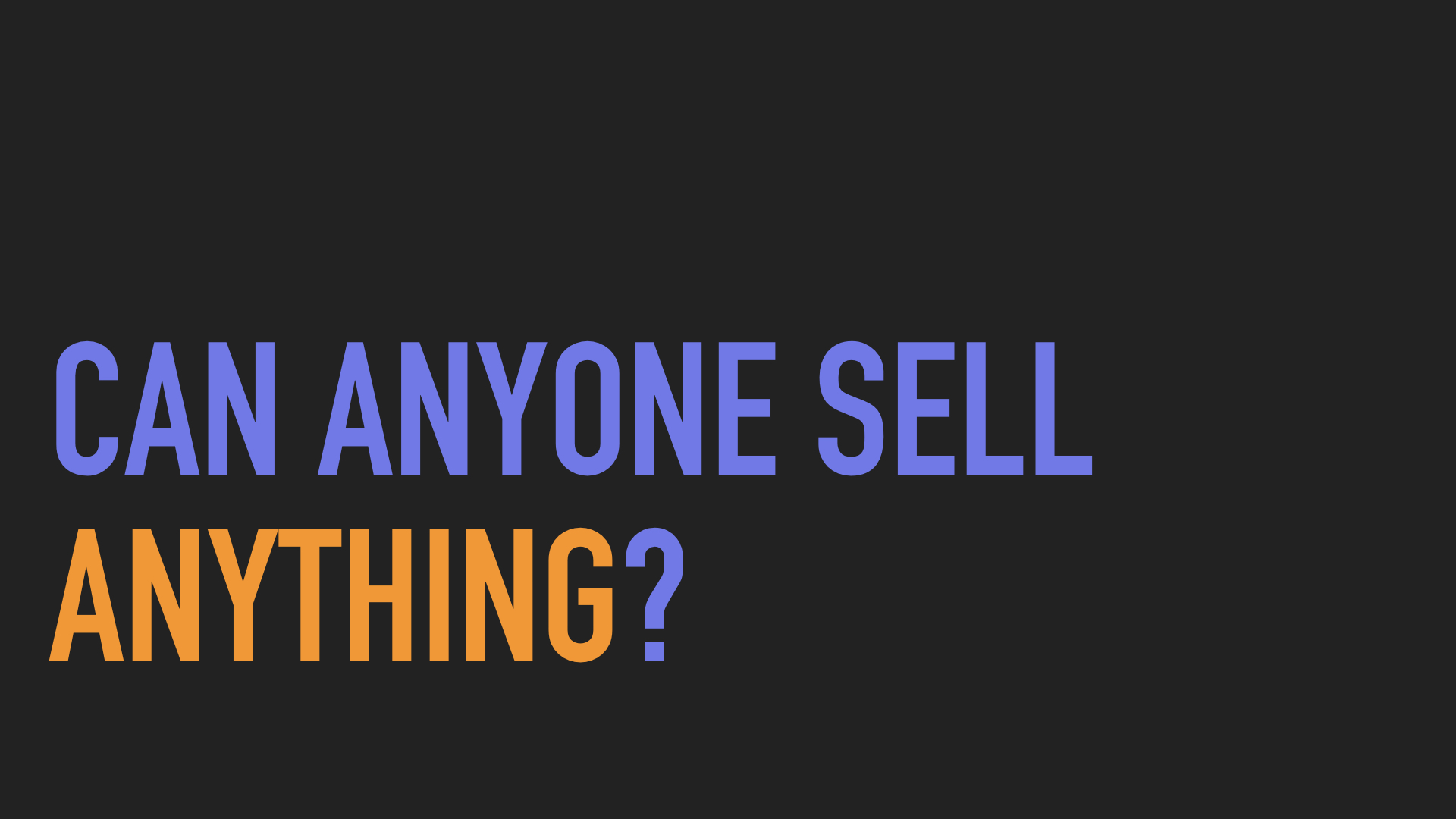 Both Amazon, and eBay have suffered by having an open-to-anyone marketplace. This has meant their catalog is messy, and they can't deliver effective personalization without extra work. It is unclear if Walmart's approach is more future-proof, but they are at least thinking about the catalog.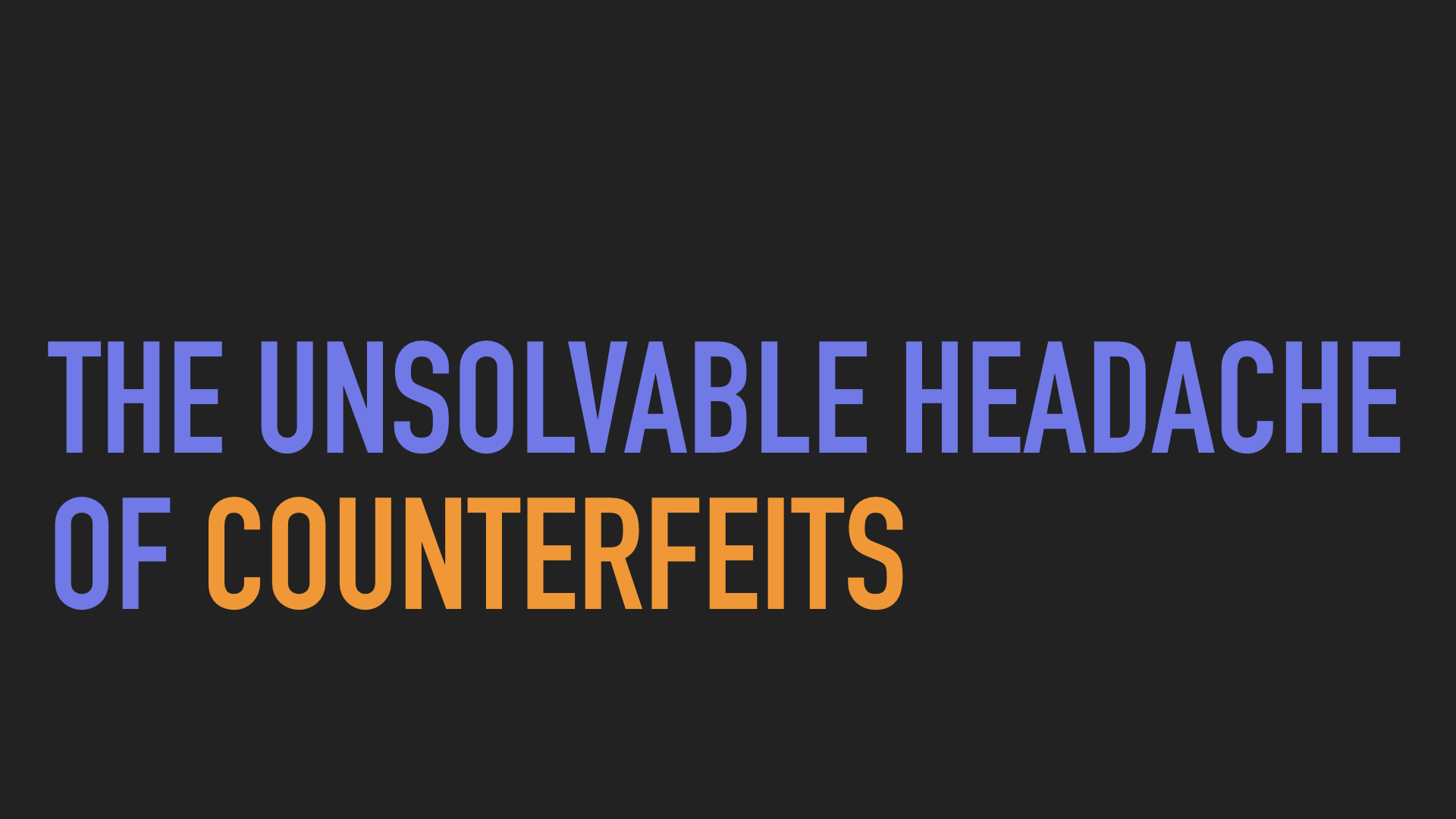 Counterfeits have been an issue for as long as manufacturing has been around, but more so when the notion of a brand was born. Marketplaces are ideal places for them to be traded, and it is too a challenge for marketplaces to figure out how to handle them. It is likely never going to be solved, but marketplaces will continue to get publicly blamed for it. As is Amazon very often already.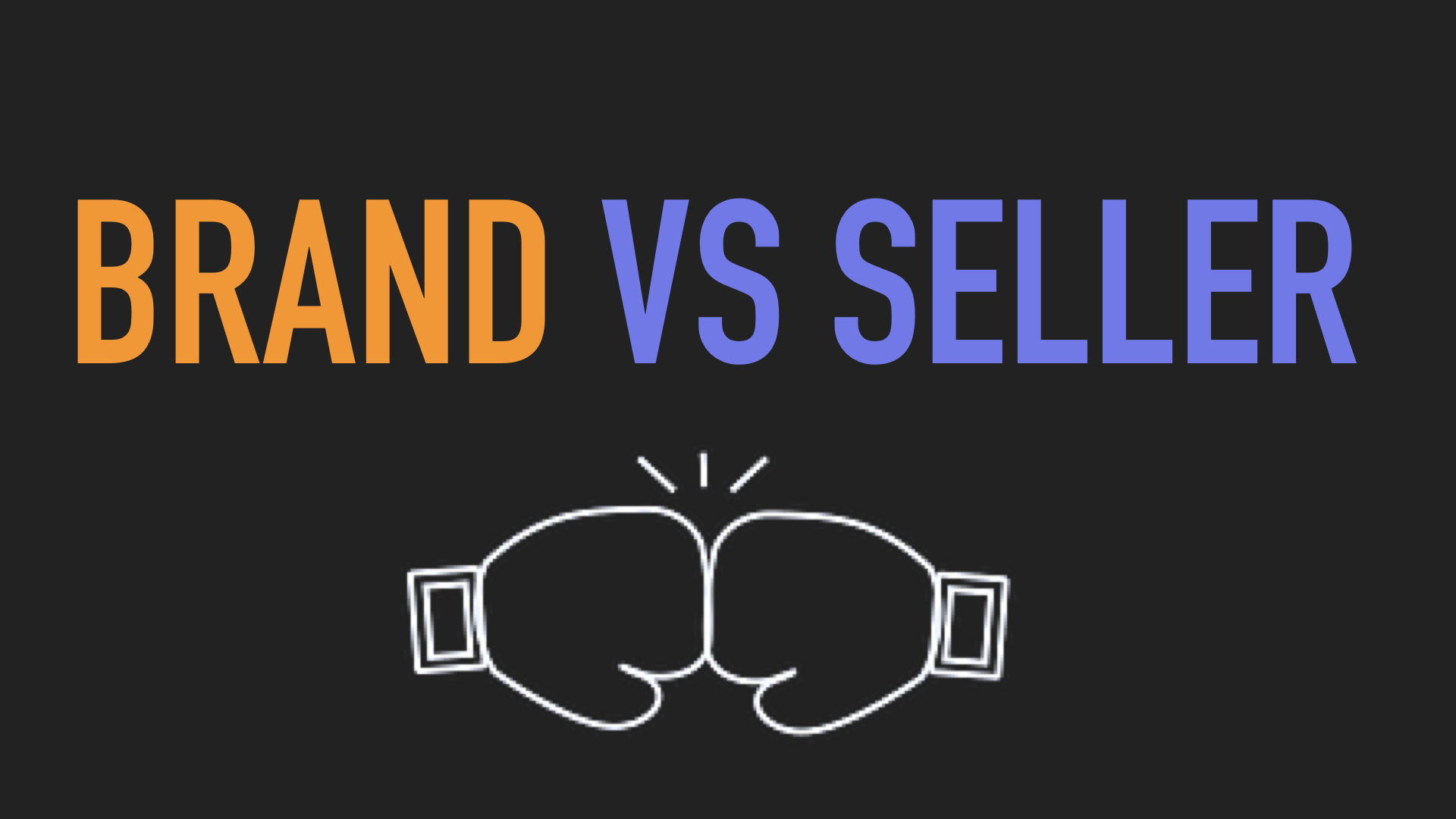 With the notion of the catalog in mind, the most interesting topic is brand vs seller. As in are marketplaces about brands, or are they about sellers. Unpacking this is the key into understanding what is going to come next.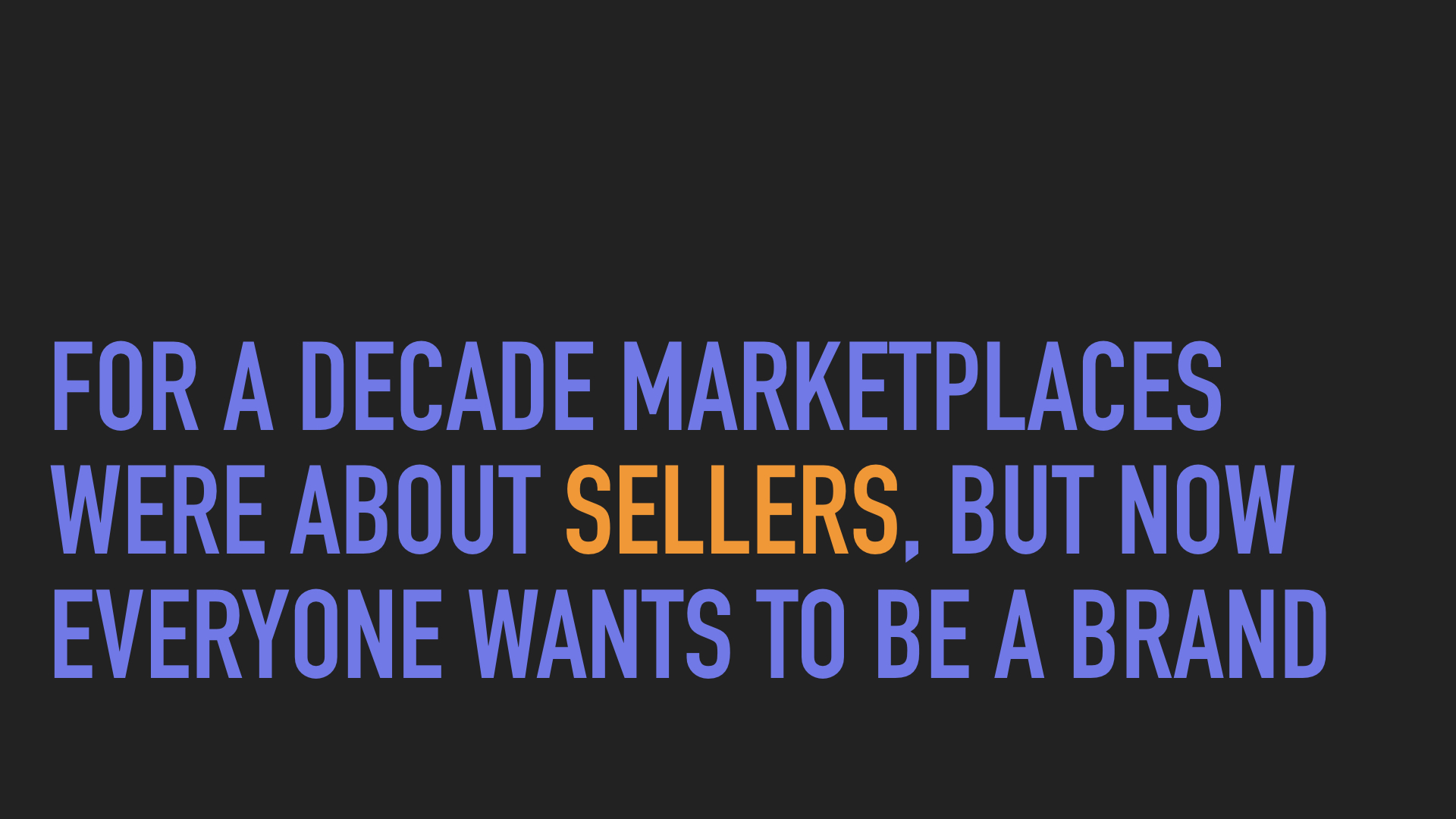 For a decade marketplaces were about sellers, and those sellers were often retailers. But for a few years now sellers are looking for some stability, instead of selling the same products as everyone, relying on buy box repricing to get a sale. Which means everyone now wants to build brands. And if they are not, sellers are offering for brands to become their exclusive retailers on Amazon.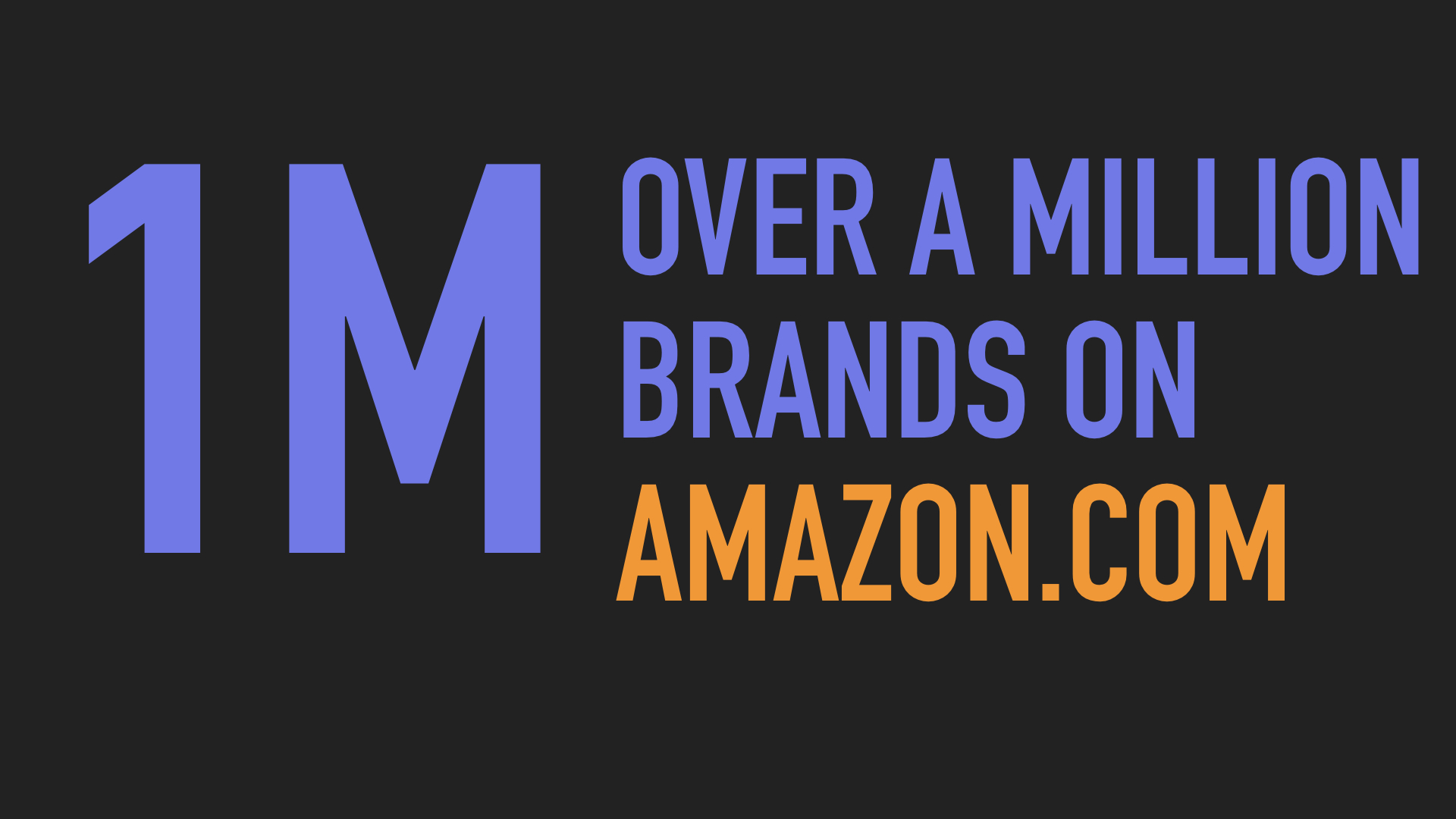 Amazon.com already has over a million brands listed. Like previously highlighted their catalog is not strictly controlled, so some of that is duplicates and typos. Either way the brands space is just as big as the sellers space.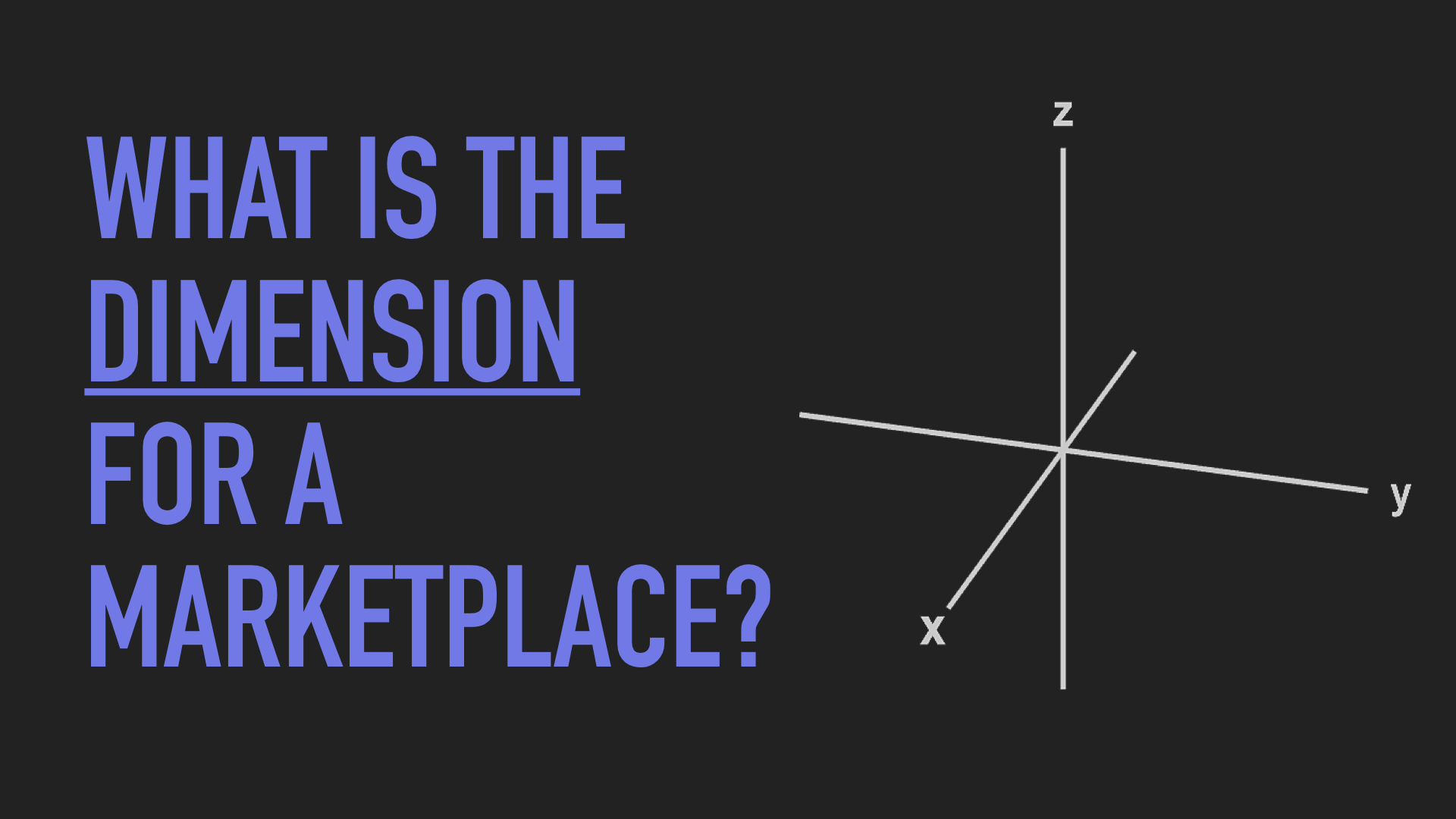 Which raises the question - what is the dimension of a marketplace. Given that there are sellers, brands, and customers in play, where does a marketplace draw a line, and how does it model interactions between these players.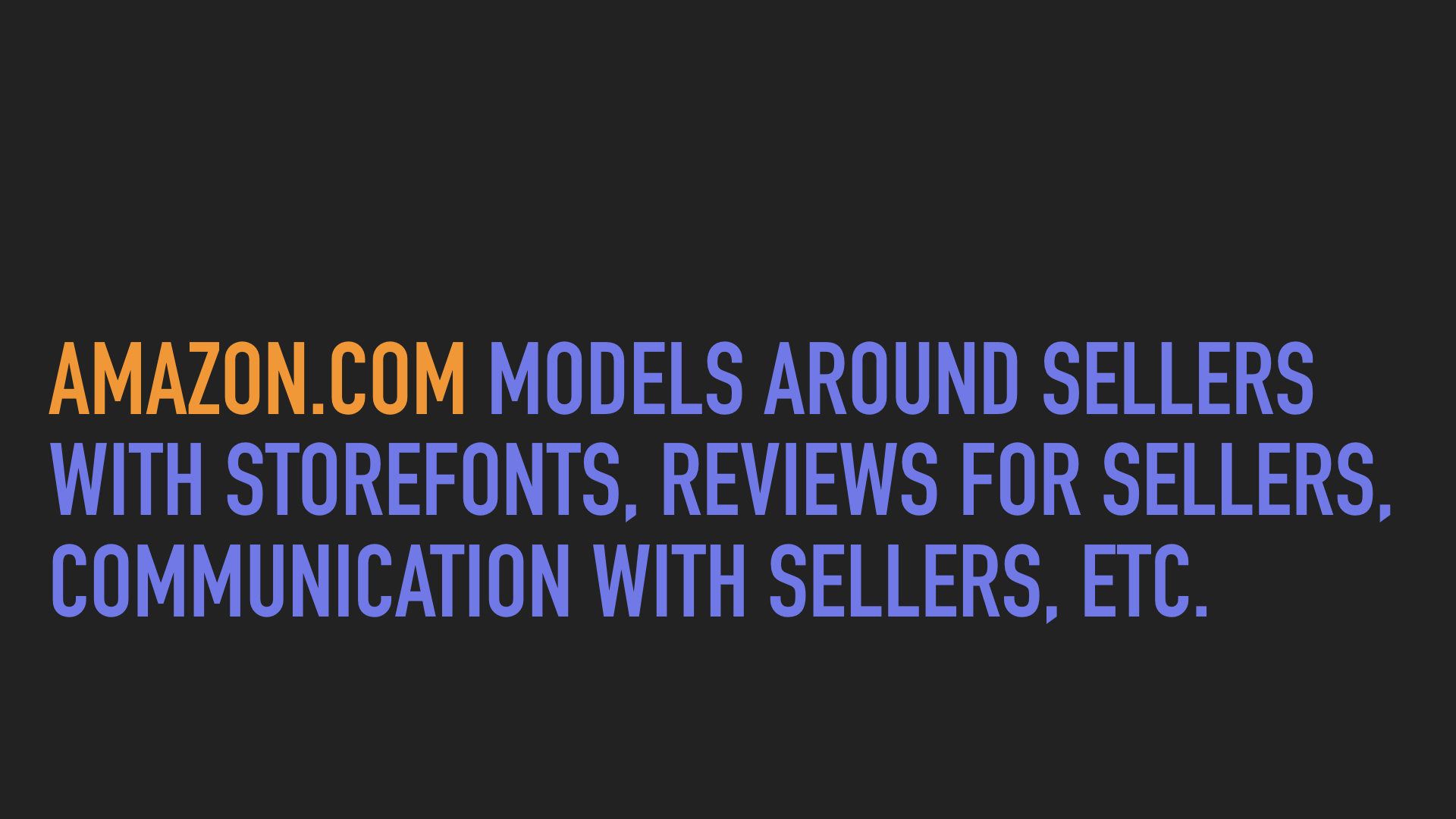 The model on Amazon is based on sellers. Sellers can have storefronts to list products they have on sale, sellers have reviews for their performance, sellers can also interact with sellers. Brands have presence in a sense that they are shown in product pages, but they are mostly disconnected from customers.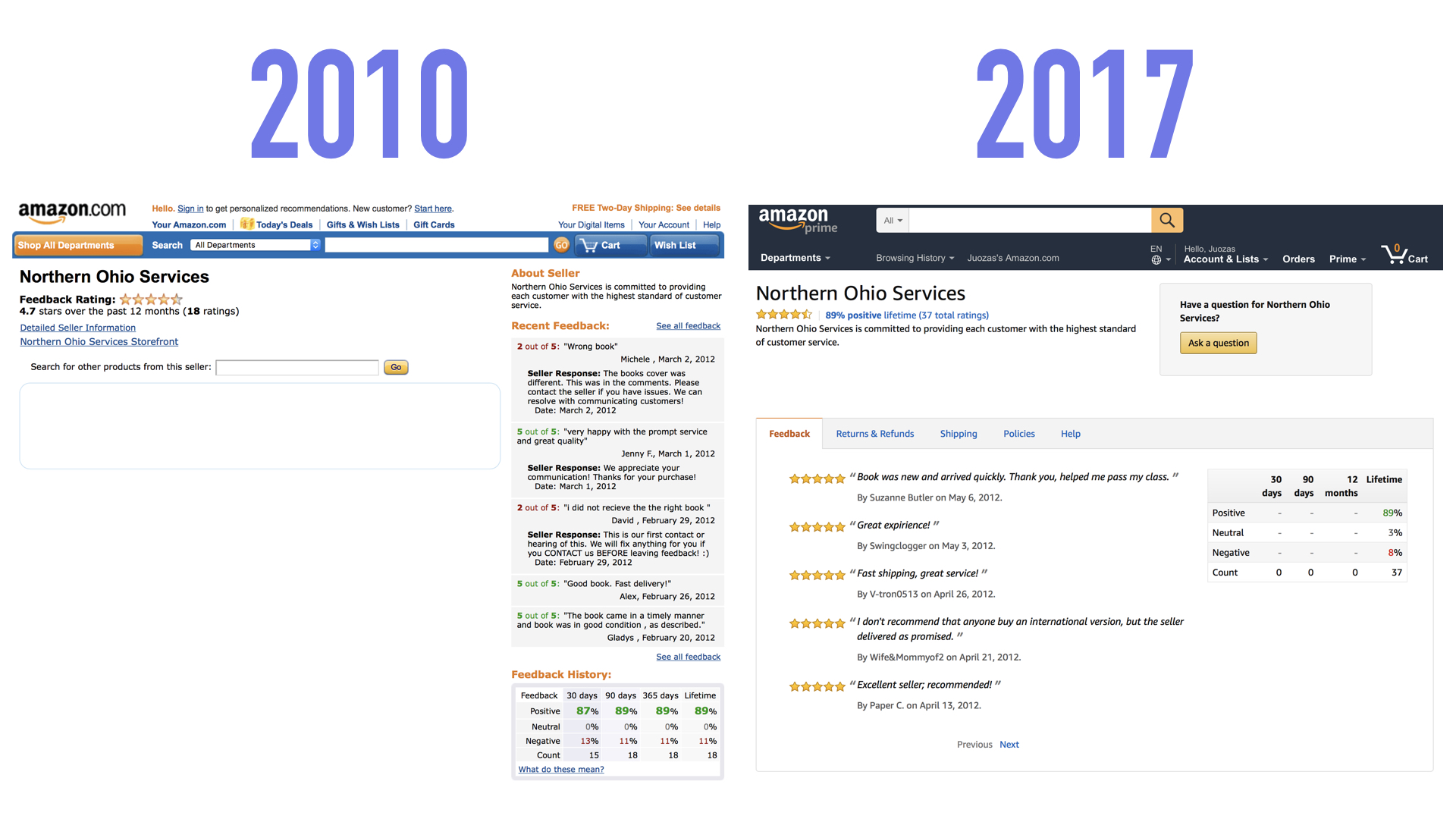 This has been Amazon's way for as long as the marketplace has existed. 10 years ago the seller page looked almost identical, focusing on the same metric as it does now - their reviews. Yet given that most of top sellers now use Fulfillment by Amazon (FBA), the relevance of reviews is diminishing.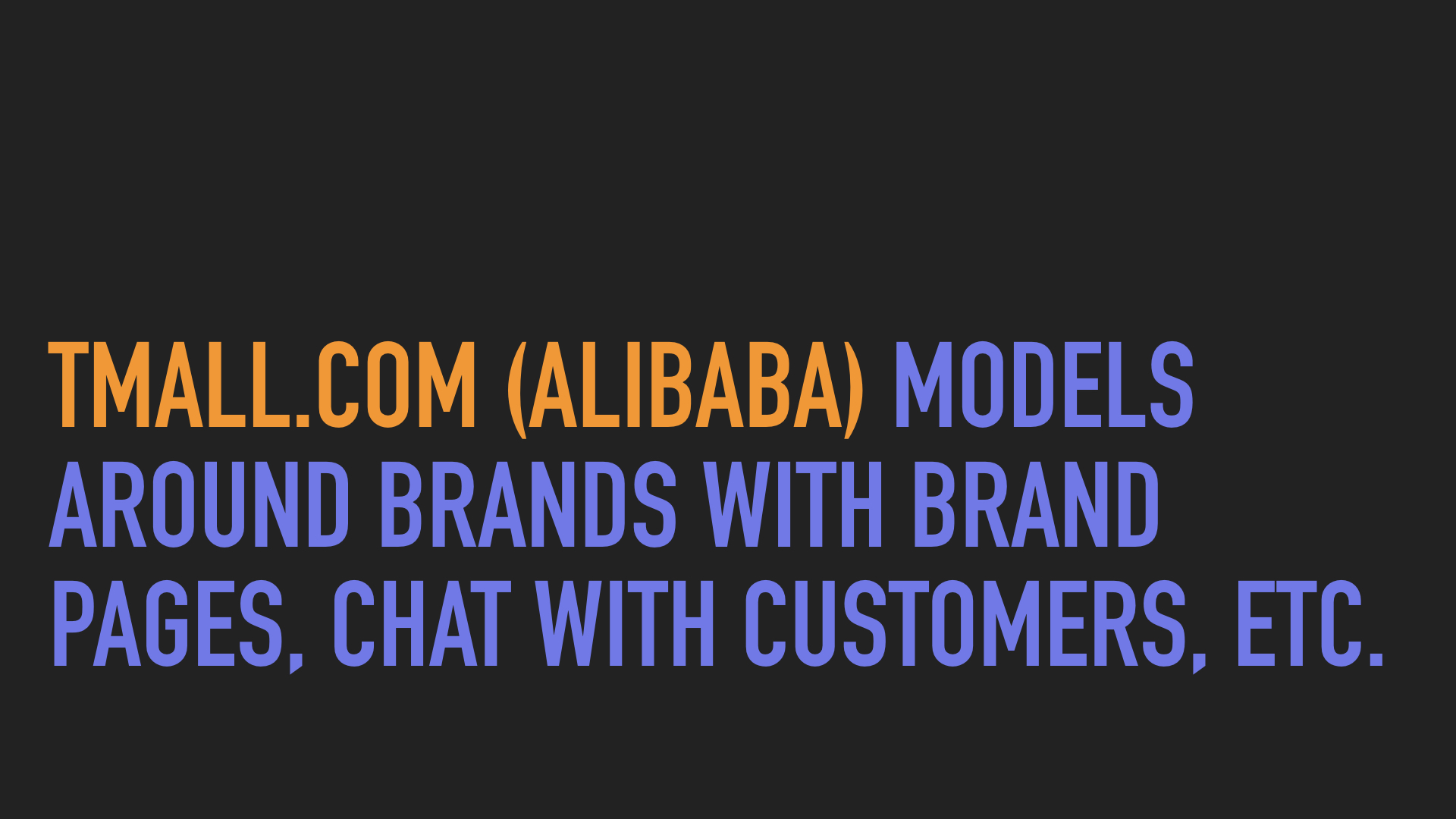 But not all marketplaces are built like this, for example Tmall.com of Alibaba models around brands (which are often the same thing as the seller). Brands have fully functional pages inside the marketplace, customers can follow, and directly interact with a brand, etc.
And yet there are even more different models. Jet.com runs a hidden marketplace, where Jet.com is the brand, and the point of contact customers have, while sellers are hidden from the view.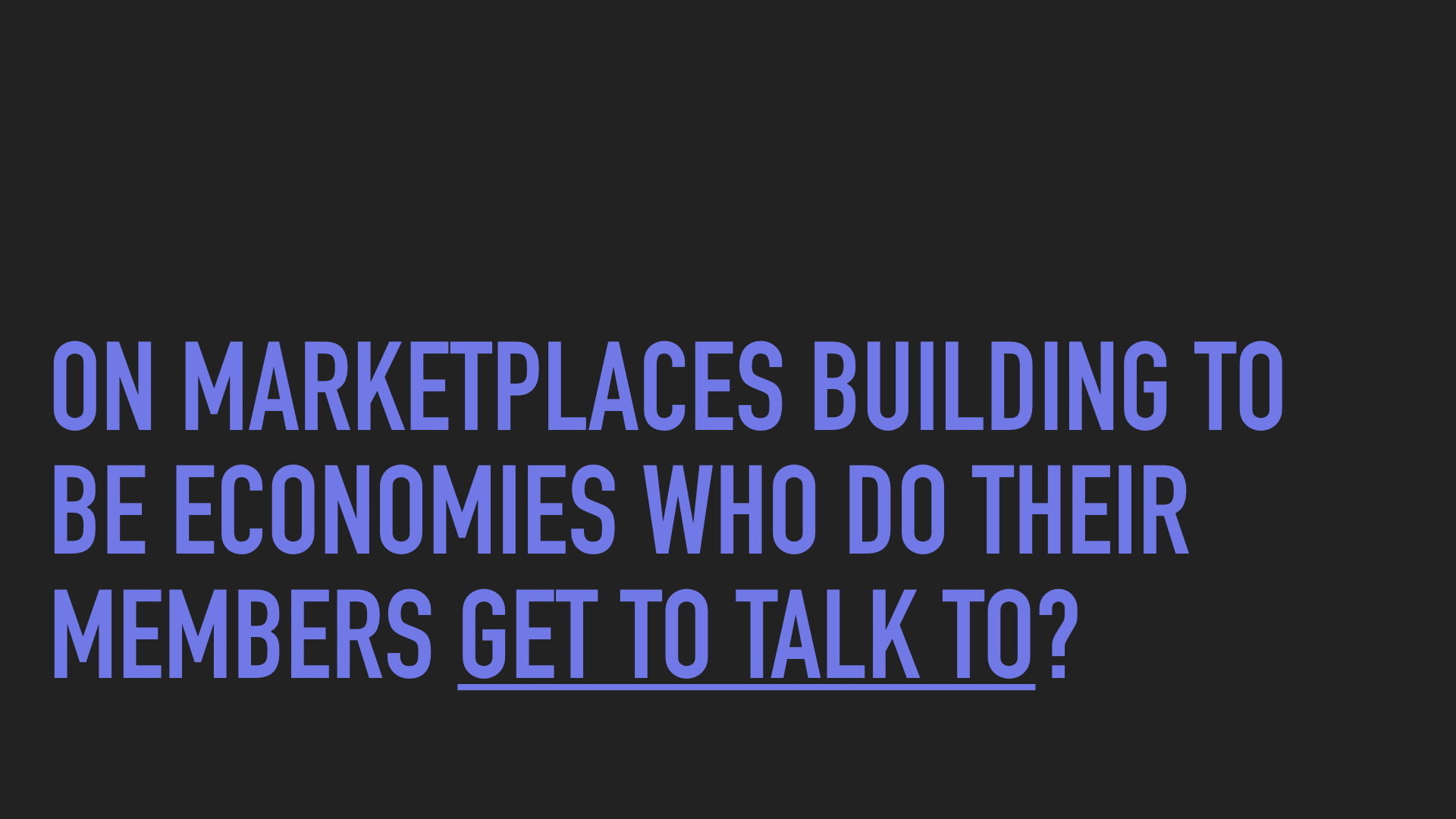 Going back to the notion of marketplaces being economies, all these different models provide different benefits. And the interactions customers can have on them define their model.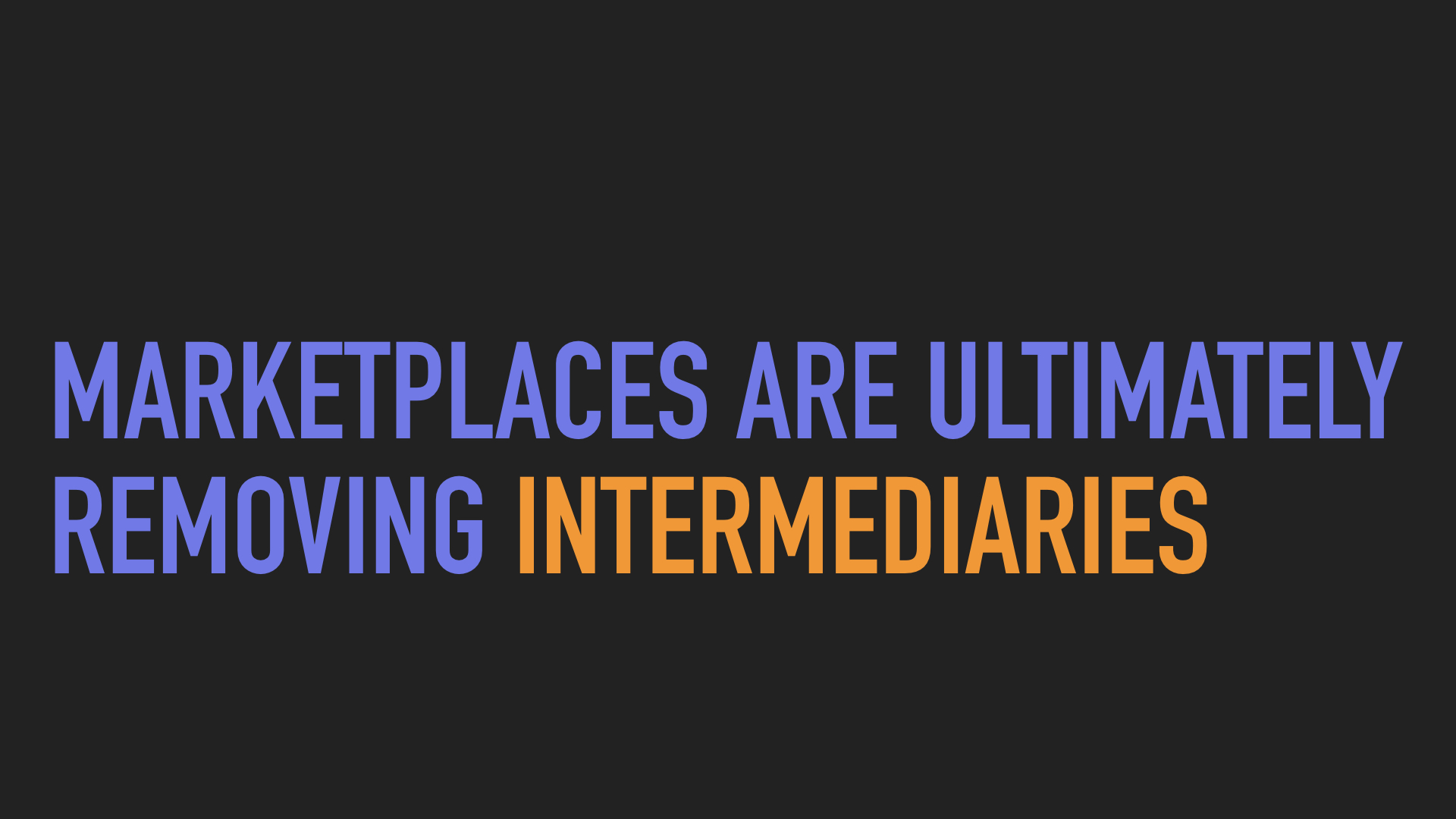 Marketplaces are ultimately removing intermediaries. Historically most sellers on marketplaces were that, bridging a gap between manufacturers, and Amazon. But as many manufacturers became aware, and as the overall industry looked around, today this not what most manufacturers want.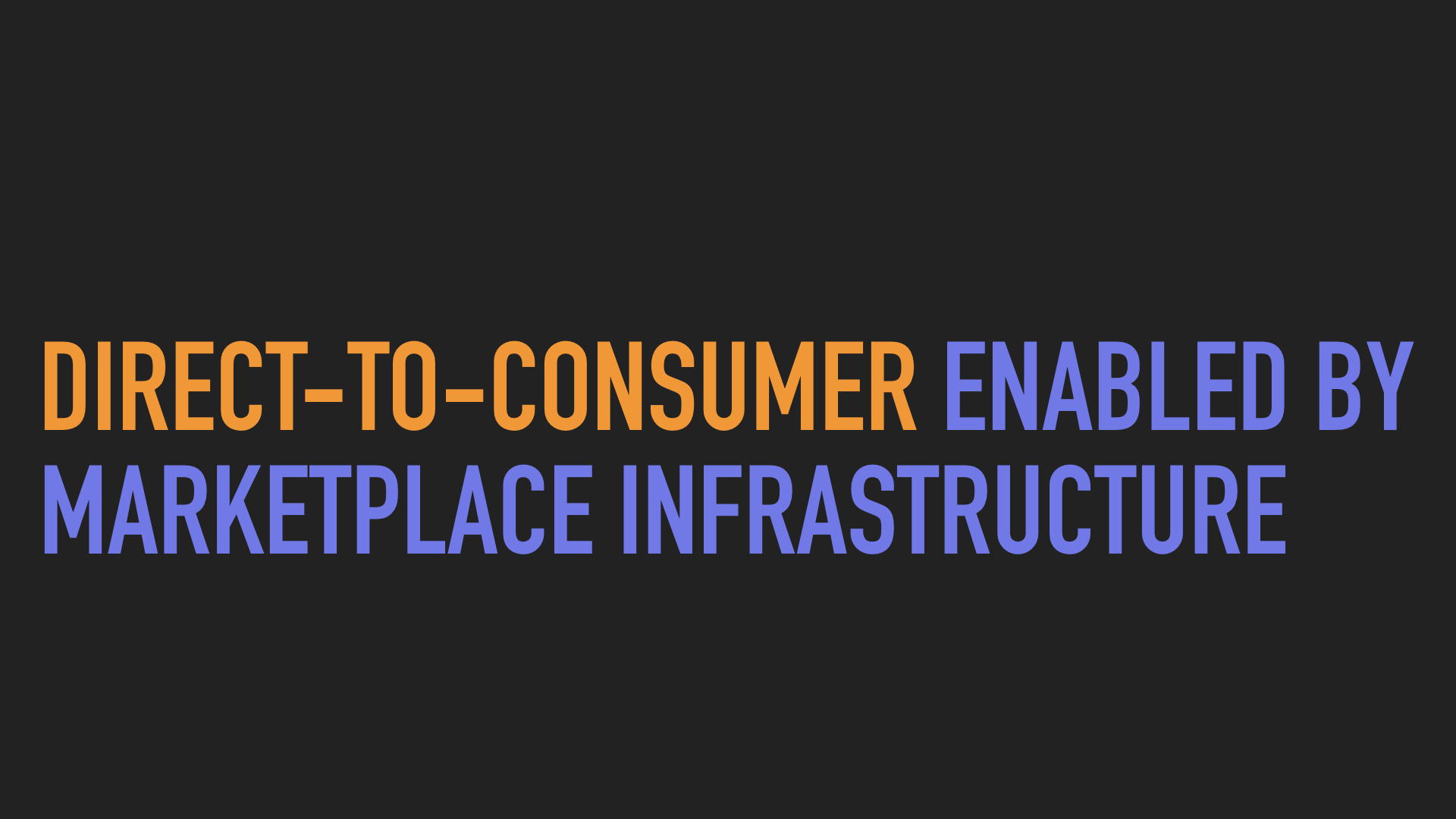 Direct-to-consumer is key. But it also requires marketplaces to enable communication. For example when a brand launches new product, how does it communicate that. Most US marketplaces are unfit for this, and continue to operate the model built first 20 years ago.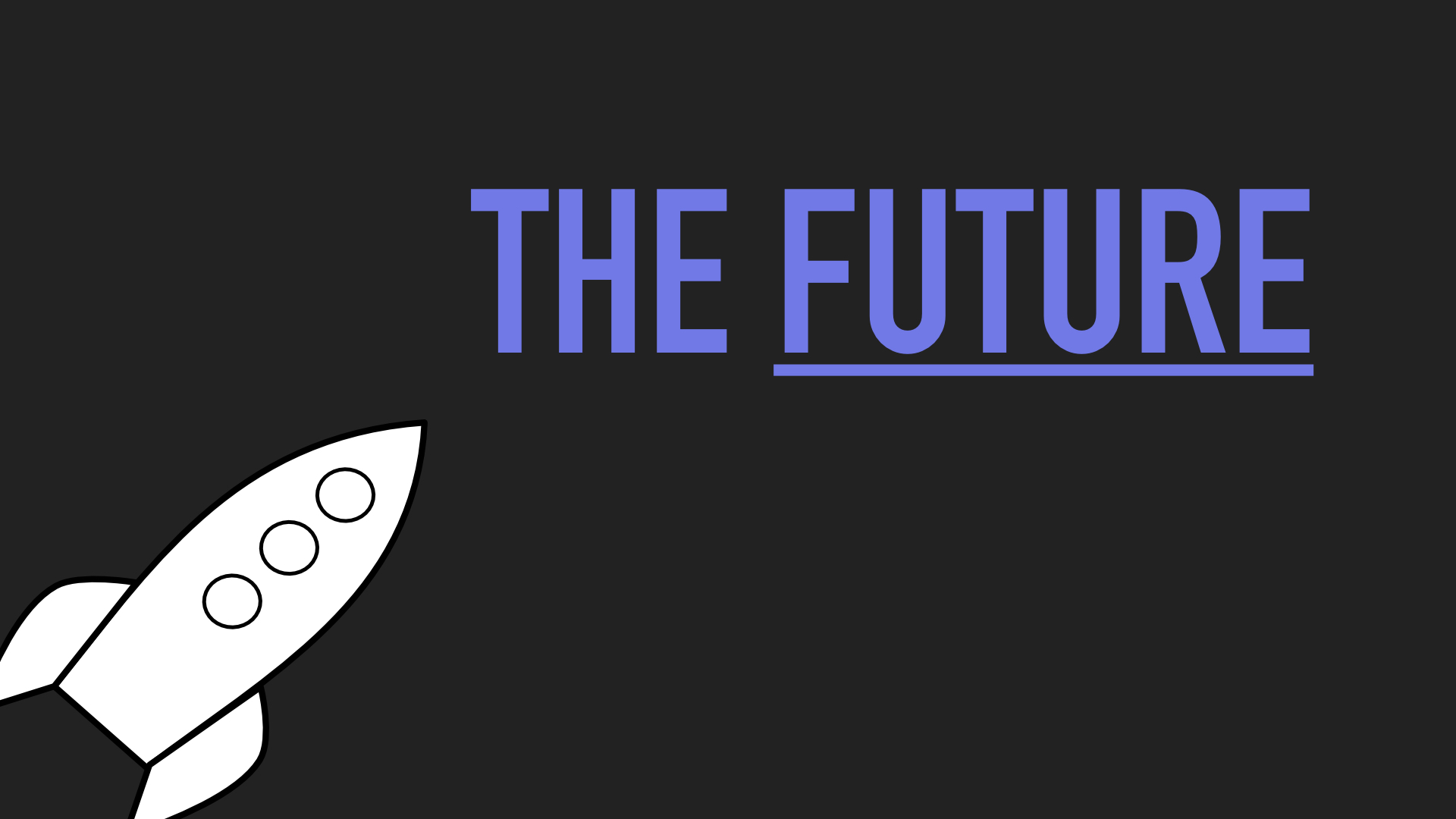 The future of marketplaces is realizing how retail is changing.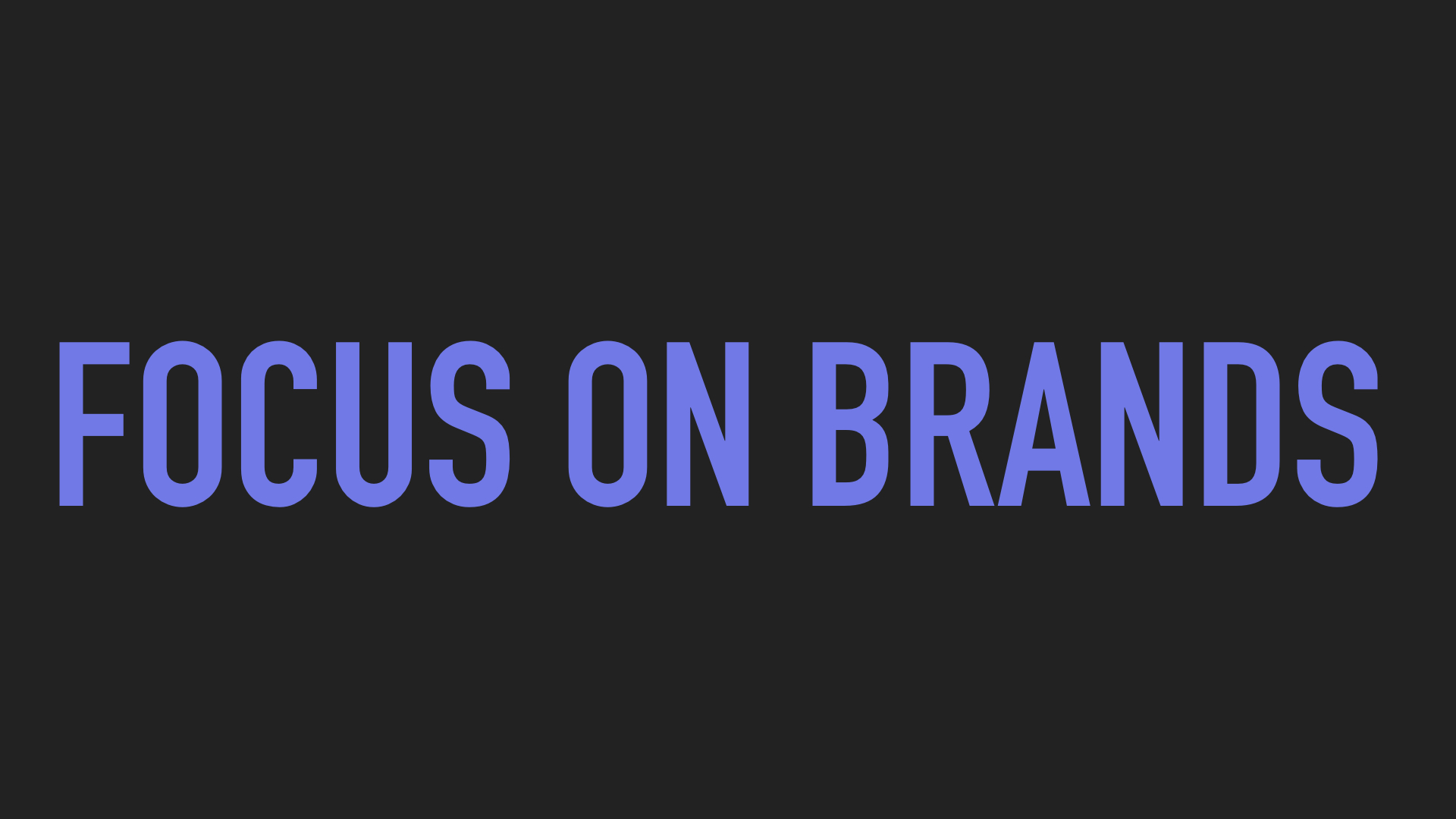 It is all about brands. There is still going to be sellers, and retailers are not going away. But the challenge for marketplaces is both building a catalog, and building tools for brands to interact with customers. Now brands often refused to sell on Amazon because they get nothing in return outside of sales - few metrics, no customer interaction, no ownership.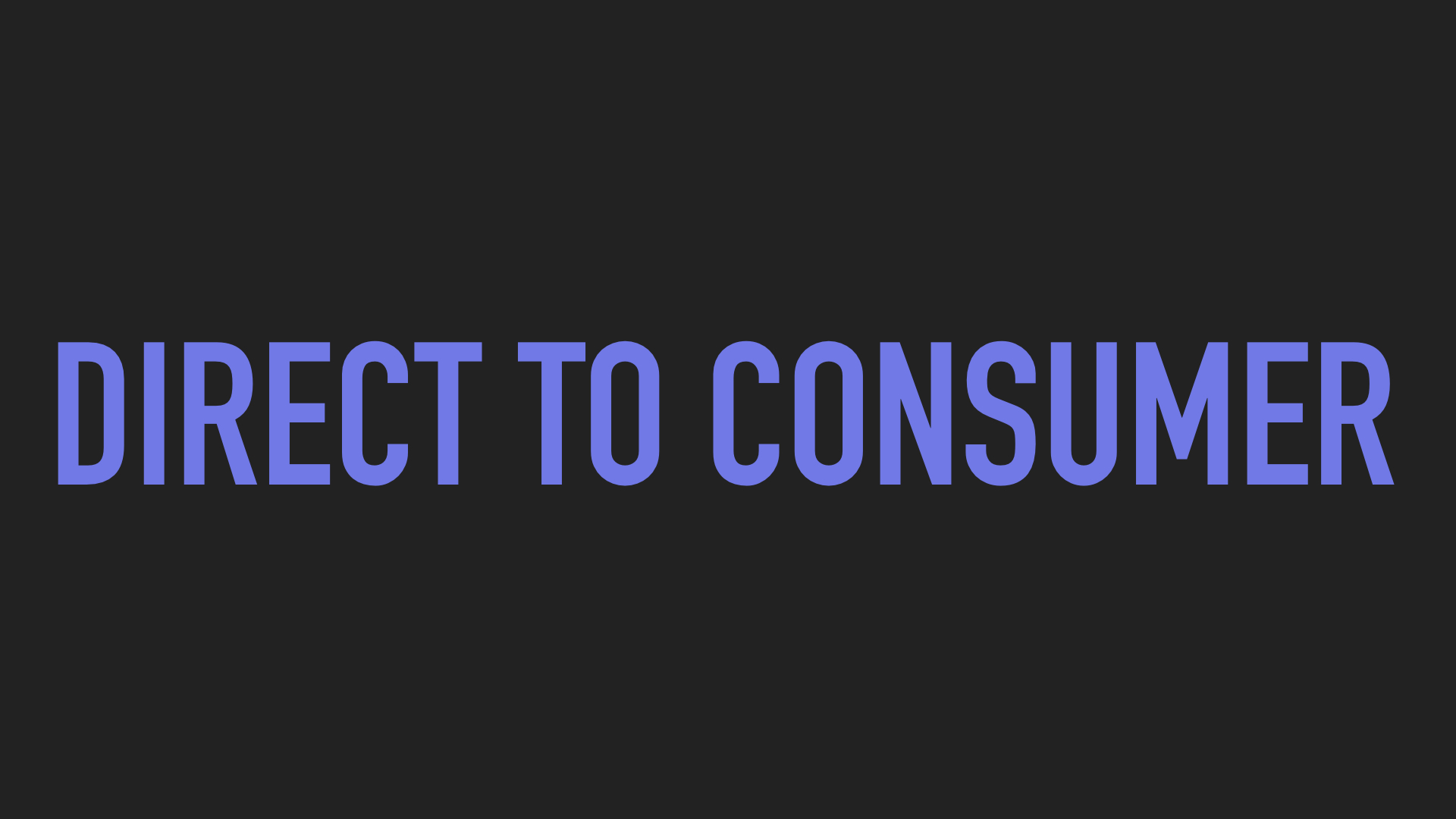 The focus on brands lead to direct to consumer. Instead of 100 sellers competing for the buy box to sell the same product, a manufacturer should be there without the added cost to customers to pay the retailer's margin. Cheaper products to customers, better control of online presence, etc. This is not to be confused with 1P though.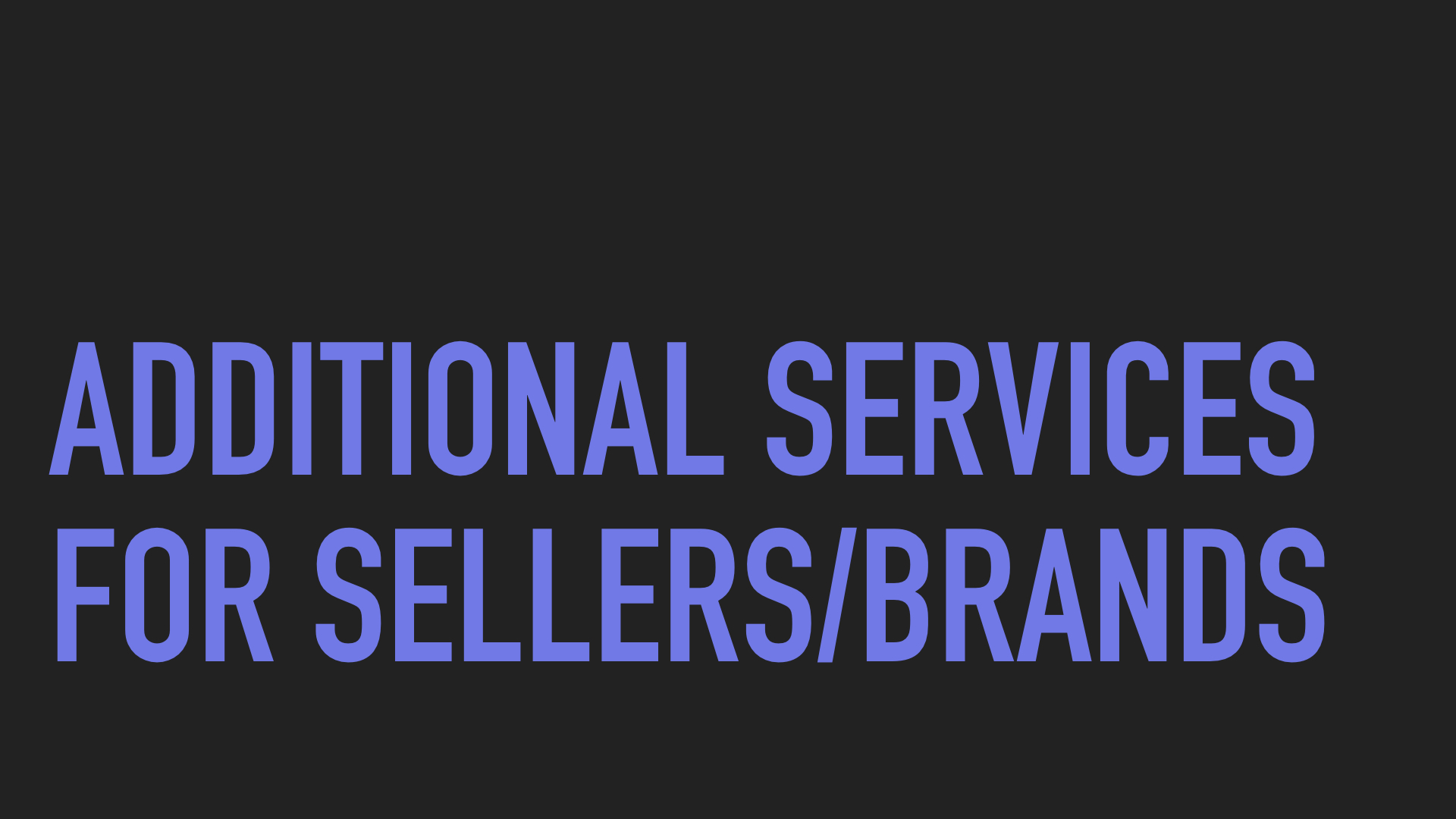 Through realizing that marketplaces grow by enabling others, it is all about building additional services. Not only this adds additional revenue to the marketplace company, but it also incentives, and creates a reason for a seller to join. Which means it is all about infrastructure.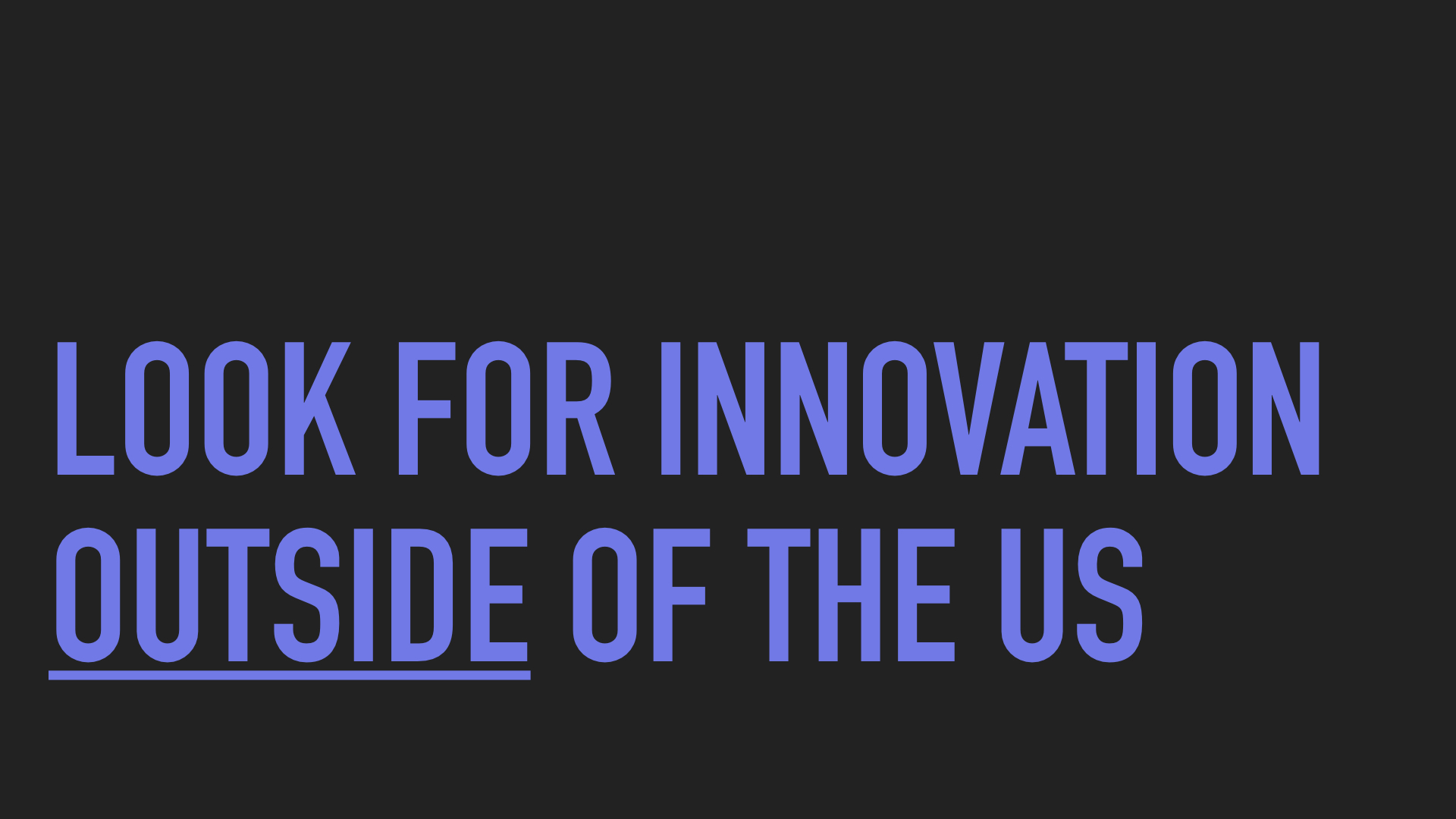 A lot of these things are happening slowly in the US, but countries were e-commerce is growing faster are more innovative. India, China, and whole Latin America are interesting to observe.
Is Amazon the future of marketplaces? No doubt Amazon is the leader, and their infrastructure is years ahead of others', but their innovation on what a marketplace is, and what it can do is virtually non existent.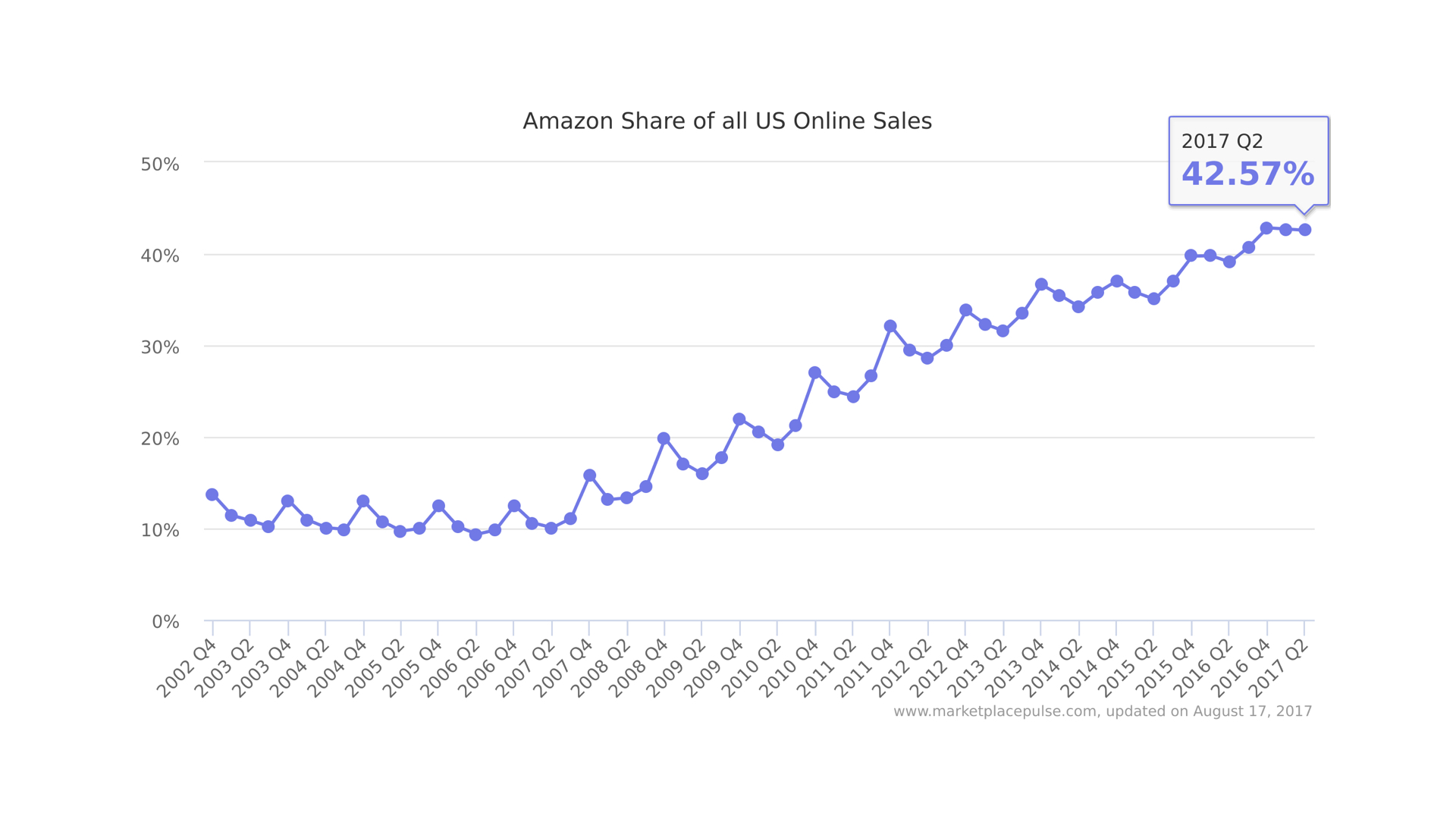 Despite all this their market share of US online retail is now up to 42 percent, and rising. It will continue to do so thanks to the key assets like Prime memberships.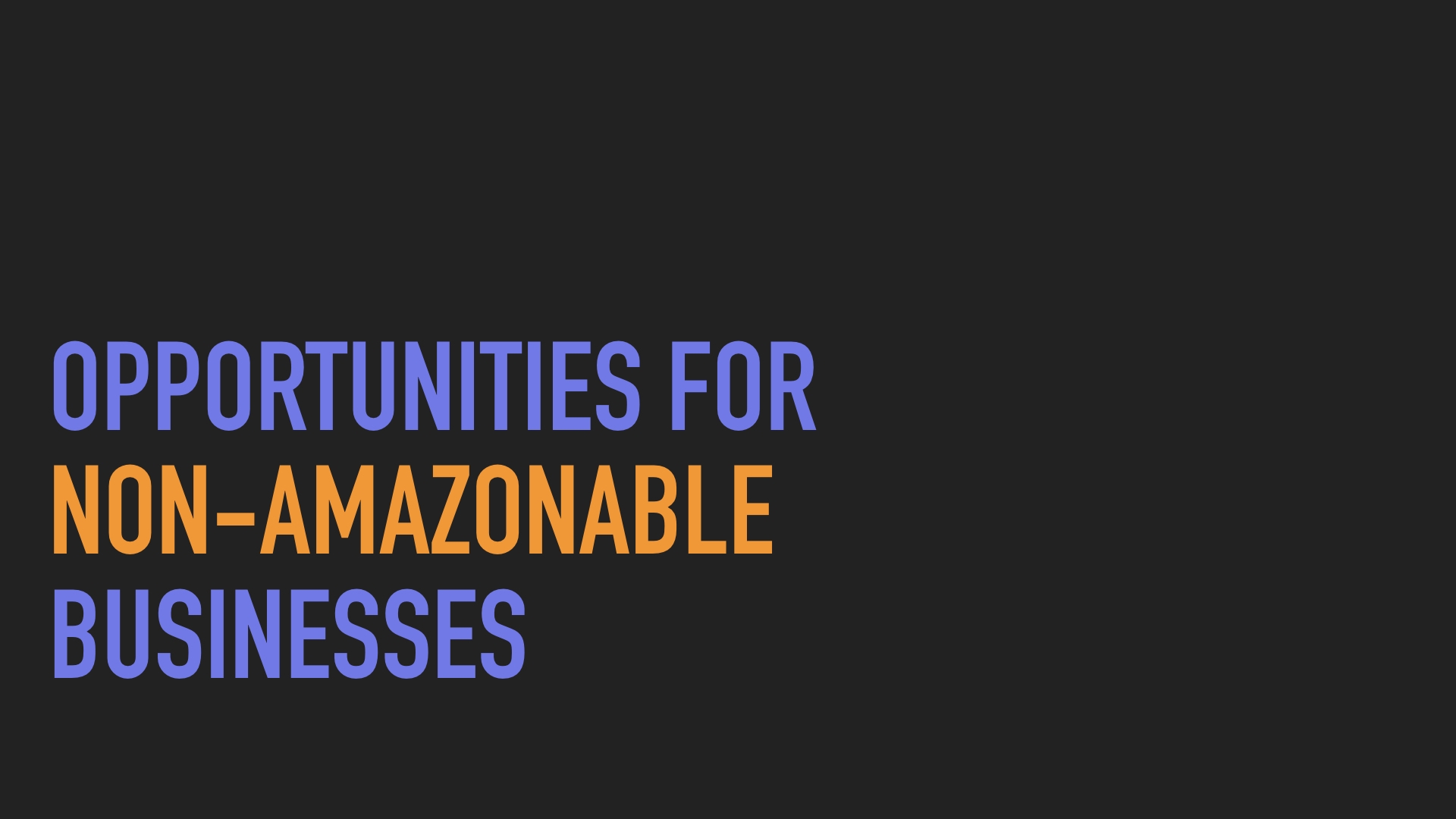 Yet there are plenty of opportunities. Going directly against Amazon first requires a capital pool very few companies in the world have access to, and even Walmart is not posing any real threats now. But opportunities lie in doing what Amazon is not good at, and there are many of those things.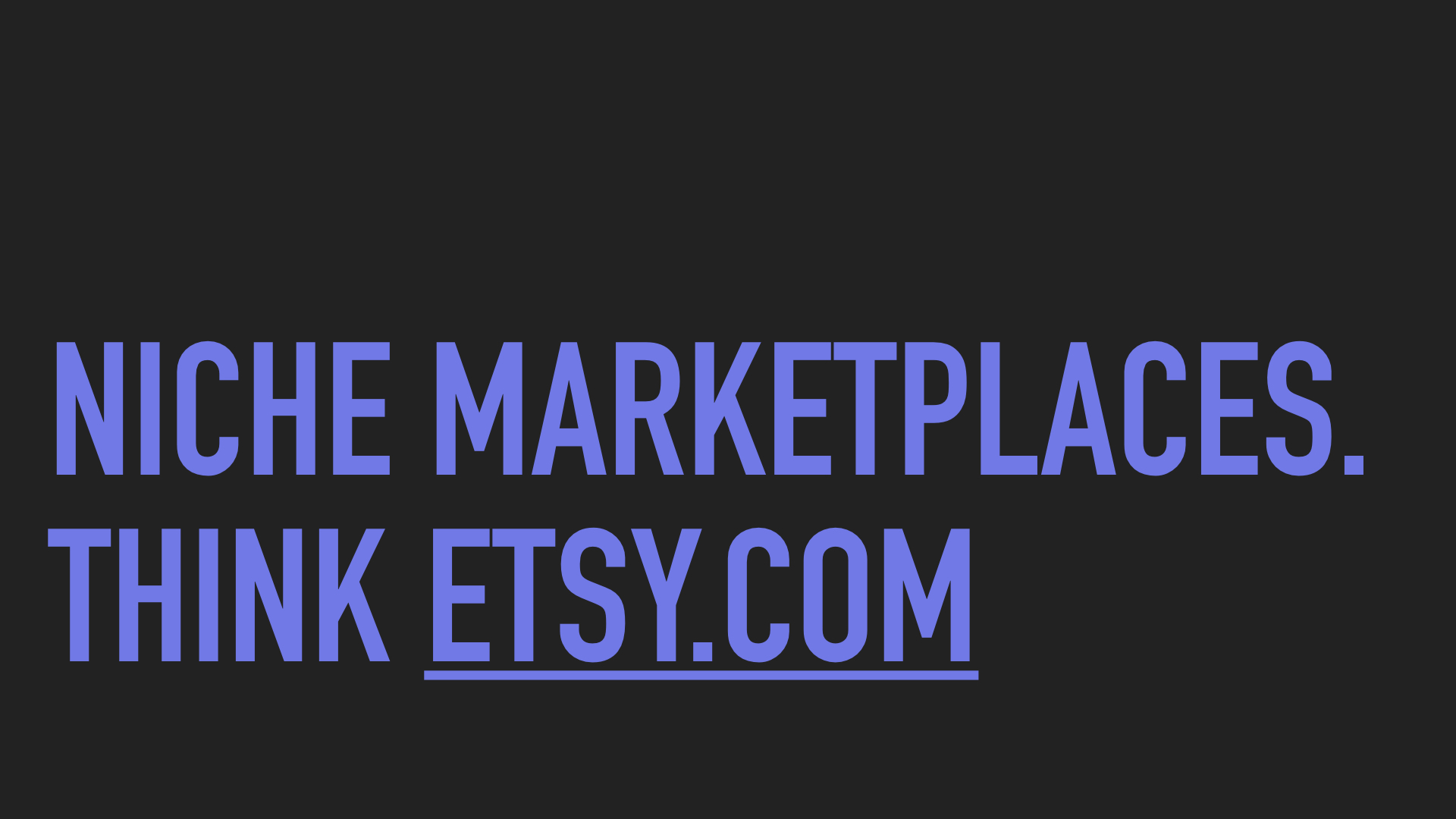 While struggling Etsy has been able to build a marketplace for handmade products, something Amazon is too cumbersome to react to. Etsy in a nutshell is a marketplace which understands its customer, and built features unique to the market. Amazon has built a generic marketplace which kind-of works for most situations, but fails to cater for these niches. Many more marketplaces have done the same thing, especially in categories like clothing.
"With the loss of friction, there is necessarily the loss of everything built on friction, including value, and livelihoods." Marketplaces have removed friction from retail, enabling direct to consumer at scale, and virtually for free. Thus they are pulling out the foundations of retail, and the future is to re-examine everything retail was built on.