Last week Walmart passed the milestone of 15,000 Walmart marketplace sellers. 6 months later after passing 10,000 marketplace sellers in March. The marketplace has been growing steadily at just about 1,000 new sellers every month for over a year.
On average a seller has 2,550 products listed for sale. In total 26 million products are listed by marketplace sellers, however many of those are duplicates since any product can be listed by multiple sellers, just like on Amazon. Walmart reported to have 67 million number of SKUs online, but we can only confirm to see 24.5 million on walmart.com.
And yet it is hard to know what any of these mean in terms of the potential of the marketplace since none of these figures are performance related. That's why we wrote No One Has Any Idea What Walmart's E-Commerce Growth Means.
Early this year we talked about the struggles customers were having when buying from the Walmart marketplace:
"Average rating for top 100 sellers on the Walmart marketplace is 3.9 out of 5.

By comparison, top sellers on both Amazon and eBay have an average rating of 4.9 out of 5. Most of them are nearly perfect at 5 out of 5 if not for a few slip-ups."
The reason why more negative reviews were being left than on other marketplaces was because the experience was worse. Customers were getting confused by returns, who to contact for support, and the inconsistent shipping times. Mostly the negative reviews were deserved, even if some weren't.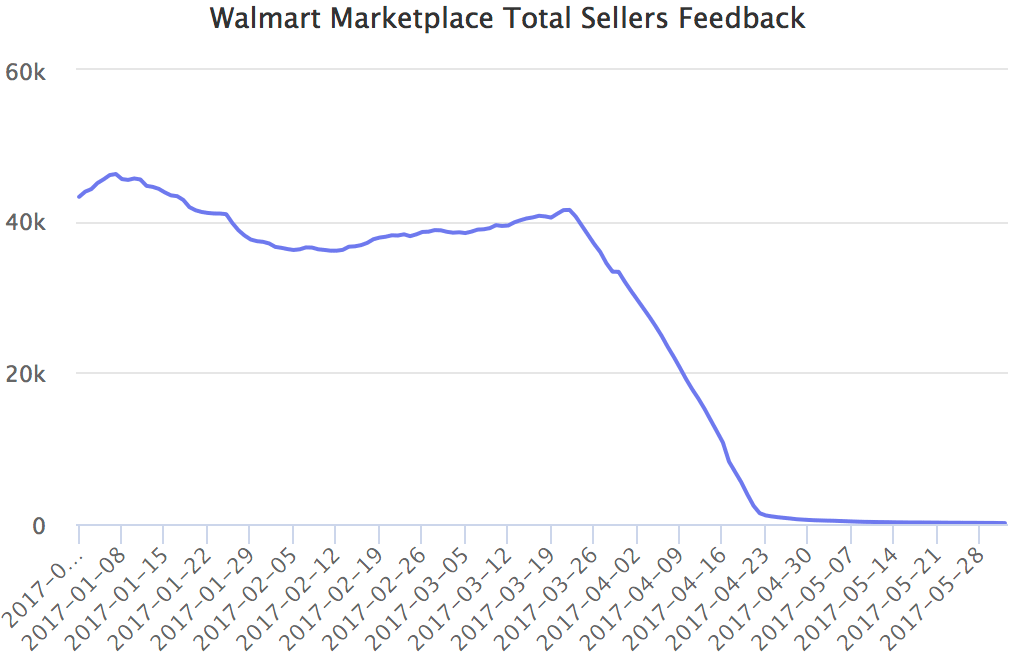 The amount of negative reviews, and some internal strategy changes, thus have inspired Walmart to remove seller reviews altogether. The old ones are still there, and the seller profile page still shows the average rating, but confusingly customers have no option to leave any new reviews, nor is the seller rating being displayed in product pages.
This quiet change happened at the end of March, just when Walmart passed 10,000 sellers in the marketplace.
Sellers reviews as a concept is close to 20 years old, and was extremely useful for websites like eBay where a seller would handle payments, shipping, and returns. But as marketplaces started to do more of this themselves more accurate performance metrics can be calculated internally. So while seller reviews are still there, they are playing a lesser role.
That's why Amazon is reducing the importance of seller reviews with changes on Amazon.com shrinking the number of reviews sellers get by a half. Most recently Amazon.co.uk feedback volume dropped by 50 percent in just a month after new interface changes.
It is unlikely that Walmart retired seller reviews because it found them less relevant - if anything they showcased the struggles sellers are having. But lack of seller reviews combined with shallow financial reporting means the performance of the Walmart marketplace is opaque.