Walmart reported 2017 Q2 results today. As many brick-and-mortar retailers are struggling to grow, or to even avoid bankruptcy, Walmart posted same-store sales growth for the 12th consecutive quarter. Walmart sold $123.36 billion worth of products globally, with $78.74 billion of that sold in the US.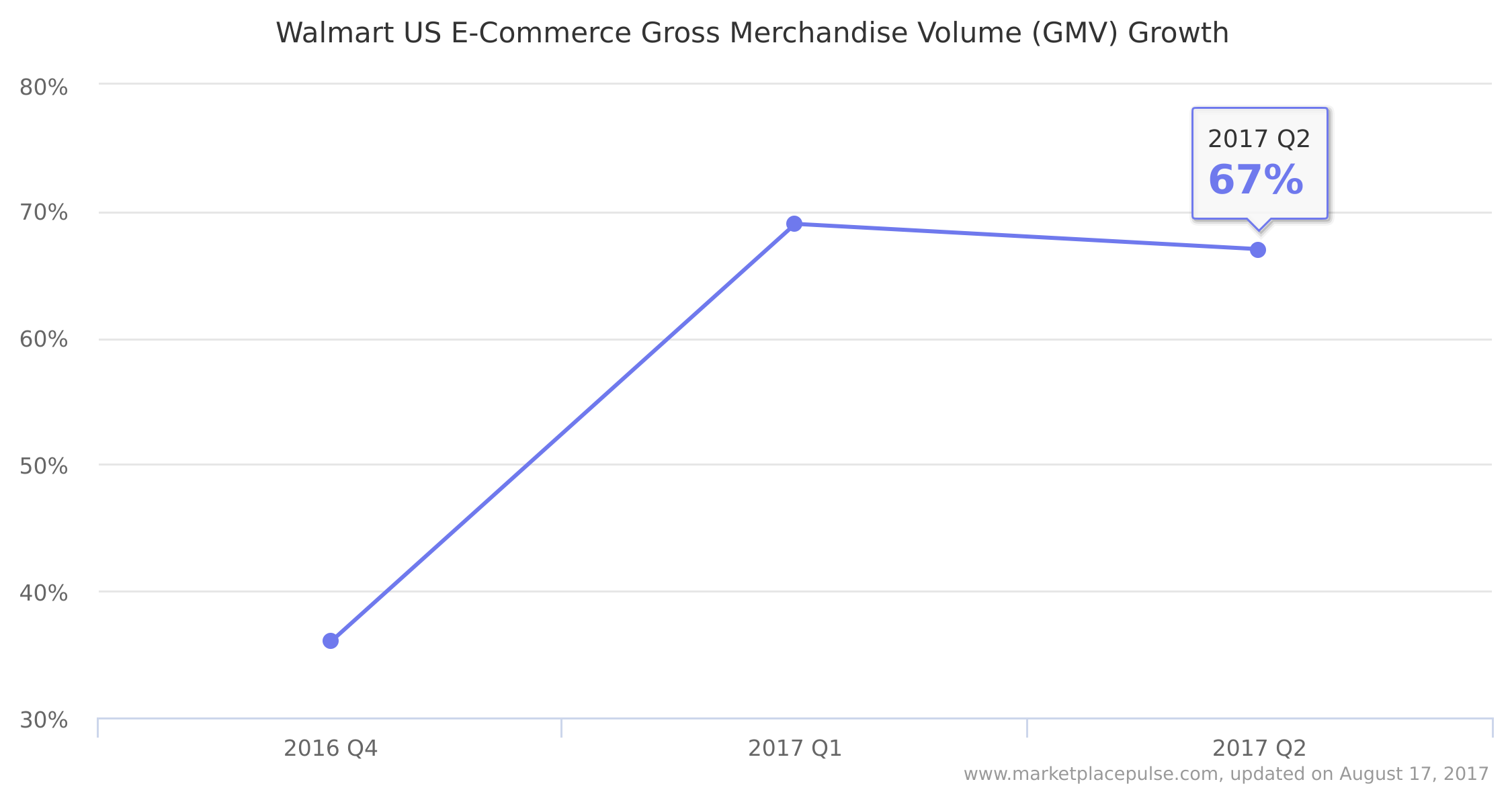 Walmart US e-commerce GMV grew 67 percent in Q2 (which includes both walmart.com and jet.com sales). Slower than the 69 percent in Q1, but faster than the 36 percent growth last year in Q4.
However this is only the third quarter Walmart reported US e-commerce growth, while previously they used to release the global e-commerce metric. Since there is no history to compare these numbers against, nor there are any online sales or GMV numbers in terms of dollars, we have no idea how to take them.
Walmart's online strategy has focused on acquisitions primarily, but with also expanding online grocery business, and a growing marketplace.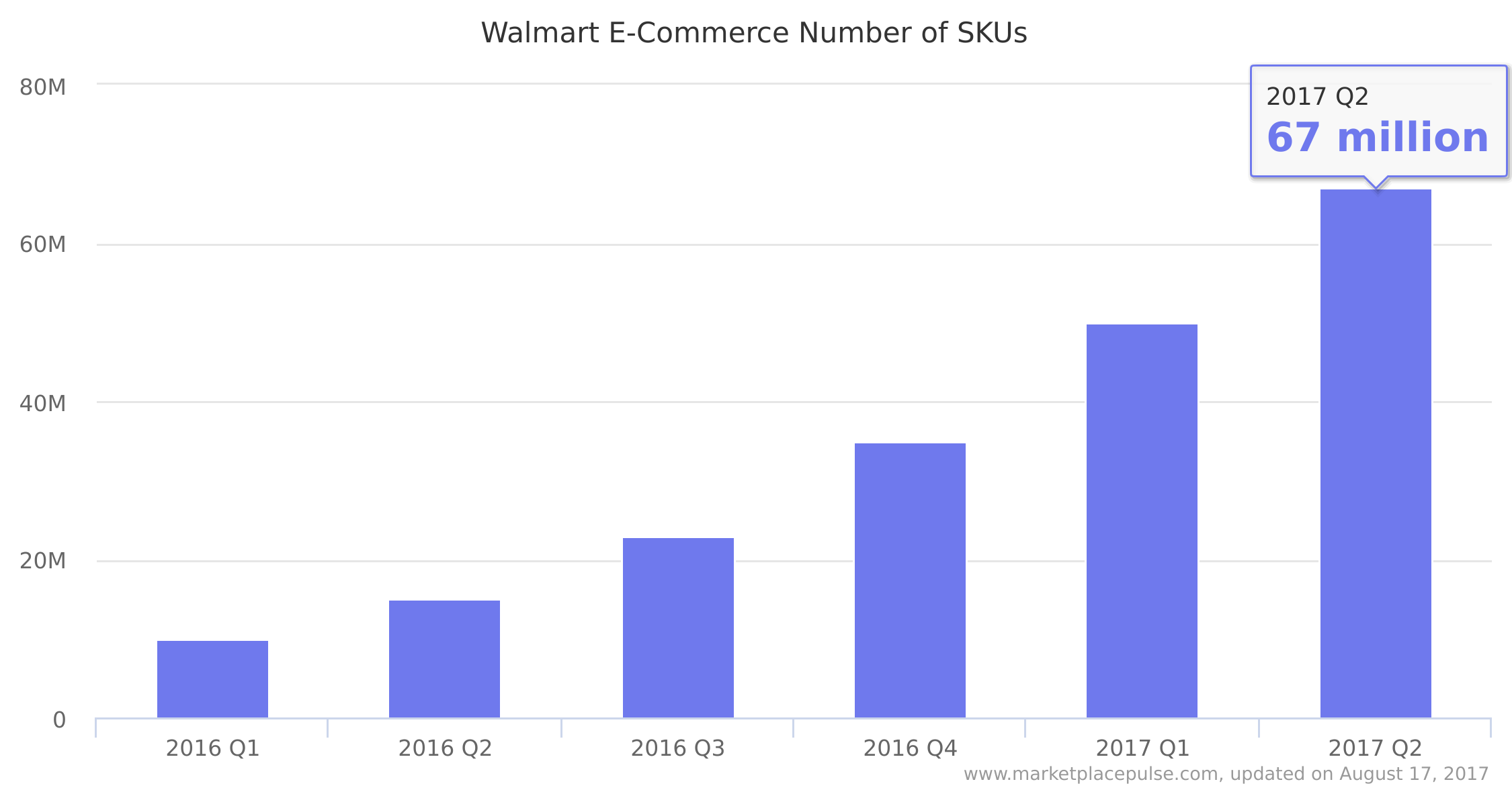 Sellers and acquisitions have helped to increase the total number of SKUs available online to 67 million. The number of SKUs has increased from 15 million a year ago, which is good. However this shouldn't be looked at as a major KPI as Walmart is probably already carrying most products most customers want, so any more growth won't drive the growth of sales.
At this stage the importance of search, discovery, and recommendations play a growing role. Adding 10 million SKUs every quarter is impressive, but if customers cannot find them they equal to nothing. eBay has now spent years working on the discovery problem through the structured data initiative, but we are yet to hear about specific innovations from Walmart. This should be one of the first questions asked by new sellers and brands considering it as a platform.
Marc Lore, founder of Jet.com and now director of e-commerce at Walmart, agreed on this by saying:
"So we're continuing to quickly add 3P sellers that are selling on other platforms. And there will be a point at which we get to parry. There is a finite number of SKUs. So I am less concerned about getting to parry on long-tail assortment. It's more about getting the brands that really matter. It's really focused on – and that's what we are focused on really the top million SKUs. Top million SKUs, by our estimate, represent around two-thirds of all sales done online. So, it's really getting the right products as opposed to quality over quantity."
Based on our research Walmart marketplace had close to 13,000 sellers at the end of Q2. It continues to grow at a steady pace of 1,000 sellers a month. However it remains being omitted from earnings reports, and earnings calls, suggesting that it is yet to reach major contribution to the overall Walmart's online business.
Last month we talked with Reuters about this where we said:
"This all boils down to one thing," said Juozas Kaziukėnas, founder and chief executive of Marketplace Pulse, the e-commerce analytics firm. "Wal-Mart's marketplace has not been a success story, but with their renewed focus on e-commerce, they are trying to do everything they can to change that," he said.
We continue to think that the marketplace - which was started all the way back in 2009 - is not the one driving Walmart's online sales growth. So much to even call it a distraction for the company. Nonetheless acquisitions and other actions are clearly working, it's just without any concrete numbers no one has any idea how to read them.