U.S. e-commerce grew 44.5% in the second quarter, the fastest growth in over two decades. While online platforms like Shopify and Etsy posted record-breaking numbers, big-box retailers ready for curbside pickup and delivery grew the fastest.
Retailers provide differentiated e-commerce offering that Amazon and other pure online retailers can't directly compete with. That is not to say that Amazon didn't have a great quarter, but crucially that e-commerce is not synonymous with Amazon. The pandemic has so far highlighted three separate models that each is working well:
online platforms like Amazon
independent e-commerce websites built with Shopify or similar
retailers providing curbside pickup and delivery
In the past, online grocery was the assumed category for retailers. However, not only has the demand for online grocery increased over the last few months, retailers are expanding the offering beyond that. "I think it's time we stop referring to our supercenter pickup and delivery capability as online grocery because it's becoming much more than grocery," said Doug McMillon, CEO at Walmart, discussing first-quarter results.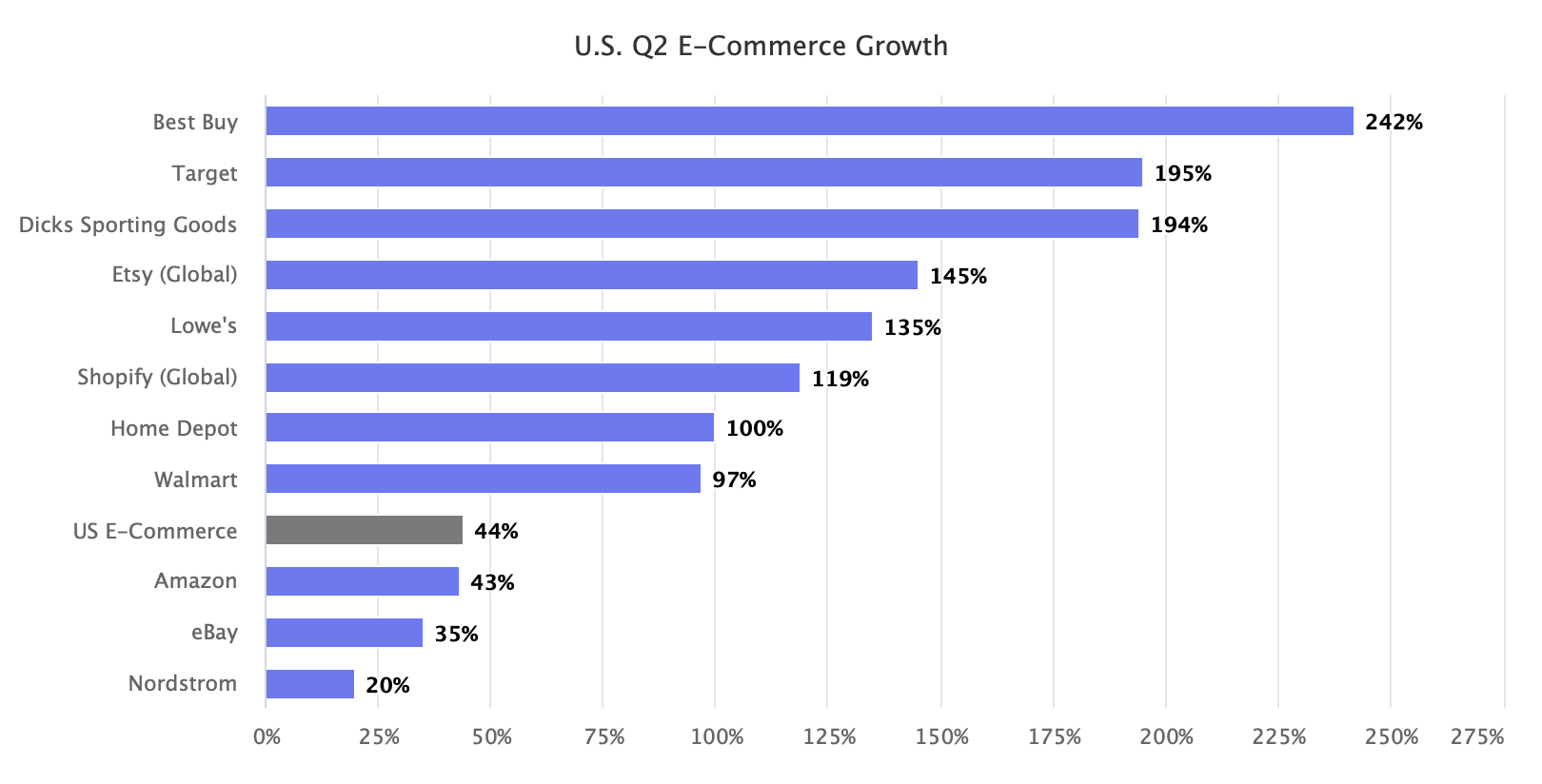 Major retailers like Best Buy, Target, Dicks Sporting Goods, Lowe's, Home Depot, and Walmart outpaced the overall e-commerce market because they were deemed essential retailers and thus have remained open.
"Stores enabled more than three-quarters of Target's digital sales," said Brian Cornell, CEO at Target, discussing Q2 results. The company added that "More than 90% of our Q2 sales growth involved our stores, whether a guest's order was purchased at the register, put in their car or shipped from a store."
At Best Buy, Matt Bilunas, CFO, said, "Buy online and pick up in-store, or curbside, was 41% of online sales." And Corie Barry, CEO at Best Buy, added that "Even when stores open for customer shopping, online sales growth continued to be extremely strong." As a percentage of total sales, e-commerce share increased to 53.1% versus 16.1% in the same quarter last year.
Target and Best Buy stores were ready for the increase in curbside pickup and delivery because they had the infrastructure in place. On the other hand, most small retailers did not. As a result, large retailers grew their market share of both total retail and online retail. "Walmart, Amazon, Target, Home Depot, Lowe's and Costco accounted for 29.1% of all U.S. retail sales in the second quarter, according to Craig Johnson, president of consulting firm Customer Growth Partners, up from 25.6% in the same period a year ago," reported The Wall Street Journal.
The growth didn't start in the second quarter. In the first quarter, which only had a few weeks affected by the pandemic, retailers were already growing online sales faster than the rest of the e-commerce market. Both Target and Best Buy were growing ten times faster than the market.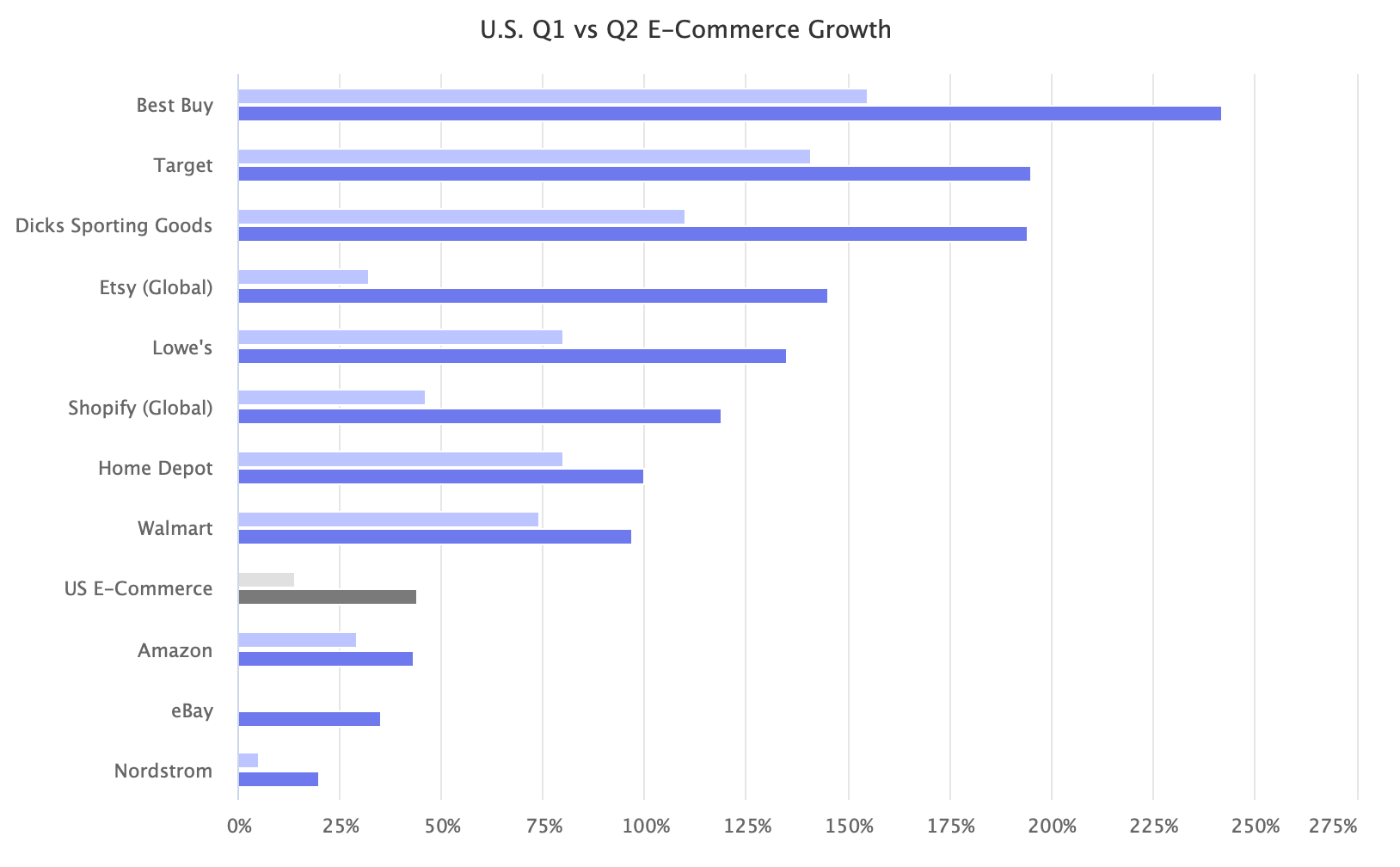 "Stores are vitally important, and stores will continue to play a really important role to America as we go forward," said Brian Cornell in May. The second half of 2020 is going to see significant fulfillment speed and capacity issues. Big-box retailers will capture considerable growth as the rest of e-commerce struggles to deliver packages on time.