Walmart Fulfillment Services (WFS) that allows third-party sellers to store and fulfill inventory from Walmart's warehouse is powering less than 0.1% of the two-day enabled products. Only 150 sellers out of the 54,000 total have started using the service launched six months ago.
WFS powers less than 5,000 of the four million products with two-day shipping on Walmart. Over the past twelve months, Walmart has nearly doubled the number of products with two-day shipping, from 2.1 million in August 2019. However, most of that increase came from the company enabling two-day shipping for its first-party selection.
WFS operates out of a single warehouse in Shepherdsville, Kentucky. One of the stated goals of WFS was combining Walmart's retail selection with the marketplace in the same box, but it has many more warehouses across the country storing its first-party items. Thus most shopping carts with first-party and third-party items still come in separate boxes.
The service has no public pricing, but the company called it "one of the lowest on the market" when they announced the service on February 25th.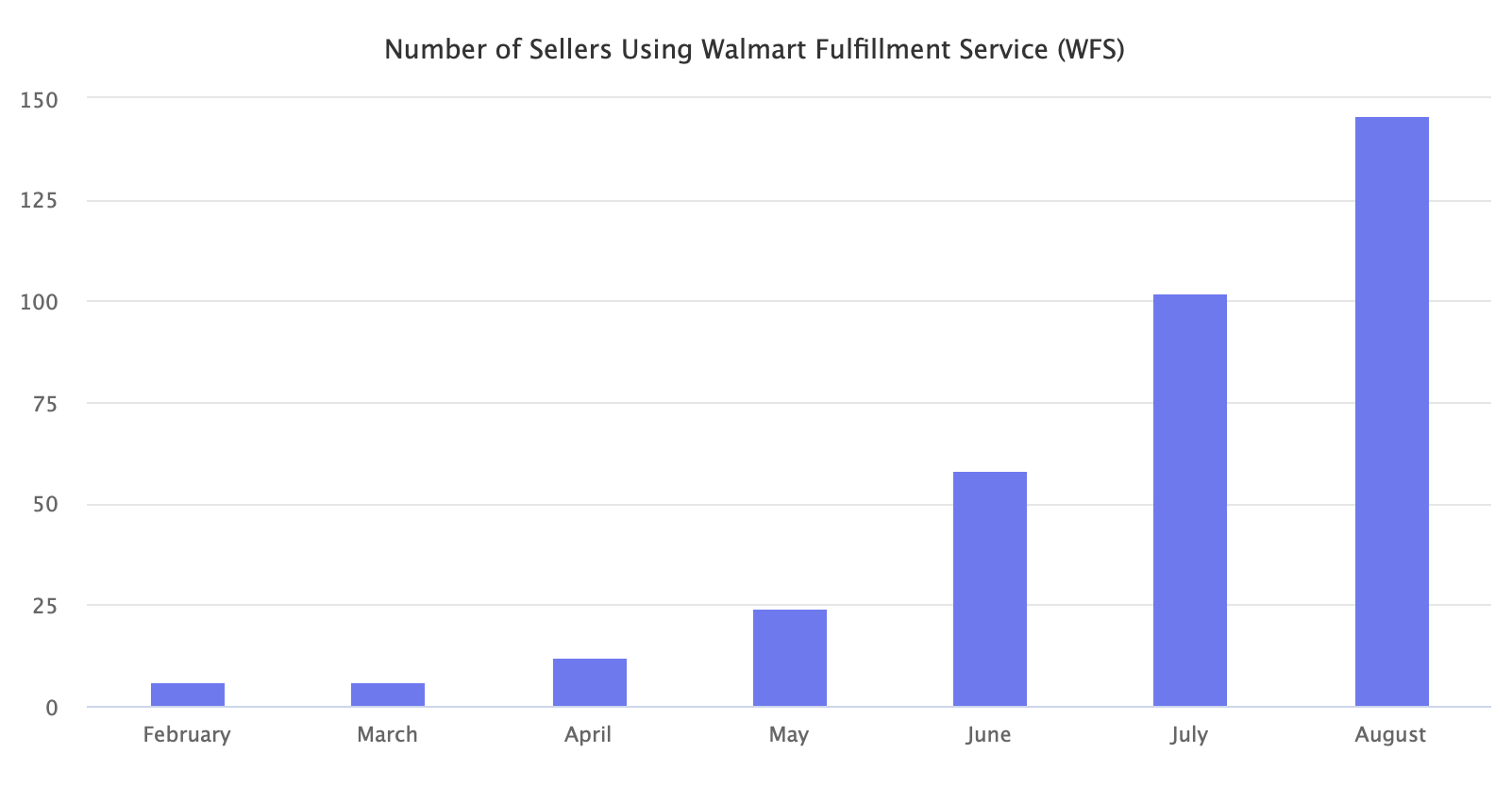 Walmart introduced the service with "If You Build It (Together), They Will Come" headline. A callback to the 1989 film Field of Dreams about an Iowa corn farmer who hears a voice telling him: "If you build it, he will come." He interprets this as an instruction to build a baseball diamond. Unfortunately, in business, the strategy rarely works.
Adopting a fulfillment service offered by a marketplace depends little on the rates offered, but rather on whether it enables more sales revenue than the storage, fulfillment, and overhead costs. Few marketplaces have that balance tipped positively to the sellers. In the U.S., there is only one - Amazon's Fulfillment by Amazon (FBA).
Marketplace fulfillment threshold is a theory that defines how many sellers are potential fulfillment service users. Specifically, a marketplace fulfillment service will get used when the sell-through rate of enough products surpasses the threshold - thus defining the addressable market for the service.
For example, if a seller has a few products selling 100 units a month, then storing those in the marketplace fulfillment service is often a good strategy. Because doing so enables fast-shipping tags on that marketplace and thus further increases sales. On the other hand, if the seller has thousands of products, but each individually sells only a few units a month, the low sell-through rate renders the fulfillment service not worth the extra overhead.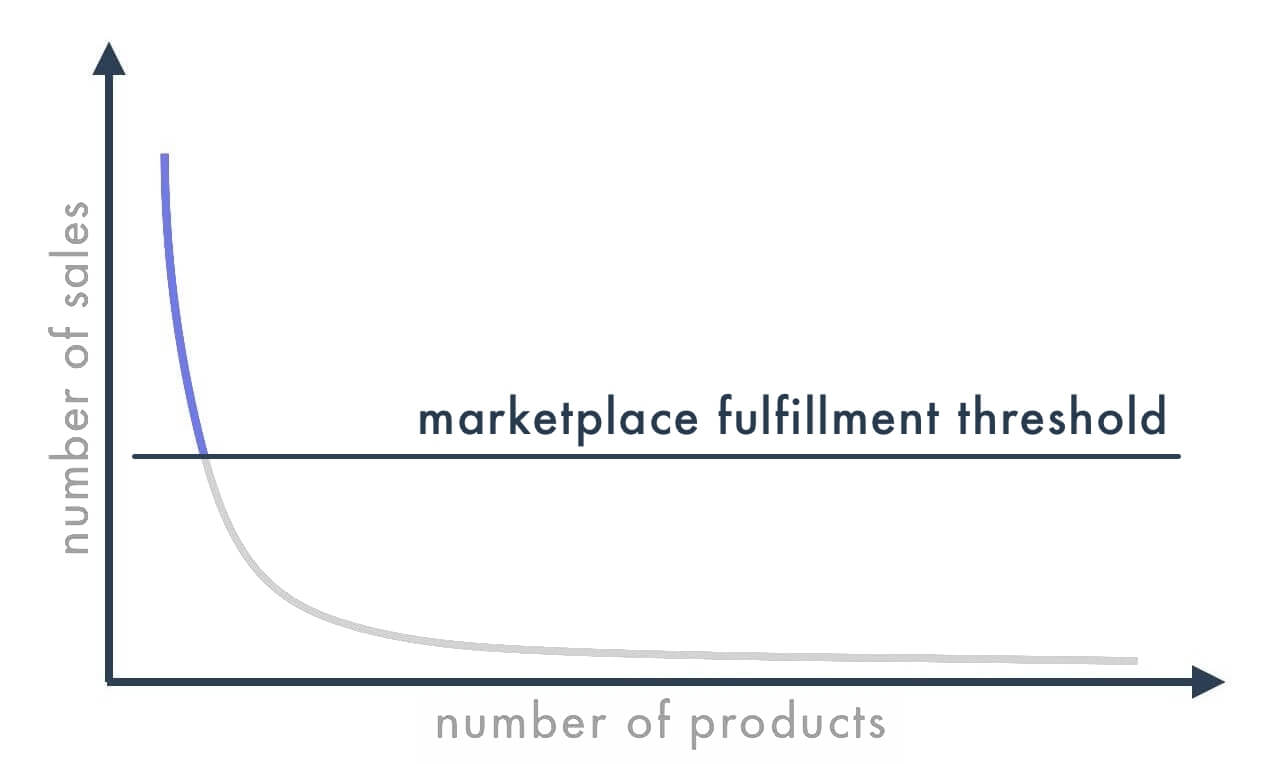 Most of Walmart's sellers do not have items with high enough sell-through rates. The marketplace provides the catalog's long-tail, adding 35 million products. Most rarely sell. Storing those items in WFS is unlikely to increase sales (at least predictably), but would add up to high storage costs.
WFS also only fulfills orders for Walmart.com sales. For many Walmart sellers, the Walmart marketplace is one of the many marketplaces they sell on, often representing less than 10% of the overall sales volume. Because of its small share of a seller's overall sales, it takes different reasoning than the Fulfillment by Amazon (FBA) service has for the same seller since the Amazon channel is often over 90% of their sales.
No seller is going to use a separate fulfillment service for each marketplace they sell on. The market's state is that many use FBA for Amazon sales and a secondary fulfillment solution for other marketplaces and websites. Some only use FBA, "It doesn't seem appealing to me to add an enormous burden of having another inventory somewhere other than Amazon just to be able to sell 10% more than we currently sell on Amazon," one seller said.
The industry is evolving, however. For example, more of the typical marketplace sellers are launching brand websites and exploring new channels like Instagram Shops. This evolution, eroding the pure marketplace-only sellers, is rising the importance of 3PL logistics networks that are not constrained to one sales channel. Yet the opportunity cost plus the ineffective use of the capital in inventory spread among marketplace-specific warehouses renders WFS impractical.
Walmart Fulfillment Services thus solves a problem very few sellers have. The marketplace is not big enough to demand marketplace-specific fulfillment service.