Amazon and Shopify announced a partnership to allow Shopify merchants to add the Buy with Prime fulfillment and checkout service.
Buy with Prime allows shoppers with a Prime membership to shop on e-commerce websites other than Amazon and check out using their Amazon account. Crucially, Amazon also handles fulfillment, which means Buy with Prime is not a replacement for PayPal, Shop Pay, or Apple Pay but rather a complete e-commerce experience inside a checkout button.
Buy with Prime was first introduced in April 2022, but Amazon implemented it without establishing partnerships with e-commerce platforms. It formed one with BigCommerce soon after, but Shopify refused and even warned merchants trying to add Buy with Prime to their websites that "You have a code snippet on your storefront that violates Shopify's Terms of Service." Because of that, few websites added Buy with Prime support.
Shopify is by far the biggest pool of e-commerce brands; thus, Shopify's popularity meant Amazon had to fix the Shopify relationship for Buy with Prime to succeed. In May of this year, Shopify announced divesting its logistics arm, removing one crucial reason to hold out against Buy with Prime. And now Amazon has agreed to route Buy with Prime payments through Shopify Payments. With that in place, Amazon and Shopify built an integration that simplifies enabling Buy with Prime and removes Shopify's warning against it. It is unclear whether the payment flow and data sharing between Shopify, Amazon, and the merchant will change.
"Today, Amazon announced the Buy with Prime app for Shopify, a new app integration that makes it easy for merchants to offer Buy with Prime on Shopify stores. The Buy with Prime app for Shopify gives Prime members the option to select Buy with Prime on a product's detail page before completing their order within Shopify's Checkout. Buy with Prime offers Prime members fast, free delivery and easy returns through Amazon's fulfillment network. After signing into their Amazon accounts, Prime members pay for their orders using a payment method from their Amazon wallets and Shopify Payments will process the payment through Shopify's Checkout."
The new integration also adds catalog, promotions, and order syncing. Previously, orders placed with Buy with Prime wouldn't appear inside Shopify without external plugins. "With the Buy with Prime app for Shopify, merchants will see automatically synced orders, promotions, catalog listings, and taxes within their Shopify admin."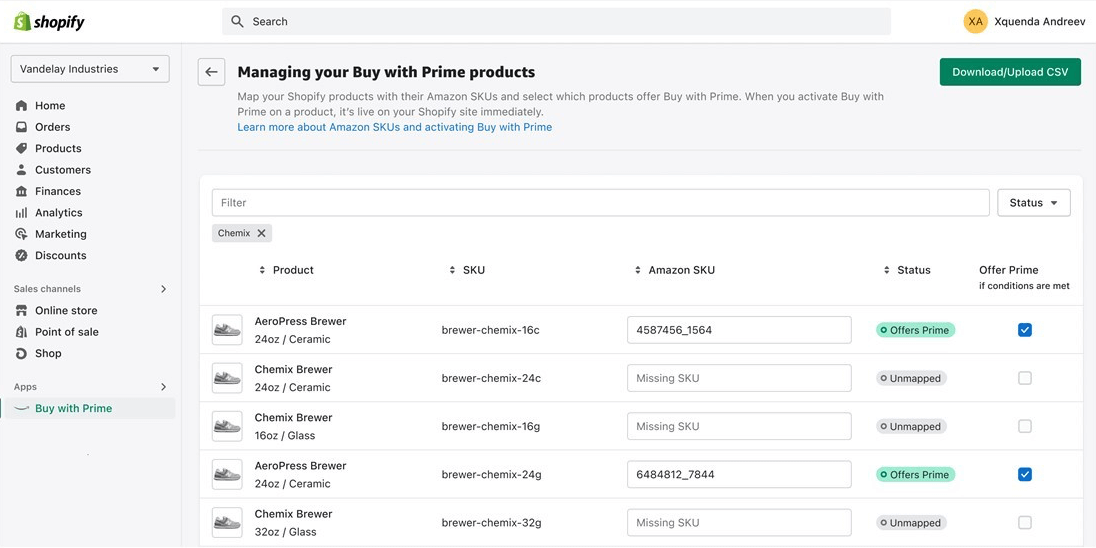 Amazon gets access to millions of Shopify merchants and expands logistics-as-a-service, Shopify gets more control and payment processing fees, and shoppers get Prime checkout on more websites - it's a rare win-win-win for all sides. It is the biggest win for Amazon, however. The next Prime Day next year is sure to have significantly more than 150 brands with Buy with Prime participating.