Shopify doesn't want merchants using Amazon's Buy with Prime. It is warning them that installing Buy with Prime removes Shopify's ability to protect against fraudulent orders and could lead to stolen customer data.
Shopify merchants have been testing Buy with Prime since June. Once merchants have signed up for Buy with Prime, Amazon generates an HTML button code that they need to add to the product template. Recently, Shopify started warning merchants trying to save the edited template that the code includes an "Unsupported external checkout script." Merchants can still proceed but must acknowledge that they understand Shopify will not be responsible.
"You have a code snippet on your storefront that violates Shopify's Terms of Service. This script removes Shopify's ability to protect your store against fraudulent orders, could steal customer data and may cause customers to be charged the wrong amount," reads the message to merchants.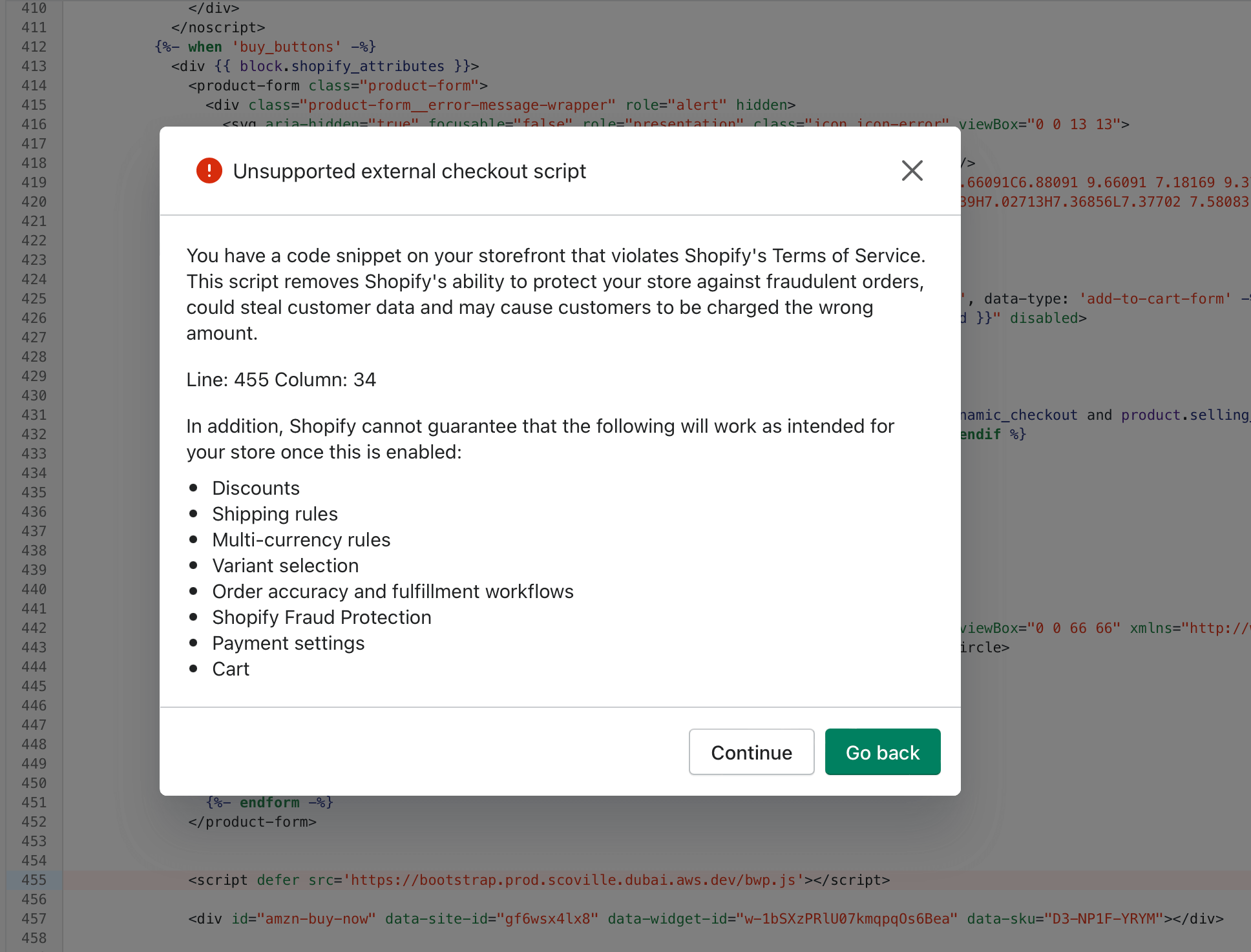 Shopify's Terms of Service state that the checkout must happen on Shopify. "You agree to use Shopify Checkout for any sales associated with your online store" and "You agree not to work around, bypass, or circumvent any of the technical limitations of the Services, including to process orders outside Shopify's Checkout." These are the conditions Buy with Prime presumably violates.
The method Amazon used to implement Buy with Prime allowed it to support all platforms on day one and, perhaps crucially, not have to ask for permission from them. Buy with Prime can be added to any website or e-commerce store since it's not a plugin but rather two lines of HTML code. Shopify or other platforms can only prevent it by scanning the template code like Shopify started doing.

Shopify's warning will make some merchants reconsider Buy with Prime. It might take even bolder steps in the future - it wants Shop Pay to be the default. "Amazon is trying to build an empire, and Shopify is trying to arm the rebels," Shopify has often said. Amazon is now arming the same rebels with Buy with Prime.