Shopify wants consumers to recognize the Shopify brand. The software powering e-commerce stores is typically invisible to consumers. Shopify is changing that by building a consumer-facing ecosystem.
There are thousands of software systems for building e-commerce stores. They enable brands to create a website with a catalog and allow consumers to check out. Shopify is powering millions of e-commerce websites, but there are many more like WooCommerce, Magento, BigCommerce, and others.
Yet, the underlying e-commerce software is invisible and irrelevant to consumers. No consumer can tell the difference between a Shopify or Magento store, and no consumer can even tell that two Shopify stores share the same software. And nor should they be able to. Consumer awareness of the underlying software serves no purpose.
Shopify wants to change its role fundamentally. To do that, Shopify has introduced a few consumer-facing features: they can discover brands on the Shop app, trust delivery by Shop Promise, check out with Shop Pay, get cashback through Shop Cash, and more. Some have existed for years, but as Shopify adds more, they form a tighter ecosystem. The shared "Shop" name is Shopify's consumer brand.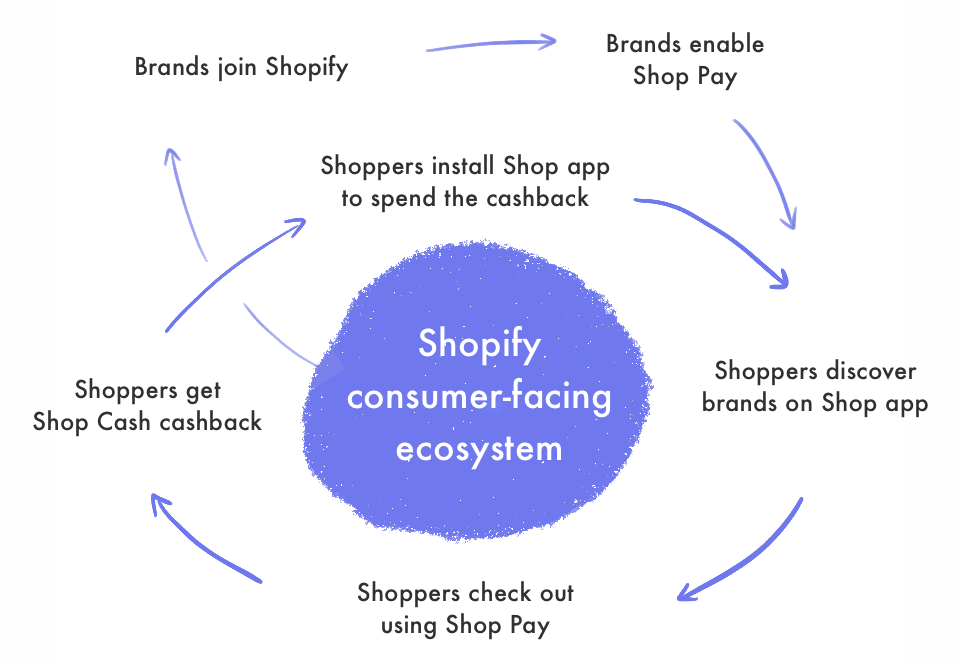 Shop Pay, a payment gateway and one-click checkout, has existed for a few years. Last week, Shopify launched a 1% cashback Shop Cash for purchases made via Shop Pay. Shopify is funding this cashback (at least for now). Consumers can only spend Shop Cash in the Shop app, Shopify's almost-marketplace that has morphed into a curated discovery tool.
Shop Pay, Shop Cash, and the Shop app create a virtuous cycle. As more shoppers get Shop Cash cashback, they will use the Shop app to find where to spend it. More brands will want to be found there, so they will join Shopify, enable Shop Pay payments, and boost cashback. Then, even more shoppers will get cashback, accelerating the flywheel.
On top of that, Shopify introduced Shop Promise, a badge that signals two-day delivery and hassle-free returns. Shopify can promise that because those items are stored in its fulfillment network. The message to consumers is that Shopify promises it, not the merchant; the significance is that Shopify is the brand to trust.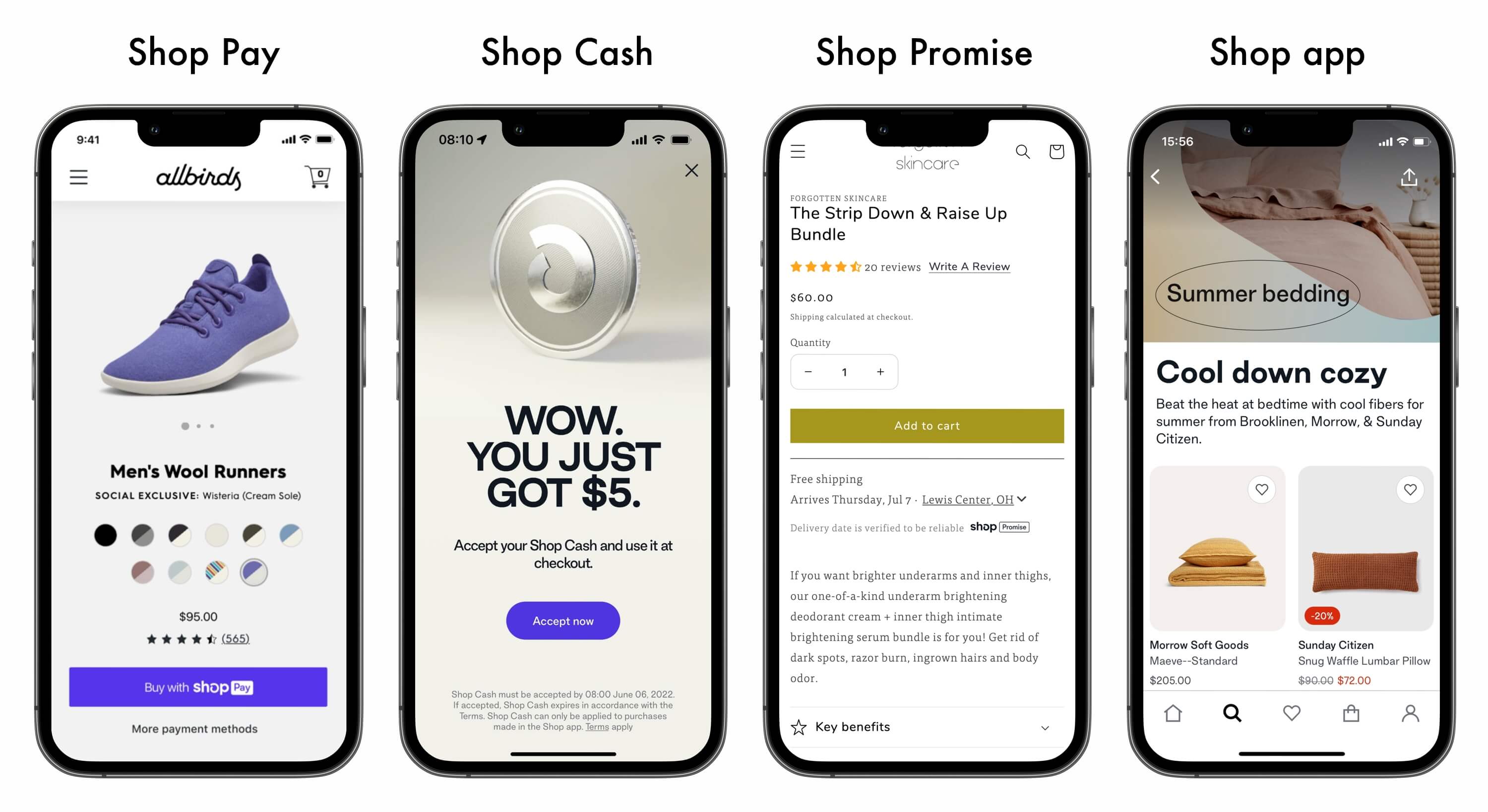 Today, brands decide which e-commerce software to use based on features, price, and preference. If the Shopify consumer-facing ecosystem becomes successful, that will pull more brands to join despite other considerations - competing software systems are invisible; Shopify is not. Cashback might be short-term fuel, but other benefits will likely extend it.
Shopify is kickstarting an ecosystem that benefits its stores without building a centralized Amazon-like marketplace. Consumers still won't care if the brand is using Shopify or Magento. But they will notice the various Shop features and will likely prefer them over other e-commerce websites. More Shop-branded features are sure to come, and the Shop app will continue to grow.
Shopify would be the second-largest e-commerce retailer in the U.S. if all its merchants were treated as one. This comparison was silly because consumers didn't go shopping at Shopify. Shopify was invisible to them. However, as Shopify expands its consumer-facing ecosystem, the benefits to brands, consumers, and Shopify become a win-win-win.