Amazon aggregators have raised just $2.2 billion in the first half of the year after raising $5.1 billion in the first half of 2021. The race to launch and fund new aggregators has ceased.
Only 12 new aggregators announced funding in the first half of 2022, attracting a combined $1 billion. The rest of the $2.2 billion raised went to firms raising additional rounds. For comparison, in 2021, 22 new aggregators announced funding in the first half and 17 in the second half of the year.
New Amazon aggregators were RubiBrands from Turkey, eBrands from Finland, Evenflow from India, Wholesum and Boosters from South Korea, Go North from Sweden, The Mothership from the United Kingdom, Flummox from Switzerland, Yaba from Spain, Riogrande from Mexico, and Society Brands and Dragonfly from the U.S.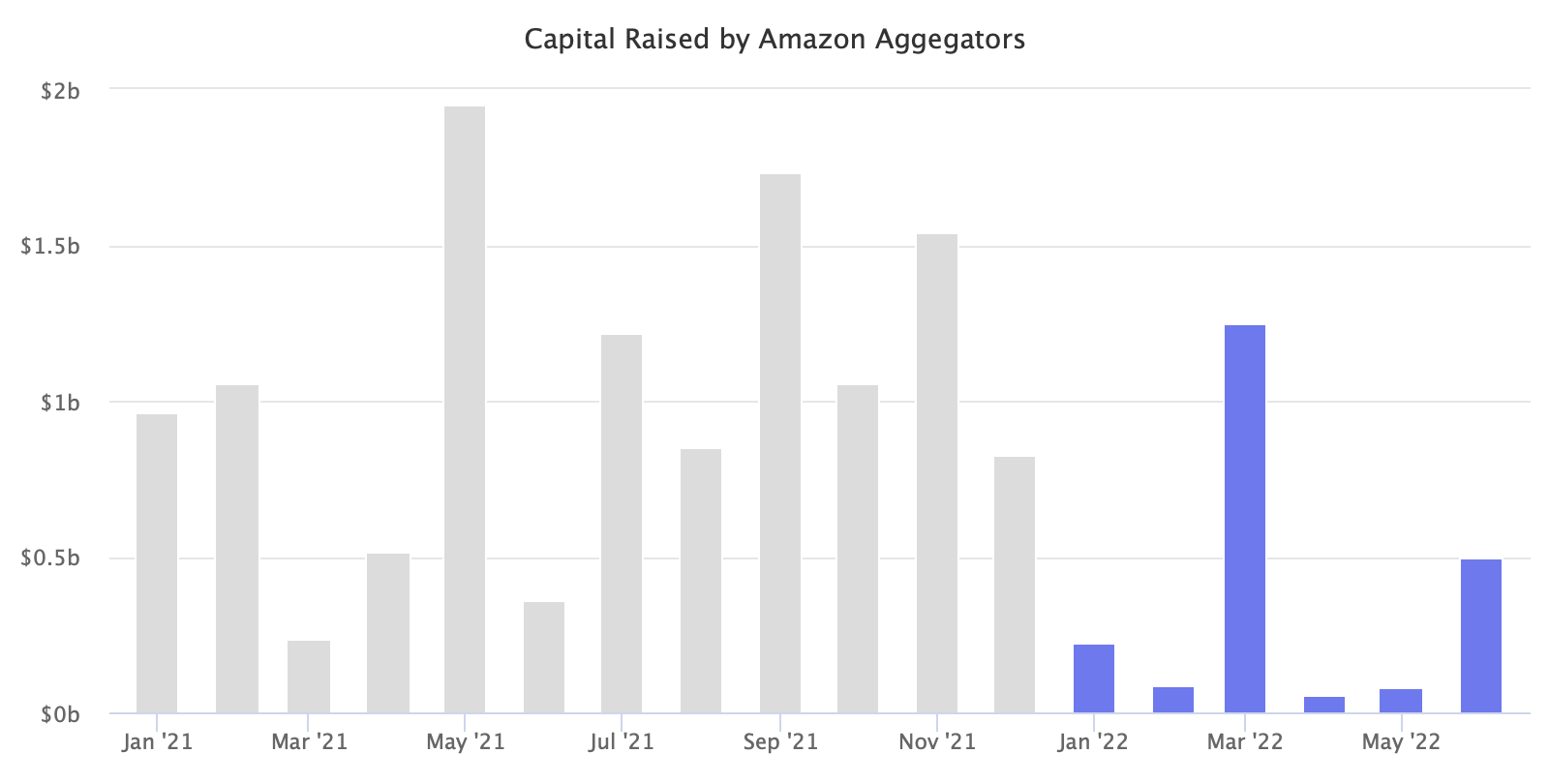 Low interest rates, e-commerce's historical growth, cheap multiples, and headlines about Thrasio and other first aggregators drove most of the investments in 2021. That euphoria has now dissipated. Capital got more expensive, e-commerce's growth became flat, increasing costs squeezed the margins, and multiples continued to increase up to the end of 2021.
Macro issues aside, some aggregators turned out to be worse at being Amazon sellers than the Amazon sellers they acquired. Unsurprisingly, capital doesn't solve this. As sales shrunk, the reality that Amazon aggregators are nothing without being Amazon sellers first set in. Operational skills matter a lot more than M&A experience.
Not everyone is struggling, however. Acquisitions are still happening while the industry is readjusting to the lessons and mistakes - most of the capital raised is yet to be deployed, even if the debt covenants are sometimes an issue. For some, that meant pausing acquisitions; for others, accelerating deals while the market is full of uncertainty. For others, that meant retaining the founders or their teams rather than purchasing only assets.
The industry attracted over $15 billion in less than two years. Most of that, $12 billion, came in just 2021. A lot of that capital funded business models that by now had to change materially. Funding figures will be significantly smaller this year, and investors have little appetite for more aggregators with the same pitch deck. At least not until clear winners emerge.