Shopify insists that they won't build a marketplace, but the Shop app has recently become one. The app now allows discovering merchants, adding their items to a shopping cart, and checking out - all without leaving the app.
"There's an absolutely obvious playbook for Shop that I think everyone can see," said Tobi Lütke, CEO of Shopify, during the Q4 2020 earnings call. The obvious playbook Tobi referenced is most likely a marketplace. He went on to say that Shopify doesn't want to follow it. In an interview with Harley Finkelstein, president of Shopify, Niel Patel of The Verge asked, "Do you see yourself headed in that more consumer direction, where you run basically a catalog for lots of independent businesses?" Harley answered, "No. We have no plans to be a marketplace."
And yet, Shopify is slowly adding functionality that is bringing the app closer to a marketplace. When the app launched in April 2020, it didn't have a shopping cart or in-app checkout. Clicking on items would bring up a pop-up window with the shop's website page. All of those are now integrated features, allowing shopping without ever leaving the app. The app satisfies the definition of a marketplace.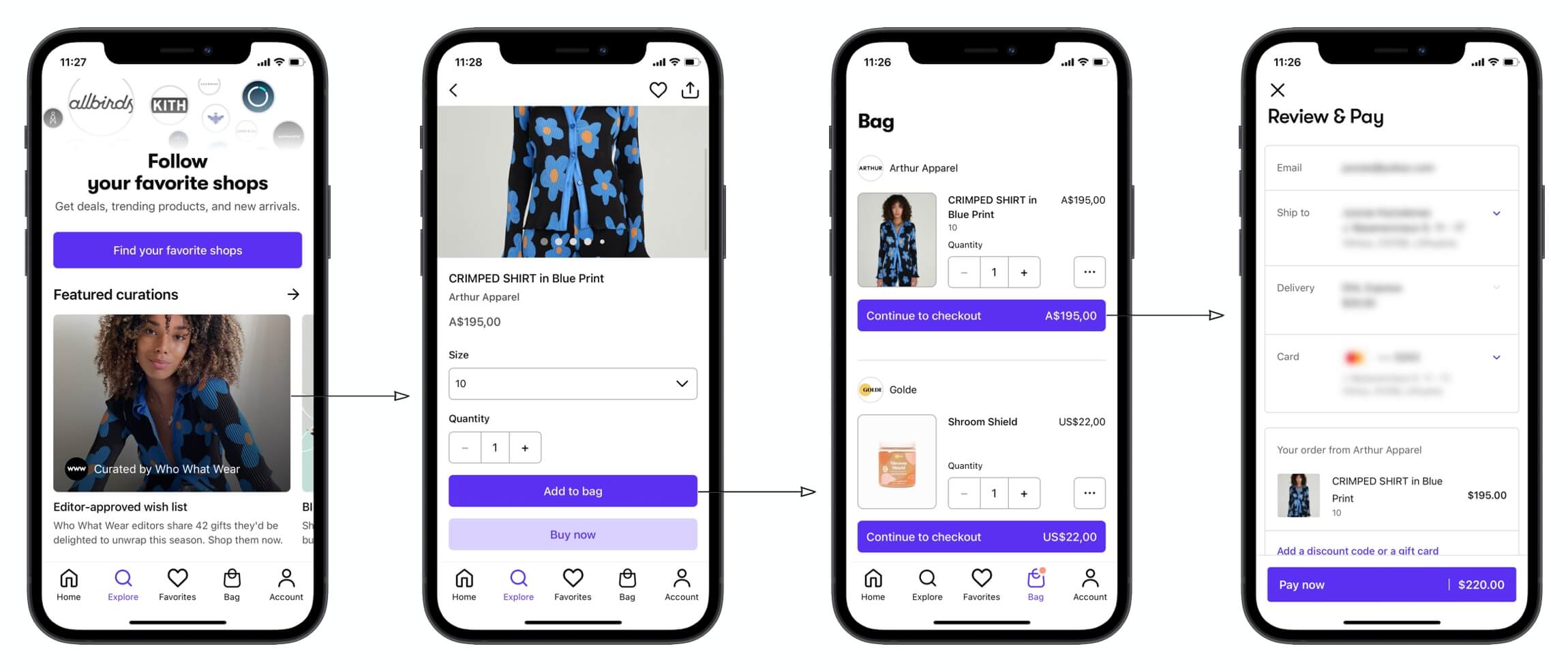 The missing piece is the ability to search for items rather than merchants. That is, the app doesn't allow finding sweaters across all Shopify merchants. It shows merchants with "sweaters" in the title instead. But Shopify is piloting a feature that solves this. "Shopify is quietly testing a new search feature that allows customers to search for items across Shopify merchants — meaning products from competing brands would show up alongside one another," wrote Madeline Stone for Business Insider.
However, not everyone at Shopify agrees that search functionality should exist. Even if participating in the universal search is an opt-in for merchants. "An internal debate continues about whether the feature would hurt merchants," wrote Madeline Stone. A universal search means a ranking algorithm and deciding what metrics influence higher ranking. Eventually, universal search also means an advertising platform for merchants who want to pay to rank higher.
Shopify doesn't have a clear direction for the app, but meanwhile, it is getting millions of downloads a month because Shopify features it in post-purchase emails. More people download the app than Walmart's, Nike's, Target's, and practically everyone else's except Amazon's. If Shopify rolled out the universal search to everyone, the Shop app would - because of the tens of millions of shoppers that downloaded it - immediately generate significant GMV. But not nearly substantial enough to impact broader e-commerce.
Instagram, Facebook, TikTok, Pinterest, Google Shopping are marketplaces for Shopify merchants. And so are Amazon, Walmart, and Target marketplaces. Shopify ultimately doesn't compete with Amazon - its merchants do, and even they are increasingly no longer anti-Amazon. Becoming more like Amazon when trying to compete with Amazon seems aimless.
Marketplace functionality is not enough to make Shop a shopping destination. Shopify might have all of it in place, but it doesn't have a value proposition to shoppers. Millions of Shopify merchants wrapped in universal search is not it. The app wouldn't be able to replace Amazon or other retailers because its selection is spotty. Nor could it focus on just a few categories because that is already done well by a new wave of DTC brand discovery marketplaces like The Fascination, Thingtesting, or Etsy. Neither could it replicate social features and user-generated content of Instagram or TikTok. Finally, it's unclear whether brands would benefit from it or instead see their products buried in search results.
Shopify, perhaps unintentionally, has built a marketplace. But, as Tobi Lütke said, that's the obvious playbook. A playbook that won't disrupt e-commerce.