Walmart on Thursday reported Q2 2016 earnings beating market expectations.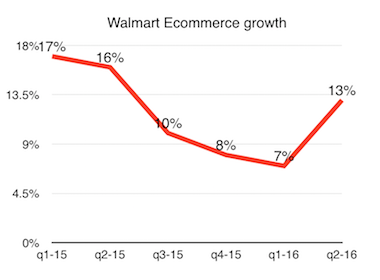 Ecommerce sales (gross merchandise volume) grew by 13%, well above the last three quarters' growth rate. Walmart was struggling to grow their ecommerce sales - in Q1 2016 ecommerce sales grew by only 7%.
However, Q2 2015 showed 16% growth, so the 13% growth last quarter is still showing signs of slowing down. Walmart's annual ecommerce sales are estimated to be $14 billion, considerably less than Amazon's $99 billion.
Walmart recently announced it was buying Jet.com for $3 billion. This is going to allow Walmart to reach more customers and work with the stellar team behind Jet.com, growing both Jet.com and Walmart.com at the same time.
Walmart Marketplace has been growing at an increasing rate over the past few months, so the last two quarters of the year should be a good indication of how much impact marketplace sellers are able to have. If Walmart can stay at 10%+ growth rate it would be a strong result.