Customer satisfaction with Amazon marketplace sellers reached a new low in March, driven by order cancelations, long delivery estimates, fake tracking numbers, price gauging, and other issues. In the U.S., 92% of customers had a positive experience last month, down from 95% a year ago.
Across all Amazon marketplaces worldwide, the percent of positive seller reviews has been on a steady decline since the start of March, according to Marketplace Pulse analysis of millions of recent seller reviews for the eight million sellers. The worldwide positive rate was 91% in March, and 92% in February, but 94% in March 2019.
The most significant decline was in Australia, where only 78% of seller reviews were positive last month, compared to nearly 90% a year ago. Most of the drop happened over the previous thirty days. Even in Japan, where negative reviews are rare, they increased from just over 2% to nearly 9%.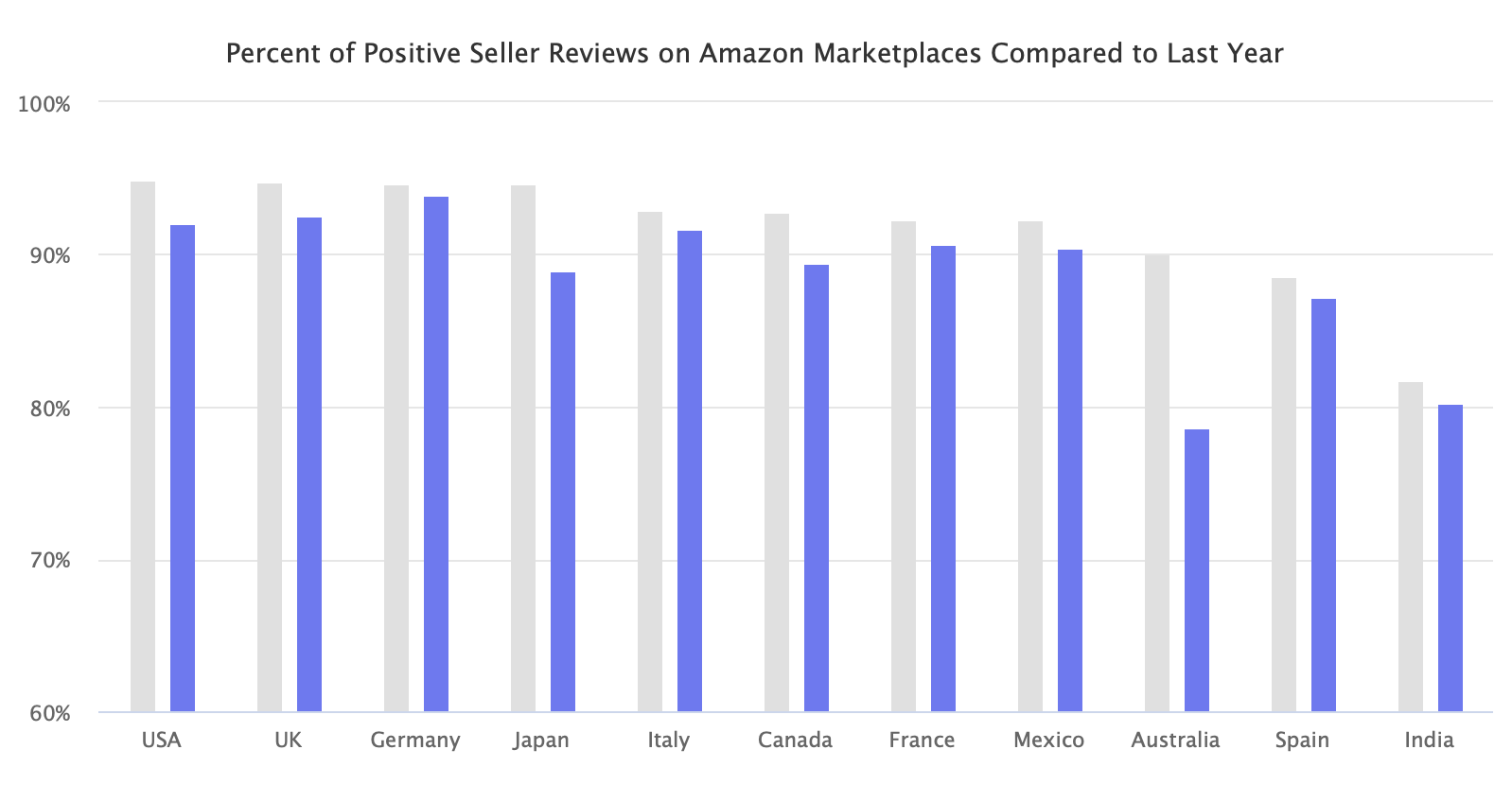 Sellers on the Amazon marketplace receive feedback reviews from customers after a purchase. Providing feedback is optional for customers, and the percentage of customers who leave a seller review is anywhere in the range of 1–5%, depending on the product pricing and the category.
Towards the end of 2019, Amazon has made changes to the seller reviews program, which made it more challenging to remove negative reviews caused by Fulfillment by Amazon (FBA). For sellers using FBA for order fulfillment, shipping delays caused by Amazon are out of their control. Those negative reviews would instead say, "This item was fulfilled by Amazon, and we take responsibility for this fulfillment experience." The change has contributed to the overall increase in negative reviews.
However, the increased demand during the COVID-19 pandemic has resurfaced old Amazon marketplace issues too. Many of the recent negative reviews complained about price gauging, low quality, canceled orders, and not receiving orders after weeks of waiting. Some are about specific product issues like "Advertised the item as Disposable N95 Carbon Activated Filter Mask 3 layer PM2.5 but received just "paper towel" pads that have no carbon and no filtration."
As a result, in the U.S., only 92% of customers reported a positive experience last month, the lowest in more than three years. By the end of April, the percent is going to drop below 90%.
In total, Amazon sellers worldwide received nearly half a million of negative reviews last month. Not all shoppers leave a review, so the number of negative experiences is a multiple of that - millions of orders that went wrong last month.