Buy with Prime buttons are starting to appear on first e-commerce websites. The new fulfillment and checkout service introduced by Amazon in April is now available on a selection of DTC sites.
On April 21st, Amazon introduced Buy with Prime. The service allows shoppers with a Prime membership to shop on e-commerce websites other than Amazon and check out using their Amazon account. Crucially, Amazon also handles fulfillment.
A handful of Shopify merchants like The Cat Ladies (www.thecatladies.com) have rolled out the Buy with Prime integration. Amazon currently asks interested merchants to join the waitlist since the service is available by invitation only. Depending on the design template, the Buy with Prime button appears directly below or above the standard checkout button.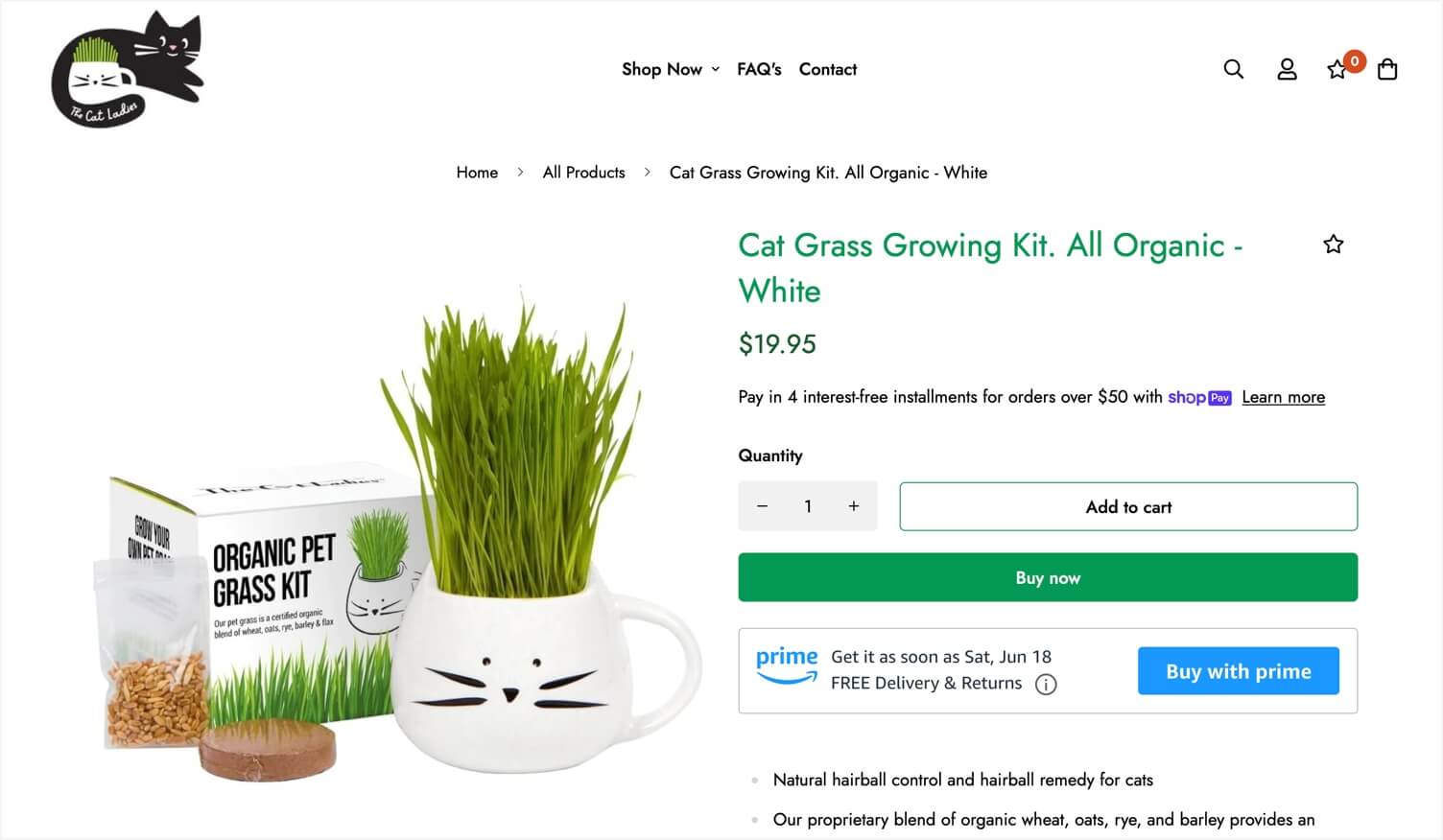 Once merchants have signed up for Buy with Prime, Amazon generates an HTML button code that they need to add to the product template. Currently, there are no extensions or plugins to automate this for any e-commerce platforms like Shopify or BigCommerce. There is no flow to sync the orders into the e-commerce system either. Thus the integration is basic and is limited to the few lines of button code Amazon provides.
When shoppers click Buy with Prime on a brand's website, they get prompted to sign in to their Amazon account. They can then complete the order using their preferred payment method stored in their Amazon account. However, shoppers will not be able to see or track Buy with Prime orders on the Amazon.com orders page or in the Amazon mobile app.
The Prime member's data shared with the merchant includes their name, email, shipping address, phone number, and the last four digits of their payment method used during checkout. Merchants can use that data to build direct relationships with customers. However, they are not allowed to share it with "any third party that identifies shoppers as Prime members unless it is solely for providing a service to the merchant."
The button appears to shoppers without a Prime membership too. However, the checkout page does not prompt them to sign up to Prime or allow them to check out without it. The page informs that Prime membership is required and includes one button to get back to the merchant's website.
With Buy with Prime, Amazon might be attempting to build yet another flywheel to get direct-to-consumer (DTC) brands to offload storage, delivery, and returns to Amazon.