Amazon is attempting to build yet another flywheel to get direct-to-consumer (DTC) brands to offload storage, delivery, and returns to Amazon with a new service, Buy with Prime.
On April 21st, Amazon introduced Buy with Prime. The service will allow shoppers with a Prime membership to shop on e-commerce websites other than Amazon and check out using their Amazon account. Crucially, Amazon will also handle fulfillment.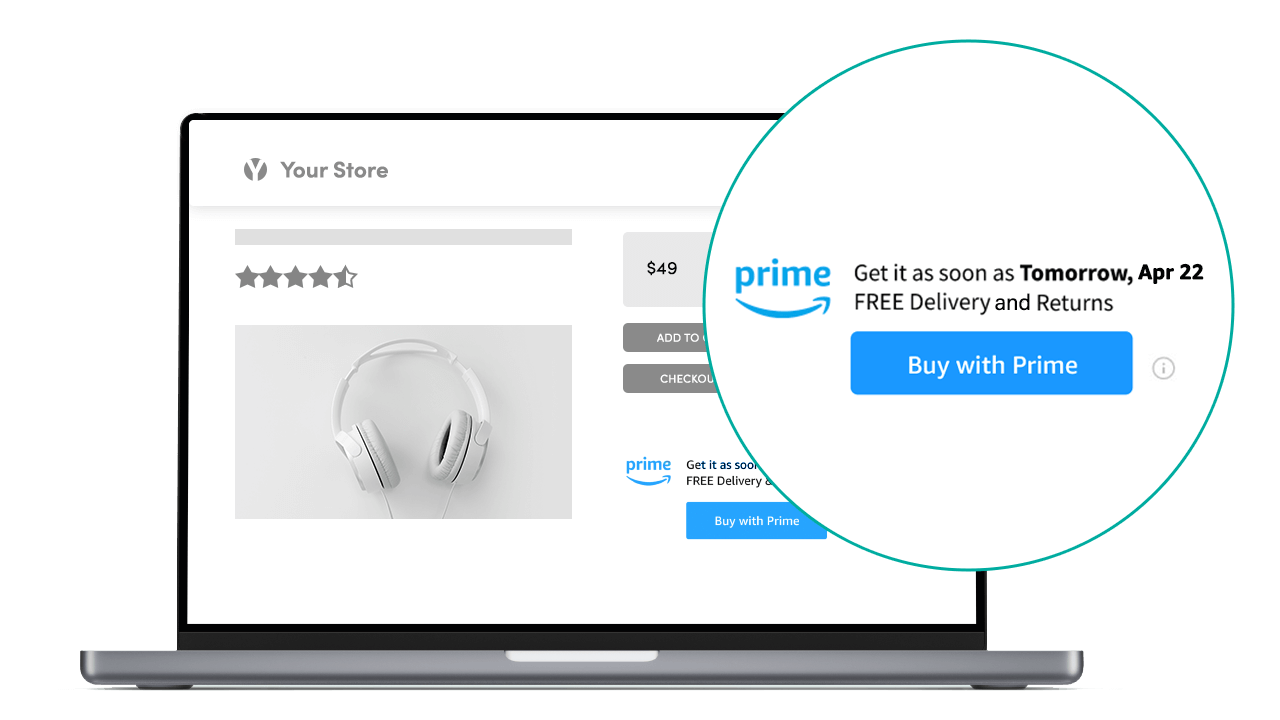 Amazon has had services that allow Amazon shoppers to shop more easily on other retailers' websites for nearly fifteen years. First, as Checkout by Amazon, which later transitioned to Amazon Pay. Both had the same functionality as the new Buy with Prime - log in with an Amazon username, pay with a credit card and use a shipping address stored in the account. It's unclear how much volume Amazon Pay processes, but the check out button is present on hundreds of thousands of websites.
Buy with Prime merges Amazon Pay with Amazon Fulfillment. Rather than only handling payments - a convenience feature competing with Apple Pay and others - it also guarantees delivery time and free shipping. The merchant could already be offering free delivery in two days, but the idea is that shoppers will trust the Prime badge more.
"Today, Amazon announced Buy with Prime—a new benefit for Prime members that will extend the convenience of Prime shopping to online stores beyond Amazon.com. Buy with Prime will initially be available by invitation only for merchants using Fulfillment by Amazon (FBA) and will roll out through 2022 as merchants are invited to participate, including those not selling on Amazon or using FBA.

Buy with Prime will allow millions of U.S.-based Prime members to shop directly from merchants' online stores with the trusted experience they expect from Amazon—including fast, free delivery, a seamless checkout experience, and free returns on eligible orders. Prime members will see the Prime logo and delivery promise on eligible products in merchants' online stores, which signals the item is available for free delivery, as fast as next day, with free returns. When shopping with Buy with Prime, checkout is simple and convenient. Prime members will use the payment and shipping information stored in their Amazon account and receive timely shipping and delivery notifications after an order is placed."
However, Buy with Prime comes with limitations. The announcement states that eventually, it will support merchants "not selling on Amazon or using FBA." That doesn't mean merchants will be able to use their existing 3PL warehouse from which Amazon will pick up for delivery. Those not using FBA will have to send inventory into Amazon warehouses first.
Second, non-Prime members will not be able to checkout using Buy with Prime. So the merchants won't be able to rely on it as a complete replacement for a payments gateway. Also, they will have to handle fulfillment separately for those shoppers or use FBA's Multi-Channel Fulfillment.
There are no live websites using Buy with Prime today, and Amazon declined to explain the fee structure of the service. It's unclear how well the service will be able to stand out among the multiple checkout options most e-commerce websites have (PayPal, Apple Pay, Shop Pay, Buy Now Pay Later, and others).
Buy with Prime's first and best customer is existing Amazon sellers. They already have inventory in FBA, understand the ecosystem, and are dying to grow sales outside Amazon. Getting DTC brands to send merchandise to Amazon for cases when a Prime member is shopping on their website and doesn't prefer Klarna or Shop Pay will be tough.
But maybe Buy with Prime starts Amazon's DTC master plan.
Roll out "Buy with Prime"
Launch an e-commerce website builder
Enable every Amazon seller to have a DTC website
Remove "Buy with Prime" dependence on Amazon Fulfillment
Enable all brands to offload fulfillment, payments and/or other
Amazon has been working on an e-commerce website builder, a competitor for Shopify, for at least two years. Now that Buy with Prime exists, that e-commerce website builder would offer a payment and fulfillment benefit. Fulfillment is ultimately Amazon's differentiator and biggest moat; without it, a Shopify competitor is a weak offering.
Sellers all-in with Amazon are most likely to adopt it. Once enough sellers launch websites and Buy with Prime is transacting meaningful sales, it proves the concept. Then Amazon could think of ways to expand beyond third-party sellers. Because then, many shoppers are used to seeing Prime badges outside of Amazon. To incentivize that, it probably needs to decouple the service from FBA (in the same way Seller Fulfilled Prime used to work).
The final step is Amazon as a retail infrastructure provider. Brands could be using FBA or their 3PL warehouse. They could be using Amazon Logistics for delivery. They could be using Amazon Pay to accept payments. They could be using Amazon for a Point of Sale (POS) system. Etc.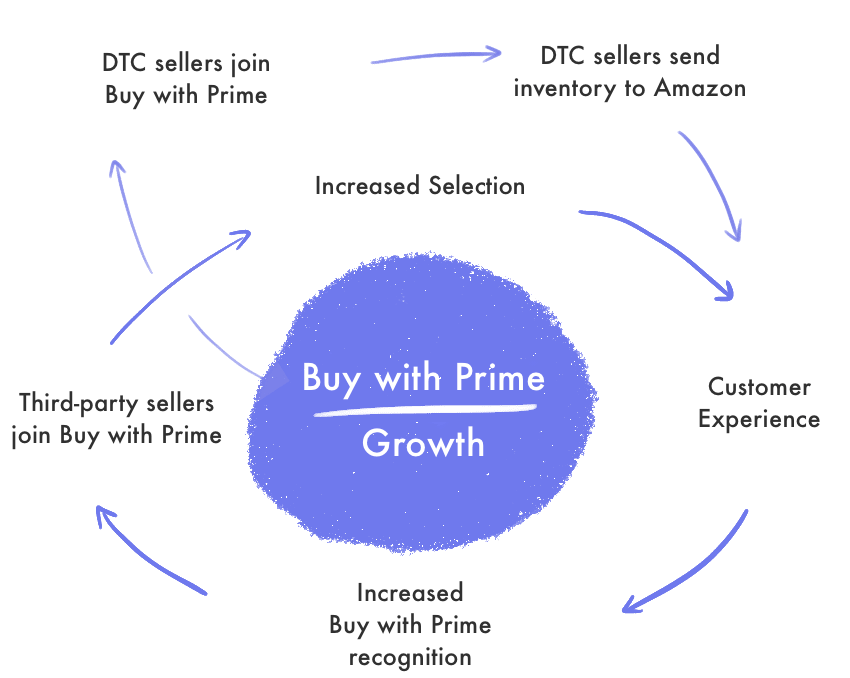 Buy with Prime is years away from impacting e-commerce outside of Amazon. It needs scale to become a flywheel, and that scale likely could only come from turning Amazon sellers into DTC sellers. There needs to be a measurable improvement in conversions for, for example, the millions of Shopify merchants to opt-in. For now, most won't.