Years after announcing fast shipping options on eBay, less than 1% of the over 800 million listings for sale on the platform offer three-day shipping. The number of products available with free and fast shipping, as well as speedier shipping than three days, is low hundreds of thousands - a small selection of the overall catalog.
Searches for "apple watch," for example, return over 14,000 results. Only 340 of which offer guaranteed three-day delivery, and just 30 come with free three-day delivery. eBay has close to 550,000 results for "batteries," only 47,000 of which offer three-day delivery, and just 2,600 of which for free.
According to Marketplace Pulse research, fast shipping availability on eBay has significantly shrunk since the company made the guaranteed delivery announcement in September 2017. Close to twenty million items offered three-day delivery at the time, but the selection has shrunk to just four million as of February 2020.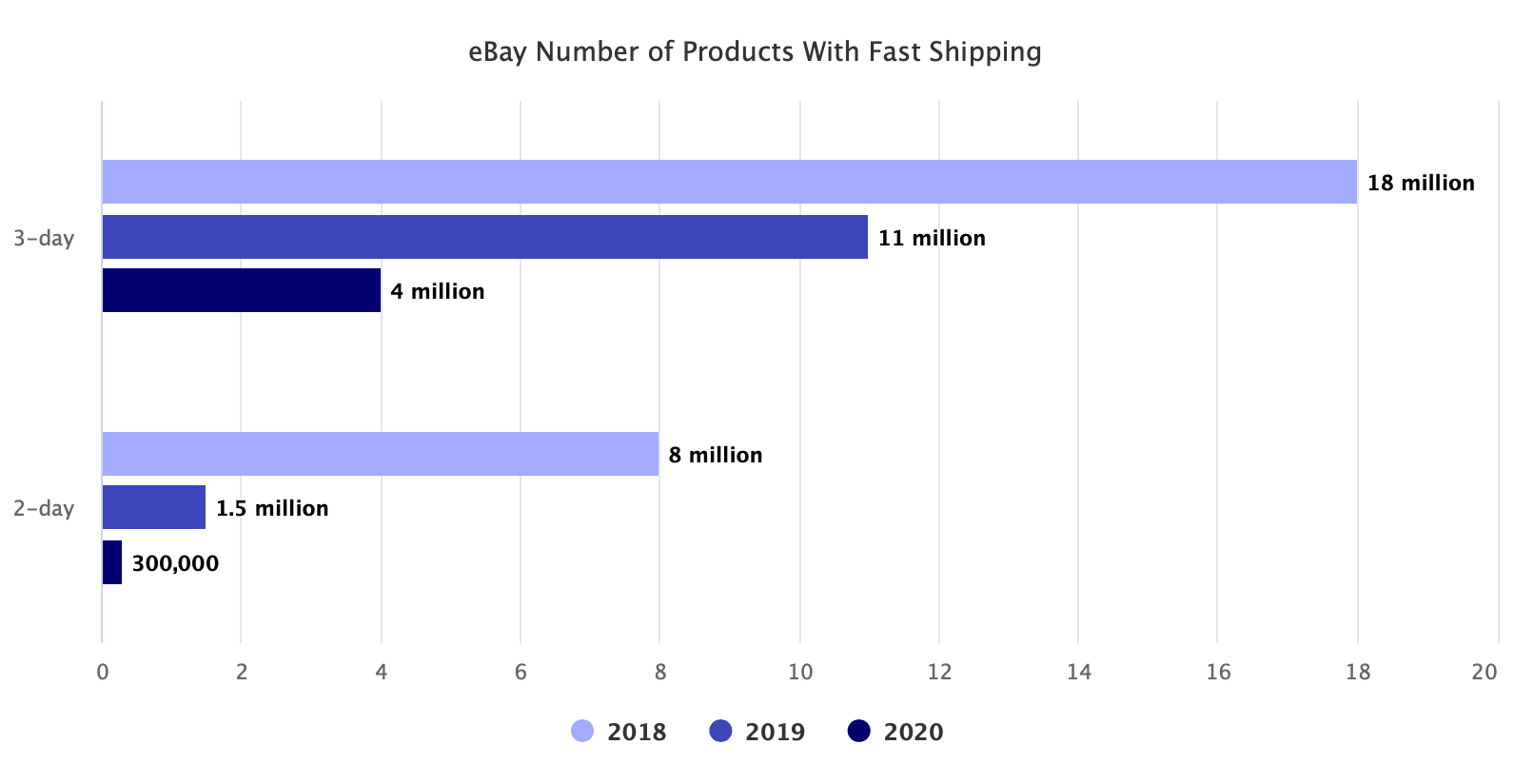 In July 2019, eBay announced plans to launch a Fulfillment by eBay service, not unlike the FBA service offered by Amazon. eBay envisioned it to expand the selection of products with fast shipping. Given eBay's increasing stumbles as a company, as well as the recent negative sales growth, and based on conversations with people with knowledge of the matter, this service is unlikely to launch in 2020, if at all.
Successful warehousing and delivery services provided by marketplaces work when there is a predictable increase in sales from using one. For example, sellers on Amazon use FBA not because there are no other options to handle inventory. But because on Amazon, most shoppers have Prime, and thus they expect Prime shipping. Except for a few exceptions, the best option for sellers to offer Prime shipping is FBA. By doing so, they get more sales, closing the flywheel.
This behavior is the fast shipping flywheel, an economic engine that incentivizes sellers to improve customer experience through a greater selection of products with fast shipping. Fast shipping leads to a better shopping experience and, thus, more sales. As sellers grow sales, they add more products with fast shipping. That allows the marketplace to adjust its search algorithm to prioritize fast shipping. Changes to search ranking improve customer experience further, displaying mostly products with free and fast shipping. Feeding any part of this flywheel accelerates the loop.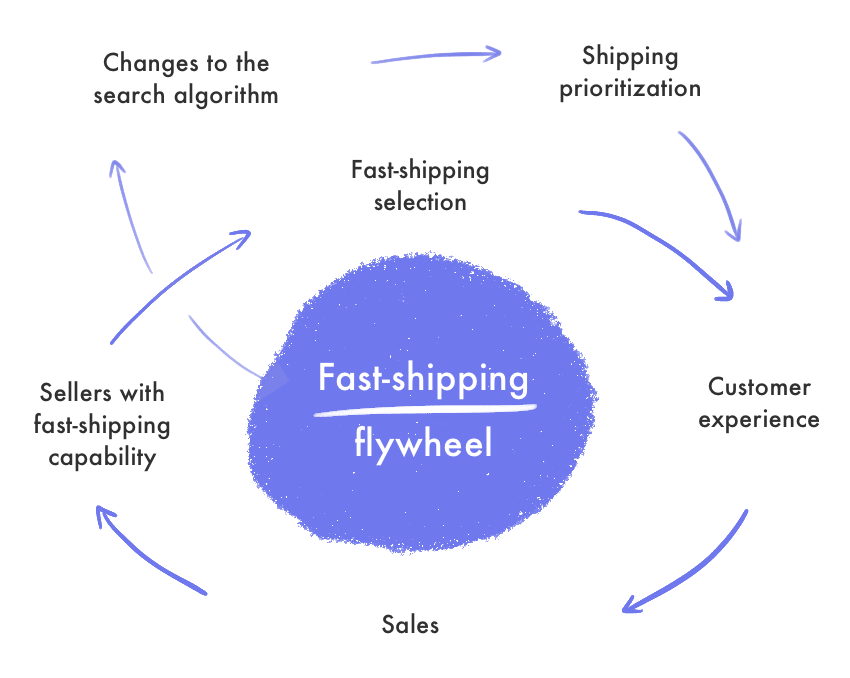 On eBay, offering fast shipping doesn't increase sales, however.
This is the crucial piece missing. Before launching a fulfillment service, eBay needs to create an incentive for sellers to use one. And that incentive should be that shoppers are more likely to buy their products if they offer fast shipping. Both in the form of user interface changes to prioritize and filter by shipping speed, as well as shaping shopping behaviors long-term. Shipping speed today is one of the many filters on eBay, buried among dozens of other options.
So while it is true that most shoppers generally expect fast and free shipping, the way marketplaces match those expectations is not trivial. It's the ability to create a feedback loop where sellers with faster shipping increase sales, customers are delighted by fast shipping and look for products with that option, and the marketplace matches those demands by tailoring search. While it might appear that all of those get solved by launching a fulfillment service, given Amazon's dominant position and the majority of its sellers using FBA, for other marketplaces to attract sellers to their service, the incentives first need to be in place.
All of this to say that the reason so few items on eBay offer fast shipping is because there is no incentive for sellers. And eBay's headline-grabbing announcement to launch a fulfillment service is a solution for the wrong problem. eBay's problem is that sales in the US declined 9% in the fourth quarter, and the number of sold items globally shrunk 4%. Faster shipping alone is not going to reverse that, at least not short-term.