eBay has lost all sales growth from the pandemic's e-commerce surge and will finish 2022 with GMV at 2019 levels.
According to eBay's guidance, eBay's global gross merchandise volume (GMV) in 2022 will reach $72.7 - $74.7 billion. That's nearly identical to the $72.1 billion GMV in 2019. Its GMV will shrink by roughly $14 billion from $87.6 billion in 2020 and $87.3 billion in 2021.
eBay had little growth over the five-plus years leading up to 2020. When Covid came, eBay benefited from other retailers being out of stock. That brought many buyers back to eBay - thus resulting in a $14 billion spending increase in 2020 that it sustained in 2022 - but it ultimately was a temporary surge.
eBay is giving up the pandemic's gains in international markets faster than in the U.S. - for example, in the second quarter of 2022, U.S. GMV was still up 15% from Q2 of 2019, but international GMV was down 3%. Sales in the U.S. will finish the year above 2019 levels but could weaken further in 2023.
E-commerce in the U.S. was up a staggering 80% over the same 2019 Q2 - 2022 Q2 period that eBay grew 15% in the U.S. While e-commerce penetration figures haven't increased drastically during the pandemic, e-commerce spending has increased enormously. Because eBay didn't keep up, its market share is down to 3.5% from 10% less than a decade ago.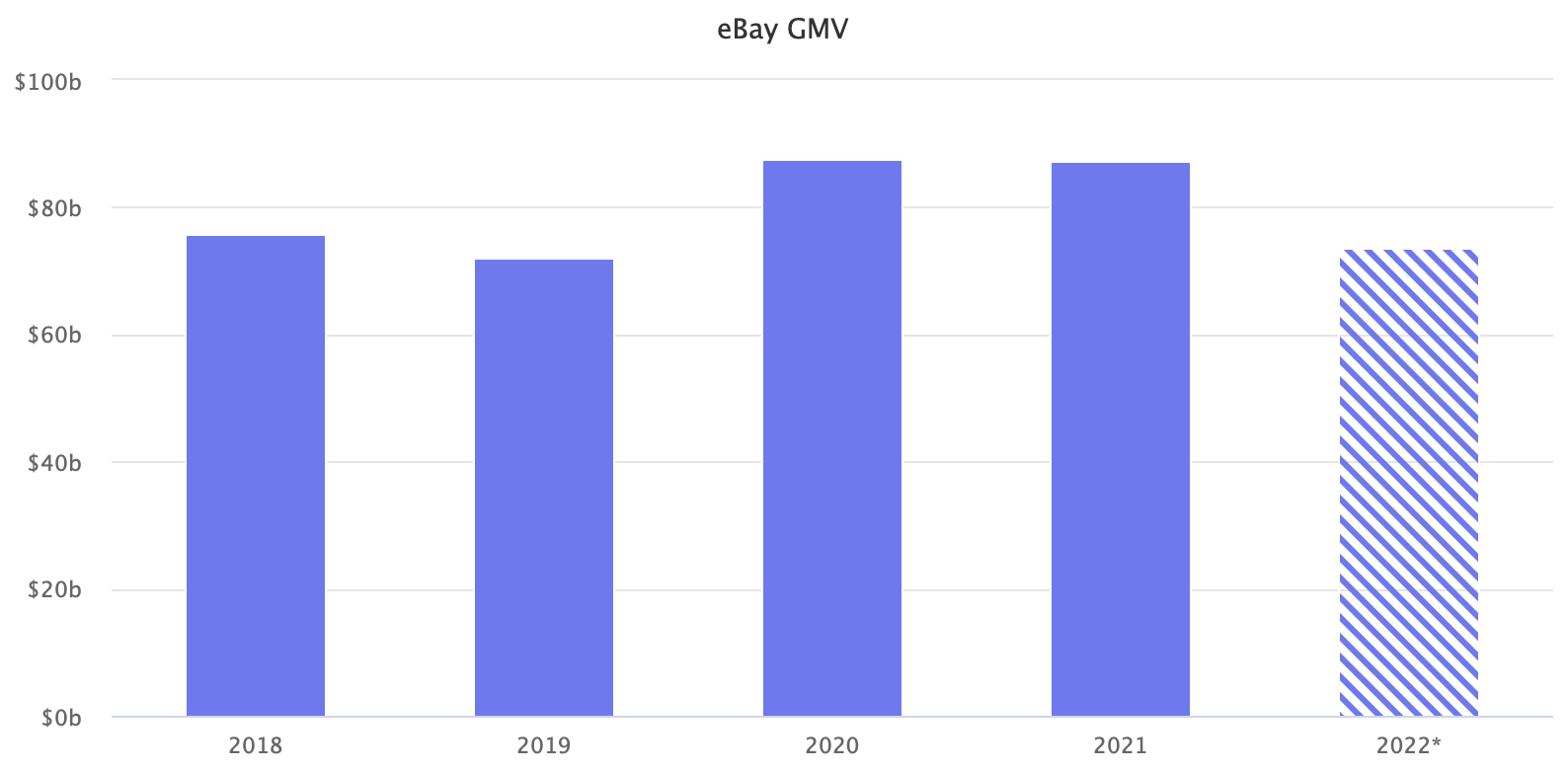 eBay has hundreds of competitors that took categories on eBay and built a business around improved experience. It is losing sales to marketplaces like StockX, Etsy, Vinted, Farfetch, Facebook Marketplace, and others. But it still has five categories generating over $10 billion in sales: Motors, Parts & Accessories, Electronics, Collectibles, Home and Garden, and Fashion.
Nevertheless, eBay has refocused on select categories it calls "focus categories," and high-spending users nicknamed "enthusiast buyers." Focus categories include jewelry, sneakers, handbags, and collectibles like trading cards. Enthusiast buyers - roughly 12% of active buyers - shop on eBay multiple times a year and spend more than the average user.
Thus while eBay is much bigger than the few categories and a selection of users, it has focused on niches and buyers it can serve well. That likely means GMV and active buyers will continue to drop before eBay finds a bottom and settles into its new role.