Thousands of shoppers on Walmart were recently disappointed when shopping for face masks and other essential items. The Walmart marketplace is to blame. A few dozen fraudulent sellers used fake tracking numbers and other tricks to accept orders that never reached the consumers.
The number of daily negative experiences has increased four times since Christmas, the time when late shipping causes that figure to spike usually. Marketplace Pulse independently captures reviews for sellers on Walmart Marketplace, since shoppers do not have an option to leave a review on Walmart's website. The company removed the functionality three years ago and since then has limited ways shoppers can alert both Walmart and other shoppers.
"I ordered mask on March 30th should have arrived on April 9th. It is now the 20th and allegedly the mask have not been received by the post office yet. This is a scam! Walmart needs to stop doing business with this company. Another reason not to shop at Walmart," one customer wrote.
The seller who sold those face masks still has them available for purchase on Walmart. That seller is one of the few dozen that appear to be defrauding customers. Walmart didn't respond to a Marketplace Pulse request for comment.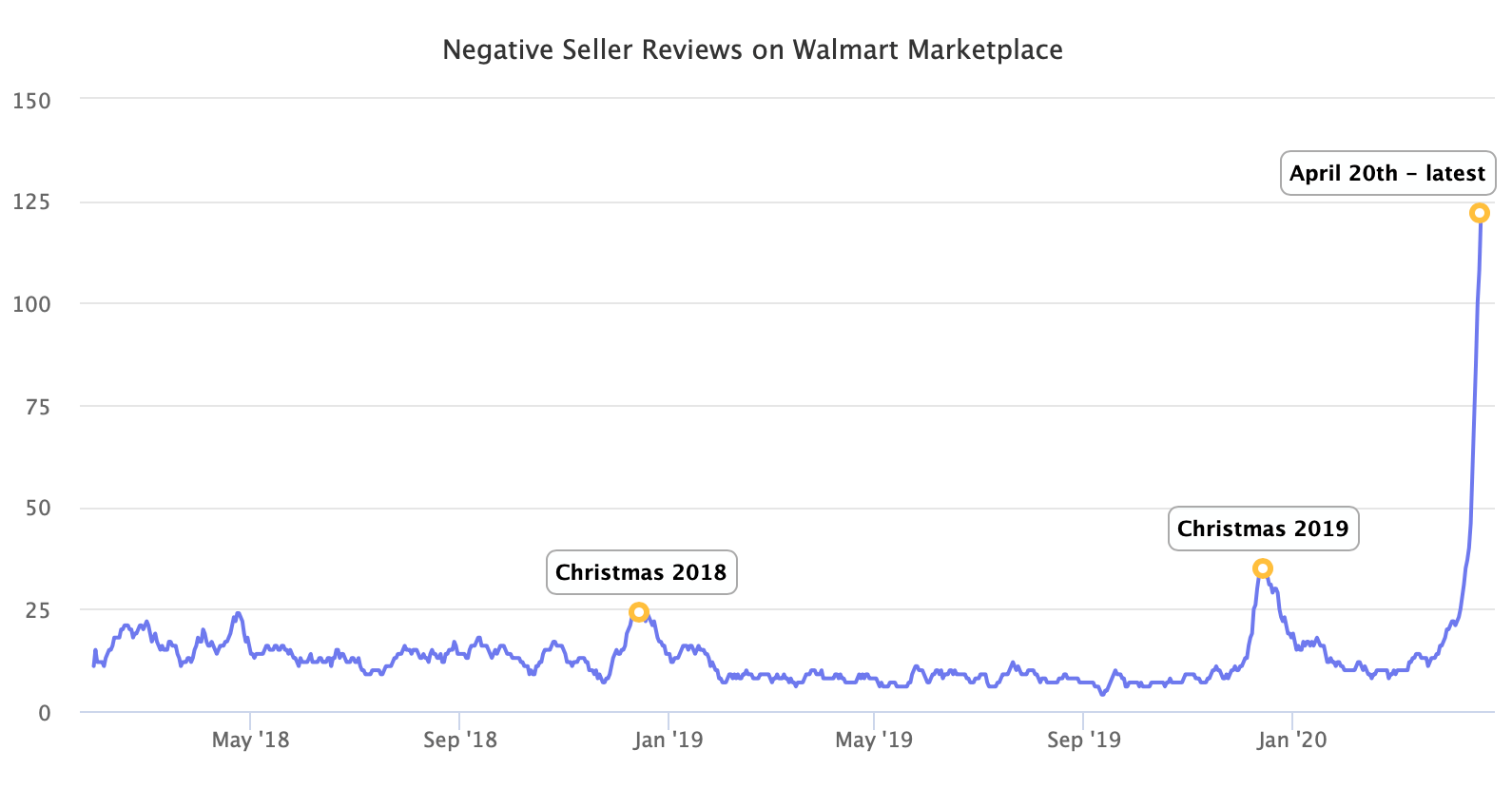 Walmart operates a marketplace that requires approval to join. Because of the approval step, most sellers that apply do not get accepted. The marketplace currently has over 40,000 sellers, a number that has grown by nearly 6,000 new sellers in 2020 so far.
However, the approval process doesn't fully prevent fraudulent sellers from joining the marketplace. Combined with the lack of seller reviews on Walmart, it often takes the company a few weeks before it notices those sellers and suspends them.
These are similar issues Amazon has been having with its marketplace recently too. On Amazon, however, seller suspension is faster, and individual sellers rarely impact many customers. Amazon has informed its sellers that it will block new listings for face masks, hand sanitizers, and other essentials, in early March.
Walmart hasn't taken similar action, and hundreds of face masks are for sale on its website. None of them are likely to be shipped to customers.

Walmart highlights its sellers as "Researched. Trusted." with a message "Choose from more every day low prices and get the same great customer care. Shop one of our trusted sellers." Unfortunately, this isn't always the case, and when it is not, consumers have a hard time getting the company to remedy it. "I spent hours on the phone with Walmart to get my money back," many shoppers wrote.