Competing marketplaces are not seeing a significant acceleration in new sellers as Amazon's fulfillment struggles caused sellers to reevaluate their dependence on the Fulfillment by Amazon (FBA) service. One month after Amazon started prioritizing the stocking of essentials and high-demand items in its warehouses, making many sellers that used the FBA service to look for other warehousing providers, it didn't drive sellers to look for alternative marketplaces.
Walmart marketplace, which, unlike comparable marketplaces, requires approval to join as a seller, added 30% more sellers in the past thirty days than the average month, according to Marketplace Pulse research. However, the number of sellers added was only 2,000, an increase of 500 from the month prior. Recently, the Walmart marketplace surpassed 40,000 total sellers.
eBay, Target, Google Shopping, and other marketplaces saw no acceleration at all. That is not to say that sellers already using those marketplaces are not seeing growth in sales - they are - however, sellers not on them yet do not appear to be expanding their channels. Or, often, do not have the fulfillment capability to sell elsewhere effectively.
Marketplaces haven't increased their efforts to acquire more sellers, perhaps missing one of the most critical opportunities over the past few years to show the value of diversification. Some marketplaces, like eBay, have made small changes to the fee structure to incentivize new sellers to join. However, neither eBay nor others have aggressively tried to recruit new sellers.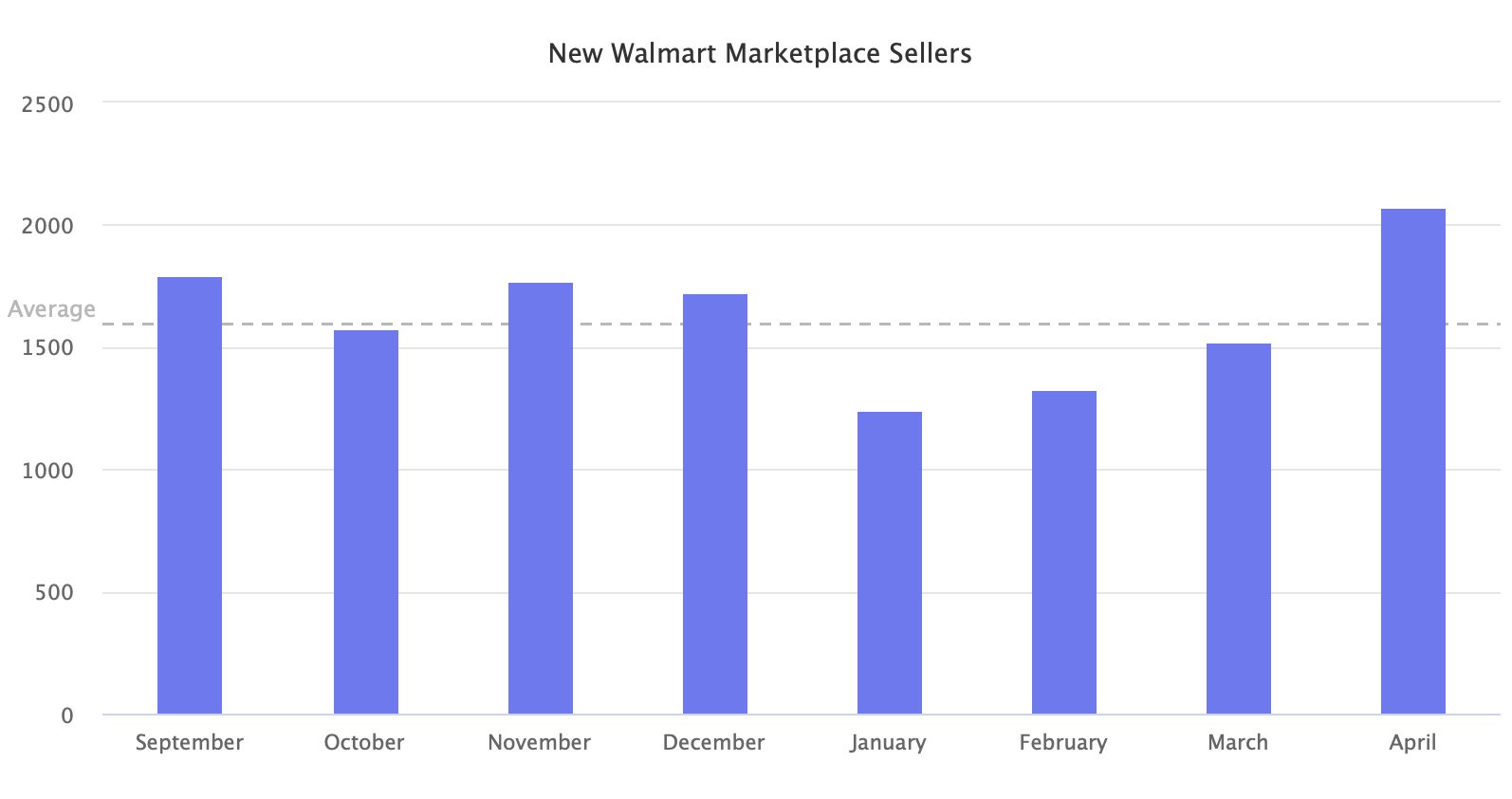 On March 17th, Amazon started prioritizing the stocking of household staples and medical supplies, "so we can more quickly receive, restock, and ship these products to customers," the company said. However, to do so, Amazon had temporarily disabled shipments for products that do not fall into the essentials or high-demand categories. The company didn't remove products already stored in its warehouses from selling. But no new inventory was allowed to be shipped to Amazon, potentially causing stock-outs as items continued to sell.
On March 22nd, shoppers on Amazon in the U.S., as well as Canada, UK, and other European marketplaces, started noticing that some items were showing delivery estimates 30-days in the future, even if they had a Prime membership. The shipping delay allowed Amazon to prioritize deliveries of certain groups of items.
These changes have caused confusion and uncertainty among sellers and made many of them establish fulfillment capabilities in-house or look for third-party logistics companies. However, changing fulfillment strategy doesn't happen fast, nor does it solve the issue of inventory sitting in FBA with month-long delivery estimates.
On April 13th, The Wall Street Journal reported that Amazon would begin allowing sellers to resume shipping nonessential items to FBA. Yet, as of April 17th, some sellers are still not allowed to ship most of their assortment to Amazon. When the company made the prioritization announcement on March 17th, the messaging was that by April 5th, it would resume back to normal. Nearly two weeks after that date, it's clear that it will take many more weeks.

"Amazon's stronghold is built on the army of sellers with inventory stored in FBA. The switching cost and cost advantage of FBA is why it is a moat."

– From "Castle Amazon"
The COVID-19 pandemic shook the foundation of the Amazon moat. However, sellers continue to wait for FBA to restore operations, rather than migrating to a warehouse they could use for multiple marketplaces. In part, because offering Prime without FBA is an invite-only program that Amazon has practically shut down, but also because for those that Amazon makes up the majority of revenues, other marketplaces are not a priority.