More than 50% of new sellers on the Walmart marketplace are from China. A year after Walmart allowed international sellers, they outnumbered American sellers in recent months.
Walmart announced the expansion to allow international sellers at a conference titled "跨境新征途,把沃新机遇" and hosted a year ago in Shenzhen on March 25th, 2021. Over the next month - April - just 6% of new sellers were from China. However, by the end of 2021, that had risen to 20%. This year, it continued to increase to reach 40% in April. Of the most recent 1,000 new sellers added, 51% were from China and just 46% from the U.S.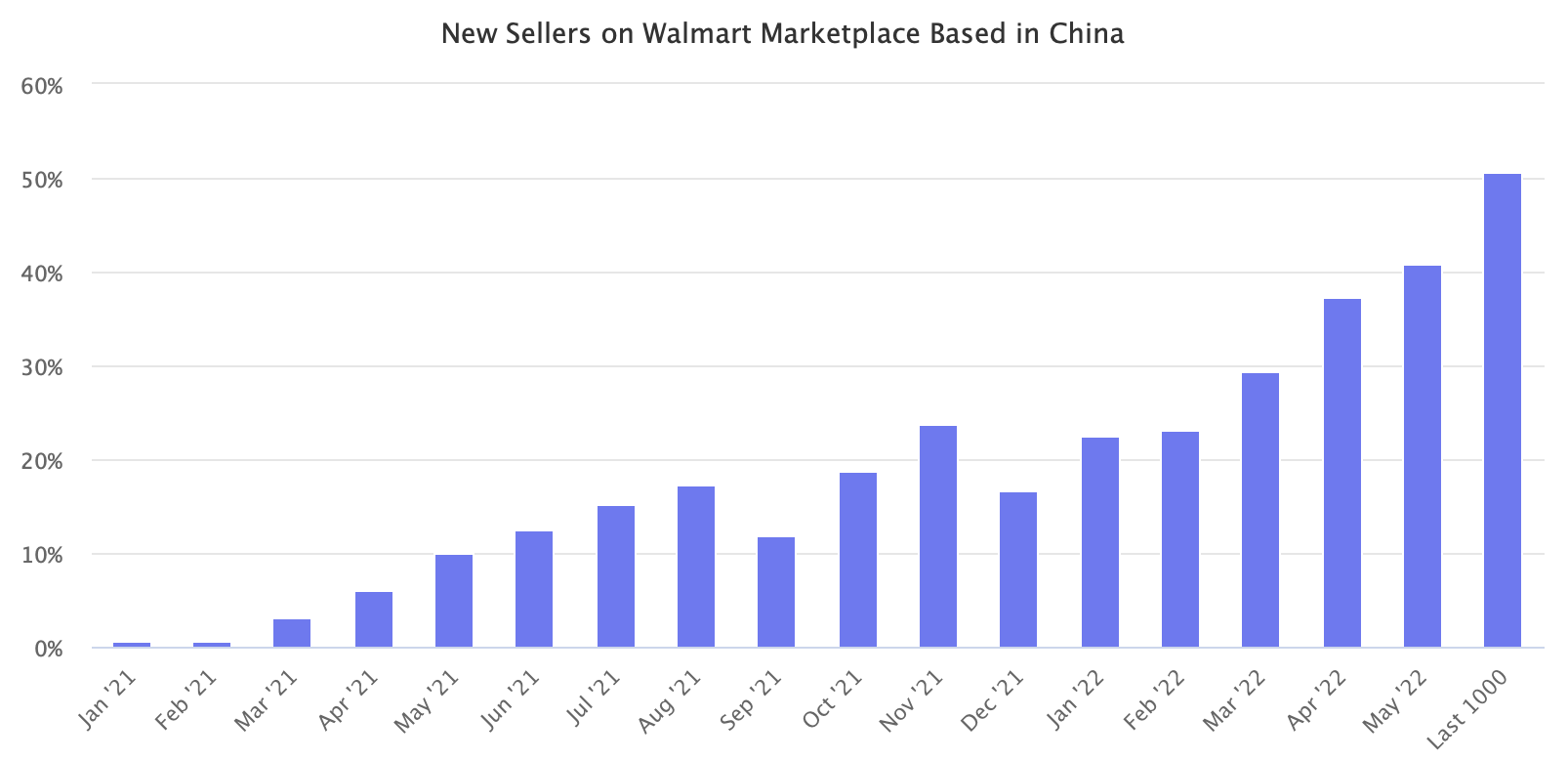 Walmart marketplace has added nearly 150,000 sellers since its inception. There are still ten times more sellers from the U.S. than China, but Walmart only allowed U.S. companies for most of its existence. There are few sellers from Europe or other countries selling on Walmart. That's an area Walmart is likely yet to expand; however, there is little presence of international sellers except for China on other marketplaces.
In April, Walmart held a similar event in India. At the Walmart Global Seller Summit in New Delhi, the company presented to hundreds of Indian sellers to get them to sell on the marketplace. There are less than 500 sellers from India on Walmart today. It is unlikely that they will reach Chinese seller numbers, but more will join.
The launch of Walmart Fulfillment Services (WFS), the opening to international sellers, and the increasing presence of advertising in search results have brought the Walmart marketplace close to resembling Amazon. Walmart still has higher requirements for sellers to be accepted, however. But the high market share of international sellers enabled by a fulfillment service to be indistinguishable to shoppers is now true for both.