Chinese sellers have recouped the market share they lost on Amazon over the past two years. It looked like they were abandoning Amazon for a while, but that has since turned out false.
The share of sales on the Amazon marketplace in the U.S. by Chinese sellers is at all-time highs. According to Marketplace Pulse research, the percentage of total seller feedback reviews volume by Chinese sellers is back to levels last seen in November 2020. Sellers receive customer feedback reviews for each order, amounting to millions of reviews each month (providing feedback is optional, and the percentage of customers who leave a seller review is 1–5%). While inherently rudimentary, this analysis method estimates the directionality of sales mix changes.
Chinese sellers continue to do well on Amazon because virtually all use Fulfillment by Amazon (FBA) to store and fulfill inventory (some American sellers ship from owned warehouses or other 3PLs). The seller's business address is thus only relevant as the location the seller employs staff and pays most taxes. Consumers, by design, are oblivious to the whereabouts of sellers on Amazon.
American sellers have been gaining market share since November 2020. However, that stopped in March 2022. Since then, the trend reversed, and Chinese sellers quickly regained lost market share. American sellers still make up more than 50%, but they will likely soon dip below.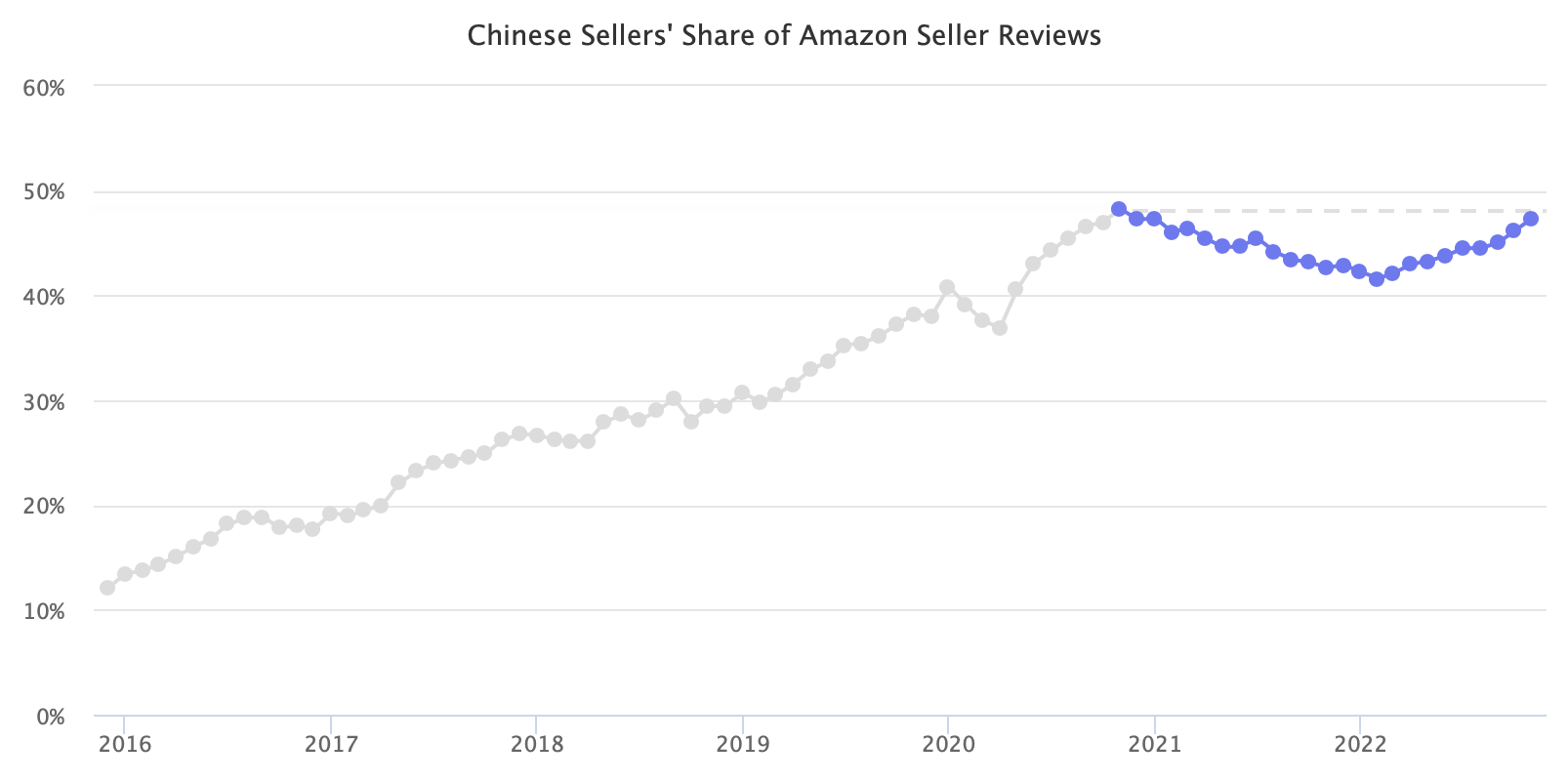 There is a growing sentiment in China that sellers should cut reliance on Amazon. "In the future, Chinese foreign trade enterprises should avoid reliance on Amazon," wrote Hong Yong, Ministry of Commerce-linked Associate Research Fellow. Earlier this year, Hong Yong published an op-ed in the overseas edition of the People's Daily titled "Defusing the Risk of "Chokehold" in China's Cross-border E-commerce Channels."
In reality, however, all sellers have been trying to diversify from relying on Amazon for most of their revenue. Amazon is still the largest marketplace in the U.S. and many other major markets. Few succeeded as alternatives are orders of magnitude smaller (Walmart, eBay) or require a fundamentally different business approach (DTC, Shopify). Thus all sellers inevitably rely on Amazon to some degree.
While Amazon's mass suspension of hundreds of top Chinese sellers shocked the market, and new marketplaces like Shein and Temu appeared to offer a way out, Chinese sellers didn't quit Amazon. "Made in China, Sold on Amazon" is still the norm.