Amazon's ad business outpaced Google's and Facebook's growth every quarter for the past three years. It's still smaller, but Amazon is not competing with retailers for advertising dollars - it is going after Google and Facebook.
Amazon's ad business grew 25% in the third quarter to $9.5 billion. By contrast, Google's advertising revenue, including all Google properties and YouTube, rose just 2.5% to reach $54.4 billion. Facebook's advertising, including Instagram, shrunk for the second consecutive quarter, down -3.7% year-over-year at $27.2 billion.
While Google and Facebook are significantly larger, Amazon might eventually catch up. In the third quarter of 2019, Facebook's advertising business was more than six times bigger than Amazon's. Three years later, Facebook is only slightly less than three times bigger. However, when Facebook's advertising business was the size of Amazon's, it grew as fast as Amazon is expanding today.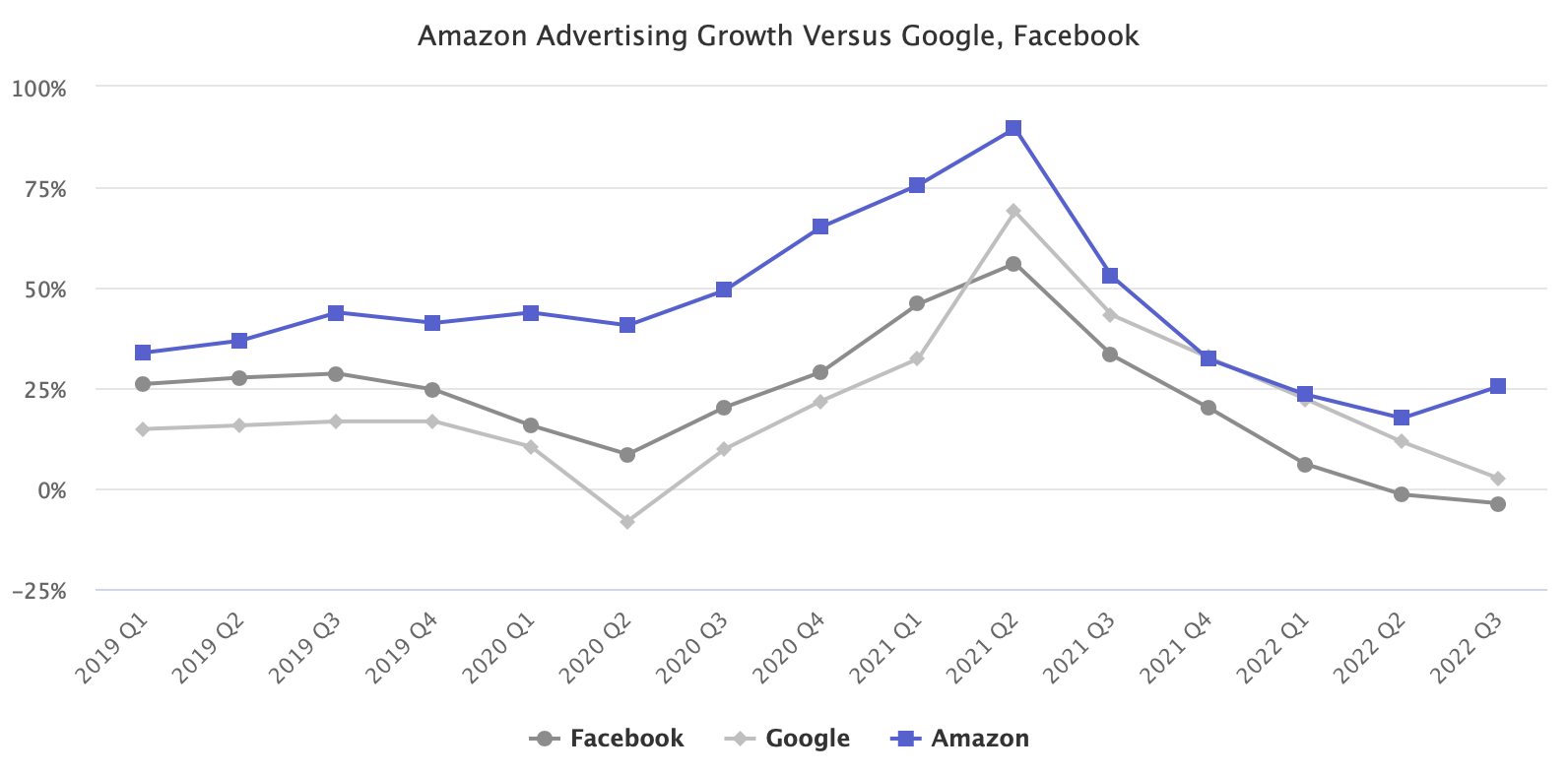 In the third quarter, Amazon's advertising also grew faster than social networking platforms like Pinterest, Snapchat, and Twitter (which didn't report Q3 results because it is no longer a public company). Even combined, those three are dwarfed by advertising dollars spent on Amazon, but historically they have been growing faster. The only other recent quarter when Amazon outgrew them was the atypical second quarter of 2020.
TikTok is missing from the comparison because it's not a public company yet; thus, its financials are unavailable. TikTok's advertising network is likely larger than Twitter, Pinterest, and Snapchat. It is undoubtedly growing the fastest among social networks.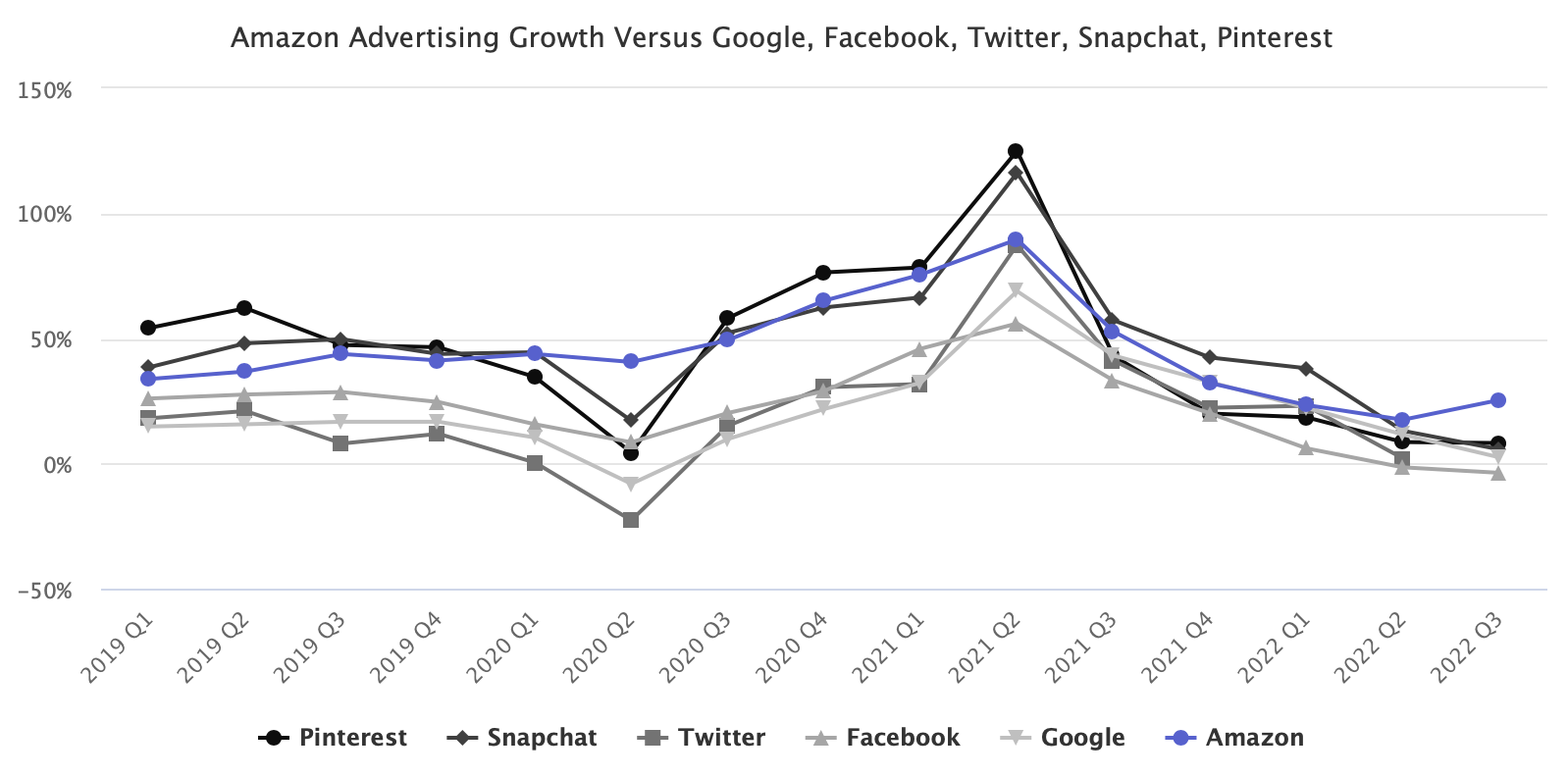 Invisible in Amazon's advertising revenue - which has now reached a nearly $40 billion annual run rate, growing ten times in five years - is the changing and expanding reach of its advertising. What started as a basic functionality to promote products in search results has become more elaborate every year - both on and off Amazon. Amazon advertising now includes dozens of ad types, technologies, data, and solutions for brands to reach consumers. It is now increasingly powering non-retail advertising too.
Amazon advertising is growing not because Amazon is stuffing more ads in more places on Amazon. And not because ad prices continue to increase. (Nonetheless, both of those are part of the story.) Amazon advertising's growth is due to the whole network reaching further, especially off Amazon, and in more ways than bottom-of-the-funnel ads. For example, it recently announced the ability for brands that don't sell on Amazon, like restaurants or hotels, to advertise on its live-streaming platform Twitch, which sits on the same advertising network.
A few years ago, Amazon's advertising business was a retailer adding sponsored listings to search. That is the stage Amazon's retail competitors, like Walmart, are at in their advertising business development. Amazon's advertising ambition is competition with Google and Facebook.