Amazon's app is in the top 20 most-downloaded shopping apps on the iPhone app store in nearly thirty countries in Europe, despite having launched in only nine of them. Yet, it is a market leader in just a few.
Because Amazon ships products to most of the continent and many people understand English well enough to place an order, Amazon does cross-border e-commerce in practically all European countries. That isn't limited to Europe either - Amazon delivers products to over a hundred countries worldwide.
In Portugal, customers shop on Amazon.es meant for Spain, in Austria and Switzerland, they shop on Amazon.de meant for Germany, and in Ireland, they shop on Amazon.co.uk meant for the United Kingdom. Amazon doesn't operate websites in any of those countries, but in the future, it likely will. For example, Amazon is building a fulfillment center in Ireland just outside of Dublin. It can reach most other countries from its existing warehouses in continental Europe.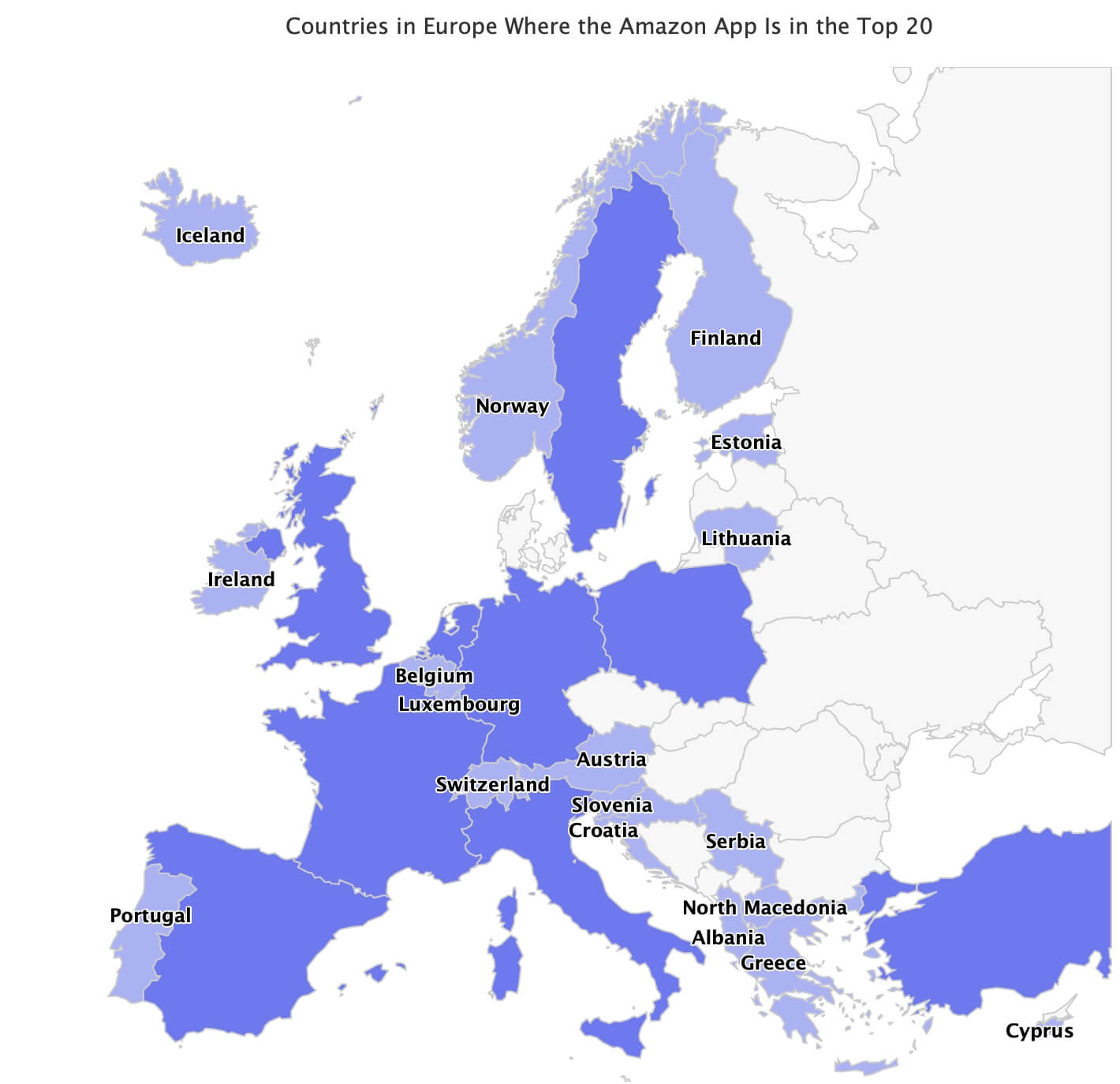 In each of those countries, it faces fierce competition from local players, and except for the few markets it is a leader in, it lags behind them. The reason, perhaps, is that Amazon is willing to wait years to grow its market share slowly. Even in countries it has officially launched - like most recently Poland - it falls flat if not the Amazon brand recognition. Meaning the selection, pricing, fulfillment options, and the rest are not bringing anything new.
Thus, Amazon is a minor player across most of Europe. It is barely trying to change that, letting the global Amazon brand attract shoppers instead. Compared to companies like Zalando, Amazon's approach is passive and has orders of magnitude smaller marketing budget. Zalando and others are easily winning so far.
Amazon is investing a lot into fulfillment infrastructure, however. That will allow it to launch in more countries with two-day or faster delivery. It can also bring its universe of third-party sellers to any new market. By relying on automated translations and synced product reviews, new markets also no longer have to start from scratch. The map of where Amazon is already in demand is likely going to match Amazon's expansion roadmap.
Amazon's physical footprint and the third-party marketplace enable the company to look at Europe as essentially one market (a view that got muddied when the United Kingdom left European Union). But because of a dozen different competitors and customer preferences developed over time in each country, it is incapable of adjusting for them. It does the same in each as it does in the U.S. and Australia, and almost the same as it does in India. In that sense, Amazon is a "jack of all trades, master of none."