China's e-commerce market represents almost a half of e-commerce sales worldwide, and practically all of it is on domestic websites like Tmall.com and JD.com. Most of the largest e-commerce markets in the world have Amazon and eBay with major market share, but not in China. Actually, both Amazon and eBay have tried to be in China, but have mostly failed. Amazon China has less than 1 percent of the market, according to iResearch Global Inc., and eBay China is not even on the map.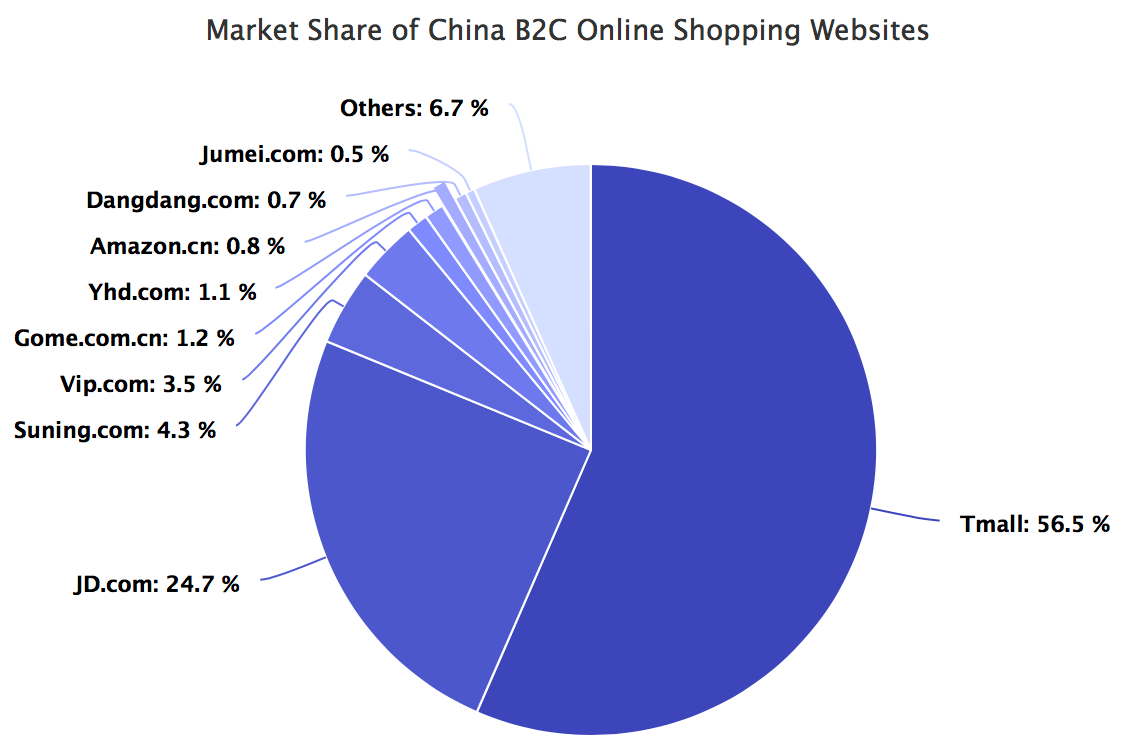 Many would jump to the conclusion that China is a market favoring local players and US companies have no chance. This is true, few foreign internet companies are successful there (many offline brands are though, McDonalds is one of them). But this is not the whole picture. Both Amazon and eBay could have had much more market share in China.
In an insightful study "Taobao vs. Ebay China" by William Barnett, Mi Feng, Xiaoqu Luo, Stanford School of Business, they wrote:
"eBay had high hopes for China. Soon after the acquisition of EachNet, eBay's CEO Meg Whitman stated that eBay considered China to be the company's second most important target market, after the United States. According to Whitman: "Ten to 15 years from now, I think China can be eBay's largest market on a global basis as we build up the local trade and the export trade.... We think China has tremendous long-term potential and we want to do everything we can to maintain our number one position.""
Then-CEO Meg Whitman stated this in 2004. She was certainly right about China's potential, which by now has grown to be the largest online retail market in the world. But eBay has struggled to capitalize on this opportunity at all.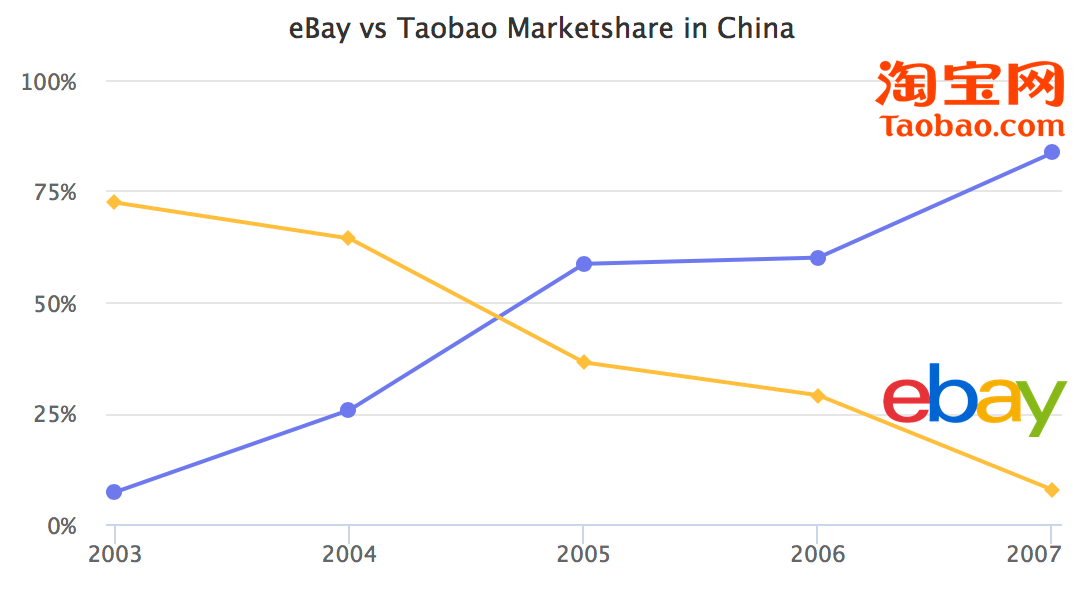 eBay entered China in 2002 when they acquired EachNet, a domestic Chinese startup in the consumer-to-consumer market, exactly the same market eBay was in too. However, as the Stanford School of Business study points out, eBay's market share has plummeted in the years 2002 to 2007. All while the newly launched Taobao took over the market.
"eBay may be a shark in the ocean, but I am a crocodile in the Yangtze River," Jack Ma, the founder and CEO of Alibaba which runs Taobao, stated in 2005. "If we fight in the ocean, we lose, but if we fight in the river, we win." eBay didn't understand the market, and Ma was able to win.
The core mistake eBay made was forcing their global strategy onto a yet underdeveloped China market. eBay ran Chinese operations from the US, had poor customer service, focused on auctions while customers wanted fixed-price sales, and didn't do much else than translate their global website to Chinese. At the time the key challenge for online retail growth in China was trust, something eBay didn't tackle at all. Taobao tackled this by building a messaging system for buyers and sellers, something which is still big part of online retail in China. Taobao also made selling free, as opposed to eBay charging a listing fee, which took away any advantage eBay had.
When Amazon entered China they repeated many of eBay's mistakes. Amazon bought Joyo, the biggest online book seller in China at the time, in 2004, and rebranded it as Amazon China in 2011. In those 7 years little progress happened. Amazon brought the same design and mindset it used for American customers, with very few adjustments for the local market. It is easy to miss just how important things like design and websites are in different markets, but a quick glimpse at today's Tmall.com will reveal the sort of buying experience locals expect.
Amazon didn't commit aggressive enough in China, and waited for the market to take off before it was too late. This is why they are investing billions to win in India.
China is a country of many small manufacturers and retailers. There are more than 10 million merchants selling in the Tmall marketplace, while Amazon China has less than 10,000. Even across all Amazon marketplaces there are barely couple million sellers. The model of working with major distributors and manufacturers which worked so well everywhere else, wasn't good enough in China - Amazon quickly earned the reputation for being more expensive. Chinese customers are sensitive to prices, more so than in the US, and often want to bargain just like they do offline. The massive marketplace and seller chat on Tmall allowed all of that.
Credit cards are not common in China, instead most customers use various online wallets. According to a report by the Better Than Cash Alliance, users sent $1.7 trillion in total payments through Alibaba's Alipay service last year, Tencent's WeChat users sent about $1.2 trillion. Totaling to about $3 trillion. To understand how massive this is, consider that PayPal's yearly volume is roughly one tenth of that. Both eBay and Amazon didn't see an opportunity to build a payment solution for China.
By now it is too late, Alibaba with Tmall, and Taobao, and JD.com control more than 80 percent of the market. But it wasn't because of government actions that Amazon and eBay failed to grow, instead it is a study of misunderstanding the Chinese market. A market as big as China is big enough to play by its own rules - while in Europe Amazon was able to launch their standard website and make people trust the brand, in China everything was different.
Jack Ma said "eBay may be a shark in the ocean, but I am a crocodile in the Yangtze River. If we fight in the ocean, we lose, but if we fight in the river, we win." It was the river.