Jet.com website traffic declined to 10.5 million visits in February, down from 35.5 million visits in February 2017, according to data from SimilarWeb. That's a decrease of 70% in a year. Jet.com traffic in February declined 26% from January.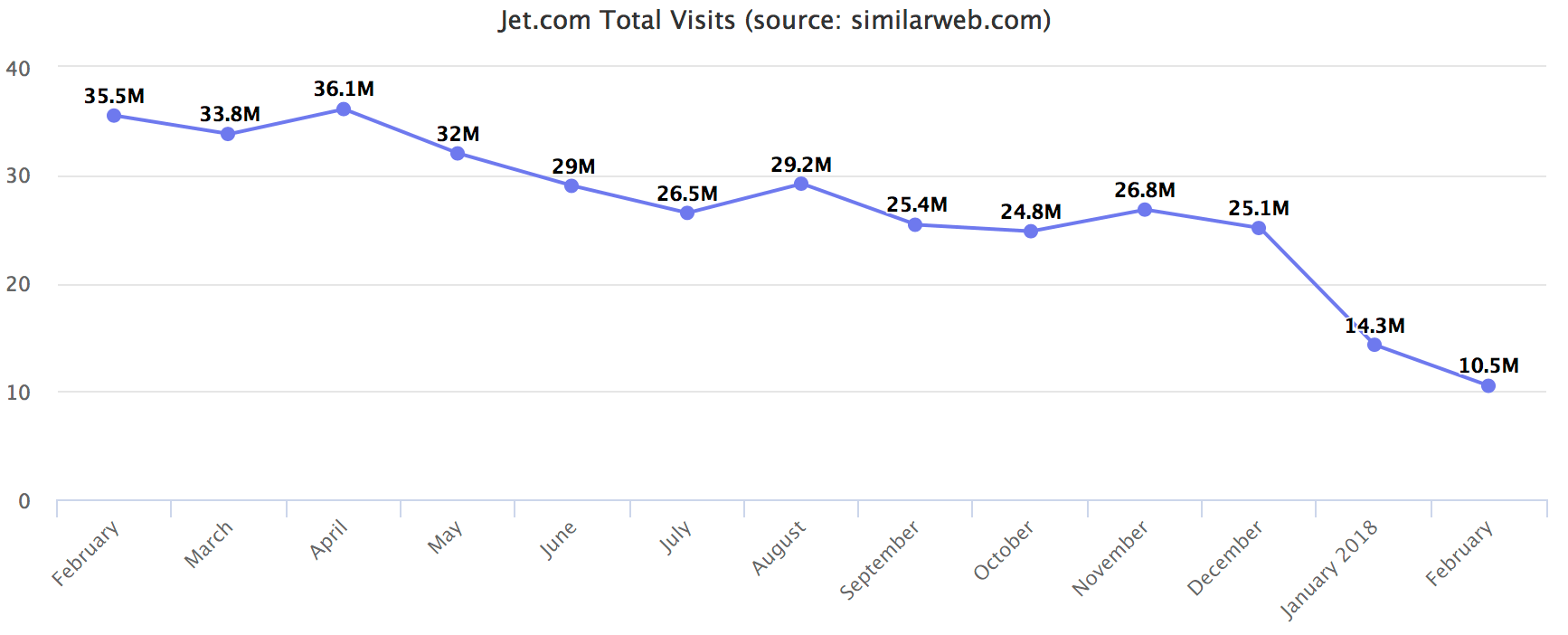 By comparison Walmart.com had 340.8 million visits in February, 34 times that of Jet.com. 2.34 billion visits to Amazon.com were another order of magnitude higher. eBay.com attracted 1.26 billion visits. All had the most traffic in the last two months of the year because of the holidays, and then saw a gradual decline.
Except for Jet.com, which lost a major share of visits during the last 12 months. Traffic to Jet.com rose every month leading up to the acquisition by Walmart in August 2016, peaking during the holidays that year. Since then it has been gradually declining.
Doug McMillon, President & CEO of Walmart, last month said that the marketing spend on Jet.com is being reduced "We've been investing more in Walmart.com on a national basis and reducing marketing investment in Jet, except in certain urban markets." The drop in website traffic is a direct result of the marketing reduction, as it appears that it hasn't yet to built a large organic following.
Walmart.com is a mass-market retailer that appeals to every demographic, Jet.com is geared toward the higher-income, urban, millennial customer. Thanks to the decades of operating as the largest retailer in the US Walmart has an audience which doesn't need a big push to shop on Walmart.com. On the other hand, Jet.com is still very reliant on marketing.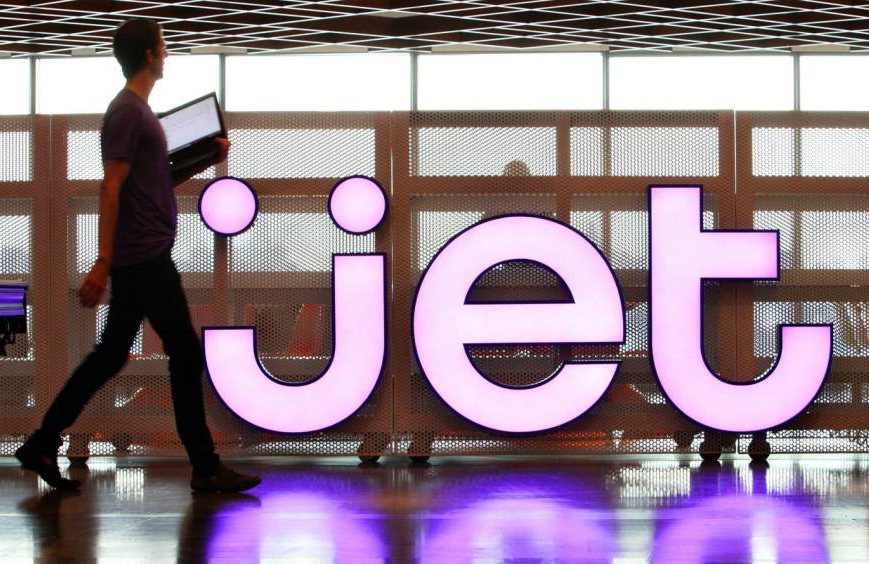 Walmart has acquired Bonobos, ModCloth, Moosejaw, Shoes.com and Hayneedle since the acquisition of Jet.com. Last year Walmart spokesperson said "The Jet customer demographic - millennial, urban, higher income - aligns well with the demographics of ModCloth and Bonobos," suggesting that those brands will soon be available on the site. However last month a spokesperson for Bonobos said "We have no immediate plans to launch on Jet.com."
Meanwhile, Jet.com is looking for a new leader after President Liza Landsman left earlier this year. When talking with CB Insights last year Liza said that before the acquisition Jet.com had a 3 node system for fulfillment, which is now fully integrated Walmart's e-commerce bringing it to 9 nodes.
Walmart's shares plunged 13% after they reported 23% e-commerce growth for the 2017 fourth quarter, a considerable slow down from the previous quarters. However this was expected as Jet.com was fully lapped since the acquisition. The company expects to grow 40% in 2018, and finish with $16 billion in US e-commerce sales.
Jet.com was probably not worth the $3 billion it cost to acquire, but it was worth $3 billion to Walmart. It brought the talent it desperately needed to rejuvenate it's otherwise stalling e-commerce sales. By all accounts it has achieved that, and has put Walmart back into the conversation about e-commerce leaders.
And yet the role Jet.com itself will play is unclear. The website appears to heavily rely on marketing to attract visitors, which ultimately negatively affects the bottom line. Even if not for the cost, having two e-commerce outlets is distracting. At the end of the day Walmart is the brand today, and Jet.com is only one if they continue to spend on marketing. Reducing marketing spending is a short term measure that may create more problems long term.
The Jet.com customer demographic which Walmart calls "millennial, urban, higher income" is niche. With $485 billion in total sales their shift to focus on Walmart.com has more opportunity to make an impact.
"Jet will go through a period of adjustment and then it'll start to grow again in the future but focused on specific markets and opportunities, whereas Walmart will be the broad-based, big part of the business, and growing it will be a priority."

– Doug McMillon, President & CEO of Walmart
Walmart is all-in on Walmart.com.