Last week Walmart held the annual Investment Community Meeting. The most interesting was Marc Lore's, Chief Executive Officer of Walmart eCommerce U.S., presentation as he shared new insight into their e-commerce operations.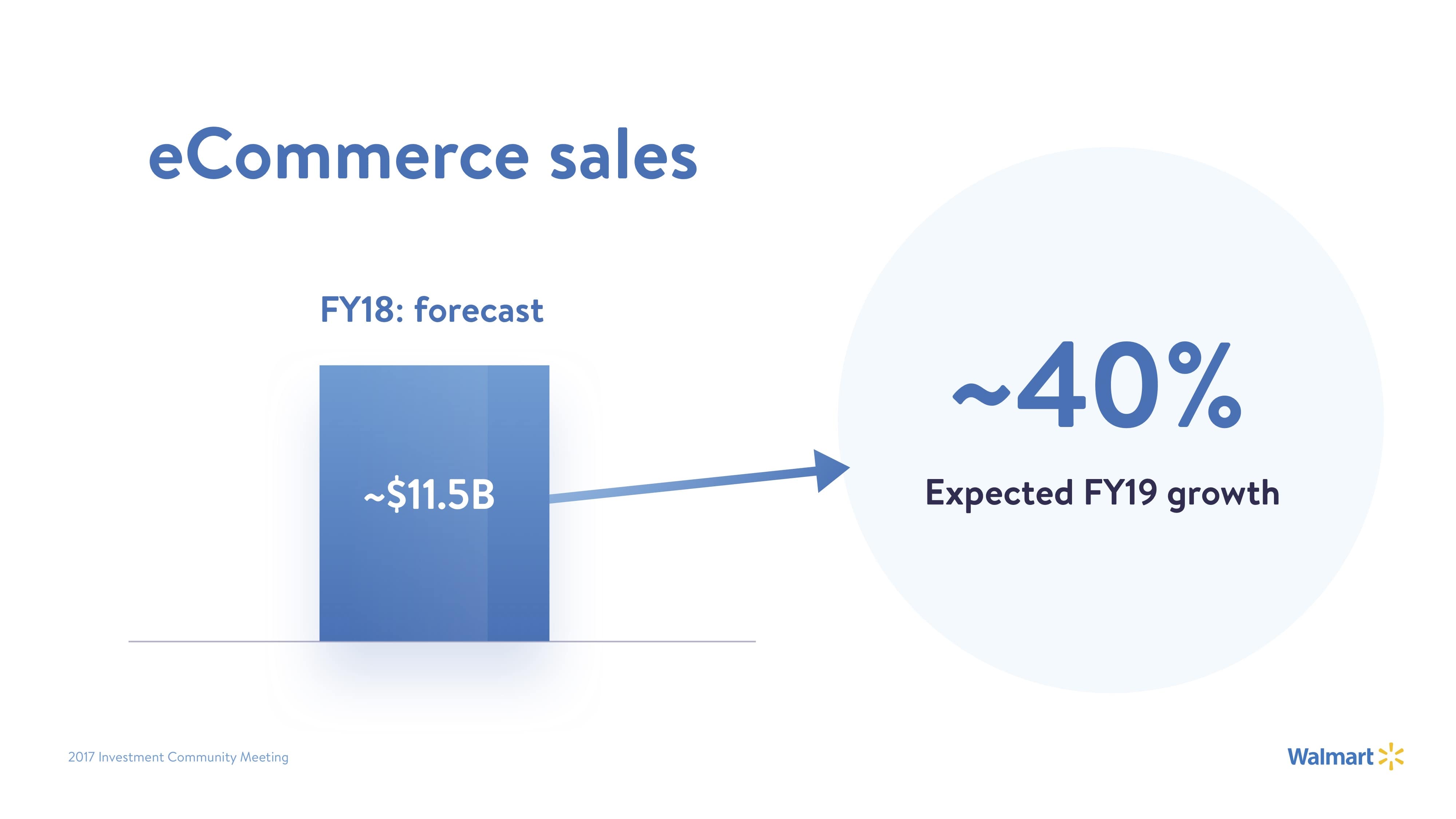 To start Marc shared that Walmart forecasts $11.5 billion in US e-commerce sales for 2017.
They expect sales to grow by 40% during 2018 and finish with $16 billion in US e-commerce sales for the year.
Both Amazon and eBay are larger in terms of US sales alone. However eBay has been growing slowly for years, so inevitably Walmart will overtake them. Amazon though is still an order of magnitude bigger.
And yet this shouldn't matter for Walmart. As much as there is interest in the Amazon vs Walmart battle they are on quiet different paths.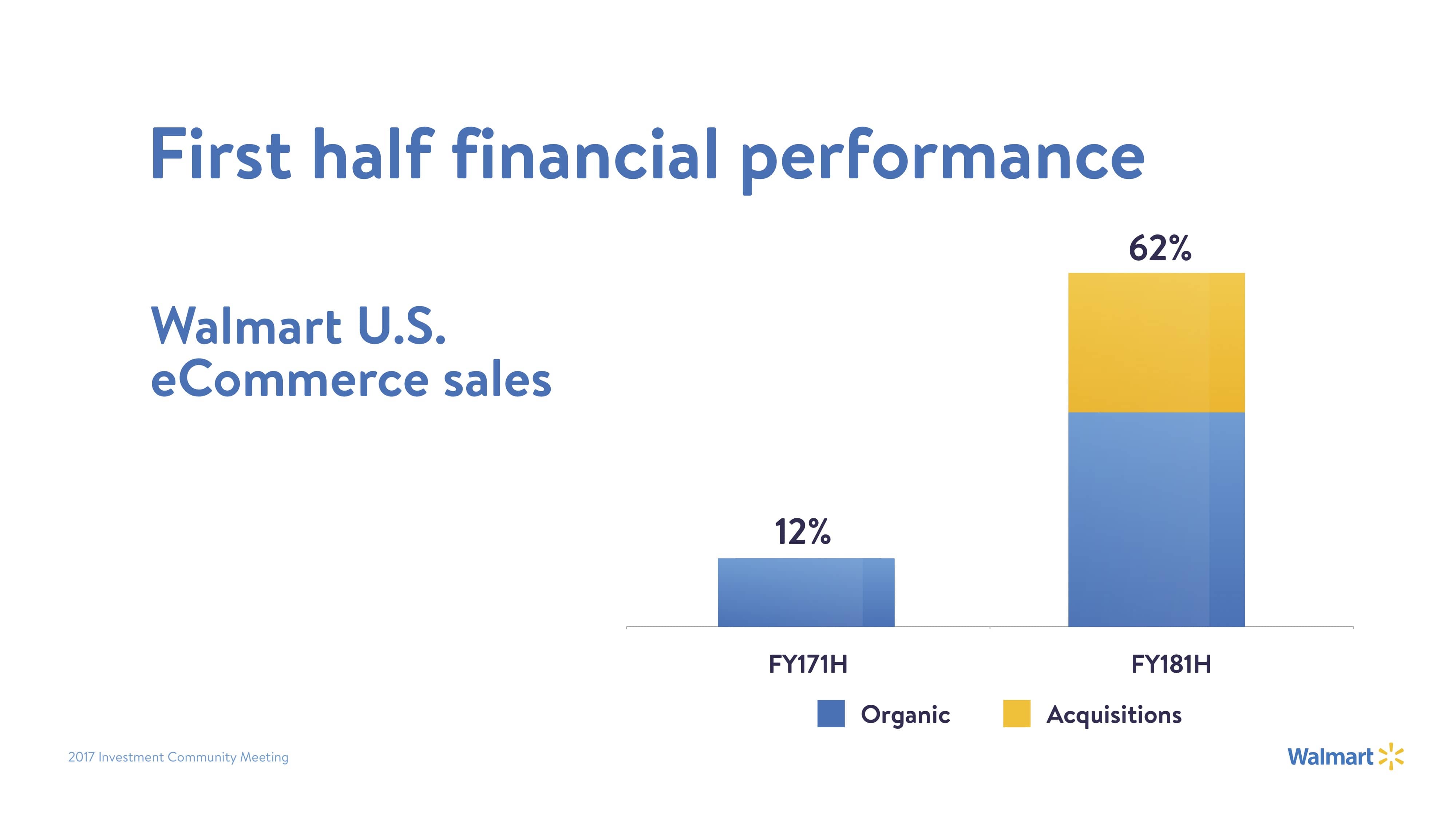 Walmart has also shared that they saw 12% growth in US e-commerce sales in the first half of 2016, and this has increased to 62% growth for the first half of 2017. This was known before as US e-commerce sales grew 63% in 2017 Q1, and 60% in 2017 Q2.
However Marc also shared the impact acquisitions had to the reported e-commerce growth. According to the chart in his presentation - assuming it is accurate - acquisitions contributed 25% of the overall growth. This leaves Walmart's own e-commerce growth at 37%.
In No One Has Any Idea What Walmart's E-Commerce Growth Means we were critical of Walmart's e-commerce reporting, as the only number they shared recently was the percent growth. This has created a great deal of hype for their e-commerce growth, but not much else.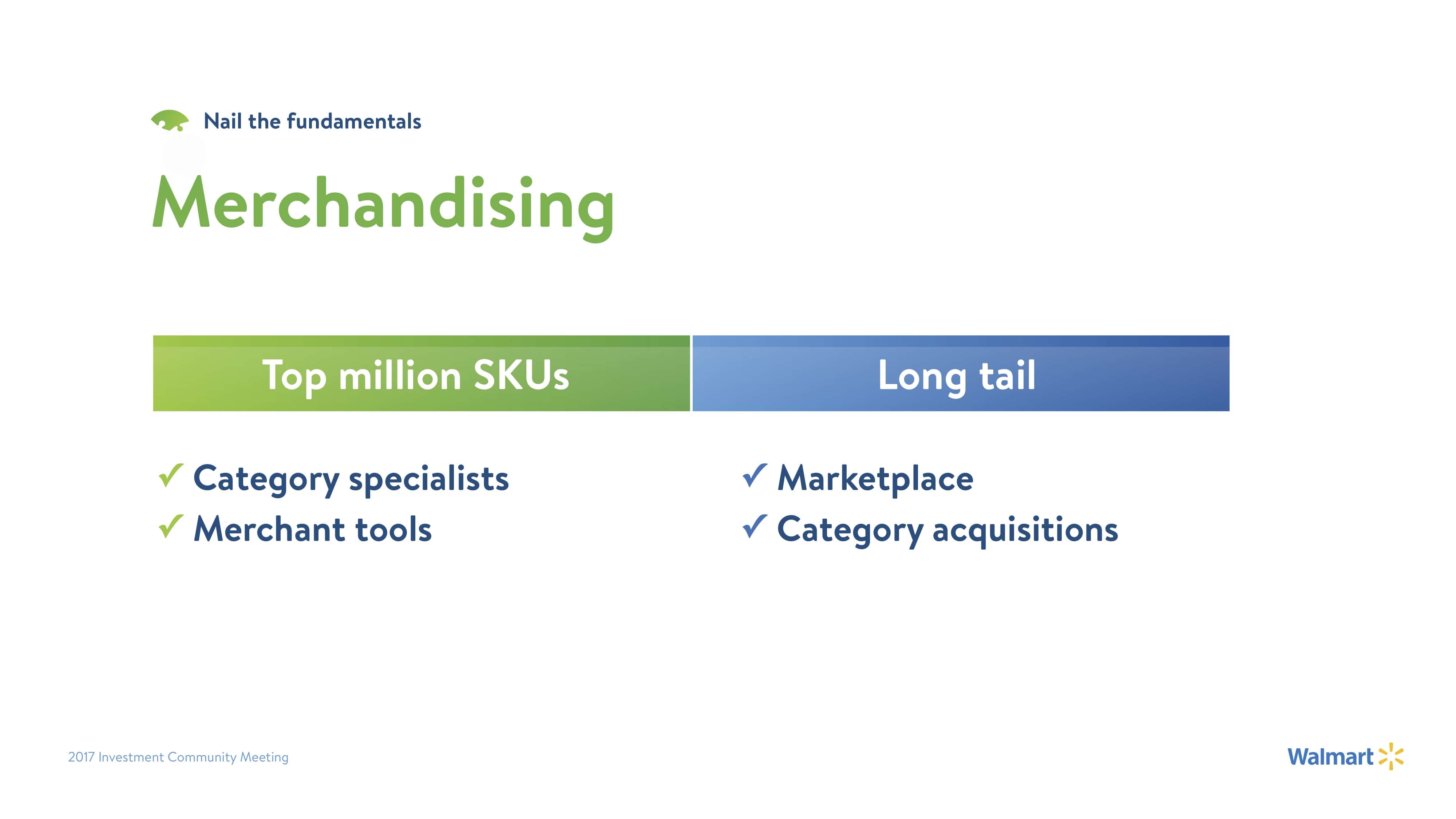 The last thing Marc shared was the role the Walmart Marketplace is going to play in their growth. Walmart continues to focus on developing the catalog themselves, and is using the marketplace to cover the long tail of the catalog.
Walmart Marketplace now has over 15,000 sellers and still continues to grow, although it is unclear how big it is in terms of Gross Merchandise Volume (GMV). It is likely that the $11.5 billion in sales figure does not include marketplace sales, as sales and GMV are not the same for marketplaces which also sell themselves.
While Marc Lore didn't voice this explicitly, it is clear that the Walmart Marketplace is not as high of a priority as category specialists, and acquisitions. Which as far as we can see is the right strategy - the marketplace alone won't deliver the growth Walmart expects. Eventually though it will play a key part.