Jet.com website traffic reached an all-time low in December with 1.4 million visits, an otherwise crucial month for online retailers. When Walmart acquired Jet in the summer of 2016, the December that followed had 33 million visits.
Traffic was down 82.5% from 2018 December, down 93.7% from 2017, and down 95.7% from 2016, according to traffic data from SimilarWeb. Walmart has drastically reduced Jet advertising soon after the acquisition, which has resulted in most of the website traffic evaporating.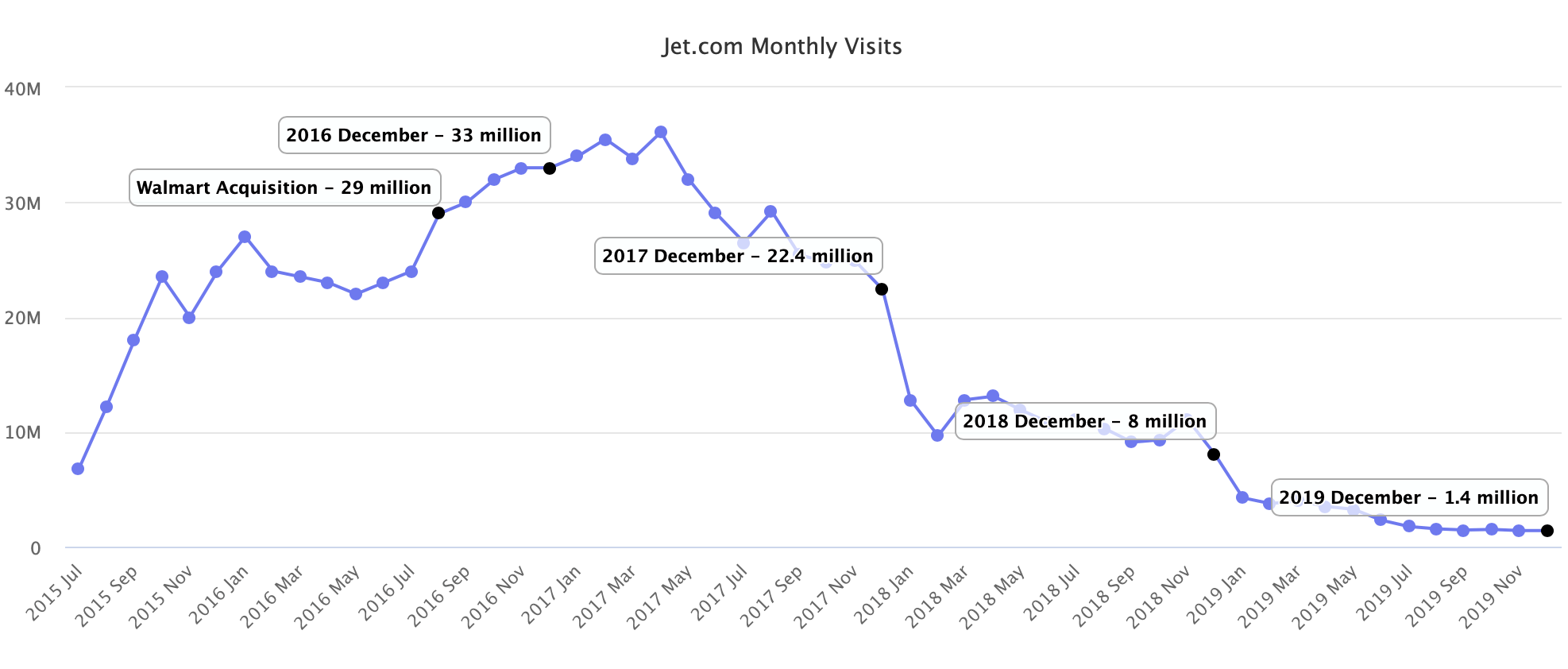 "Jet continues to be a very valuable brand to us, and it is playing a specific role in helping Walmart reach urban customers," wrote Walmart in an update on its e-commerce strategy in June 2019. At the time, the company announced that it would fully integrate Jet's teams into Walmart while keeping Jet as a standalone brand in urban markets.
Its focus since has mostly been on New York, although in November, it shut down its grocery delivery business in the city just a year after introducing the service. "We learned a lot by testing Jet fresh grocery delivery in New York City," Walmart said in an emailed statement to Bloomberg. "We'll continue to test bold concepts that can offer convenience to customers."
Jet's traffic, sales, and overall relevance inside of Walmart have mostly disappeared. Despite the urban-focused-site spin, Jet is one announcement away from being offline.
Shrinking Jet traffic isn't a problem for Walmart, however. Walmart, by all accounts, is in a more competitive position than it was before it acquired Jet. And it was able to build a marketplace that is driving much of its online progress. At the same time, the company has become the leader of online grocery delivery.
Jet as a brand wasn't worth the $3.3 billion it cost Walmart to acquire it, but then Walmart's market capitalization has grown by over $100 billion since to reach over $330 billion now. Some of that comes from it becoming a worthy competitor to Amazon, which wasn't a fact before the acquisition. Jet is not responsible for all of Walmart's online turnaround, but it's unclear what it would have looked it if that didn't happen.