So far this year 1,001,210 new sellers joined all twelve Amazon marketplaces. This equals to 2,997 new sellers every day, or 124 every hour, or even 2 every minute.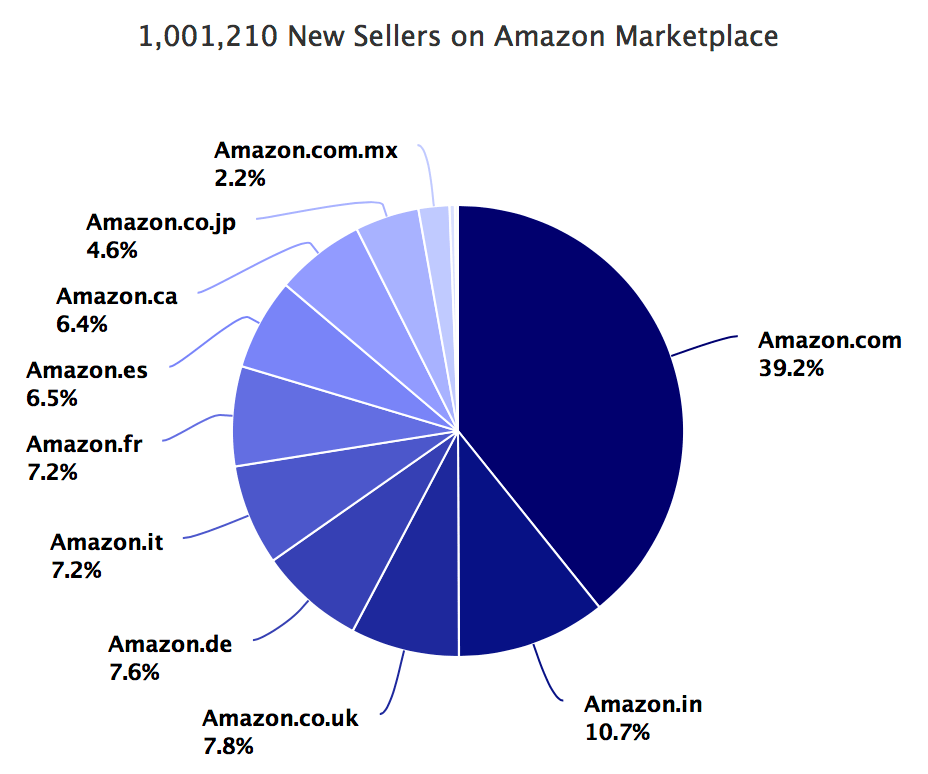 Amazon.com in the US and Amazon.in in India marketplaces contributed half of all new sellers. Amazon.com had roughly 400,000 new sellers, while Amazon.in had more than 100,000.
While Amazon.com attracted the most new sellers, Amazon.in is the fastest growing marketplace. It has doubled in size in a year, and will eventually be the second biggest marketplace to Amazon.com.
European marketplaces are all growing at a similar pace as often sellers launch in more than one.
Amazon marketplace in Brazil and Mexico are growing fast too. Amazon has recently started to expand the marketplace in Brazil, which as a result doubled in size in less than a month.
However despite hundreds of thousands of new sellers few of them will ever become active.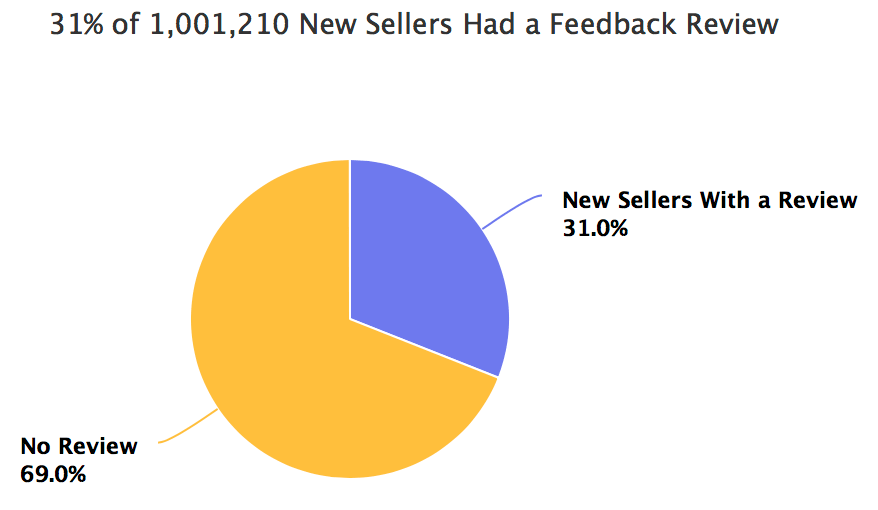 Only 31% of the 1,001,210 new sellers who joined the Amazon marketplace this year already had a seller feedback review.
Furthermore barely 16% of all new sellers have received a seller feedback review in the last 30 days. Thus most get some activity initially, but then disappear.
While seller feedback reviews are not the same as sales, the assumption is that there are barely any sellers who have been active for months, had sales, but would still have no feedback reviews.
Although 30% of Amazon.com sellers with a seller feedback review in the last 30 days joined this year. The long-tail of the marketplace is constantly refreshing with new sellers.
Creating a seller account is a quick process, and can even be automated. Amazon has over time added verification steps for new sellers, but this hasn't stopped new sellers from joining.
In Who Are the Two Million Amazon Marketplace Sellers we wrote:
"So the true market size is… it depends on the metric chosen. We think the Amazon's own 100,000 sellers with at least $100,000 in sales is the most relevant. There are many more sellers with products, there are plenty of sellers who had a few sales, but ultimately what matters is how many of them have built a sustainable business out of this. The $100,000 sales figure is a good cutoff point to start counting."
Only a handful of that million new sellers will end up with $100,000 or more in sales. Most are instead contributing to the chaos on the marketplace. Thousands of sellers every day get created to hijack competition listings, scam customers, etc.
Global Amazon marketplace is now more than 5 million sellers strong. Amazon is launching in Australia very soon, India continues to grow rapidly, and new markets like Brazil are yet to be unlocked. It will continue to get bigger, and more international too as thanks to FBA marketplaces are now global. We estimate that a third of 1,001,210 new sellers came from China.