Jeff Wilke, CEO of Amazon Worldwide Consumer, said this on Twitter: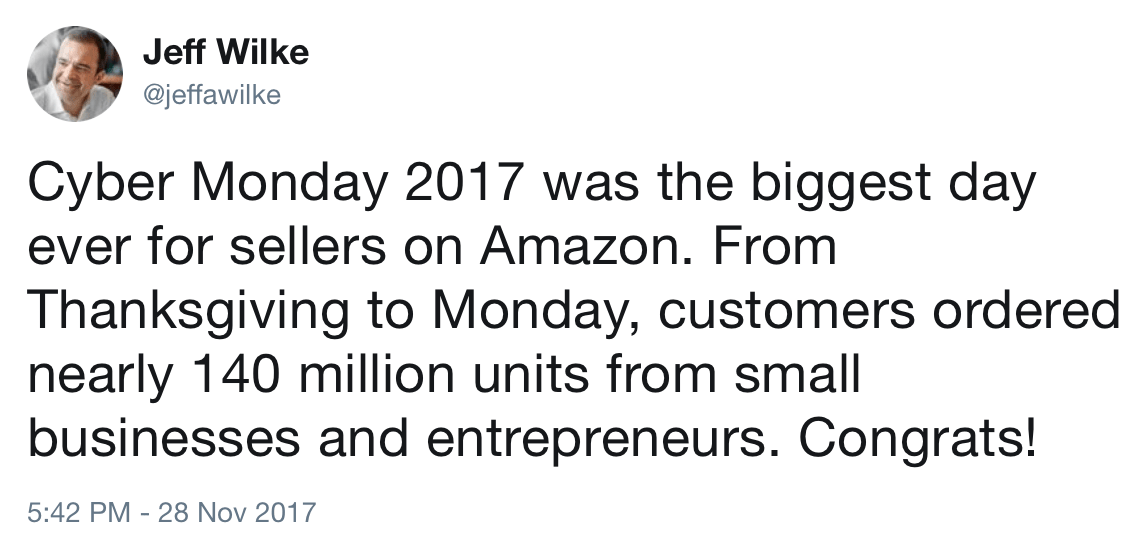 "Cyber Monday 2017 was the biggest day ever for sellers on Amazon. From Thanksgiving to Monday, customers ordered nearly 140 million units from small businesses and entrepreneurs. Congrats!"
Cyber Monday 2017 is now the single biggest shopping day in Amazon's history, surpassing Prime Day 2017.
Amazon has historically not shared much about the shopping weekend. The most recent mention was the 28 million items sold by sellers on Cyber Monday 2016.
Cyber Monday this year was not only the biggest day ever for sellers on Amazon, but also on eBay. eBay announced that Cyber Monday was the biggest sales day in eBay's 22-year history. Like Amazon, eBay didn't offer much in the way of hard numbers.
Cyber Monday was also the biggest sales day online ever in the US. Online sales brought in $6.59 billion, according to Adobe Analytics data. Comparatively Black Friday had $5.03 billion in sales.
While record-breaking, this is more a result of growing online shopping than an increasing success of the shopping weekend. Cyber Monday sales grew estimated 16.8%, in-line with overall e-commerce growth in the US.
We estimate that the Amazon marketplace contributed $4-5 billion over the 5-day weekend.
On average a seller grew their sales 25-30%. With a few dozen sellers having $0.5 million days, and for the first time passing $1 million in daily sales.
The big winner thus is the marketplace. The two largest shopping websites in the US, Amazon and eBay, both broke new records thanks to the marketplace sellers. Although in this case the "thanks" goes to the marketplaces enabling sellers to do so.