The number of AmazonBasics best-sellers has grown by fifty percent in a year - from just over 700 in July 2018 to surpassing 1,000 this July, according to Marketplace Pulse research.
1,800 AmazonBasics products are currently for sale on Amazon; however, 700 more were active sometime in the past twelve months. Amazon continues to launch new products, validate demand for them, and stop selling those which fail to attract customers. It trims the AmazonBasics portfolio to remove failed products.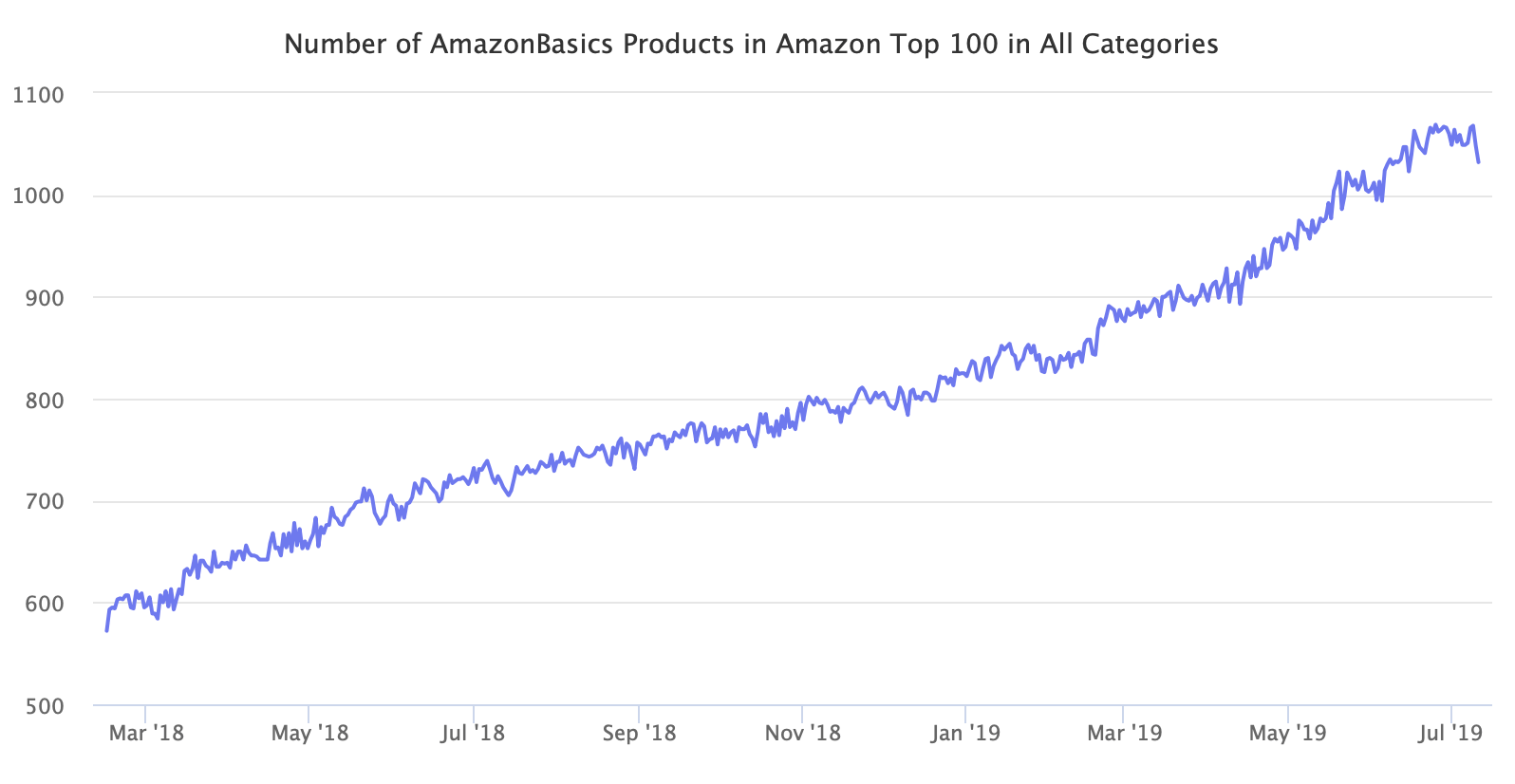 A best-seller AmazonBasics product is defined as one to have made it into the top 100 best selling products in any category on Amazon. Some of the AmazonBasics products are widely popular, like the infamous batteries, but the brand includes many niche products which only compete in their specific subcategory.
Launched in 2009, AmazonBasics is Amazon's most successful private label brand focused on generic items at low prices. According to Marketplace Pulse previous research AmazonBasics is more successful than all the other hundreds of brands the company has launched. AmazonBasics finds success in categories where fragmentation and downward price pressure has created an opening for it. The brand focuses on commodities, in categories which: products themselves are commodities, and no brand "owns" the category as a result of fragmentation and downward price pressure.
"I was at Amazon when one of the first AmazonBasic products was conceptualized. It was a stereo cable, and the logic was that customers were paying far too much for products that were not objectively worth the price premium and that in the inordinate margin leading manufacturers were reaping based on their ability to create a perception of value was an opportunity."

– Tod Harrick, VP Product, Marketplace Ignition
Amazon has given AmazonBasics products a clear advantage in visibility in search results - they show up in search results in a separate box titled "Top Rated from Our Brands." The company has also tested more aggressive changes to its website and apps, redirecting shoppers from established brands to AmazonBasics alternatives. The advantage in search and other unfair advantages have attracted significant criticism, and the company has quietly removed some of the most aggressive promotional spots for owned private label products. However, some are still there are and continue to propel AmazonBasics to best-sellers.
AmazonBasics is still not a brand. It's a collection of products for when the brand doesn't matter. Nonetheless, given that 78% of keyword searches done on Amazon are for generic goods, and do not include a brand, the company (as well as thousands of sellers) continues to experiment.