Less than 24% of the top Amazon third-party sellers are large resellers, each representing hundreds of brands on Amazon. Their share of the top sellers has been decreasing by two percentage points a year - down from 26% in 2018, 29% in 2017, and 31% in 2016 - indicating the challenges of growing a reseller type business on Amazon.
According to Marketplace Pulse research, 24% of the top 10,000 sellers on Amazon have fifty or more brands in stock. The group size of ten thousand represents sellers with $1 million or more in sales; in aggregate, they are responsible for half of the total GMV on the marketplace. Fifty brands were chosen as an arbitrary point to differentiate large sellers from other types of sellers.
Some of those sellers are no longer active, although different types of sellers have outpaced most. Their sales have remained stable over the years, sometimes shrunk, while other sellers overtook them. Thus highlighting how as the Amazon marketplace grew over the years, the types of businesses responsible for new sales has changed.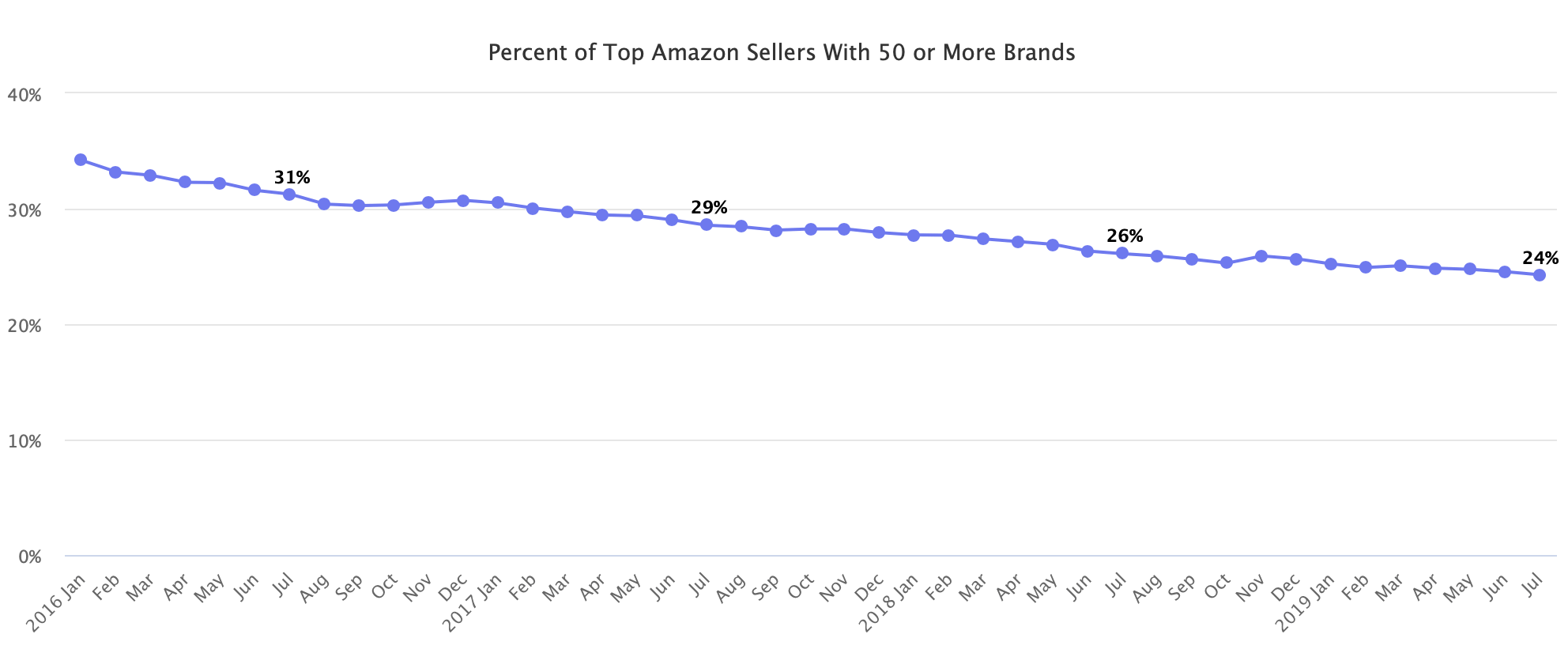 When the Amazon marketplace started in 2010, it was made up exclusively of resellers. Retailers with existing brick-and-mortar stores or e-commerce websites joined the Amazon marketplace to expand their reach further. Those resellers had access to hundreds or even thousands of different brands thanks to relationships with distributors and manufacturers they have built over the years. Some of them relied exclusively on dropshipping too, a practice which allows a retailer to fulfill customer orders from the distributor warehouse instead of their own.
Over time many of the reseller businesses started to face the same challenges: low margins, ever-increasing competition, brands selling directly to Amazon, changing and increasing fees, and others. Resellers had little to differentiate with; outside of building deep relationships with vendors, allowing for lower product costs (enabling prices other resellers couldn't match), and exclusive deals, which would limit competition on Amazon. Many of the remaining successful resellers became hybrid businesses with an Amazon agency inside of them, offering brands a full suite of services beyond selling their products on the platform. Others chose the path of private labeling.
Out of all types of businesses selling on the Amazon marketplace, reselling is the easiest one to get started with, but also the hardest to grow. The approach most brands have to Amazon is drastically different from a decade ago, the prime time for resellers. Brands today are actively managing their presence on the platform, be it through their third-party seller account, an Amazon agency, or by being a vendor to Amazon. There are increasingly fewer brands okay to have their products sold by dozens of resellers. Some of the original resellers, like Pharmapacks, etailz, River Colony Trading, Avalanche Brands, and BIGFLY, continue to innovate and grow. The reseller business model is not rendered unviable yet. However, few new large resellers came up in recent years.
Resellers built the $160 billion GMV marketplace, however, the future of Amazon will be different. The Amazon marketplace used to mean sellers trying to offer the best price for the most in-demand product. Today sellers are creating new demand for products they bring to the marketplace. Some of those sellers are also increasingly brands directly selling on the marketplace. The game is fundamentally different.