On Prime Day 2019, the biggest winners were known brands and Amazon devices, as Amazon-owned private label brands took a back seat, according to Marketplace Pulse research. Over a million products were available with a Prime Day deal, but as competing retailers like Walmart and Target launched their shopping events, Amazon shifted focus to exclusive products and new product launches.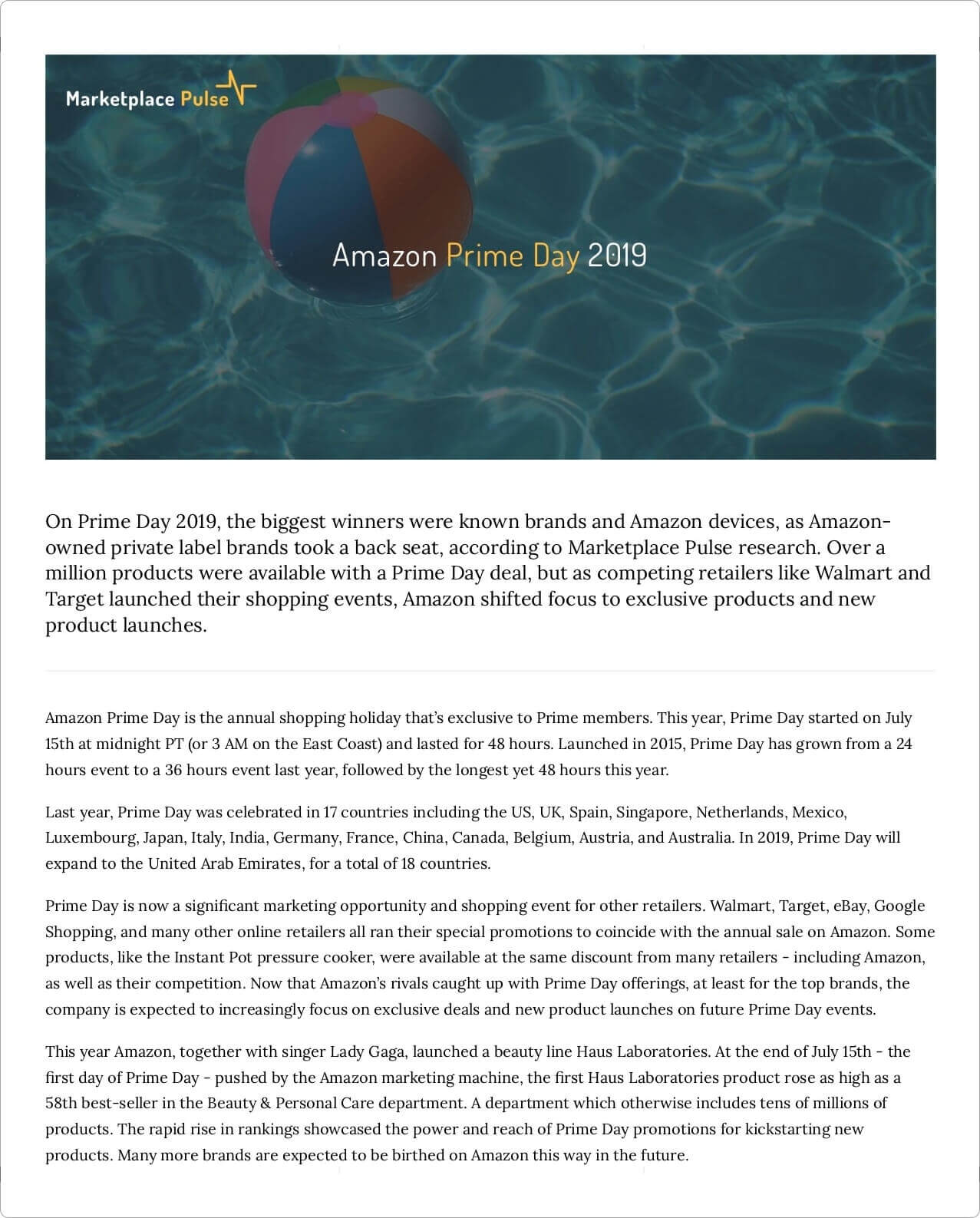 Amazon Prime Day 2019 research report looked at over a million products, hundreds of thousands of Prime Day deals, and insights from all Amazon markets.
Prime Day is now a significant marketing opportunity and shopping event for other retailers. Walmart, Target, eBay, Google Shopping, and many other online retailers all ran their special promotions to coincide with the annual sale on Amazon. Some products, like the Instant Pot pressure cooker, were available at the same discount from many retailers - including Amazon, as well as their competition. Now that Amazon's rivals caught up with Prime Day offerings, at least for the top brands, the company is expected to increasingly focus on exclusive deals and new product launches on future Prime Day events.
This year Amazon, together with singer Lady Gaga, launched a beauty line Haus Laboratories. At the end of July 15th - the first day of Prime Day - pushed by the Amazon marketing machine, the first Haus Laboratories product rose as high as a 58th best-seller in the Beauty & Personal Care department. A department which otherwise includes tens of millions of products. The rapid rise in rankings showcased the power and reach of Prime Day promotions for kickstarting new products. Many more brands are expected to be birthed on Amazon this way in the future.
Prime Day is not just for products sold by Amazon. On the contrary, marketplace sellers supplied many of the deals. According to Amazon, sellers sold more than $2 billion of products during two days of Prime Day and saw the biggest 24-hour sales day in Amazon history on July 15th. Last Prime Day, small and medium-sized businesses selling on Amazon surpassed $1.5 billion in sales in 36 hours.
Read the Report