More than 85% of the top Amazon sellers offer Prime shipping for more than half of their assortment, up from 56% three years ago. The number of sellers offering products through Prime is steadily increasing.
According to Marketplace Pulse research, the number of top sellers offering Prime has grown from 56% in 2016, 63% in 2017, 73% in 2018, to 85% in 2019. There are hundreds of thousands of sellers offering Prime shipping on tens of millions of products.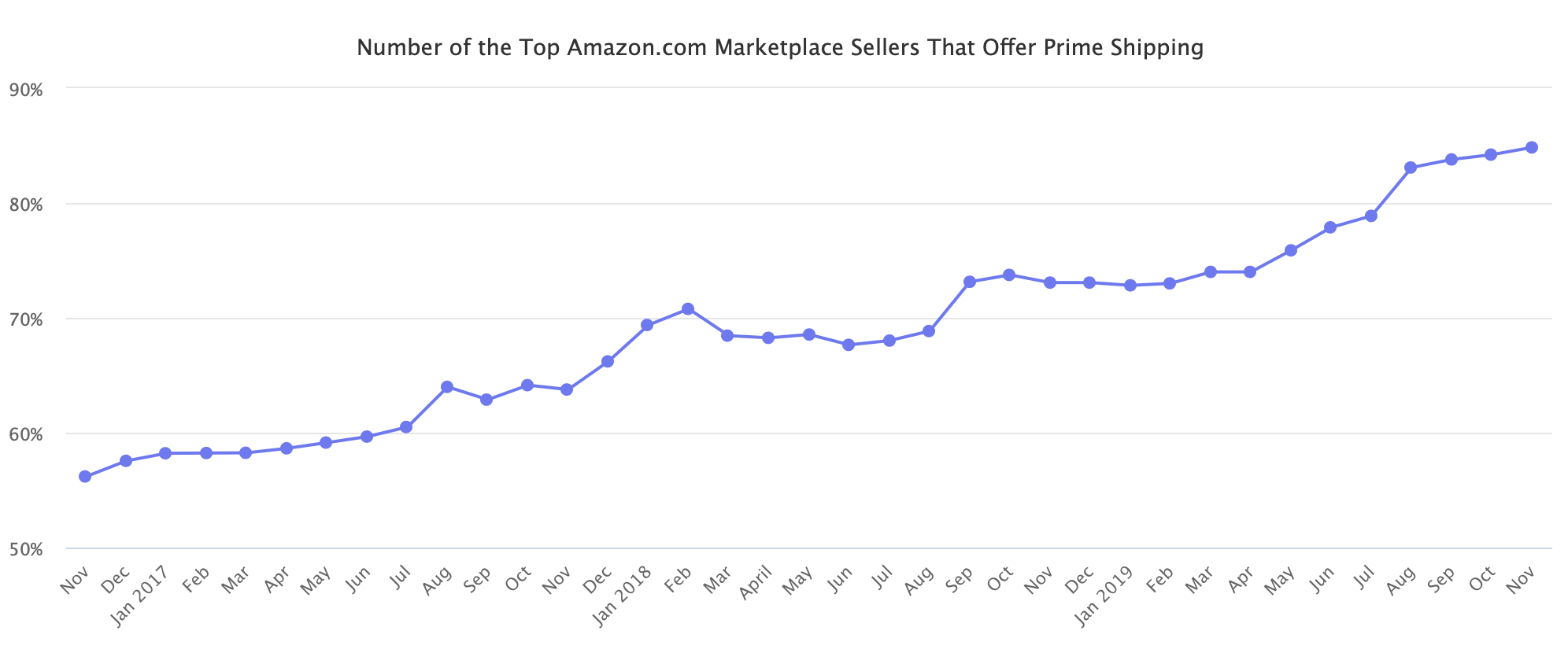 Top 10,000 sellers on Amazon.com were considered because, as a group, they represent the majority of the marketplace GMV. Each seller in the group has yearly sales exceeding $1 million. The Amazon.com marketplace has over a million active sellers; however, many of them only sell a few products a month or less.
Very few international sellers do not offer Prime - 93% of the top international sellers offer it, compared to 74% for US-based sellers. For the international sellers offering Prime has made their assortment appear local. Unlike US-based sellers, practically all international sellers use FBA since shipping orders from their warehouses would otherwise mean long shipping times. The overall 85% of sellers offering Prime is thus a combination of international sellers with a higher percent and US-based sellers with a lower percent.
47% of the top Amazon.com sellers are based in the US, and 38% are based in China. However, 96% of the top China sellers are using FBA, compared to 74% for the US-based sellers. The success of businesses from China has relied on FBA, virtually eliminating otherwise slow shipping. Without it, the number of China-based sellers would be multiple times lower.
Growing Prime numbers are not limited to the US marketplace. In a year, the number of sellers offering Prime has increased across all Amazon marketplaces worldwide. Except for Australia, which only launched FBA in February 2018, more than half of the top sellers offer Prime on all Amazon marketplaces.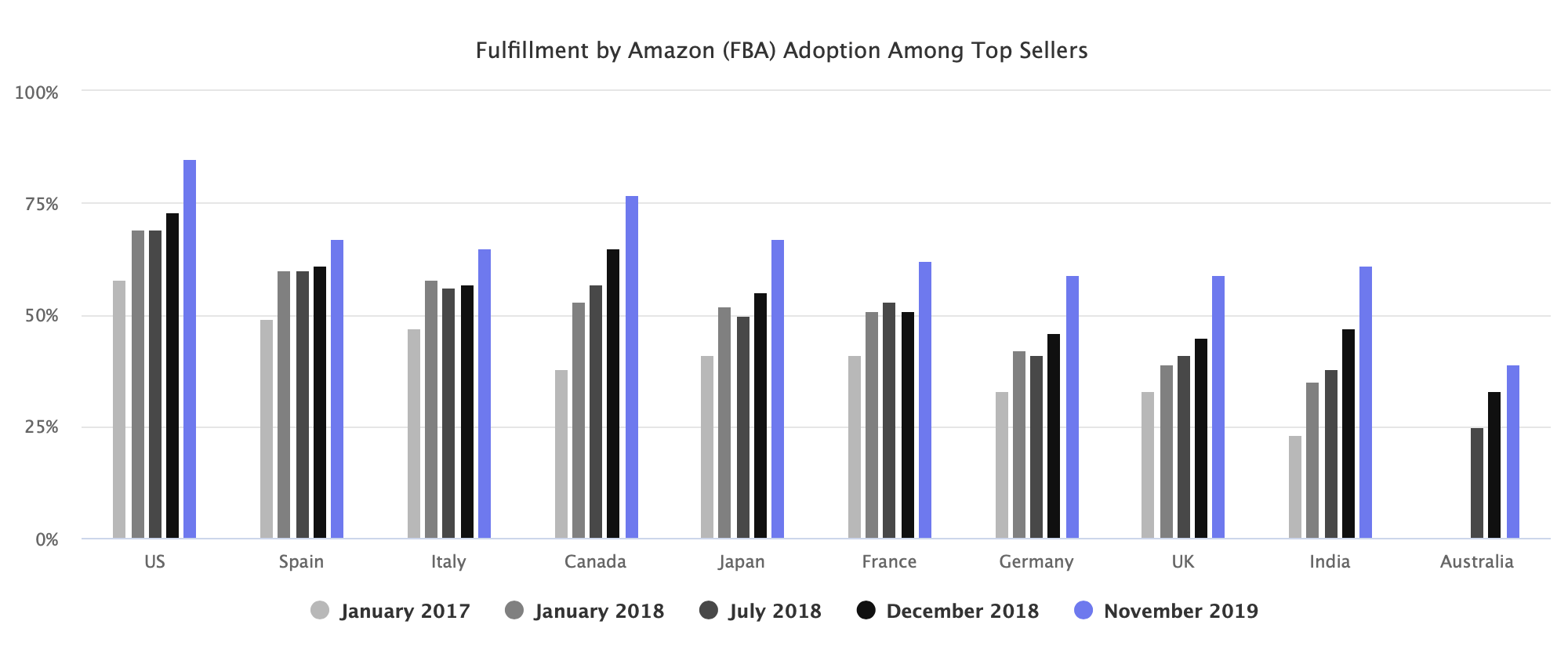 Fulfillment by Amazon (FBA), Seller Fulfilled Prime (SFP), and FBA Onsite enable growing Prime availability by sellers. Launched on September 19th, 2006, FBA has become a cornerstone service enabling the Amazon flywheel. It is an Amazon program that allows sellers to offload most of their warehouse operations to Amazon for a fee. Customers buying from FBA sellers get the same two-day and now one-day Prime shipping; therefore, sellers get preferential treatment in buy-box rotation.
Sellers choose to store inventory in FBA because it unlocks access to more shoppers on Amazon, not necessarily because it is more convenient or cheaper than the alternatives. And thus, over the years, those who do get more successful than those who don't. It's all about that Prime checkmark. During the FBA announcement in 2006, Joe Walowski, Product Manager of Fulfillment by Amazon, described it as "With membership in Amazon Prime growing every day, more and more Amazon.com customers want a great deal on shipping and to receive their orders quickly. Fulfillment by Amazon makes it possible for sellers to offer Amazon.com customers this convenience."
Amazon's market share stronghold is built on the army of sellers with inventory stored in FBA. The growing Prime memberships and the increasing number of sellers offering Prime shipping are the two forces spinning Amazon's flywheel. The switching costs and the cost advantage of FBA make it a moat.