Brands and retailers will spend $9.85 billion on advertising on Amazon in the US to boost their position in search results. According to eMarketer, Amazon will earn almost $10 billion in the US ad revenues this year, an increase of more than 33% over 2018.
Roughly 4% of total sales on Amazon are spent on ads. Last year, $10 billion was spent by advertisers to generate $277 billion in global GMV. This year, advertisers in the US alone will spend $10 billion on Amazon advertising.
Despite being smaller than Google and Facebook - the two companies known as the "advertising duopoly" - Amazon is growing faster than any other major ad publisher, Google, and Facebook included. This trend will continue as Amazon introduces more ad products not necessarily tied to selling on Amazon.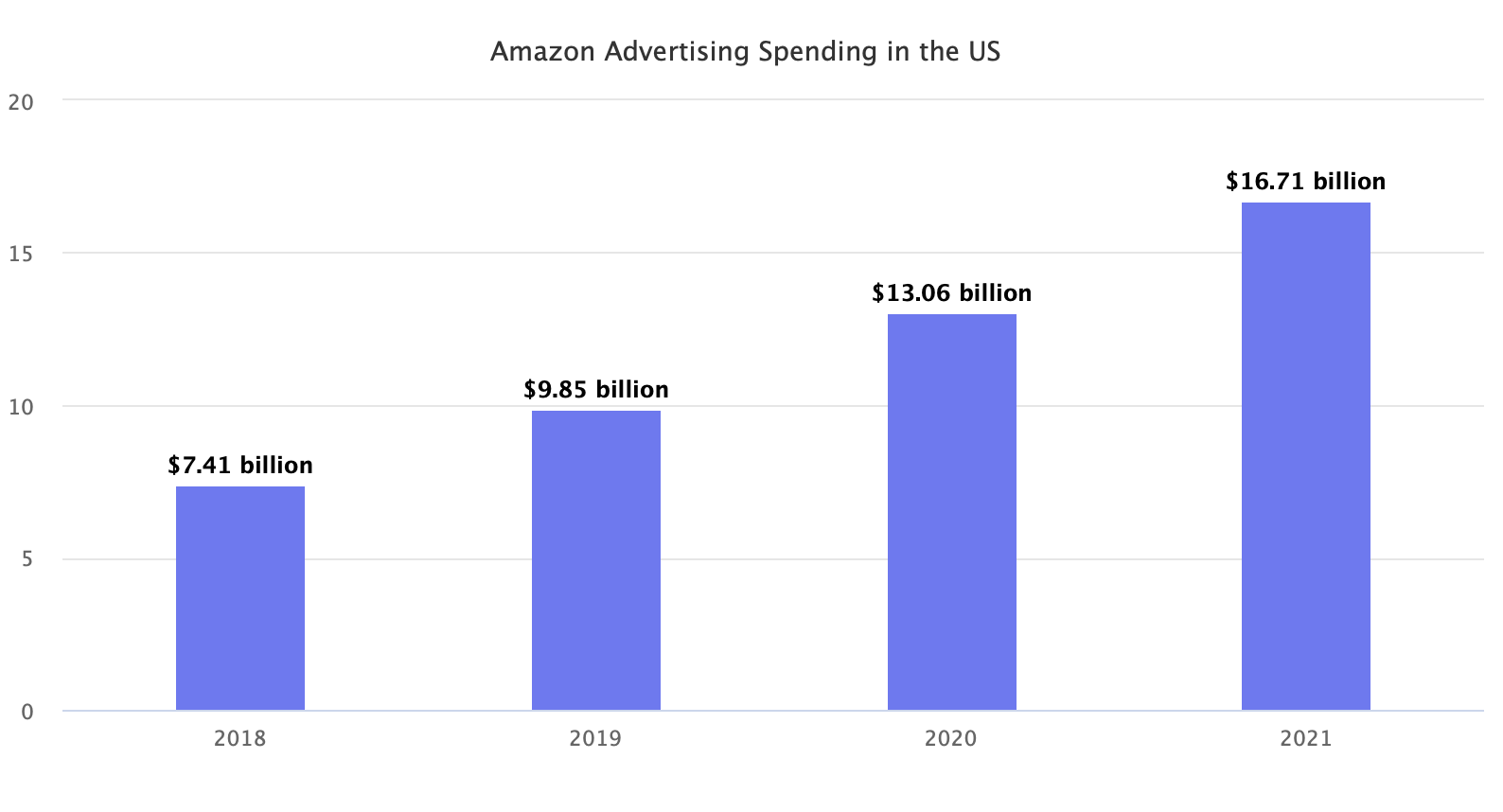 The company has continued to expand the sophistication and reach of advertising on and off Amazon, launching new ad types, new targeting strategies, etc. In September, the company launched a new advertising campaign type - Sponsored Display. It enables retargeting shoppers on and off Amazon, a feature that was previously available only on Amazon's programmatic ad service, Demand Side Platform (DSP), a service only available to brands with big ad budgets. It was launched with limited customization options, highlighting how early the company is in developing its performance marketing products.
However, sponsored products - an ad unit appearing as one of the results in search - are still responsible for most of the ad spending. Furthermore, in September, Amazon updated the sponsored products ads layout to a 3-4-5 layout from the previous 2-4-6 layout. Search results now start with three sponsored product ads instead of two. As a result, an increasing number of product page views come from sponsored products instead of organic results.
Some brands believe increasing advertising on Amazon is a detriment to the consumer experience as product search has little room left for the most relevant, organic results. Instead, the search results page features recommended products, Amazon brands, and the biggest advertising spenders. Also, cost-per-click (CPC) on Amazon is perpetually rising, forcing brands to increase product prices or reduce profits. Sponsored products are best for sellers and brands who are good at advertising; the rest are less happy. Nonetheless, advertising on Amazon enables brands to launch - and shoppers to discover - new products.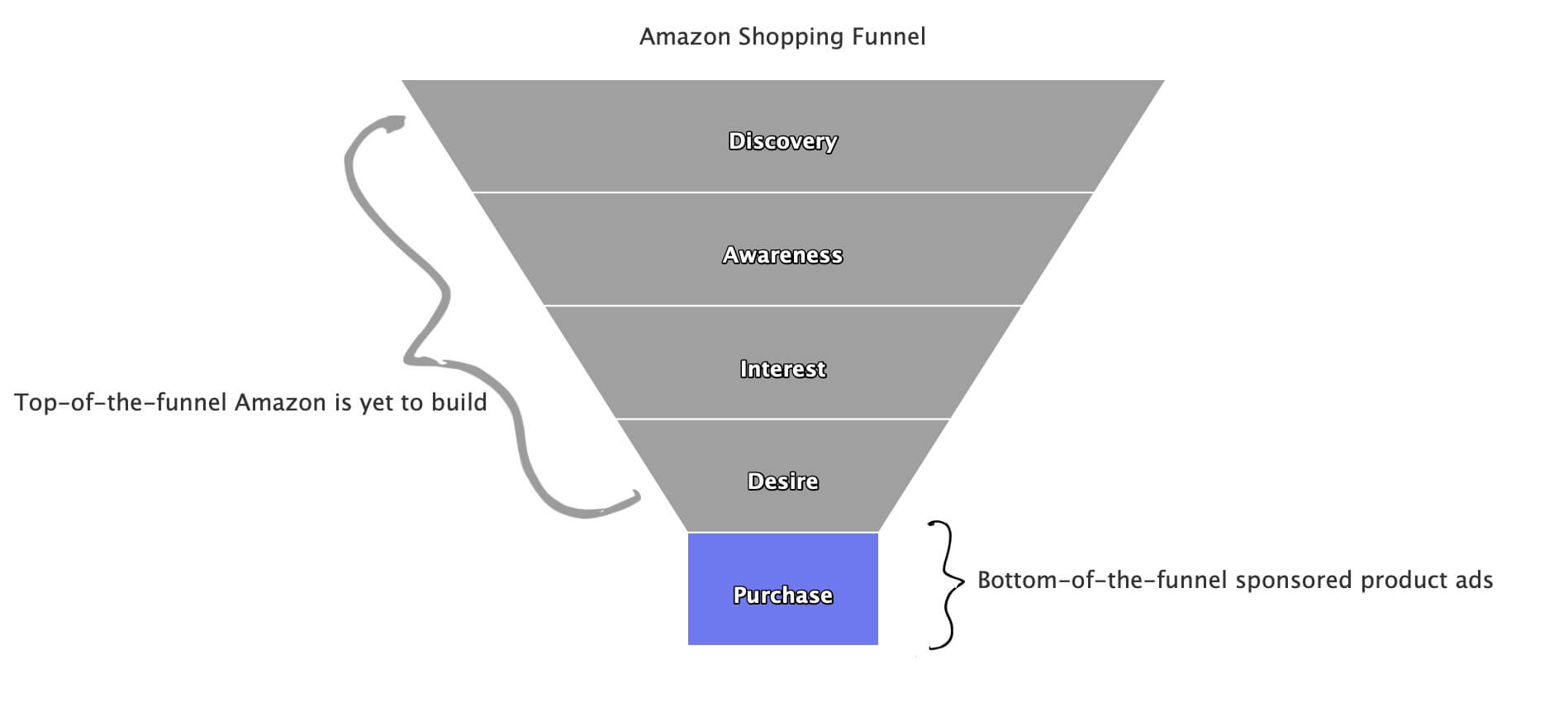 Amazon advertising is growing beyond performance marketing in the form of sponsored products, though. Amazon is going after ad budgets under CMOs, looking for a more holistic advertising strategy and not just bottom-of-the-funnel ads where a click leads to a sale. To serve those, it continues to invest in retargeting, metrics like "new to brand," attribution on non-Amazon channels, video ads, branded store pages, Instagram-like posts, Kindle, and Fire TV ads, and even packaging.
As it grows in complexity and importance, the most significant development in the market is the industry of Amazon agencies. Most of the brands starting to use advertising on Amazon are doing so through agencies. Powering those agencies is an industry of adtech companies building software tools to manage and optimize Amazon ads. Each of those industries is expected to see continued expansion as well as consolidation in the future.
Next year, advertising on Amazon will add over $3 billion in additional spending in the US alone.