After trading closed today Amazon announced second quarter results. Amazon beat expectations on both top and bottom line.
We were very happy to read that marketplace sellers continue to do very well. 49% of all sales on Amazon were done by marketplace sellers. We can only expect that number to finally reach 50% by the end of the year.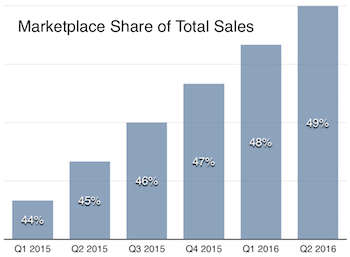 In the first quarter 48% of all sales were fulfilled by marketplace sellers. For the last few quarters marketplace portion has been rising by a percent every time. Considering that it was just 44% in 2015 Q2, and in a year managed to increase to 49% it highlights the continued success of so many marketplace sellers.
Amazon Business the b2b marketplace Amazon launched a year ago has already generated over $1 billion in sales. On top of that, more than half of those sales were fulfilled by the 30,000 marketplace sellers selling on it.
Amazon USA sales were up by 28% at $17.6 billion, well above the 15% average ecommerce growth rate in the US. While international sales were up by 30% at $9.8 billion, thanks to efforts like the $5 billion investment commitment last quarter to Amazon India.