Seamless, GrubHub, Caviar, DoorDash, and Uber's food delivery business UberEats, are just five of the many services offering restaurant food delivery. They, all having first struggled to get restaurants onto their platforms, are in the business of helping to create them now, too. The only thing is often those new restaurants don't exist. At least not in real life.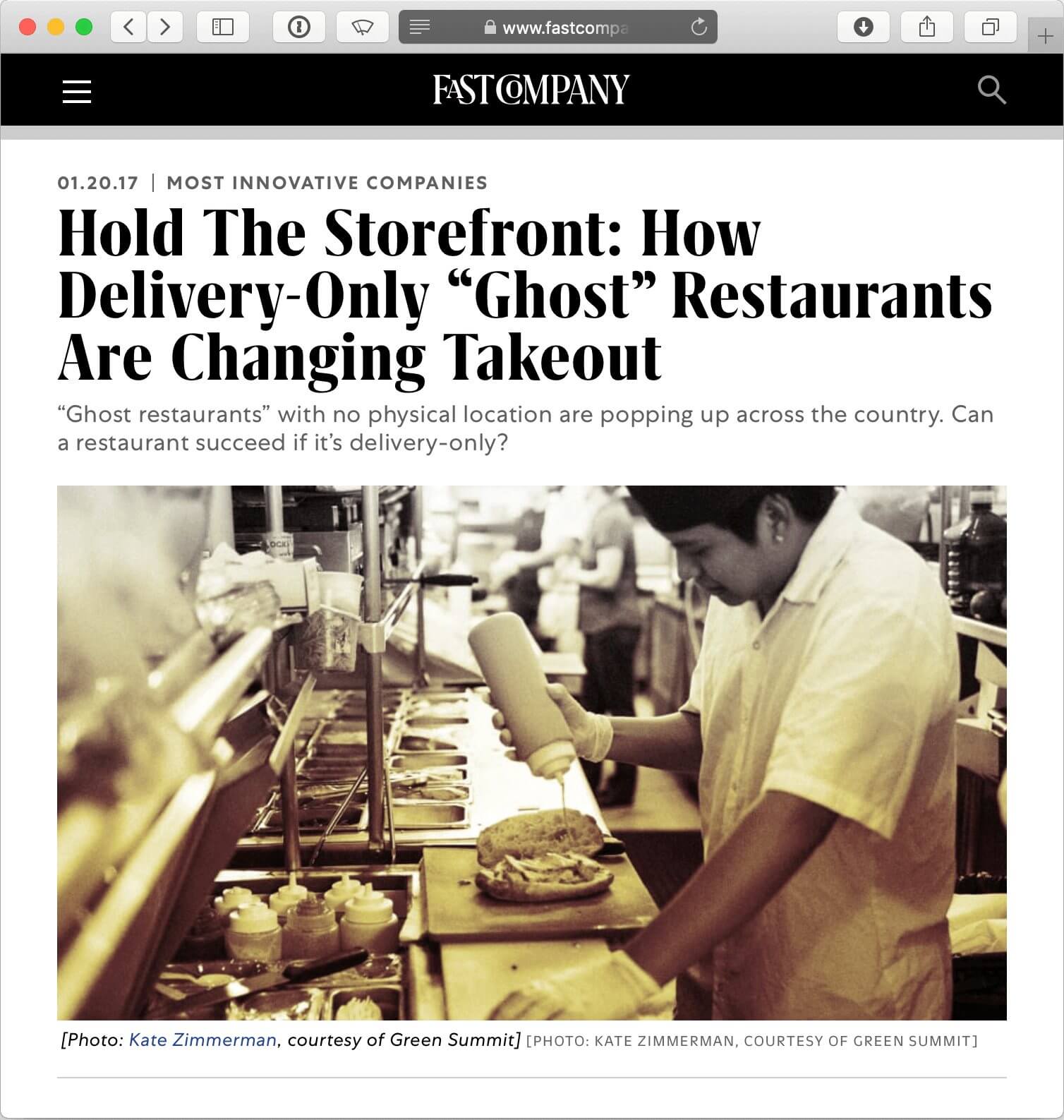 "Hungry New Yorkers ordering meals through such online services as Seamless or Eat24 order everything from sushi to burgers to tacos. But when they order from certain restaurants like Leafage and Butcher Block, they might not realize that those restaurants aren't restaurants at all. They are virtual eateries created by a company called the Green Summit Group that operates several food-delivery services out of central commissaries in midtown Manhattan, Brooklyn, and Chicago."

– Neal Ungerleider, Fast Company
The realization is that while most consumers approach food delivery by browsing for restaurants, those restaurants don't have to be real. Known as ghost or virtual restaurants they only exist as a menu in one of those services. Some of them are virtual restaurants launched by existing restaurants to reach different audiences.
Ghost restaurants exist because they allow skipping the high rent, food and drink licenses, and all labor costs of running the actual restaurant. Some of them, like the Green Summit Group, operate multiple ghost restaurants out of a single facility achieving better economies of scale. "There's a lot of cross-utilization because at some point the universe of ingredients becomes finite," said Peter Schatzberg, Green Summit's cofounder.
Those ghost restaurants are a small percent of the overall restaurant market, but they are an example of a business built on a modern platform, rather than playing by current market rules. Bloomberg writes that online food delivery overall is forecast to account for some $75.9 billion in gross merchandise volume by 2022. Not unlike sellers on a marketplace like Amazon or eBay, they are ghost restaurants because they don't have to be real restaurants. On a food delivery app it almost doesn't matter if you are one, outside of the locals knowing your brand name.

Over the past few months Google has started to ramp up its marketplace Google Express, growing beyond traditional retailers like Target, Walmart, and Best Buy, to now include marketplace sellers who are currently selling on Amazon and other platforms. It still presents everyone in a list of stores, but while traditional retailers are known to shoppers, most sellers are not. And yet etailz which joined the platform this week, a seller with over $100 million in sales on various marketplaces and no stores, will offer as good of a catalog and pricing as one of the big retailers.
Online shopping was first done by existing brick-and-mortar retailers. Since all they had to do - at least that's what they were told - was create a website and start accepting orders online. Walmart, for example, launched their website Walmart.com in 2000. At the time Amazon was six years old and few would have predicted that eighteen years later in 2018 Amazon would be the largest online retailer in the country with Walmart only starting to make serious moves. Selling products online is not the same as selling them in stores. Decades of experience being a retailer didn't help Walmart understand online selling.
What's clear about selling on marketplaces is that businesses which do well are often not retailers. Their business processes, capital funding, launching of new products, and inventory is built to work specifically on marketplaces. They understand keyword optimization much more than they do store layouts. They are not going around their brick-and-mortar store picking products off the shelves to fulfill an online order either. All of them are more efficient and effective on Google Express and beyond than Target, Walmart, and Best Buy.
A retailer, by definition, is a business or person that sells goods to the consumer. This is exactly what the millions of sellers on marketplaces are, without owning any stores or ever seeing their customers in person. This makes them marketplace-only ghost retailers, which, just like ghost restaurants, are an old concept reimagined for the age of marketplaces. "Can a restaurant succeed if it's delivery-only?" asked Neal Ungerleider of Fast Company. Well, can a retailer succeed if it's marketplace-only? How about the 20,000 retailers with over $1 million in sales on Amazon. They can.