Amazon has announced that more than 20,000 Amazon marketplace sellers worldwide surpassed $1 million in sales in 2017. Known for rarely releasing details about the marketplace businesses Amazon has introduced the Small Business Impact Report this week.
In the most recent Amazon sellers breakdown by sales volume research we estimated that there are 15,000 sellers worldwide with sales surpassing $1 million, not far off from the official figure given the limitations of the methods used.
"Amazon first invited small businesses to sell on Amazon nearly two decades ago, and today small businesses and entrepreneurs are a vital part of Amazon's continued growth and commitment to customers."

– Jeff Wilke, CEO Worldwide Consumer, Amazon
Previously Amazon mentioned the number of sellers with more than $100,000 sales in a year, a figure which has grown from 70,000 in 2015, 100,000 in 2016, to 140,000 last year. However given the average retail margins not all of those sellers could treat it as a full-time job, let alone a business. The $1 million sellers though are at a size allowing to support at least a few employees.
Amazon has millions of sellers, and yet only 20,000 were able to build a business.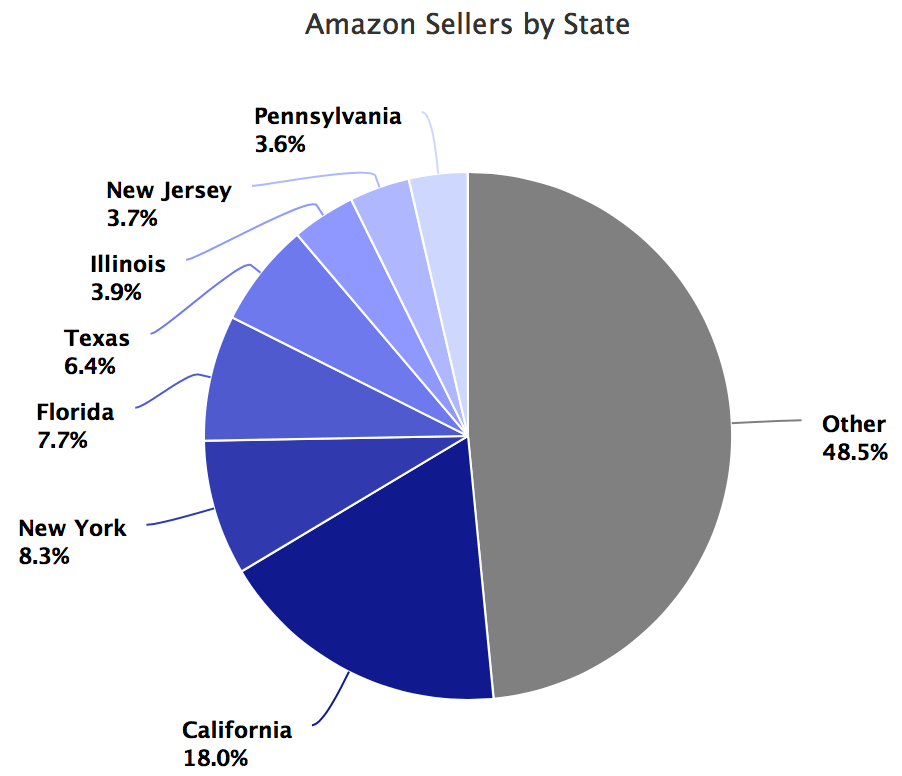 Amazon has also highlighted that more than a million US based sellers sell on the marketplace, 300,000 of which joined last year. A metric which looks impressive on its own, but in terms of job creation and retail impact is meaningless. Meaningless because less than 1% of sellers generate more than $20 billion in sales.
The one million US based sellers are mostly located in California, New York, and Florida. Top 7 states also including Texas, Illinois, New Jersey, and Pennsylvania account for more than half of all sellers. The list order is similar to that of eBay.
The Amazon marketplace has been growing in impact somewhat invisibly to most consumers and even retailers. Only recently the headline "Half the items purchased on Amazon come from small and medium-sized businesses" has become commonly used by the company. Previously the communication rarely included any mentions of the marketplace. Because of the critique for destroying retail jobs, the company has chosen to be more vocal about their estimate of 900,000 jobs created by the marketplace sellers too.
The increased mentions of the marketplace are likely also part of a long-term plan to transition Amazon from being a retailer.
It's no surprise that the Amazon marketplace is growing faster than the Amazon's own retail sales (known as first-party or 1P for short), because it carries less inventory risk and scales better. It's also more profitable for Amazon. Thus now that the marketplace has passed 50% of all units sold and estimated 60% of sales, the question is how will Amazon's strategy change once it reaches 70% and then 80% in the next five years. At some point Amazon will be able to focus on creating their own products and building infrastructure/services businesses, leaving to the marketplace to source the products.
| State | Sellers Count |
| --- | --- |
| California | 175,000 |
| New York | 81,000 |
| Florida | 75,000 |
| Texas | 62,000 |
| Illinois | 38,000 |
| New Jersey | 36,000 |
| Pennsylvania | 35,000 |
| Virginia | 28,000 |
| Ohio | 28,000 |
| Michigan | 28,000 |
| Georgia | 28,000 |
| Washington | 27,000 |
| Massachusetts | 25,000 |
| North Carolina | 24,500 |
| Colorado | 20,000 |
| Arizona | 19,000 |
| Maryland | 18,000 |
| Minnesota | 17,000 |
| Missouri | 15,000 |
| Wisconsin | 14,000 |
| Utah | 14,000 |
| Tennessee | 14,000 |
| Oregon | 14,000 |
| Indiana | 14,000 |
| Connecticut | 12,000 |
| South Carolina | 9,000 |
| Nevada | 9,000 |
| Kentucky | 8,000 |
| Alabama | 8,000 |
| Kansas | 7,000 |
| Iowa | 7,000 |
| Oklahoma | 6,500 |
| Louisiana | 6,500 |
| Idaho | 5,000 |
| New Hampshire | 4,500 |
| Nebraska | 4,500 |
| Arkansas | 4,500 |
| New Mexico | 4,000 |
| Maine | 3,500 |
| Mississippi | 3,500 |
| Delaware | 3,500 |
| Rhode Island | 3,000 |
| West Virginia | 2,800 |
| Hawaii | 2,700 |
| Montana | 2,500 |
| Vermont | 2,000 |
| South Dakota | 1,700 |
| Wyoming | 1,600 |
| North Dakota | 1,500 |
| Alaska | 1,400 |