Share of top Amazon sellers by China-based businesses has been shrinking because of disruption to manufacturing, freight, and warehousing, as well as consumers prioritizing essentials.
29% of the top sellers in the top four core Amazon markets - U.S., U.K., Germany, and Japan - are based in China. Down from 35% in January. The percent is the average of the four marketplaces, according to Marketplace Pulse analysis of nearly 90% of the top sellers whose business addresses can be reliably determined.
Four years ago, in May 2016, only 11% of the top sellers were based in China. Since then, the share has continued to grow steadily. The same behavior is true for the North American marketplaces in the U.S., Canada, and Mexico, European marketplaces in the U.K., Germany, France, Italy, and Spain, and Japan. All of Amazon's marketplaces have started to reverse the trend beginning in January.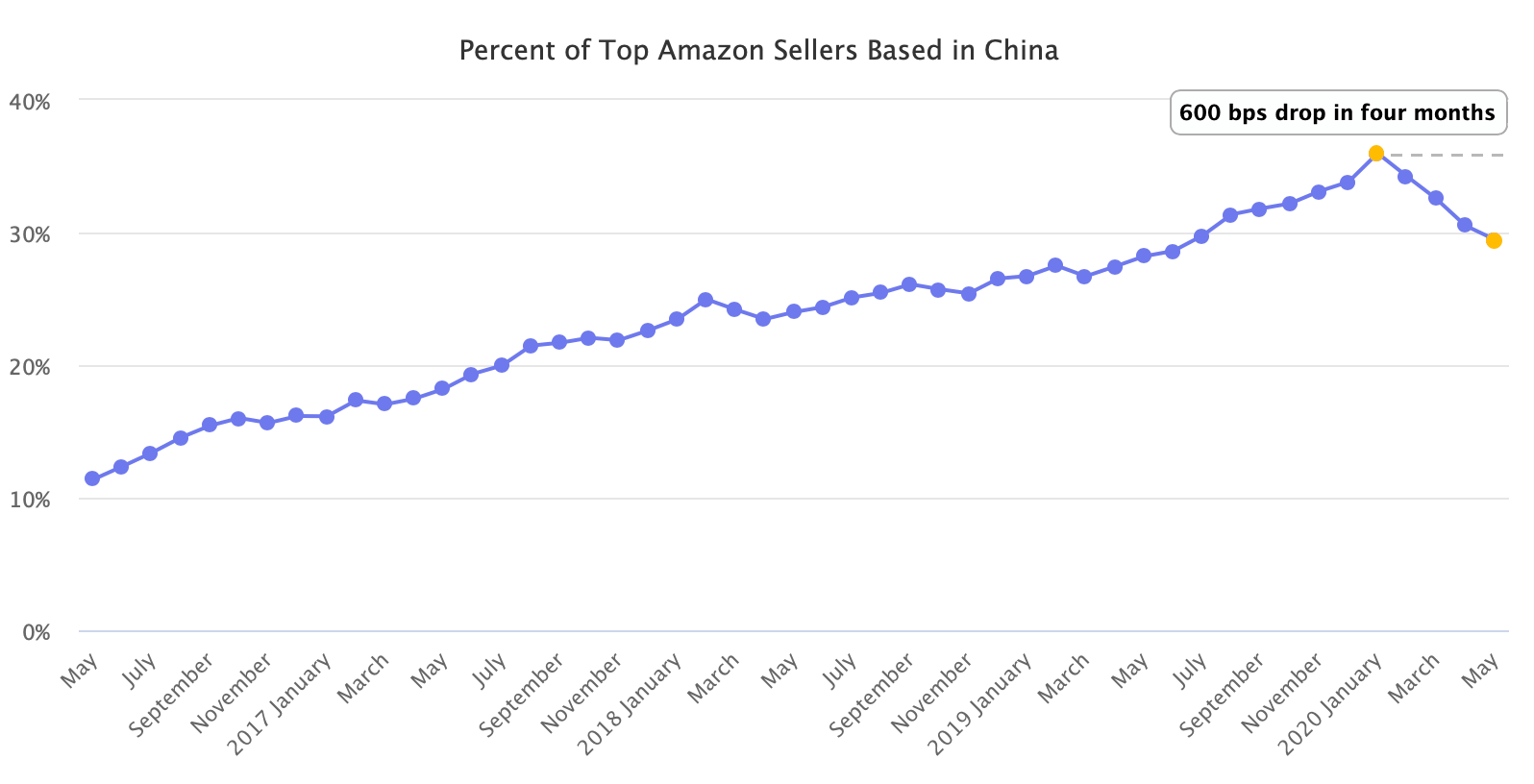 More than half of the new sellers on Amazon were from China in both March and April, an all-time high. However, new seller registrations do not indicate future success.
One of the most significant causes of the downward trend was the disruption to Fulfillment by Amazon (FBA) service. Among the top sellers in the Amazon marketplace in the U.S., 95% of China-based sellers use FBA, compared to 65% for other sellers. Domestic sellers transitioned to fulfill their orders from owned warehouses because Amazon prioritized essential items, baring sellers from shipping new inventory to FBA. International sellers couldn't make the same change as fast.
Brian Olsavsky, CFO at Amazon, commented on this during the first-quarter earnings call, confirming that FBA orders were not as high as they usually would be. But "MFN is picking up a lot of the opportunity, and sellers are taking that opportunity ship direct because then it doesn't have to come into our warehouse obviously," said Mr. Olsavsky. Few international sellers can pick up on the direct shipping opportunity.
Consumer focus has shifted towards fast-moving consumer goods (FMCG) and away from categories like travel. That increased the order volume Amazon is handling as first-party, as well as domestic sellers that established supply.
Chinese sellers will revert to growth on Amazon; eventually. At the moment, the trend highlights the non-trivial disruption the pandemic has caused to the international supply chain, and how FBA prioritization policies and changing consumer habits have disrupted the previously-predictable Amazon ecosystem.