Amazon's online sales soared 24% in the first quarter, the fastest pace in four years. Amazon's first-party sales - not the total GMV, including the marketplace, but only sales where Amazon is the retailer - increased at more than twice the rate compared to Q1 2019, despite only part of the quarter affected by the pandemic.
"Beginning in early March, we experienced a major surge in customer demand. Particularly for household staples and other essential products across categories such as health, and personal care, groceries, and even home office supplies. At the same time, we saw lower demand for discretionary items such as apparel, shoes, and wireless products. This large demand spike created major challenges in our operations network."

– Brian Olsavsky, CFO at Amazon
Because the surge in customer demand began in early March, the growth during the first quarter indicates that growth in the second quarter is expected to be higher still. All while the company has taken steps to slow down sales for non-essential items by removing functionality like product recommendations from its website.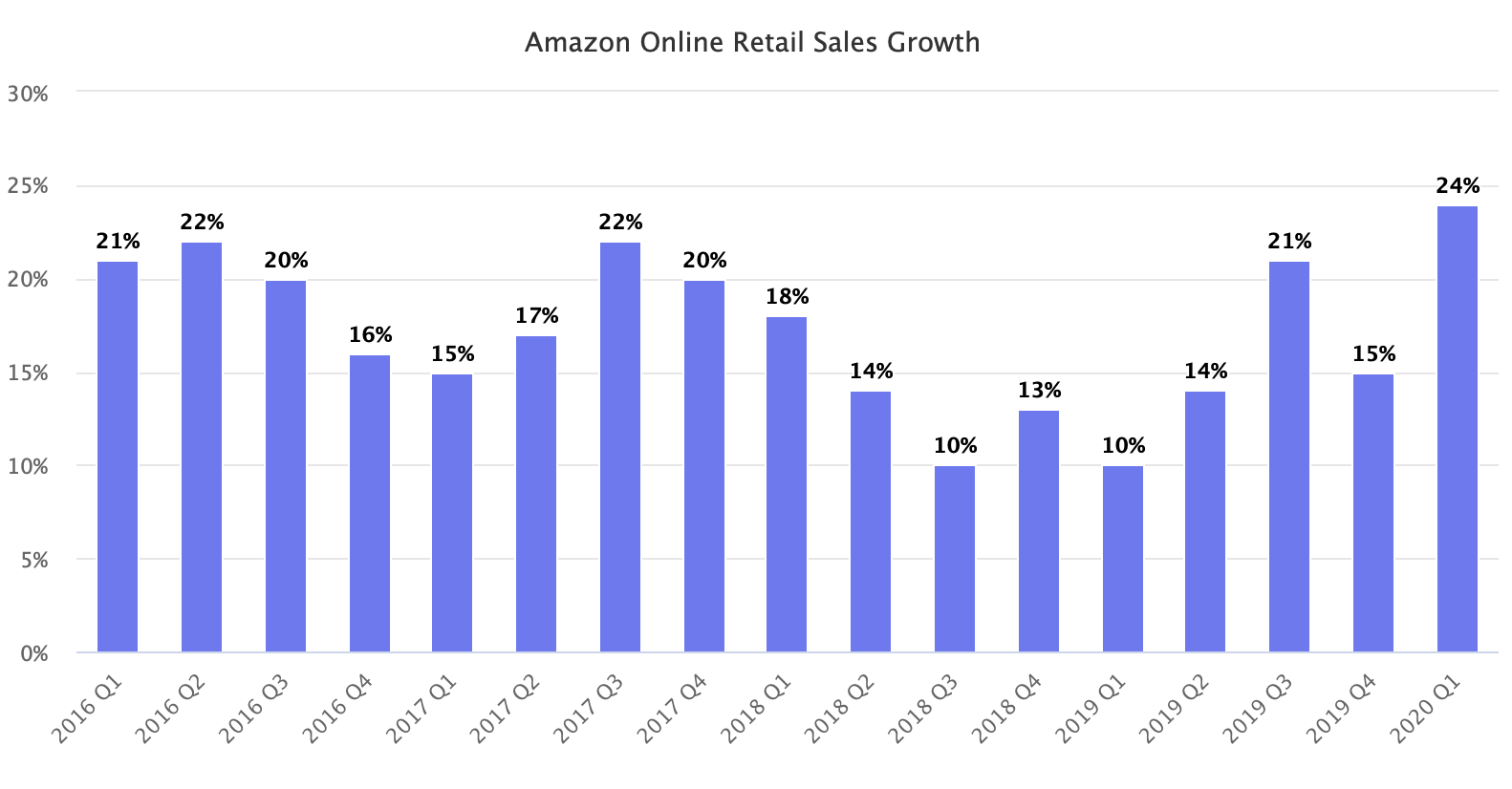 Meanwhile, third-party sellers' share of units sold decreased to 52%, lower than any quarter in 2019, due to Amazon selling more of the shifted consumer spending. The company prioritized essentials in March, which delayed shipping most other items, many of which were sold by third-party sellers.
Despite the company indicating that advertising saw some pullback from advertisers and some downward pressure on price at the end of first-quarter, revenue from advertising grew 44%. That's faster growth than all four quarters in 2019. Unlike Amazon's competition in the advertising market - namely Facebook and Google - the company has less exposure to advertising categories that saw a significant decline, like travel.
A key metric to follow is the subscription services revenue, which includes annual and monthly fees associated with Amazon Prime membership. The company has over 150 million Prime members worldwide, and one of the risks of slowing consumer spending is a decrease in new customers joining the membership or not renewing an existing one. Revenue in the segment grew 28%, slower than previous quarters. However, it's too early to tell how that's impacting the number of Prime members.
Unit sales surged 32% in the first quarter. That's the fastest pace since the fourth quarter of 2012.