Chinese sellers have been losing market share on the Amazon marketplace for most of 2021. This year, after increasing market share for years, the trend has unexpectedly reversed.
So far, 2021 has been an anomaly compared to the five years preceding it. Previously, Chinese sellers' market share of the top sellers increased every year: from 16% to 22% in 2017, from 23% to 26% in 2018, from 26% to 33% in 2019, and from 35% to 42% in 2020. The same trend held for the estimated share of GMV too.
Currently, 38% of the top sellers are based in China, down from 40% at the start of the year. The figure is the average of the four core Amazon markets - U.S., U.K., Germany, and Japan - derived from Marketplace Pulse analysis of over 90% of the top sellers whose business addresses can be reliably determined. Out of those four, it shrank the most on Amazon in the U.S., while the other three were flat for most of the year and only started to decrease recently.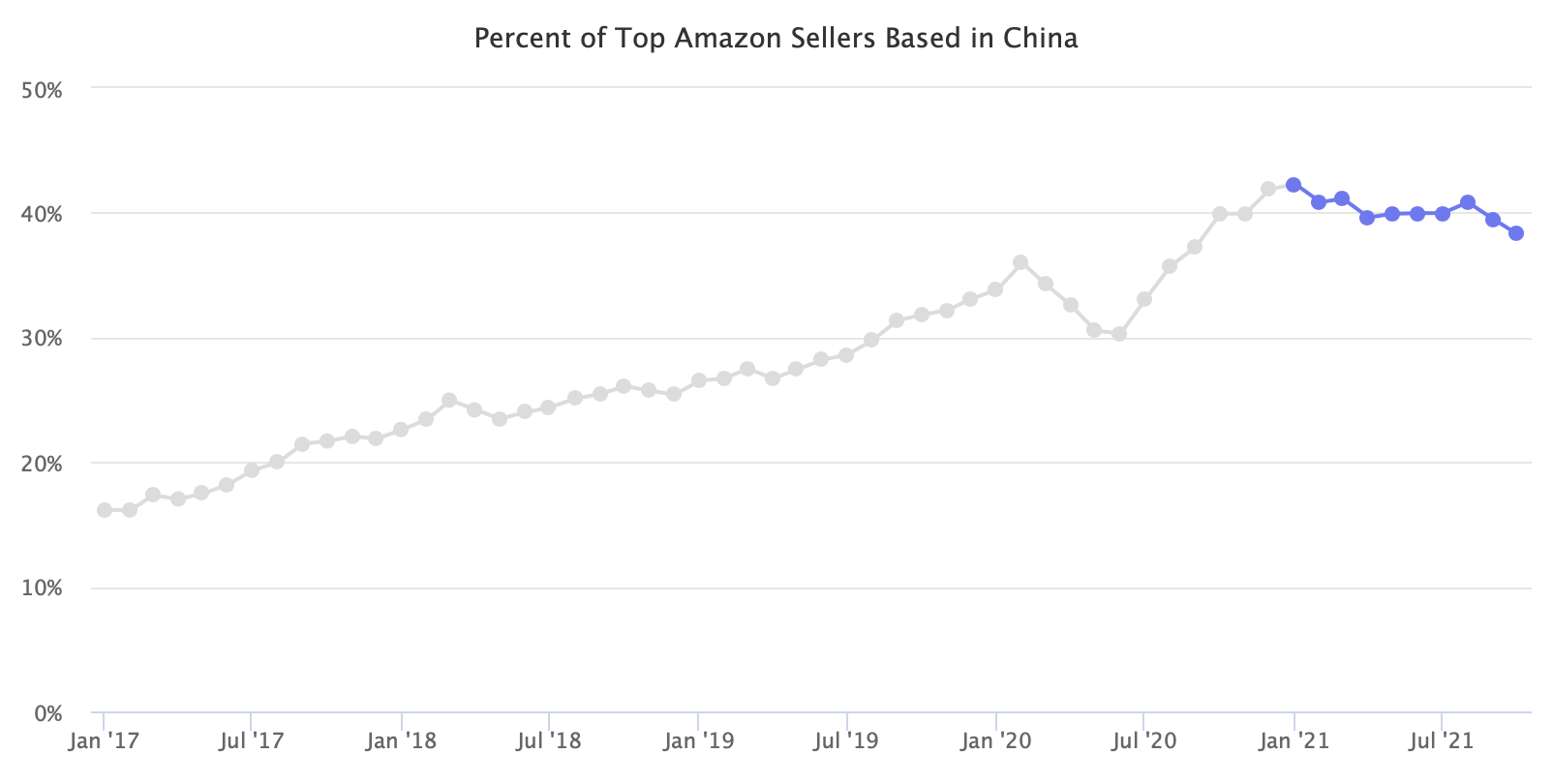 In May 2020, Chinese sellers' market share shrunk because of disruption to manufacturing, freight, and warehousing. By the end of the year, it had recovered. But, since then, it didn't go back to growing as it did for years prior. Perhaps because the pandemic continues to disrupt the world unevenly or because domestic sellers could diversify from FBA (which is currently severely quantity restricted) faster than foreign sellers. Some of that lost market share was also because Amazon suspended hundreds of established Chinese sellers in April and May. However, suspensions have since stopped, and they weren't because of a structural change to how Amazon regulates the marketplace.
For a long time, domestic sellers shrinking looked like an inevitable future of the Amazon marketplace. Chinese sellers continue to account for the vast majority of the new sellers, but their market share stopped growing. The "from China through Amazon to consumers" direct-to-consumer business didn't break, but it appears to have lost considerable momentum.