Kleiner Perkins Caufield & Byers (KPCB) partner Mary Meeker released her yearly internet trends report at the Code 2017 conference. Unsurprisingly China had a full section in the report, exploring internet usage and online retail trends.
One of the most interesting findings was the growth of e-commerce as a percent of retail sales. Just 10 years ago e-commerce penetration was less than 1 percent, but since then has taken off - it overtook US in 2013, and is expected that by the end of 2018 it will reach 18 percent market penetration.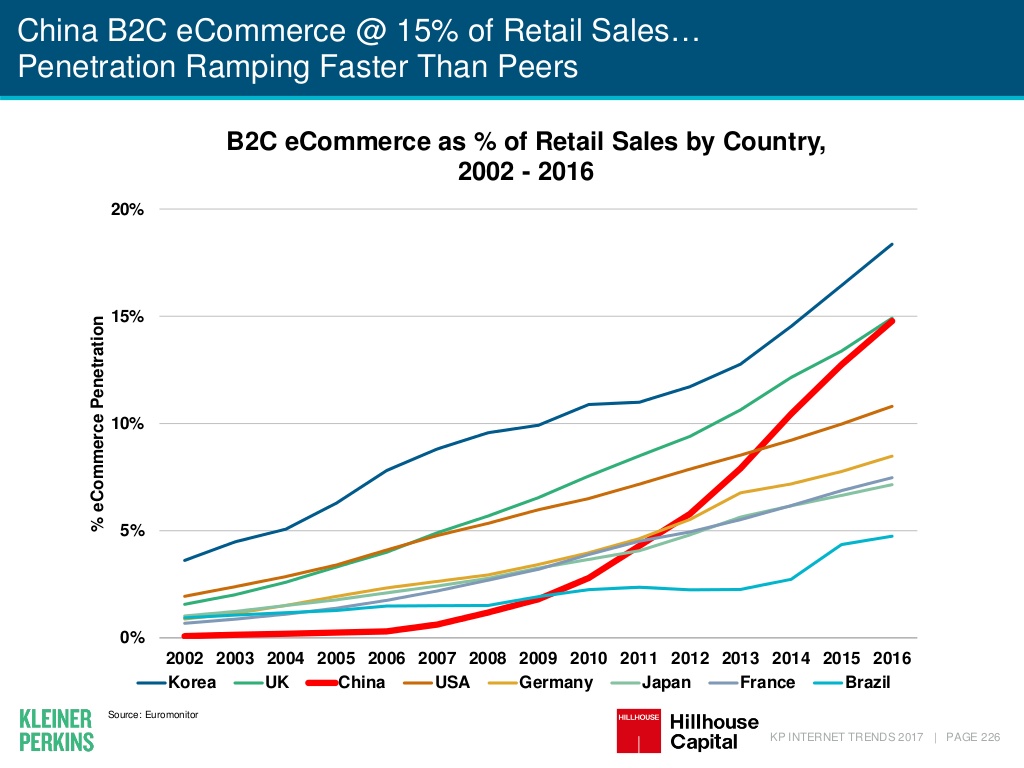 To understand why e-commerce became such a big part of Chinese retail, the key is too look at why people buy online. In Why China E-Commerce Is Growing Faster Than the US we wrote:
"China's e-commerce market is larger than any other country's in the world - it represents almost a half of e-commerce sales worldwide. And it continues to grow faster than in the US. While US e-commerce represents just over 8% of total retail and is growing 14-15% a year, China's e-commerce represents more than 12% of retail and is growing 25% a year.

To understand China's e-commerce growth one needs to understand why people buy online. In the US most people buy online because it is more convenient. Brick-and-mortar experience is pretty good and access to stores is easy. So the only way US online retailers are able to attract customers is by offering to save time or by better pricing. It's not a matter of need, it's a convenience - US e-commerce put traditional retail online. Walmart store sales are still growing, as Amazon is trying to get customers excited about drone delivery."
In April China's online sales share of total retail sales reached 12.9 percent as reported by China's National Bureau of Statistics, up from 11.1 percent last year. In the US it reached 8.4 percent based on The Census Bureau of the Department of Commerce data, up from 7.6 percent last year. China's online retail market is roughly twice as big as the US, and will only get bigger.
It is important to remember that in China Alibaba Group and JD.com marketplaces make up over 80 percent of the online retail market, while Amazon and eBay have less than 1 percent. However mobile payments have become big focus of the market, and Alibaba's AliPay will soon be overtaken by Tencent's WeChat payments. We think that in the future the market dominance of the current two players will decrease, and more major players will enter the market with novel approaches to retail.
One of the most commonly discussed topics in the US retail market right now is the over-saturation of retail space. In the US there is far more retail square footage per capita than in any other developed market at estimated 25 square feet per capita. In comparison, it is 4 times smaller in China, nor does China have big retail chains like Macy's. So it is no surprise that the e-commerce growth has accelerated so much when spending power increased - the existing retail infrastucture wasn't there.