On Wednesday Kleiner Perkins Caufield & Byers (KPCB) partner Mary Meeker released annual and highly respected Internet Trends 2017 report. Among many things in the 355 page report she touched on online retail and - not surprisingly - Amazon. Her findings were that Amazon sells more batteries than brands like Duracell and Energizer, owning more than 30 percent of the US market. And that 15 percent of the US baby wipes market is also owned by Amazon, only second to Huggies and Pampers.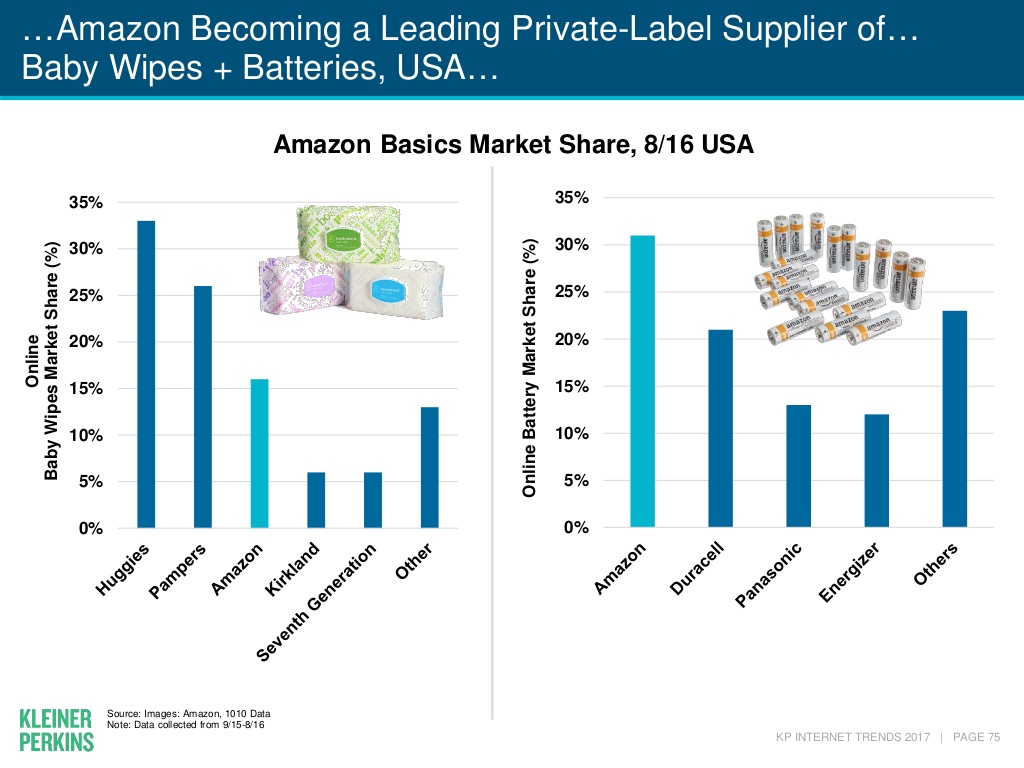 The message to brands is that Amazon is using their own infrastructure to destroy any notion of brand loyalty. Amazon's own private-label products rank higher, and are often cheaper, which is enough for consumers to switch (some would argue that Amazon does this unfairly and might run into anti-trust issues). While brands spend money on shelf space, marketing, creating demand, partnerships, etc. Amazon doesn't need to do any of that. None of this is important to customers.
And yet the successful product lines Amazon built are not brands. We wrote that Amazon Is Good at Building Generic Products, Not Brands:
"Amazon has so far done really well by launching generic products - products which do not depend on a brand. Batteries, cables, other electronics are a good examples of this. Customers do not pay attention to the brand, the only thing which matters is price. Amazon are using their scale to build these sort of products and under-price the market.

But Amazon hasn't yet figured out how to build brands."
This is how Duracell, a company incorporated 93 years ago in 1924, found themselves outsold by unrecognizable Amazon Basics. The billions spent on marketing, and the worldwide recognition of the Duracell brand is not as important online. Brands are finding that online they are at a disadvantage because they don't get to portray their value.
So what traditional brands need to think about is not wether Amazon is going to launch in their niche, but if a brand in that niche has value. As in, Amazon hasn't built brands, but their private label products are successful, so maybe that doesn't even matter. Many would bring up a category like fashion, where the value of a label is still undeniable. But for how long? Amazon is set up to erode brands, so time will tell what customers really value. Maybe in the modern shopping age many categories do not depend on a brand at all.
A scary thought if you are Duracell.
The conversation of Amazon destroying brands is missing one key area, though. It is missing the impact of marketplace sellers. Many assume that marketplace sellers are happily competing on selling products sourced from manufacturers and distributors. But as they are doing that every single one of them is thinking about how to avoid it. And as it happens, making private label products is just the solution.
So while Amazon has created the successful Amazon Basics line with over a thousand products, there are tens of thousands of sellers working day and night on launching private label brands. Obviously they do not have the access and the upper-hand Amazon has itself, but the sheer number of them trying offsets that. They are scouting Amazon categories for opportunities, hiring experts in niche product lines, finding factories in China, etc. It's only a matter of time before the notion of product maker (manufacturer) and seller (retailer) will merge into one. It has become easier and cheaper than ever before to make products at scale, and thanks to the launchpad that Amazon is many of them appear daily.
This is why most brands shouldn't fear Amazon, most brands should fear one of the millions of sellers. Amazon can only do so much, a big company can't move fast enough. But while few sellers have the capital and tools to outsell Duracell, many can outsell smaller brands, often relying to development and manufacturing skills from overseas.